Ciao, escapaders!  Italy is a dream destination world-wide; honeymooners, large bus tour groups, and backpackers – everyone is looking to experience the wanderlust Italian culture.  There's Rome, Venice, Milan, Florence, and so on…but Naples??  People often skip the overlooked coastal city of Naples because of its supposedly bad rep, toxic waste, destitution, and high crime rate; everyone seems to want to go to the nearby tourist central Sorrento instead.  But a very good reason to NOT skip Naples is that it offers palatable food cuisine like no other Italian city; come on, it's the renowned birthplace of pizza!  There are lots of dishes that you simply MUST EAT to get a real taste of Italian cuisine. Here are 6 of the most delectable foods that you absolutely must eat in Naples:
#1 MARGHERITA PIZZA at Pizzeria Da Michele (Via Cesare Sersale, 1, 80139)
The traditional margherita pizza at this famous original pizzeria with Hollywood history undoubtedly meets all expectations and worth the long wait. Enjoy your own individual classic margherita pizza with a bottle of Nastro Azzurro beer.  You can see pizzas in the making – all pizzas are made right then and there in the traditional way with a traditional oven.  The tomato sauce is fresh and made just right – super tasty, juicy, and not too heavy.  The mozzarella cheese is plentiful, but not overbearing.  It's topped off with a few pieces of basil.  Now, this is real pizza.
https://wetnoseescapades.com/best-food-rome-10-greatest-eats/
#2 MARINARA PIZZA at Gino e Toto Sorbillo (Via dei Tribunali, 32, 80138)
The marinara pizza is really a margherita pizza without the cheese – it's another original pizza you must try.  Get it at Gino E Toto Sorbillo, which has a long history comparable to that of Pizzeria de Michele.  The classic marinara pizza here is to truly something to crave for and it's suitable for vegan travelers; the tomato sauce is a mouth-watering delight and the crust is light, crispy, and thin.  The magic touch = fresh basil leaves on top.  The crust is slightly and nicely burnt.  Again, beer + pizza is one perfect match.  Just don't overdo it with the beers!
https://wetnoseescapades.com/best-places-barcelona/
#3 SPAGHETTI WITH FRESH TOMATOES at Osteria IL Gobbetto (Via Sergente Maggiore, 8, 80132)
Mmmmm mmmm thin spaghetti with fresh chopped cherry tomatoes and marinara sauce topped with basil.  Fresh, simple, and delicious.  Il Gobetto is a wanderlust visit in itself; it is a decorated excavated restaurant with vibrant staff dressed in traditional Italian outfits ready to serve up your flavorful pastas.  Ask your server for wine pairing suggestions.
Dog Travel In Athens, Greece: A Yorkie travels to the ancient city
#4 GNOCCHI IN THE STYLE OF SORRENTO at Osteria IL Gobbetto (Via Sergente Maggiore, 8, 80132)
You don't need to be physically in Sorrento to experience the heavenly gnocchi of Sorrento.  The potato dumplings are tender and mix well with succulent tomato sauce and then sprinkled with shredded parmesan cheese, which makes it a lovely vegetarian delight.  Be sure to add a green salad to balance out your meal!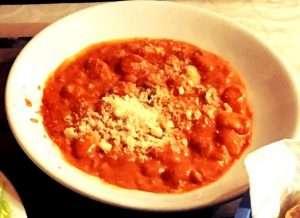 #5 SPAGHETTI WITH SEAFOOD at Mangia E Bevi (Via Sedile di Porto, 92, 80134)
Savory clam juice, appetizing clams and seasoned tomatoes poured over spaghetti make this one amazing meal at La Trattoria Mangia E Bevi, a neighborhood gem with quick service and no frills.  A local favorite! Be sure to enjoy it with a glass of delicious white wine.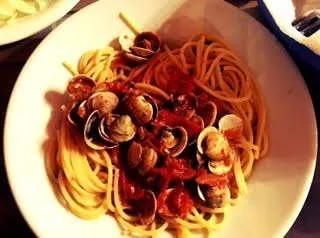 Dog Travel In Athens, Greece: A Yorkie travels to the ancient city
#6 CAPRESE SALAD (AT ANYWHERE!)
Fresh mozzarella, fresh tomatoes, and fresh basil (and greens in some variations) with olive oil and some light seasoning.  This straightforward dish is a yummy (AND healthy) appetizer and another true vegetarian's treat!
Hope you enjoy devouring these 6 MUST-EAT foods in Naples, Italy! Have a spectacular time grubbin'. Worried about your long flight to Italy? Read my post on 8 ways to be healthy on that long international flight.
Markin' it up,
Roger Wellington a.k.a. The Doob
—
Like my post? PIN IT!