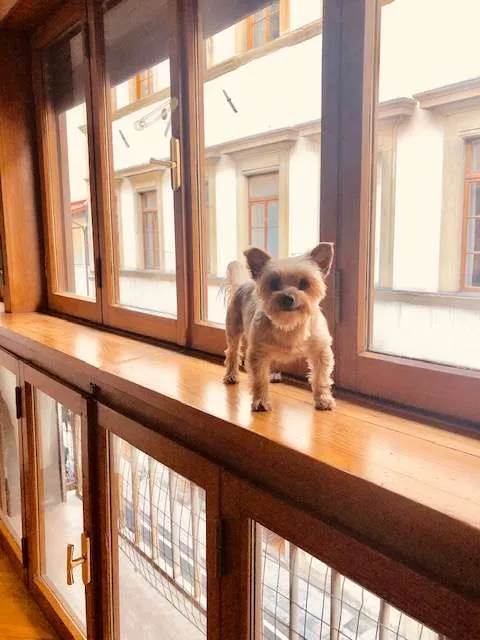 WOOOOF! If you're truly good to your dog, you will only see the goodness and love return tenfold. Humans who treat their dogs like family with utmost compassion and kindness know that there's everything to gain. When you perceive your dog as a unique individual with his/her wants and needs, you inevitably feel a deeper connection with your loyal four-legged companion. As we all know, a dog's love for humans is not only GREAT but also unconditional. Hence, why not help a family member live a happier and more fulfilling life? Here are 6 things you should consider allowing your dog to do (if you don't already do so):
#1 Enjoy lots of FREEDOM 
Dogs who enjoy more freedom live happier and healthier lives PERIOD. Every single dog is a unique living being with a distinct personality. No dog should ever be crated or tethered (or held in solitary confinement or any way that restricts movement) for more than a few hours regularly. They are NOT "servants," robots, or toys. Please allow your dog to have some freedom by letting him/her go off-leash outdoors whenever possible, e.g. dog parks, enclosed areas, or relatively safe or quiet neighborhoods. Once dogs learn to walk off-leash with their humans, they are more well-behaved and subsequently enjoy a healthier relationship with their humans. 
However, teaching your dog to walk off-leash doesn't happen overnight. To safely walk your dog off-leash, he/she must learn to recognize potential dangers and unsafe areas. This is accomplished over time through positive reinforcement (did someone say TREATS?) and consistent verbal/nonverbal communication with your dog. If you don't feel comfortable letting your dog off-leash, you can cut him/her some slack by using a long loose leash like the retractable one I have below. For larger breeds, check out this sturdy 30-ft cord leash which gives your big dog plenty of freedom. And, please always choose a comfortable harness over a collar to prevent choking. I cannot bark that enough!
#2 To LEAD (at least, sometimes)
ARRRF, I am THE BOSS! Yes, contrary to popular belief, it's OK to let your dog lead the walks. Walks should be more of a compromise between you and your dog versus a master-servant or DO-AS-I-SAY relationship, in which animal abuse often stems from. We've all heard this way too often – never let dogs lead because they will think they're the leader of the pack, which jeopardizes the superior human position as the "leader" or "master." Humans are afraid of dogs "misbehaving" if they don't establish their position of power right off the bat. Therefore, we often see humans aggressively yank their dogs to stop them from sniffing around during walks. Sadly, many humans just want their dogs to walk alongside them and obey all verbal commands as if they're some programmed robots. 
Dog trainers will completely disagree, but I wholeheartedly believe in allowing dogs to lead the pack, at least part of the time. It's critical to provide them with plenty of opportunities to sniff out interesting scents and socialize with others at their will. As the top dog, I lead over 80% of the routes on my daily walks, but I certainly do not have any "behavioral" issues. I've learned to let my humans know exactly what I want (whether it is to cross the street to greet another dog or play Sherlock to investigate a sniff-worthy spot). Through communication and trust with my human, I can safely walk off-leash or lead my human pack on a very loose long retractable leash. I LOVE being the boss!
Do Dogs Really Love Their Crates? Dog Crate Misconceptions Debunked
#3 Be more of an EQUAL
Since the beginning of the domestication of dogs, humans have established dogs as pack animals like their wolf ancestors. To maintain order, dogs must know their position in their "pack," which is always subordinate to humans. Nonetheless, the traditional master-servant can be dangerous as some humans (if not, many) seek to feel empowered over animals, often leading to animal abuse and cruelty all over the world. It's common to hear that dogs are just "dogs," not humans; hence, they shouldn't have the same "status" as humans. 
Unfortunately, the concept of human superiority has paved the way for consistent abuse. While dog trainers may disagree, I believe that dogs and humans can co-exist as more of equals without any behavioral issues. I am a prime example – I am more than an equal to my humans (usually the BOSS), yet I exemplify no behavioral issues and enjoy a very healthy and indisputably close relationship with my humans. Again, I can even walk off-leash safely and control my impulses. I have witnessed the same healthy relationship with LARGE breeds too. Hence, anything IS achievable through positive reinforcement and consistent communication! It's OK for your dog to be your equal. 🙂
And, please remember that dogs should never be given up or neglected because of the birth of a little human. DOGS ARE IRREPLACEABLE MEMBERS OF THE FAMILY!
#4 Be a little MISCHIEVOUS 
NEWS FLASH, dogs aren't robots! Because all dogs have unique personalities, it's OK to let them be mischievous from time to time (as long as they are not putting themselves or others in danger). Again, I'm a firm believer that dogs and humans can co-exist as equals without any behavioral issues. Let them be silly, bossy, aloof, independent – whatever their mood is! It's OK for them to exhibit their character and express their desires sometimes instead of continuously being controlled or directed by you. Occasionally, you should allow them to jump on the couch, run away from a bath, chew on your slipper, bark at your friends, etc. WITHOUT the typical scolding or "punishment." Remember, dogs feel emotions too!
https://wetnoseescapades.com/backyard-dogs/
#5 SLEEP with you 
Sadly, I've heard this saying barked out over and over again – don't let your dog sleep with you because he/she will think you two are at the "same" level. Again, this goes back to establishing the outdated and potentially abusive "master-servant" relationship with your dog. Dogs who sleep with their humans establish a deeper bond period. Dogs and humans can both feel safer and warmer when they snuggle with each other throughout the night. If you've never tried sleeping with your dog, I beg you to try it one time and see how you like it. A sleepover is a super FUN and rewarding experience for both participants! Besides, your dog will wag his/her tail to a comfy human bed over the typical dog bed any day.
#6 EAT human food (healthy picks)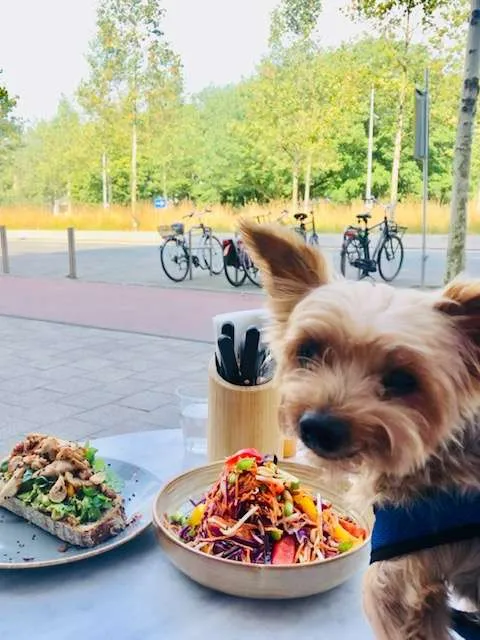 Of course, there is a lot of human food out there that's unsafe or toxic for dogs; however, there is still more than enough human food that IS deemed safe and even healthier than the heavily processed dog food found at your local market or pet shop. While I always have access to my bowl of kibble, I actually consume mostly human food. I'd chomp on an array of vegetables, fruit, and meat that my humans consume OVER kibble or wet food any day. The key is to make sure the food is unseasoned as the seasoning can be harmful to dogs. If you are ever in doubt of what type of human food you can feed your dog, please research it online carefully before proceeding. Cucumbers, zucchini, carrots, rice, bell peppers, blueberries, peaches, sweet potatoes, and yams – that's just a short list of table food that I lick my chops to!  And yep, the big masculine wolf in me loves devouring different types of luscious meat and sources of protein (especially salmon, chicken, cheese, and eggs), but I have been trying to cut down the meat to help my fellow animals. Check out my list of my favorite treats HERE!
Perhaps you may not agree with all the 6 things that my fabulous humans allow me to do, but I sincerely hope you will consider one or two, at the very least! When you treat your dog with genuine compassion, you'll only become a happier human with a healthier relationship with your furry friend. 🙂
Markin' it up, 
Roger Wellington a.k.a. The Doob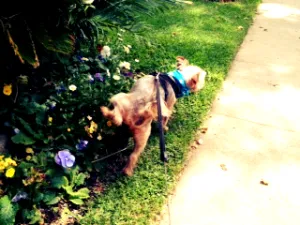 *Please note that this post contains affiliate links, and at no obligation or additional cost to you, we earn a small commission if you make a purchase. If you love the work that we do, you can show your support by making a purchase through an affiliate link. Proceeds will go towards feeding homeless dogs (and cats) along with improving the lives of the neglected and abused.
—
Like my post on "6 Things You Should Allow Your Dog To Do!"? PIN IT!