Hola, escapders! SNIFF out what I've been experiencing as an American Dog in Barcelona Lockdown…
WOOF-HOO! As I hold my stylish tail upright, I'm enraptured to bark out more GOOD NEWS in Spain. Since my last lockdown update on April 16 (LOCKDOWN DAY 34), the overall number of daily infections and the death toll has continued to FALL in the last 16 days (well, except for a few spikes here and there). The daily death toll has now fallen into the 200-300 range compared to a 900+ high earlier in April. YAY! 
*Rainy days in Barcelona
After a gloomy, rainy week (LOCKDOWN DAYS 36 to 42), I opened up my little mouth for a gigantic smile when the sun came out of hiding. GRR, I HATE getting wet. I also abhor wearing the rain jacket that my human claims that I look so fabulous in. I'm sure I do, but I still hate it! Plus I did NOT like resorting to the staircase inside my building for exercise (it was the human's strange idea). And, I can only hope that the sunshine will slow down the infection. 
*ME in my rain gear
When I was finally able to resume my daily investigations in dryness, my little Sherlock nose sniffed out more businesses opening up (from laundry machines to gym equipment) or preparing to resume with their half opened commercial garage doors. 
*A store that recently reopened
On April 26 (LOCKDOWN DAY 44), children under 14 were finally allowed to leave the house for the first time in 6 weeks! Although they were allowed outside with an adult for technically only an hour a day, their presence was more than visible. Now, I have to dodge scooters, bikes, and strollers as I set my tiny furry paws outside for a quick pee-pee or walk. With my ears perking up to constant screams and cries (through their face masks for some), I honestly forgot how many children existed in Barcelona! Even though I don't mesh well with children, I am happy to feel a bit of normality after 6 full weeks of lockdown. I even swaddled myself like a baby to celebrate the milestone. 
*Trying to keep my distance from children, who are out for the first time in 6 weeks
During our 7th week of lockdown on April 28, Prime Minister Pedro Sánchez announced 4 phases of easing the lockdown; the end of the 4th phase will ultimately bring us into the "new normality" by the end of June. If the infection rates continued to fall over the next few days, adults would be permitted to leave the house for brief exercise or a short walk starting Saturday, May 2. This was BIG news for my humans who dream of hiking the trails and doing more intense outdoor exercise – physical activities that their family and friends take for granted back home in California. The was even BIGGER news for people without dogs who were strictly confined to their homes for the last 7 weeks, except to buy groceries and medicine. Many people borrowed other people's dogs while some reportedly brought out "fake" or stuffed dogs as an excuse to go outside! Gotta tilt my head to those stuffed dogs. 
Subsequently, time slots were announced for different age groups. Adults could leave the house from 6 am to 10 am and then 8 pm to 11 pm. Children could leave from Noon to 7 pm instead of the 9 am to 9 pm time frame from the week before. Lastly, 10 am to Noon and from 7 pm to 8 pm were reserved for the elders. Outdoor time is also restricted to 1 hour per day and within 1 kilometer of your home. Luckily for me, dogs can also go out during the time frame allotted for children. YIPPEE! 
*Finally, a sense of normality after 7 weeks of lockdown
When I went out for my walk earlier today on May 2 (LOCKDOWN DAY 50), I couldn't help but sniff out the uplifting spirit in the atmosphere; it's definitely the most positive vibe since the beginning of the lockdown on March 14. With a powerful wet nose, I detected humans EVERYWHERE I turned! ARF, ARF – humans were running, jogging, biking, socializing, and laughing. Most wore masks and kept their distance from one another while some didn't. With the streets of Barcelona becoming noticeably busier, I find it harder to avoid humans. The line at the nearby central market circled around the block with social distancing in place and mandatory hand sanitation before entry. In addition, 70 parks have reopened in the city while over 40 streets are now closed to traffic to pave way for social distancing. My tail wags in excitement to feel normal again, but my humans and I still remain careful yet optimistic; as I've barked out before, we fear that looser restrictions may cause a resurgence in cases. Paws crossed! Since the virus is still out there, we must still be vigilant.
*Streets closed to facilitate social distancing
And, yes – I'm STILL the resident barker in my neighborhood at 8 pm every single night. As soon as I hear the hand clapping and cheering outside, I immediately run towards the window and jump onto the couch;  my humans would then pick me up so I can bark out MUCHAS GRACIAS to our frontline workers. Watch me show appreciation to the healthcare workers as an American dog in Barcelona Lockdown.
Here's what the future of Spain looks like as the lockdown continues to ease:
Starting the first week of May, salons and other businesses operating by appointments can reopen. Restaurants can also reopen for take-away orders only. Sports facilities will reopen for professional training. Starting May 11, small businesses (one customer inside at a time) and hotels are expected to reopen. Religious services will also resume but at no more than 30% capacity. By mid-May, restaurants can open their terraces and outdoor seating at 30% capacity. In late May, movie theatres (also at 30% capacity) and some schools can also reopen. In June, shopping centers can open at 50% capacity. Finally, the beaches will open at the end of June. And, of course, social distancing is expected to be in place throughout all the phases. 
Back home in the United States, many states are starting to reopen as well. On April 28, my hometown California announced a 4-phase plan to reopen slowly and carefully; the "highest risk environments" (e.g. concerts, live sporting events) will not reopen until therapeutics are developed. In North Carolina, the first American dog was tested positive with coronavirus (COVID-19) this week, after being infected by his human family. So far, the handful of cases of "infected" dogs and cats are human-to-animal transmission with the animals exhibiting only mild symptoms. Although dogs and cats appear to be way less susceptible to the virus than humans, the Centers for Disease Control and Prevention (CDC) has revised its guidelines to extend social distancing to pets. Read my post for tips on how to practice social distancing with your dog. As dogs and cats are FAMILY, please do your best to keep them safe!
Hope you enjoy sniffing out my experience as an American dog in Barcelona Lockdown! Stay safe and healthy. 🙂 We will prevail!
Want MORE of my diaries as an American dog in Barcelona Lockdown? Sniff out my Yorkie buttocks below!
Markin' it up,
Roger Wellington a.k.a. The Doob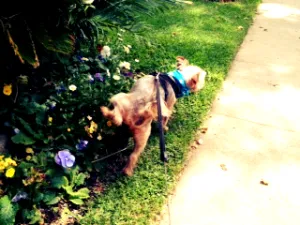 —
Like my post on "An American Dog in Barcelona LOCKDOWN: DAYS 35 to 50"? PIN IT!