WOOF, I'm an American dog still living in coronavirus quarantine in Spain…
I hope everyone is staying safe and healthy as we continue to battle this pandemic. As the number of infections and deaths continue to rise, more and more people around the world are being impacted by coronavirus (COVID-19) lockdowns or safety measures, mandated by governments in hopes of "flattening the curve" and not overwhelm the healthcare systems. Here in Spain, the numbers are climbing nonstop with a huge spike on Lockdown Day 10 (March 23, 2020) when the number of new daily infections jumped from 3,272 to a whopping 6,368 and the death toll surpassed 2,000. Just a few days before (on March 20, 2020), Spain took over Iran's position as the 3rd most infected country in the world (but as I write this post, the U.S. has taken the crown); Prime Minister Pedro Sánchez subsequently announced that "the worst is yet to come." With increased patrol in my city of Barcelona (and I'm sure elsewhere in the country), the normally busy streets are thinning out more than ever. My ears perked up the other day when I heard city workers disinfecting the streets. Most people are now wearing protective gear and practicing social distancing. For the most part, dog owners still allow their dogs to sniff each other (well, very briefly) while maintaining a safe distance from one another (at least 6 ft). My human read that the police fined a man for walking his baby goat outside as he was PRETENDING that it was a dog! As I don't have access to a balcony or backyard at my home, I continue to cope with drastically shorter walks, quicker pee-pee sessions, and less socializing with furry friends – for the sake of my beloved humans. 
Watch how I survived Lockdown Days 6 to 10 in Spain by pressing "PLAY" below with that clean paw of yours. In case you missed my FIRST 5 Days of Lockdown, you can still sniff it out HERE. 
"American dog in coronavirus quarantine in Spain: Lockdown Days 6 to 10":
And, if you are looking for ways to stay busy with your dog during a lockdown, watch my elaborate tutorial HERE!
Again, please be safe. My prayers are with everyone around the world, especially my fellow Americans and friends in Europe.
Markin' it up,
Roger Wellington a.k.a. The Doob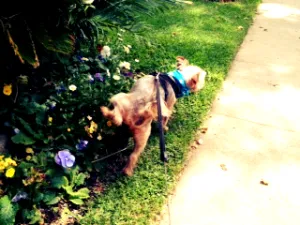 Like my post on "American dog in coronavirus quarantine in Spain: Lockdown Days 6 to 10"? PIN IT!