WOOF, wanna take your dog on a train in Italy? Find out whether or not dogs are allowed!
Posted 1/5/22
*Please note that this post contains affiliate links, and at no obligation or additional cost to you, my humans and I earn a small commission if you make a purchase. If you love the work that we do, you can show your support by making a purchase through an affiliate link. Proceeds will go towards feeding homeless dogs (and cats) along with improving the lives of the neglected and abused.
Ciao, escapaders! If you plan on traveling around Italy with a dog, you're in luck! It's super easy. Although international dog travel sounds complicated on many fronts, the good news is that Italy is one of the most (if not, the most) dog-friendly countries in the world, making traveling with your dog quite hassle-free. Besides being dog-friendly, Italy is also known as being "laxed." Yet, this means rules are not always strictly enforced (although I'd bark with an upright tail that intentionally breaking rules, especially as a foreigner, is a BIG NO-NO. Just don't do it!). As I've "nomaded" in Italy (and lived as a sophisticated furry Florentine) for several years, I've had some ARF-mazing escapades to bark the least. For instance, I've been first in line for aperitivo in Milan, marched on four paws to the Coliseum in Rome, hiked the stunning coastal trails in Cinque Terre, found my way home in maze-like Venice, and devoured pizza like a beast in Naples – among other sniff-worthy escapades in Italy. So, I think it's safe to bark that I've sniffed out a thing or two about dog travel in Italy. AWOOO…listen to my howls:
Are dogs allowed on trains in Italy?
The short answer is YES, dogs ARE allowed on trains in Italy. For train travel, you can purchase tickets online (to secure a spot beforehand) or at the train station (on the day of) in Italy. For more details, perk up your ears and keep on sniffing below.
Are dogs allowed on Trenitalia?
The main train agency in Italy is Trenitalia. This is the national railway founded in 2000, operating regional trains, long-distance and high-speed trains, and international trains throughout the country. Unlike the USA and Canada, small dogs (and cats) can enjoy free rides with their humans on all trains and in Executive, Business, Premium, and Standard service levels. And yes, they are welcome in both first and second class. WOOF-HOOO! Now, here's the catch – your small dog must technically be transported in a carrier not exceeding the dimensions of 70x30x50 cm (equivalent to 25.5x12x15.5 inches). But the truth is I've seen plenty of dogs outside their carrier and even on the laps of their humans – it seems as though that as long as they're quiet and well-behaved, the train staff may look the other way (again, the "lax" factor).
My fabulous green carrier has been in more countries than most humans on Earth! Get yours HERE!
What about LARGER dogs on Trenitalia?
As for dogs unable to fit comfortably inside a carrier of those dimensions (the rule of claw, oops I mean thumb, is typically capped at 16 pounds), don't fret because large dogs are also allowed on board – as long as they're muzzled and leashed. But, again, enforcement may be hit or miss as I've never seen a muzzled big dog although they are usually leashed. Large dogs like my"little" Weimaraner cousin Sonny can travel on Espressi (Express), IC, ICN, Frecciabianca, Frecciarossa, and Frecciargento trains in both first and second class for a reduced ticket price at 50% of the original fare. ARF-course, there is a catch – large dogs cannot travel during rush hour of 7-9 am Mondays thru Fridays.
Requirements
ARF, bear in mind that even though Trenitalia welcomes your dog on board, only one dog is permitted per passenger. Remember to bring your dog's E.U. Pet Passport, Vet Health Certificate, and/or health records. Even though the staff may not ask to examine (which has been my experience. To be clear, it has never happened to me before unless I'm crossing borders), you should always have them paw-dy (I mean, handy). Otherwise, you may be fined or forced to get off at the next stop. As a visitor, it is in your best interest to follow the rules. But, nonetheless, if you somehow forget to muzzle your dog or bring your dog's passport, chances are you should be OK.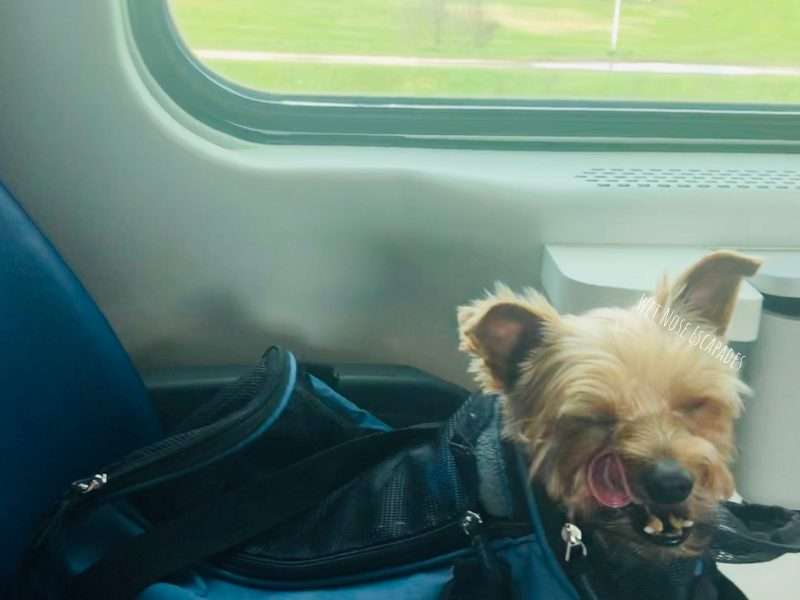 As expected, guide dogs for the blind travel for free. However, U.S.-recognized assistance dogs are not generally recognized in Europe.
*Don't forget to pack treats, dog-safe food, bottled water, to-go bowls, and a blankey for your dog traveler!
Expectations
Dogs must be well-behaved, not disturb other passengers, or take up seats that could be used by other passengers. They are not allowed in cars where the restaurant, cafe, or bar is operating unless they are guide dogs for the blind. Passengers and their dogs may be removed by the staff on board if a "disturbance" is caused, and they must depart at the next stop. In general, Italians LOVE dogs and even allow them inside grocery stores and restaurants – well, as long as they are quiet and well-mannered. The best dog traveler is typically the one that doesn't garner any attention from human passengers!
What about Italiarail?
You may also see Italiarail when you're traveling throughout Italy – it's basically the ticket reseller for Trenitalia trains catering to tourists and foreigners (e.g. with the destinations translated in English on the screen). Hence, the same rules apply. Dogs can still travel on Italiarail because their trains ARE Trenitalia.
Are dogs allowed on Italo?
OK, the second train company in Italy is Italo Treno, which is a privately owned high-speed train. Their main routes are from Milan to Naples and Turin to Venice. Italo trains also serve Turin, Milan, Venice, Padua, Bologna, Florence, Rome, Naples, and Salerno.
Luckily, small dogs like myself also travel for free on Italo! Their cap is 5 kg, which equates to roughly 11 pounds – sorry, giant Yorkies! All dogs (and cats) under 11 pounds can travel for free as long as they're transported in a carrier or "travel container" like a small kennel. Like Trenitalia, one dog is permitted per passenger. You must keep your dog either in the luggage spaces (NO WAY, José!) or next to your seat (YES, WAY!). Dogs not originally from Italy must have their paperwork and/or passports in line, as set forth by EC regulation no. 998/2003. All dogs must also travel with their registration certificate.
What about LARGER dogs on Italo?
Don't you worry! For dogs over 5 kilograms, they are also allowed on board. Well, as long as they are leashed and muzzled whenever they're "getting on and off the train OR requested by the Italo staff." ARF, does that mean your large dog can go off-leash and unmuzzled during the ride? As a small dog traveler, I cannot bark in certainty, but I wouldn't test your luck. The same paperwork requirement also applies, so please have those health records, passports, and/or registration certificates paw-dy (I mean, handy). You can make arrangements for your dog, if available, up to 2 hours prior to departure time by calling their "Pronto Italo" Contact Center at 06.07.08. Unfortunately, as their website indicates, "this service is only provided for Flex (subject to availability) in Prima, Comfort and on Evo trains also Smart ambiences. The price is 50€." As you can sniff, traveling with a large dog on trains in Italy is paw-ssible, but it'll cost you.
*Don't forget to pack treats, dog-safe food, bottled water, to-go bowls, and a blankey for your dog traveler!
Combating animal abandonment
Even though it costs a whoppin' 50€ to take your dog on an Italo train, Italo is doing some good work for large companion animals! High PAW to that! What I truly love about Italo is how they've recognized the rise of pet abandonment during the summer months when Europeans tend to go on "holiday" a.k.a. vacation. Sadly, over 80,000 cats and 50,000 dogs are dumped every single year in Italy, with the number rising over the summer months. GRRR, another reason to always adopt, NEVER shop. Hence, they've worked with Amici Cucciolotti to combat such cruelty by giving FREE tickets for large dogs (over 10 kg) to travel during July and August! ARF-my-DOG, that is so pawsome! With free tickets provided in the summertime, these innocent dogs hopefully won't be abandoned before their humans go on vacation. As a dog and cat advocate, I cannot wag my tail enough!
Guide dogs also travel for free on Italo Treno.
What if you want to fly with your dog instead?
In Italy, riding the train with your dog is, PAWS DOWN, way more convenient than flying. With that barked, if you prefer flying with your dog, it's not exactly complicated either.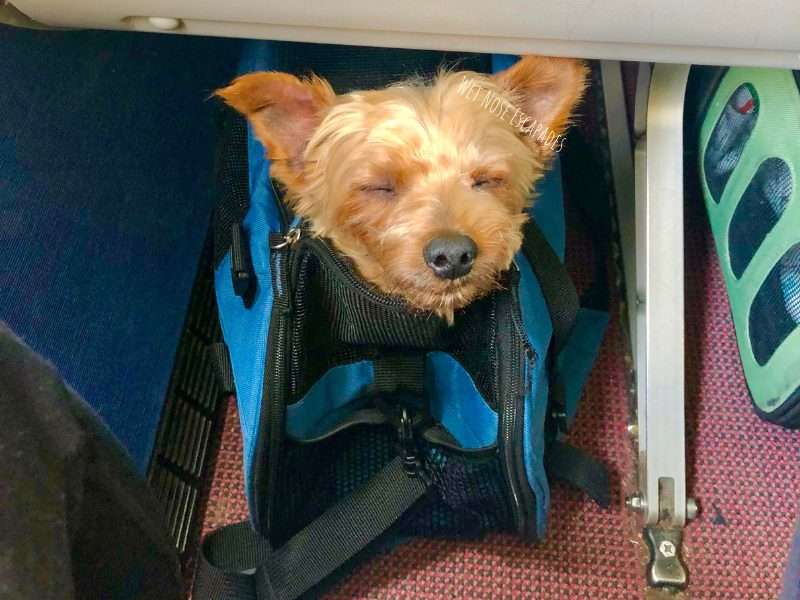 Unlike the U.S., flying with your dog is cheaper in Italy and throughout Europe. For instance, Italy's main airline Alitalia (along with other major airlines that operate in the country) allows dogs to fly in-cabin for a small fee as long as they remain inside their carrier: 50€ one-way for domestic flights, 80€ one-way for European and North Africa flights, and 225 USD one-way for USA flights. Bigger dogs will need to travel in the cargo hold, which I do NOT recommend unless you absolutely must travel with your dog or you are traveling due to a long-term or permanent move. Sniff out Alitalia's dog transport policy HERE.
Get your paws on my step-by-step guide on how to travel with your dog internationally.
WOOF, so are dogs allowed on trains in Italy? You betcha! While small dogs travel for free, larger dogs usually have to pay a price of entry (BUT it's totally worth it to explore Italy with your BIG dog)!
Hope you enjoy traveling in Italy with your dog! Feel free to share your experience with me. BARK AT ME!
Get more of my dog-friendly escapades in Italy HERE.
Sniff out my extensive guide on Traveling to Italy with a DOG.
Markin' it up,
Roger Wellington a.k.a. The Doob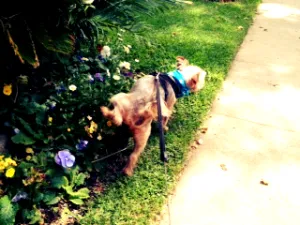 –
Like my post "Are Dogs Allowed on Trains in Italy?" CLICK TO PIN!