WOOF, let's bark about a country rarely mentioned in the dog-friendly travel world – Thailand! Despite a high street dog population, Thailand is getting more and more dog-friendly with its fair share of tail-waggin', deservingly spoiled pooches. GRR, don't believe me? Hear the barks and howls from my Yorkie buddy Bear and his lovely pawrent Mimi from the ARF-so-exuberant Bangkok (which is actually one of my human's favorite cities in the world)!
Is Bangkok, Thailand dog-friendly? Can you travel to Thailand with a dog? Perk up your ears and get that wet nose ready for some deep sniffing.
Tell us a little bit about Bear! (e.g. background, personality, whatever you'd like to share)
Bear is a fun, energetic, and compassionate 4-year-old Yorkshire Terrier. Funny story – when we picked up Bear, he was the most socially awkward and unique pup out of all of his siblings. Papa fell in love immediately while Mama and Grandma advised against it. Bear peed on his mama (hooman) the first day we took him home! He then proceeded to tilt his head back whenever somebody made eye contact with him. He's perfectly fine now though – he's the cutest pup ever!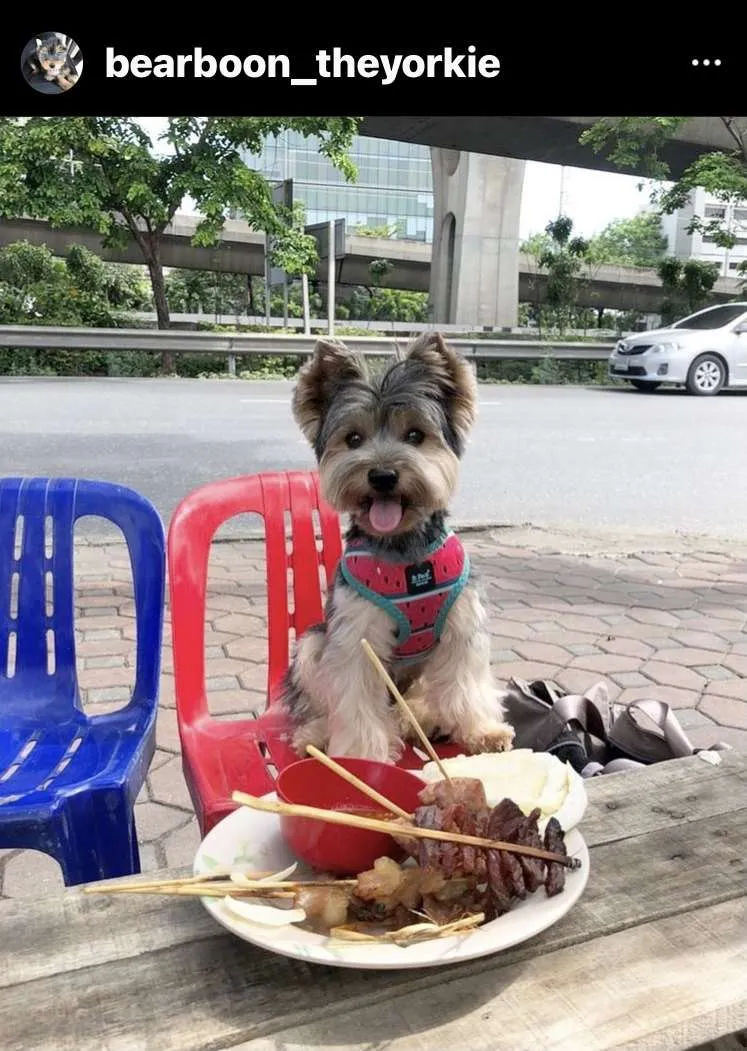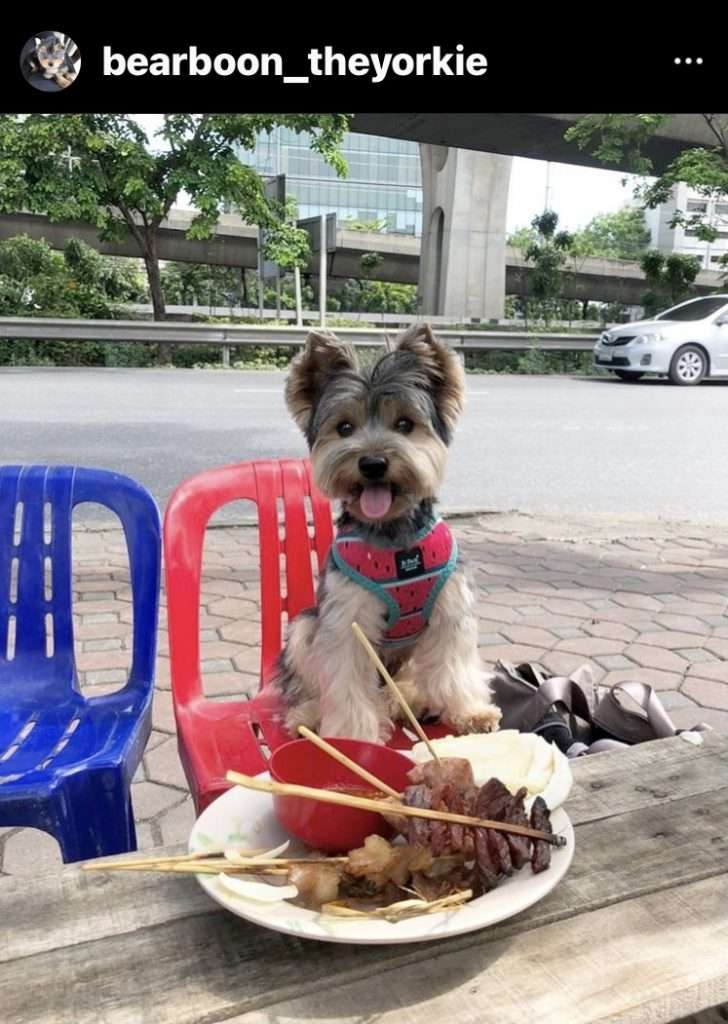 What do you love most about Bear?
His smile! He is always smiling and loves to be with his people. His smile brightens up anyone's day.
What is his favorite thing to do in the world?
Bear loves swimming. Grandma always asks if Bear is a fish!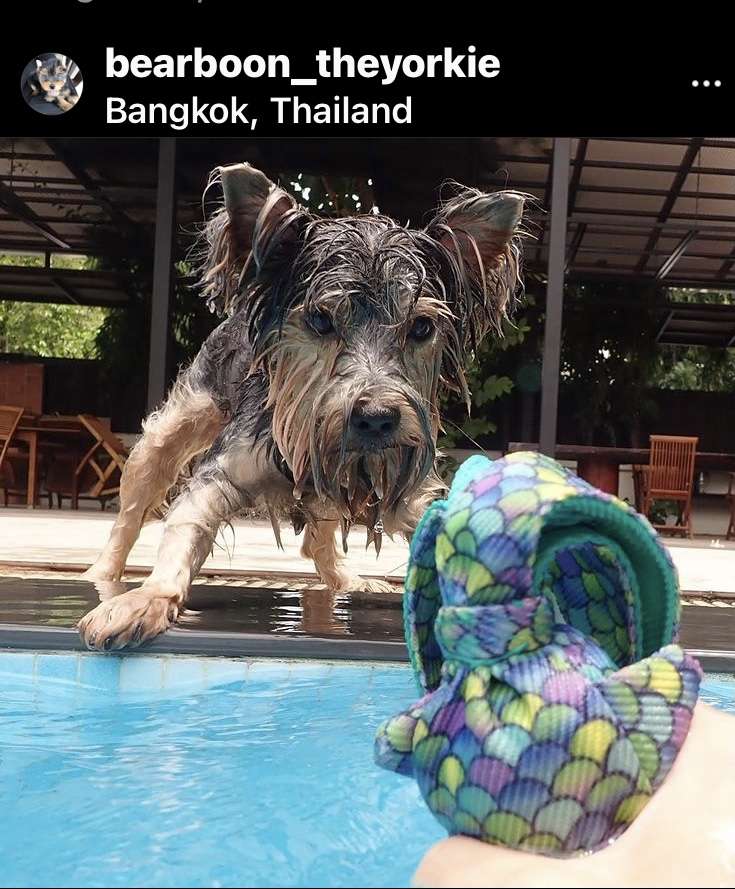 What does he hate the most?
Taking his medicine! Giving him the monthly flea and tick pill is a nightmare. He once opened his mouth at the hospital to show that he swallowed the pill, only to get home and spit it out in the living room 30 minutes later!
What are his favorite foods? Least favorite?
Bear loves all his meats – chicken, beef, pork, and duck. He sometimes purposely eats around his vegetables, but he is getting better now. We like to give him cilantro!
What is the most expensive item you've purchased for him?
Nothing materialistic, but we treat Bear like one of us. We cook him fresh food every 2-3 days. We also take him everywhere we go (work, holidays) and make sure he goes to daycare frequently for socialization and playtime!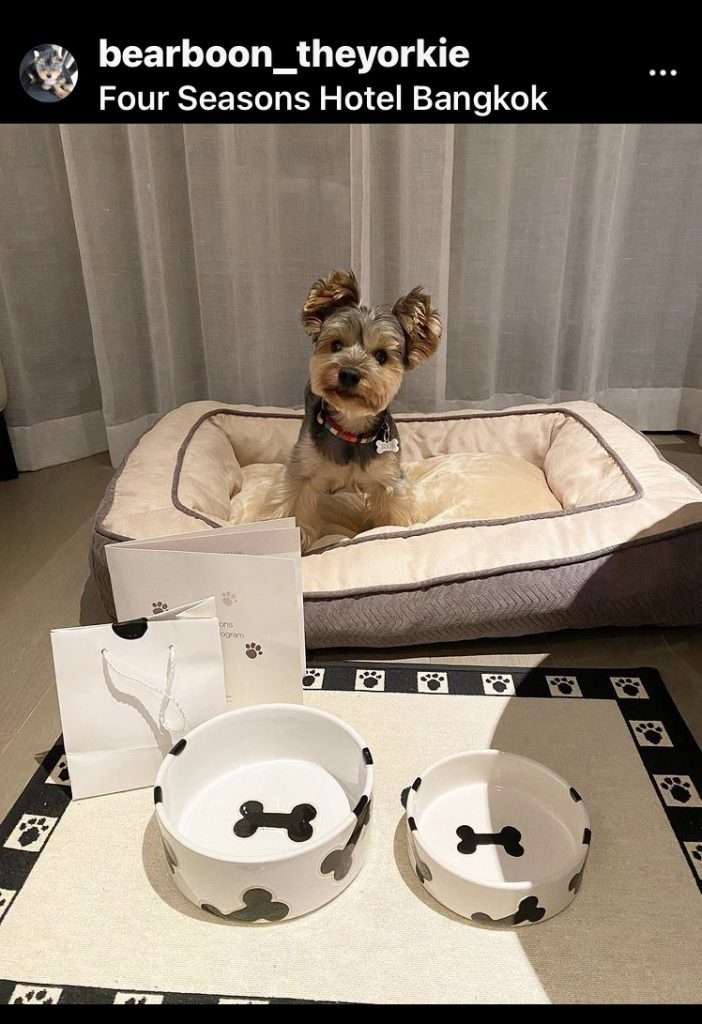 What's the best part about having a dog in Bangkok?
Probably nothing specific to Bangkok, but a dog is just a great companion!
What are some of your favorite dog-friendly parks in Bangkok? (please provide specific parks)
Bungnongbon (Nong Bon lake) is a great free park in Bangkok. It has luscious trees that make you feel like you're in Central Park and a dog-friendly loop about 1.5 miles long. Another dog park is Trail and Tail, which is Bear's favorite dog park! Trail and Tail is a one-stop-shop dog community with a huge grassy area, animal clinic, pet shop, dog hotel, swimming pool, and so many furfriends!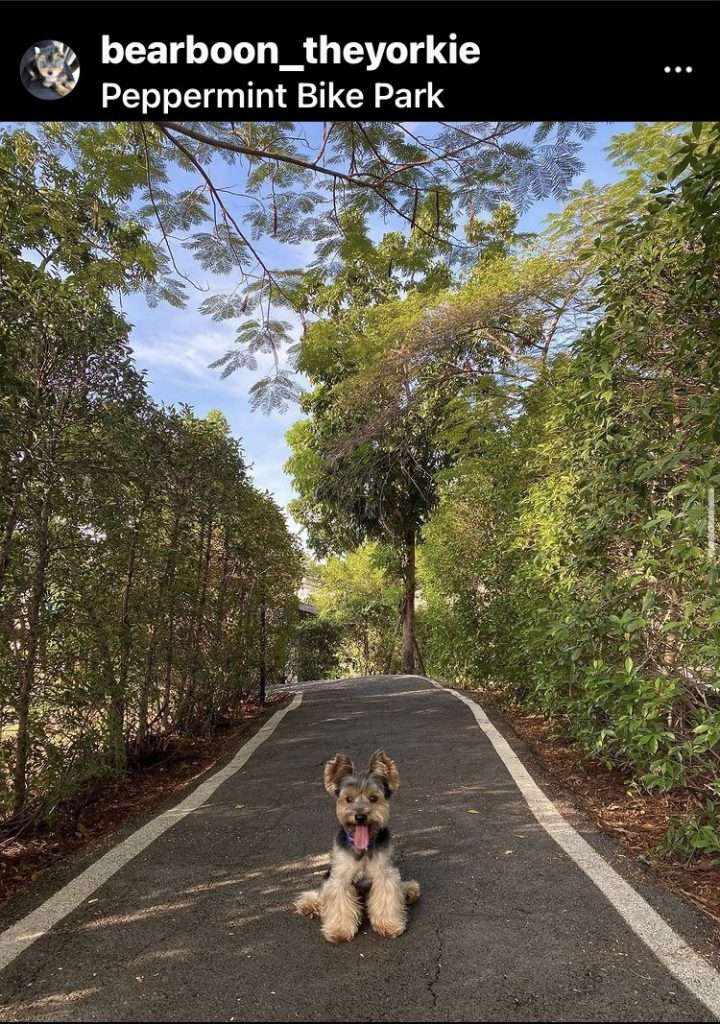 What are some of your favorite dog-friendly restaurants in Bangkok? Are dogs only allowed to dine outside? Or do some places make an exception? If so, where?
iL Bolognese at Sathorn Soi 8 has really great food along with an outdoor area where dogs are allowed! Mint Cafe on Ekkamai Ramintra Road is also one of Bear's favorites with an air-conditioned room (necessary for Thailand) and a little yard area for dogs! There are quite a few places around town that allow dogs to go in to sit with their hoomans, but definitely not enough!
What are some dog-friendly tourist attractions in Bangkok (if any)? Any other local dog-friendly places that you'd like to share?
None.
Overall, how would you describe the local people's attitudes towards dogs?
In Thailand, dogs are still seen as more of an animal rather than a family member (like in the Western culture). However, the views are changing with dogs becoming more of family members.
What are some of your favorite trips you've had with Bear (e.g. road trips, domestic air travel, international, etc. – if any)?
We took an island trip to Koh Tao, which was a 6-hour car drive and then a 1.5-hour boat ride to a remote island! Bear's favorite activity is swimming, so he absolutely loved being right by the beach, where he could swim every day.
Is it safe to assume that beaches are dog-friendly in Thailand? Or at least the ones that you've been to? Are there any other beaches (besides Koh Tao) where Bear loves to swim in?
Yes, all of the beaches are pretty much dog-friendly. But we are always cautious of stray beach dogs as we do not know what type of bugs they might be carrying or if they could be hostile. A few of Bear's favorite beaches are Cha-Am (about 30 minutes before Hua Hin/3 hours from Bangkok). Bear also loves swimming out in the deep blue roughly an hour from Jomtien Ocean Marina Pier (Pattaya/2 hours from Bangkok).
Are dogs allowed on buses, subways, rideshares, taxis, tuk tuk, etc.? If you have any specific experience regarding taking Bear onboard, please feel free to share!
Taxis and grabs (Uber) – possibly since it just depends on your driver. Everything else is a big no-no here.
However, there are also pet-taxi services now available. In fact, Bear used one just this past weekend for the first time. He went to daycare for a playdate at Trail and Tail dog park. We let the park organize a pet taxi for Bear, which cost 25 USD and was booked 30 minutes in advance. The total drive was roughly 15 miles one way and Bear arrived in a nice van! On top of that, we requested that the delivery van provide dinner for him as well; Bear was fed a premade dog meal by Dogster that cost roughly 1.5 USD. Dogster is a frozen whole food meal for dogs that Bear loves!
What is the biggest challenge of having a dog in Bangkok?
It is really hot! We have to make sure Bear always gets enough water. Luckily, Bear is not prone to heat strokes because his snout is quite long. However, breeds with shorter snouts like Frenchies, Bulldogs, etc. have to be extremely careful!
Based on your personal knowledge, would you say that people tend to buy or adopt/rescue dogs in Thailand? Do pet stores exist?
More and more people start to adopt, but Thailand still has a lot of problems with stray dogs.
We have many, many, many pet stores here, but our favorite is Pet Safari! We usually go to the Central Eastville one.
How close is the nearest veterinarian from your house? (e.g. in miles and driving time)
The one we feel comfortable with Bear is roughly 3.5 miles away (10 minutes without traffic, unlimited with traffic!).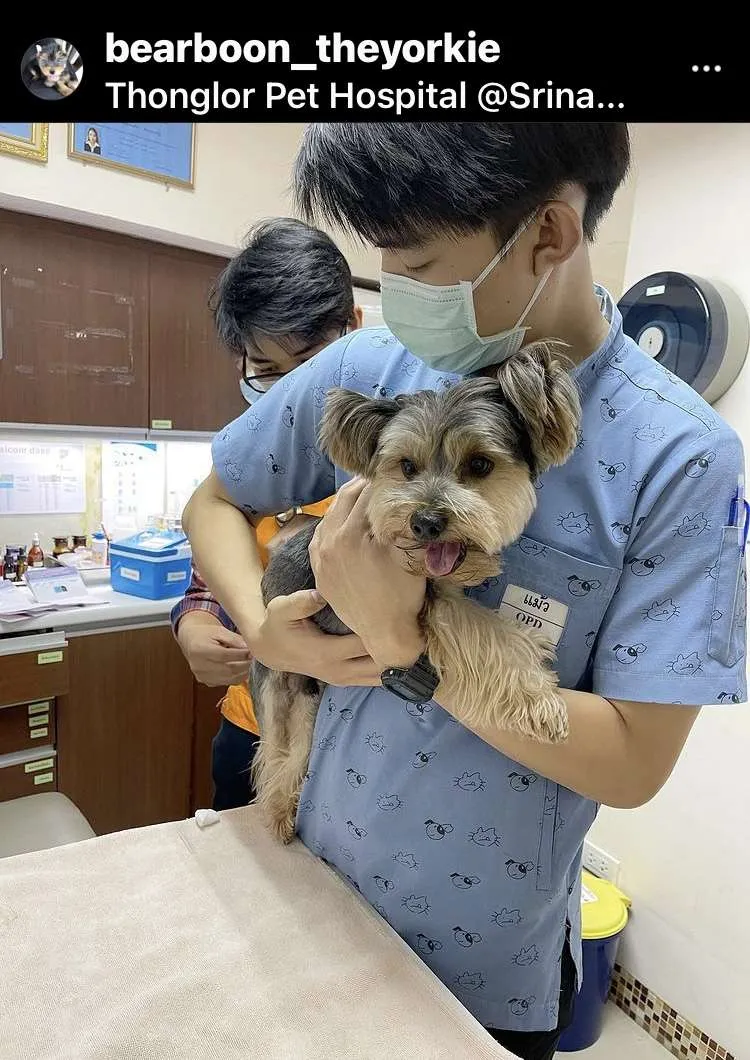 Approximately how much is a standard examination/office visit at the local veterinarian?
We pay 60 USD for Bear per month, which includes a check-up, flea and tick meds, ear cleaning, and a butt squeeze.
How would you rate/describe the quality of veterinary care in your area?
There are quite a few pet hospitals and clinics available – some are more trustworthy than others. We found Thonglor Pet Hospital and Jusco Ratchada Pet Hospital to be very reputable with high-quality vets who truly love Bear! Both of them are definitely more on the higher end of the price range though.
Approximately how much do you pay for doggie daycare (e.g. daily or weekly or monthly rate) for Bear?
We only send Bear to doggy daycare at Trail and Tail because we love how dog-friendly the owners and staff are. They take care of the dogs like their own and always send us photos and videos of what Bear is up to. Daycare for Bear here is 10 USD for a half-day and 20 USD for a full day. This allows Bear to socialize outside in the yard with all other dogs (both big and small). If it rains, he can play inside in an air-conditioned room as well. On a side note, Bear's favorite swimming place is HugMha in Kaset Nawamin, which is 13 USD for 1 hour and includes a shower as well! All the places in Bangkok charge by the size and weight of the dog – luckily, Bear is always the S or XS-sized pup!
In general, how are stray dogs treated in Thailand? Are there rescue organizations that help them? Has Bear ever come across stray dogs? If so, how has he reacted to them?
Stray dogs are, unfortunately, found everywhere in Thailand. There are a few famous organizations that help with stray dogs, but there are just too many! Oftentimes, stray dogs are dropped off at temples where they're provided basic care (although it is not enough). Bear has had a few encounters – both good and bad. Bear is more curious whether the stray dog will play or be his friend, but has gotten into a few shouting matches as well. We tend to be a little cautious when Bear is around other pups we don't know!
What is one thing you'd like to share with us about a dog's life in Bangkok?
We are lucky to see such a big, upward trend in new dog services and dog-friendly places in Bangkok and Thailand in general. So, we hope to continue seeing this trend and always try and support as many dog-friendly places as possible!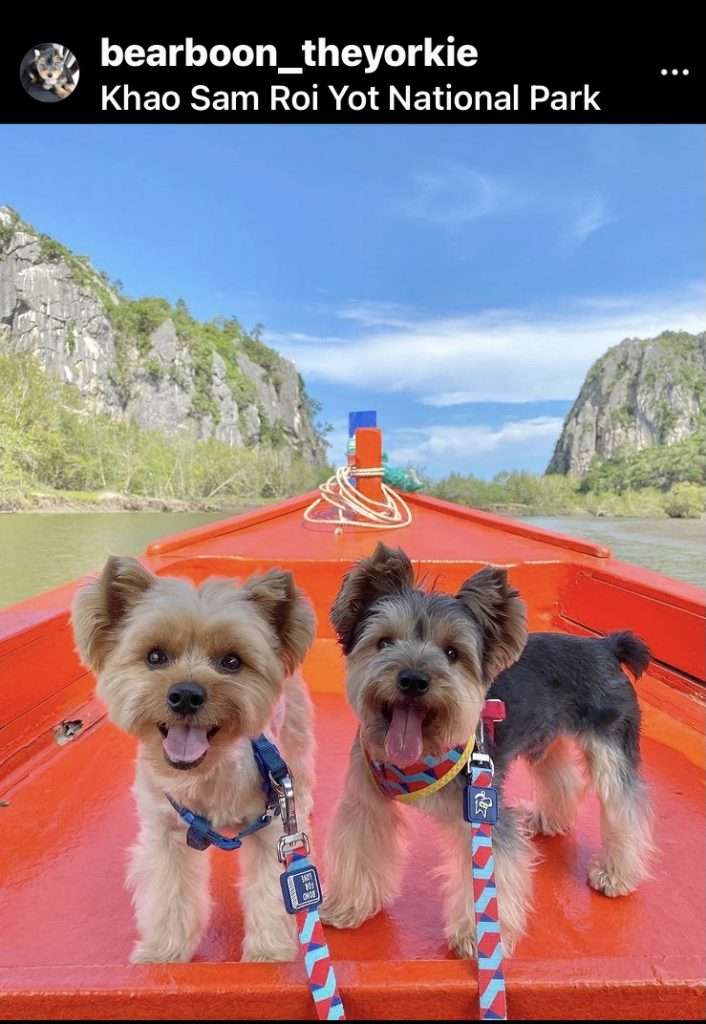 Thank you to Mimi & Bear for this interview and sharing their pawsome life with us! Can't get enough of Bear? Be sure to follow his marvelous life in Bangkok on Instagram!
How to Travel to Thailand from the U.S. with a Dog
Are you ready to travel to Thailand with your dog?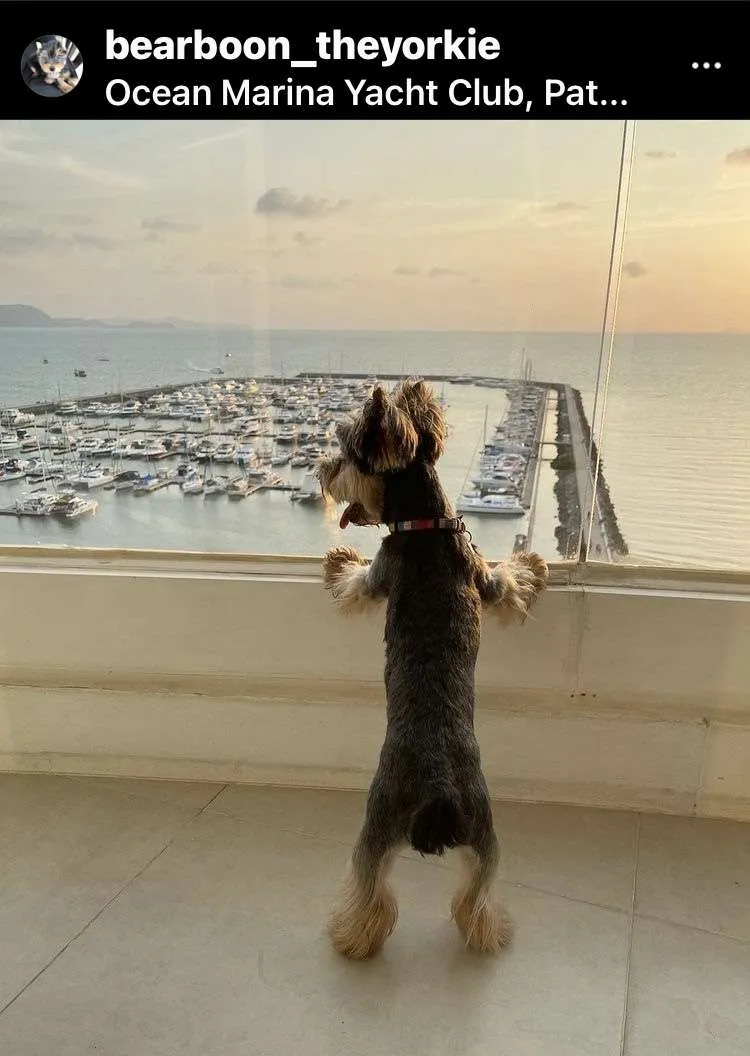 ARF, not so fast! Due to Thailand's high stray dog population and high rabies classification by the U.S., traveling with your dog is generally not recommended unless it's for a long-term stay or move. Additionally, the U.S. has temporarily suspended dog import from countries classified as high-risk for rabies as of July 14, 2021, which means returning home may be an issue until the ban is lifted (plus your dog will need to enter at designated airports in the U.S.). Find out more about the suspension HERE. (Sadly, this also means that international rescue efforts may be at a standstill :() Furthermore, Thailand has some strict requirements for dog import even though quarantine can be bypassed. Keep on sniffing below:
*Your dog must be at least 4 months old
*Complete Form Rore from Thai Department of Livestock Department
*Visit a USDA accredited veterinarian to complete the Veterinary Health Certificate
*Get the animal health certificate endorsed by the USDA/APHIS Veterinary Services office within 10 days of travel
*Your dog must be vaccinated at least 21 days before departure date against Rabies, Leptospirosis, Distemper, Hepatitis, and Parvovirus
*Your dog must test NEGATIVE for Leptospirosis 30 days before departure (typically a titer test)
*Banned breeds: Pitbull Terrier or American Staffordshire Terrier are prohibited from entering the country (GRR, since I grew up with the sweetest Pitbull, I can attest that no breed is deemed "dangerous" – it's all about the humans who raised them to be aggressive)
*Your dog can bypass quarantine if he/she doesn't show any sign of illness (WOOF, this is a HUGE win!)
With that barked, dogs are only allowed to travel in the cargo hold at Thai Airways (except for legitimate service animals). 🙁 Therefore, unless you must absolutely travel with your dog or can find another airline offering a direct flight to Bangkok, I do NOT recommend transporting your dog via cargo where baggage is stored.
For more information on dog travel to Thailand, put your furry paw HERE!
Hope you enjoy getting a lick of a dog's life in dog-friendly Bangkok, Thailand!
Markin' it up,
Roger Wellington a.k.a. The Doob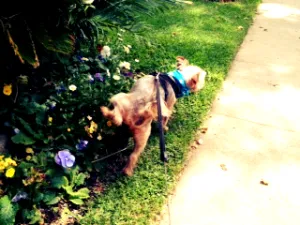 —
Like my post on "Dog-Friendly Bangkok, Thailand: An interview with Bear the Thai Yorkie"? CLICK TO PIN!