ARF, is Barcelona dog-friendly? Are you planning to travel to Barcelona with your dog? As the former Catalan Resident Yorkie, I'm ready to bark out 10 of my favorite dog-friendly activities in Barcelona.
Thanks to the Covid-19 pandemic, I've had to call Barcelona my home sweet home for nearly a year before being able to resume my canine nomadic life. Regardless, I've always loved this cosmopolitan seaside city even before I became a Catalan resident. My stylish rat tail is wagging to bark out Sí, Barcelona is muy perro or dog "friendly." Sure, it may not be as crazy dog-friendly as my former home bases in Paris and Florence (where I shopped for fresh tagliatelle in dog-designated grocery carts), but Barcelona is an international city jam-packed with fun escapades for you and your dog traveler. From dog-friendly tapas spots to dog-friendly parks, I sniffed no shortage of tail-waggin' places and Catalan furry butts to chase. 
WOOF, now sniff out my 10 favorite things to do with your dog in dog-friendly Barcelona!
*Please note that this post contains
affiliate links
, and at no obligation or additional cost to you, my humans and I earn a small commission if you make a purchase. If you love the work that we do, you can show your support by making a purchase through an affiliate link. Proceeds will go towards
feeding homeless dogs (and cats) along with improving the lives of the neglected and abused
.
#1 Walk along the Mediterranean coast 
The most dreamy neighborhood in the city, La Barceloneta is a triangular seaside area in the Ciutat Vella (Old City) district. Bordered by Port Vell and El Born, La Barceloneta boasts a coastal pedestrian pathway that's pawfect for a lovely stroll with your dog. Even though dogs are NOT allowed on beaches in Barcelona over the weekends during peak season, which is from April to October, I rarely see locals adhering to the rules. But, of course, I'm not barking that you obnoxiously break the rules by letting your well-behaved pooch loose on their pristine sandy beaches. However, if you do choose to make a quick stop with your dog on the beach for pictures, no one should make a big fuss about it. 
Without frolicking on the sandy beach, your dog will still love meandering along the clear blue waters on Mediterranean Coast. As La Barcelona beach gets pretty packed with volleyball games and amused tourists, it's best to venture out with your dog in the morning before the throngs of tourists and beachgoers take over. 
Separated by the Port of Olímpic Harbor, this lively beach area is separated into two different beaches – La Barceloneta and Platja de la Nova Icària. La Barceloneta is the most popular of the two with a fabulous beachfront promenade, tourist trap vendors, and overpriced restaurants while the low-key Platja de la Nova Icària caters more to locals like myself. Even as a former Greek Island beach bum, I don't like to get my furry paws wet (sandy is OK, but not wet. I'm very anti-bath!); hence, I'll choose a nice scenic stroll along the coast over doggy-paddling in the Mediterranean any day!  
Find out where to get your paws greasy and stuff that tummy in La Barceloneta!
#2 Admire Gaudí's work
GRR, no one can visit Barcelona without seeing some of Gaudí's famous works. Yet, this rule goes for furry visitors. Antoni Gaudí is perhaps the greatest gift from Catalonia to the world with his Modernist, individualistic, and ARF-amazing idyllic architecture. Born in Reus, Catalonia, Gaudí is a world-renowned architect known for his creative, three-dimensional incorporation of nature and religion in his works. 
From La Sagrada Familia to Casa Batlló to Casa Milà, Gaudí's masterpieces have put him in an exclusive class of his own and inevitably defined the city, attracting millions of visitors from around the world to his great works. Dogs may not be allowed inside museums, but they are still welcome to explore the exterior grounds of Gaudí's architectural beauties. 
Whether you want to take selfies or spend a few minutes admiring the facades of Gaudí's 130-year-old unfinished basilica (YES WAY), you must take your dog to La Sagrada Familia. In addition to a separate dog park, the delightful city square surrounding La Sagrada Familia welcomes your dog on its wide dirt pathways. As Gaudí worked on this UNESCO World Heritage Site until he died in 1926 (in Barcelona), La Sagrada Familia is still under construction today and expected to complete in 2026.  
And, luckily, Gaudí's renowned Parc Güell is, indeed, dog-friendly. Resting on Carmell Hill, this colorful park with flawlessly landscaped gardens and pathways feels more like Disneyland than a public park – well, without all the rides and screaming children. Besides the usual tourists, I stumble upon plenty of locals walking and running with their dogs – many of them even go off-leash. Since Parc Güell is one of the most visited attractions in the city, I like to get here early to avoid the crowd.
Watch me survive the first 5 days of lockdown in Spain
#3 Spy on green parrots (from a distance)
Parrots in the city? ARF, you betcha! Watching urban monk parakeets is a sniff-worthy experience in Barcelona! I learned that these little green "Quaker" parrots are not native to Spain, but were brought to Europe from Argentina to be sold as pets. Over the years, some escaped or were freed by their owners (due to their loud chirping). Now they can be found in urban areas throughout Spain, especially in Barcelona. After my first few months as a furry Catalan, I couldn't help but notice that these little green cuties hopping and chirping around at my stomping grounds.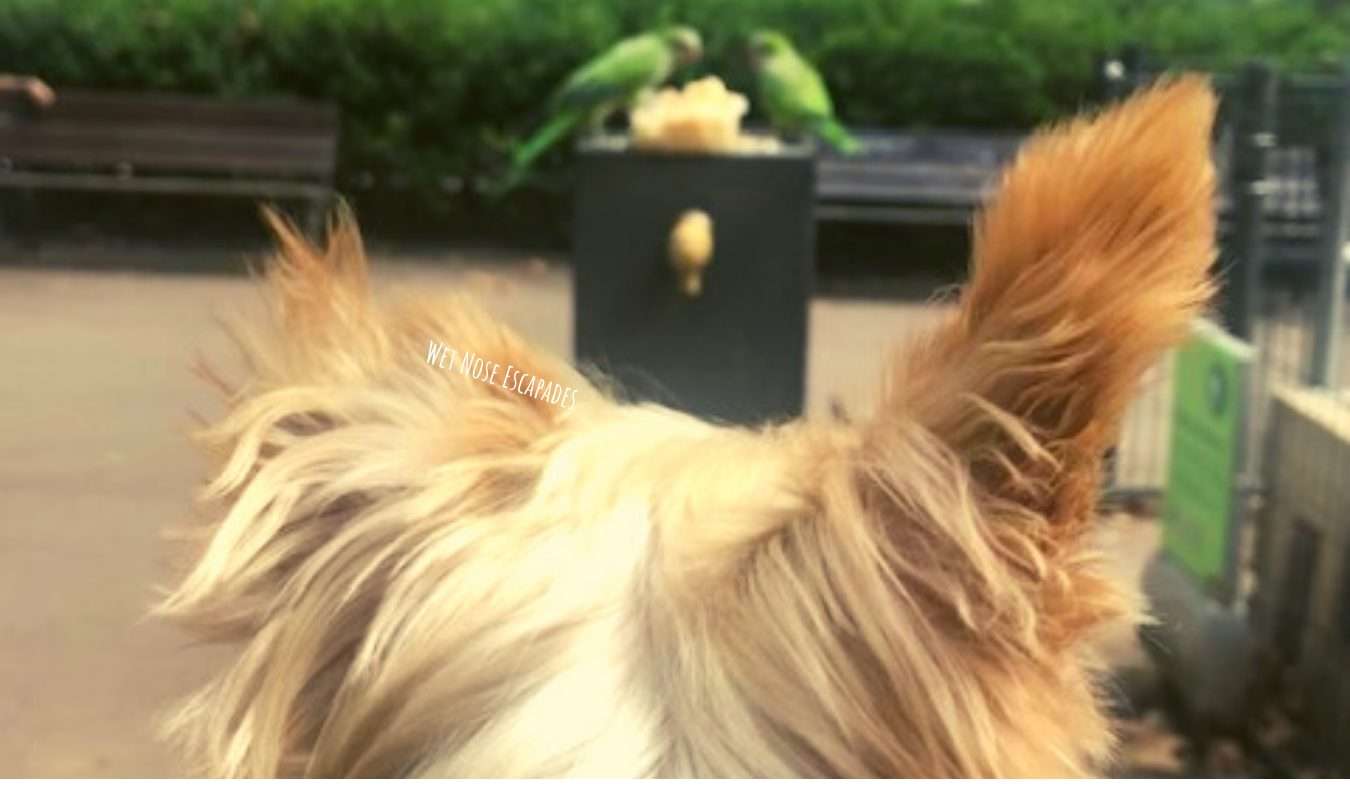 Look for them near the trees throughout the city, but remember to keep a distance so you don't scare them away (sadly, obnoxious kids are prone to chase and taunt birds for fun or out of boredom). Although they've reproduced so much that they are considered a plague, it's so heartwarming to see these beautiful tropical birds uncaged and free! Approximately 5-6,000 wild monk parakeets live in Barcelona today. 
My prime spots for ultimate parrot-spying:
Paseo de Sant Joan 
Parc de la Ciutadella
Plaça d'en Joanic
#4 Climb Montjuïc 
Southwest of the city center rests the majestic Montjuïc hill, a naturally flat-top hill with a 583-ft elevation boasting harbor sights and panoramic views of Barcelona. It is home to the Montjuïc castle, an old cemetery, botanical gardens, and several museums. Serving as the site for the 1992 Summer Olympics, the Montjuïc area has garnered international attention to bark the least. Translated as the "Jewish Mountain" from medieval Latin and Catalan, Montjuïc is an easy climb that only takes about 25-30 minutes, which makes a pawfect hike up with dogs of any size. Even a 7-pounder like me had no problem making the trek up (although I hopped into my human's arms for some steeper steps). 
Once my tiny furry paws touched the top floor, I perked up my ears to the sweet sounds of "City of Angels" by Red Hot Chilli Peppers, or shall I bark, the street performer's pawsome version of it. With my stylish upright tail and four strong paws at the top of the hill, I reiterated my undefeated pack leader status. All I can bark is WOOF, it feels good to be on top of the world. 
Before making the climb up, be sure to sniff out the Magic Fountain (Font Màgica) for some water motion entertainment. ARF, it sure took me back to my days hanging out at the Bellagio Water Show in Las Vegas, except this one feels way more authentic. I love how the cool mist drizzles onto my silky fur, especially on a warm summer day. My human also snapped a few pictures of me in front of the massive ionic "The Four Columns," which symbolize the four stripes of the Catalan flag.   
#5 Explore Gràcia
OK, I'm biased because Gràcia was my main hood in Barcelona (I also lived in L'Antiga Esquerra de l'Eixample and El Poble-sec), but it is a real Catalan pawty here. Without the tourists and crowds, Gràcia is PAWS down one of the best areas to get a real taste of life in Barcelona. Even with Gaudí's fairy tale Parc Güell nearby, you'll indisputably get a more local feel with local tapas bars, hipster wine bars, and ultra laid-back cafes. It feels like a small town here, and to be fair – it was at one point! Gràcia was its independent municipality before being gobbled up by the city in 1987. 
Comprising of five neighborhoods (Vallcarca i els Penitents, El Coll, La Salut, Vila de Gràcia, and Camp d'en Grassot i Gràcia Nova), Gràcia charms visitors and locals with cute boutiques, indie shops, art galleries, empanada joints, and of course, the plethora of dog-friendly parks and enclosed dog parks. Gràcia's dog-friendly parks are tail-waggin', exciting places to be on Friday and Saturday evenings – not just for dogs to chase furry butts but also for dog pawrents who use this prime time to talk each other's ears off. Like elsewhere in Spain, the nightlife culture doesn't necessarily stop at any age (or species) here! 
Get your furry paws on my exclusive guide to Dog-Friendly Spain
Besides public parks, you can take your dog to the local favorite, Chinese-run tapas bars, cafes, and wine bars where you'll find both the retired Catalans and 20 to 30-something-year-olds catch up over Estrella Damms, coffee, or bocadillos with their dogs right next to them. Most food and drink establishments offer dog-friendly outdoor seating for a small surcharge (typically 10%). Don't be discouraged to see "No Perro" (No Dog) signs/stickers on the doors of restaurants as you'll still find plenty of places that will allow your dog inside. 
Keep scrolling down more info on dining out with your dog in Barcelona below. 
My favorite parks in Gracias for some furry mingling:
Parc Güell
Plaça d'en Joanic
Calistenia Park
Jardins de la Indústria
#6 Stroll along Port Vell
Near the eminent(yet controversial) 60-meter tall Columbus Monument is Port Vell, the scenic waterfront harbor that makes a breezy relaxing saunter with your dog. In spite of its popularity, this area doesn't get too crowded, primarily due to its large open spaces and wide wooden pathways (which is a nice breather compared to the nearby tourist-flooded La Rambla and the Gothic Quarter). Before gentrifying to prep for the 1992 Olympics, Port Vell was an undesirable area filled with old warehouses and factories. Now, the pedestrian walkway Rambla de Mar connects La Rambla to Port Vell, making it a bustling scene along the harbor.
As I march along the harbor with an upright tail, I like to sniff out the faint smells of the sea until I get distracted by a furry Catalan cutie. The atmosphere in the area is ARF-so-dreamy; from intricate Spanish architecture to the blue-green sea with boats and yachts to immaculate slender palm trees, Port Vell is one of my top spots to take in the scenery, rest my alpha paws, and quench my little Yorkie thirst.
#7 Wander around Torre Glòries and Parc del Clot
Formerly known as Torre Agbar, the Torre Glòries a.k.a. Agbar Tower is one of Barcelona's most iconic skyscrapers topping at 38 stories. Opened in 2005, this tower is part of a series of modern, high-tech architecture found throughout the city. Nestled in the uber-hip Poblenou neighborhood, this 144.44-meter high tower spans 39 meters in diameter. While dogs are not allowed inside the tower, the surrounding area makes a fantastic exploration with your dog. 
To the north of the tower is Parc del Clot, the gorgeous 8.6-acre park with a RUFF industrial past. Located in the Clot district, this "green lungs" parkland is where you'll find several enclosed dog parks, wooden benches, a pond, and a spacious green area where your dog can roam around the dirt pathway. Just remember to keep your dog off the Mediterranean garden!
#8 Bar hop in El Born
ARF-my-Dog! El Born is hip, edgy, and trendy. In simplest barks, El Born is what I would call the less commercial main section. This neighborhood is another Top Dog cool in my little Yorkie mind. Situated between the overcrowded Gothic Quarter and Ciutadella Park, El Born is not only one of the oldest hoods in the city but also one of the liveliest. Although tourists are drawn to El Born, this neighborhood also attracts young 20 to 30-something-year-old locals who want to snack on patatas bravas over Estrella Damms, sangria, or cava (sparkling wine native to Catalonia) amid an alternative, Bohemian atmosphere. Sniff out my favorite tapas to try in Barcelona!
In addition to their dynamic cafes and vibrant bars (both of which generally offer ample outdoor seating for dogs), I like to sniff out the medieval remains on Calle Montcada and window-shop at their specialty boutiques. The best part about El Born is that it's close to all the action in the city center, but not quite in the heart of it; hence it's busy enough to feel the vibrance of the city, but not too crazy where it gets overwhelming for your dog. This fashionably cool neighborhood is only a 10-minute walk from La Barceloneta, La Rambla, and my all-time favorite Citadel Park (Parc de la Ciutadella). 
*Don't forget to pack a bag of treats, dog-safe food, bottled water, and to-go bowls for your dog!
#9 Hit up a pintxos bar
Sure, I can eat my little Yorkie heart out to tapas anywhere in Spain. But while living it up in Barcelona, I'd rather get my paws greasy with some pintxos on Blai! YUM!
OK – Pintxos may not be native to Catalan, but this Basque tradition made its way to popularity in Barcelona. In my former hood of Poble Sec, I've walked my tiny furry paws up and down Carrer Blai to sniff out the best pintxos bars in town. As dogs are always allowed to dine outside (outdoor seating usually has a 10% surcharge), you won't have a problem finding a pintxos bar to dine with your dog. On several occasions, I've also sat my furry butt inside and munched on a crunchy pintxo or two so it ultimately depends on the pintxo bar owner.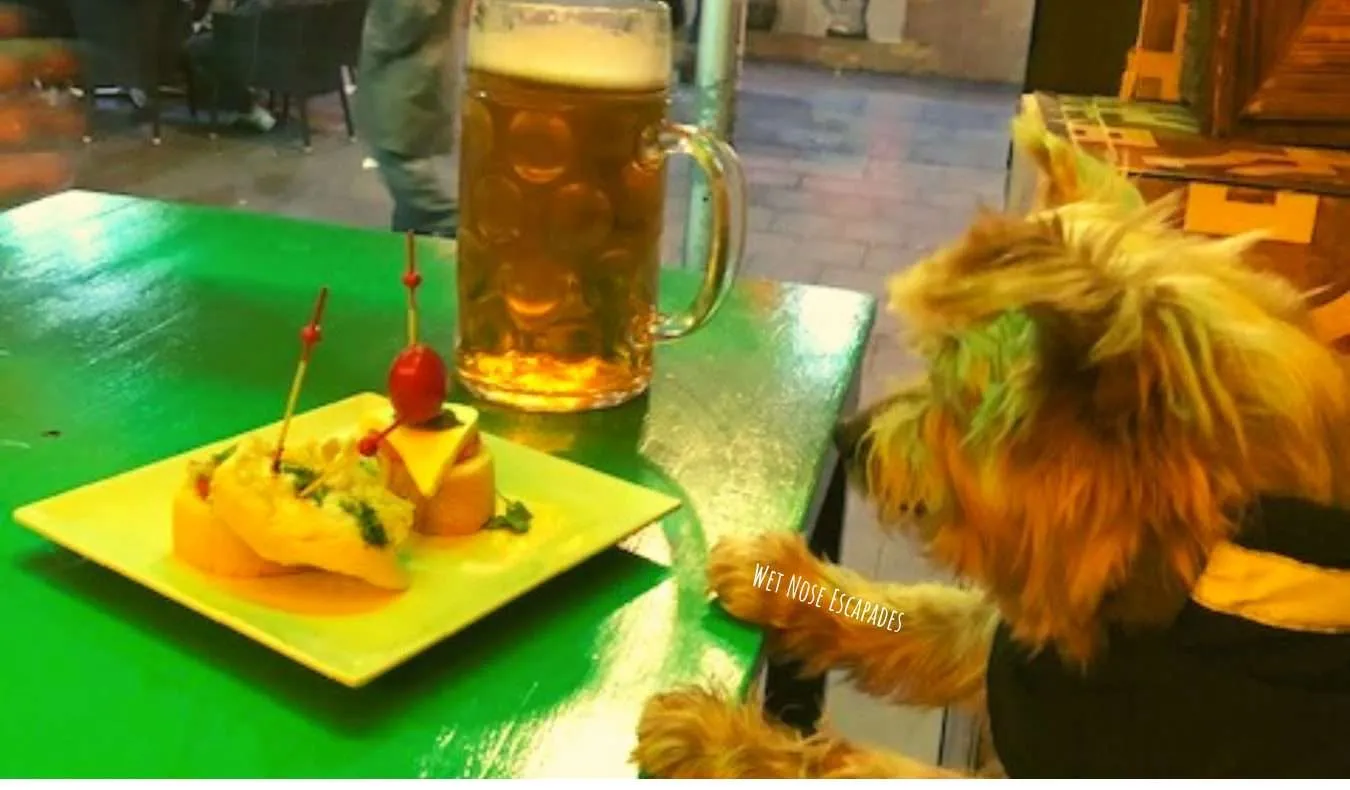 Now, what the ARF is a pintxo? Let me bark it out loud and clear for you! To be enjoyed with friends over a drink or two, pintxos are small finger snacks with toothpicks for easy handling. These chops-lickin' snacks typically have a small baguette base and are topped with a variety of yummy toppings, such as manchego cheese, crab salad, grilled shrimp, fried calamari, Spanish omelet (tortilla Española) among many others. To determine the bill, you'll need to keep a count of the toothpicks. Keep in mind that the pintxos stabbed with fancier toothpicks (the cocktail ones with a colored ball on top) typically cost more than the ones with plain toothpicks.
*Don't forget to pack a bag of treats, dog-safe food, bottled water, and to-go bowls for your dog!
#10 Scope out the art at Citadel Park
Despite being a fortress in its former days, Citadel Park feels like a dream where euphoria comes to life. Established in 1877, Citadel Park a.k.a. Parc de la Ciutadella (Passeig de Picasso, 21) was the only green oasis in Barcelona for many decades. Just a few minutes away from Arc de Triomf by furry paw, this 70-acre park with a serene lake and myriad of head-tiltin' cast-iron sculptures is one paradisal dog-friendly attraction that you cannot miss. And, trust me – with all the furry Catalan cuties roaming around, your dog will not want to miss out. Yep, I know how FOMO sets in!
This open-air sculpture museum-like park is pawfect for a slow, long saunter with your dog since there's A LOT to sniff out and snap some IG-worthy pictures, including a grand Trevi-like water fountain designed by young Gaudí himself, a life-size stone mammoth (GRR, I thought it was an elephant at first), the massive stone gateway on Passeig Pujades (which was supposed to be the Eiffel Tower, but the pitch was rejected by Barcelona city council). A quick sniff of the eye-catching sculptures sprinkled throughout the park had me guess that this is no ordinary park. The artistic sightings are simply phenomenal and never fail to drop open my little Yorkie mouth in awe. 
Besides the parliament and a 128-year-old palm house, Citadel Park houses the zoo, which is the only downside to this park (at least to me). Please do me a favor by NOT supporting the captivity and captive breeding of wild animals. Find out other ways to to help animals while traveling!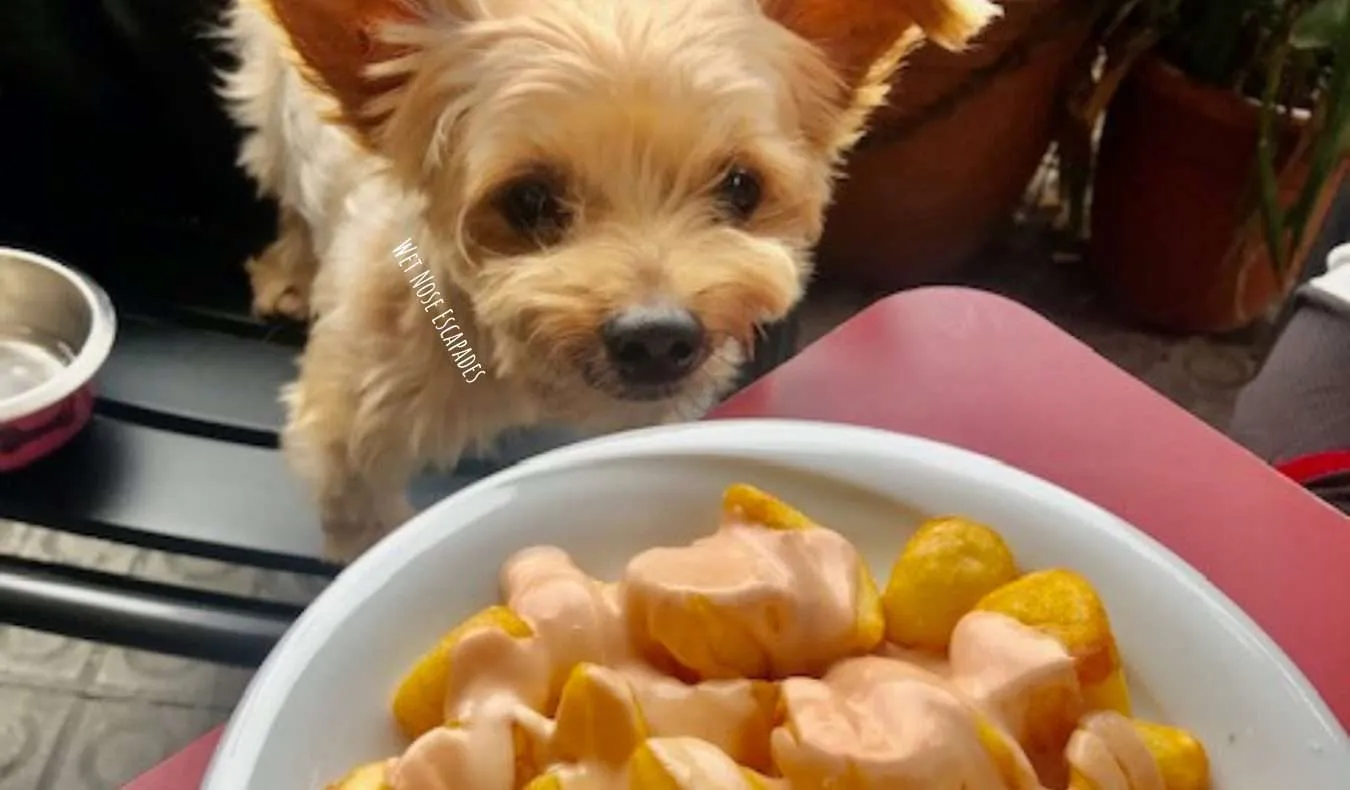 Be on the sniff out for Sr. Perro stickers! Sr. Perro (Mr. Dog) is a pawsome website that provides dog people with dog-friendly restaurants, bars, hotels, and shops in Spanish cities. Registered dog-friendly establishments have Sr. Perro stickers on their door to welcome your dog inside. From tapas bars to pintxos bars, you'll find plenty of food and drink establishments with Sr. Perro signs in Barcelona that will gladly welcome furry paws at their doorsteps. Sure, you will also come across a "No Dog" sign or sticker in front of many restaurants and stores, but don't be discouraged! On innumerable occasions, I've wined and dined inside busy cervecerias, dimly lit overpriced hipster joints, and old school traditional Spanish restaurants that don't normally accept dogs. If you don't see any dog sign or sticker, don't be afraid to ask. If they are willing to accommodate, please remember to say "Moltes Gràcies" (Catalan) or "Muchas Gracias" (Spanish).
Regardless, dining outside with your dog is hardly an issue – just be prepared to pay the small surcharge for outdoor dining. 🙂
Check out my 10 Favorite Dog-Friendly Restaurants in Barcelona!
Dog-Friendly Public Transportation
Both big and small dogs are welcome on Metro (underground) and Renfe (Spain's national railway) in Barcelona. Small dogs like me must be transported inside a carrier while large dogs must be leashed and muzzled (although muzzling is rarely enforced). One person per dog. However, dogs are generally NOT allowed to travel on Metro during rush hour (M-F 7-9:30 am, 5 -7 pm).
Buses, on the other hand, will only transport small dogs inside carriers. Larger dogs are not allowed onboard unless they assist the blind, disabled, or security personnel.
Something to keep in mind
Even though most people in Barcelona can speak and understand English to some degree, I'd always practice my Catalan barks to display some effort. In case you don't already know, Barcelona is in Catalonia which is an autonomous community in Spain with its own distinct language and cultural identity, separate from Spanish. Even though Spanish is also widely spoken in Barcelona, the long-time locals take immense pride in their heritage and prefer their native tongue of Catalan. With native Catalonians consisting nearly 60% of the community, which, btw, is the wealthiest in Spain, it's no surprise that many Catalans still want independence from Spain.  
Subscribe to my YouTube Channel: Wet Nose Escapades by Roger Wellington for more fun dog travel videos!
So, is Barcelona dog-friendly? Hear my barks – Sí, sí, sí! Hope you enjoy visiting dog-friendly Barcelona with your dog! Feel free to share your experience with me.
Be sure to grab my guide to Dog-Friendly Spain!
Markin' it up,
Roger Wellington a.k.a. The Doob