Last Updated 7/6/23
Budva, Montenegro is not only a picturesque getaway on the Adriatic Coast, but it is also a playground for young party-goers from all over Europe. Budva has something for people of all ages and walks of life: luxurious resorts, remote beaches, vibrant beach clubs, sprawling casinos, cruises around the stunning Kotor Bay, and a historic Old City with medieval walls.
But most of all, Budva has a plethora of delicious restaurants. I spent over a month as a spoiled beach bum in this town – I marked up practically every bush, trash can, and corner while sniffing out some of the best food along the way: from high-trafficked waterfront restaurants to laid-back inland local spots, I've tried them all.
Sniff out my list of the best food in Budva, Montenegro:
#1 Best Food in Budva – Seafood Spaghetti
Where to get it: Jardan Kod Krsta  (located at Slovenska Obala – waterfront location)
Mmmm…when I think of Budva, I instantaneously remember the aroma of freshly cooked seafood. I can't help but lick my chops as I dream of those tasty dishes, especially the seafood spaghetti. With its strategic location along the Adriatic, you know you're in seafood heaven when you're in Budva. In fact, Montenegro's location along the sea and its proximity to Italy, its Adriatic neighbor, make seafood pasta my #1 must-try dish while living in the country.
An abundant amount of seafood mixed with spaghetti and served with a light cream sauce make this mouth-watering dish an instant doggy favorite. Finely chopped mussels, calamari, octopus, and shrimp ensure that each bite is filled with an explosion of flavor. And don't forget the additions of pepper, which gives the dish a slight kick, and diced tomatoes, which complements the freshness of the seafood.
10 Tips for Summer Travel with your DOG
#2 Best Food in Budva – Shopska Salad
Where to get it: ANYWHERE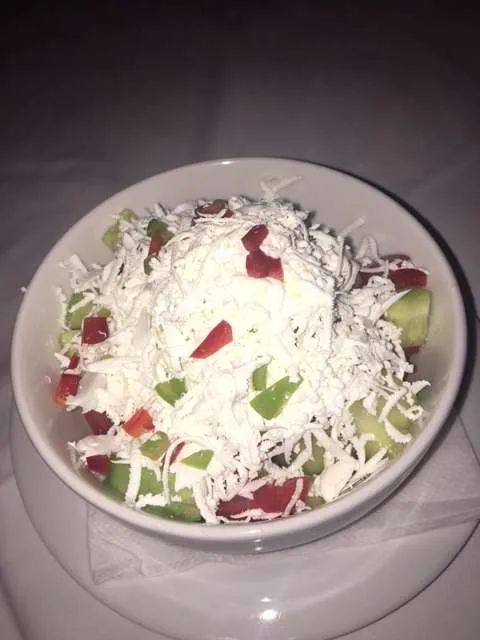 Dogs and veggies? You betcha! That's how I keep my cute little nose wet. I LOVE my veggies! As a matter of fact, I even learned how to "roll over" in a mere 15 minutes for the chopped cucumbers in this salad. From an ingredients standpoint, this Bulgarian masterpiece is a simple salad consisting of freshly chopped veggies: tomatoes, cucumbers, bell peppers (called paprika), and onions (red or green).
But don't let its simplicity fool you; the magical ingredient that makes this salad special is the salty, creamy cheese known as sirine, which is a brined cheese native to the Balkans. In fact, there is no need for any dressing as the creamy saltiness of the shredded cheese balances with the crisp freshness of the veggies. Not only is this salad a perfect complement to any meal, but it is also my go-to snack when I want to cool off on a hot beach day.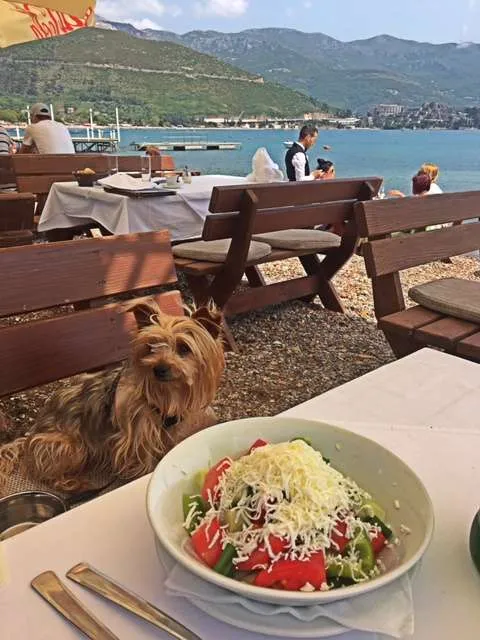 Watch my fabulous Yorkie life in Budva, Montenegro!
#3 Best Food in Budva – Black Risotto
Where to get it: Zeleni Gaj (located at Slovenska Obala – waterfront location)
OK – don't let the darkness scare you! The black risotto is one of the tastiest dishes I've ever chomped on. As a specialty of the Adriatic, black risotto is a MUST-TRY dish in Budva. Concocted with black ink from cuttlefish, this unique rice dish sets off a yummy fresh seafood flavor. While rice is cooked until slurp-able in my little mouth, the lemon wedge gives it a zesty refreshing kick to counter the fresh-out-of-the-ocean squid ink taste. And, most importantly, the light olive oil brings all the delightful ingredients together. ARF, gimme more!
Dog-Friendly Places in Bruges, Belgium
#4 Best Food in Budva – Grilled Salmon Fish Fillet
Where to get it: Olimp (located at Pa Kaia)  and Pivnica (located at Slovenska Obala)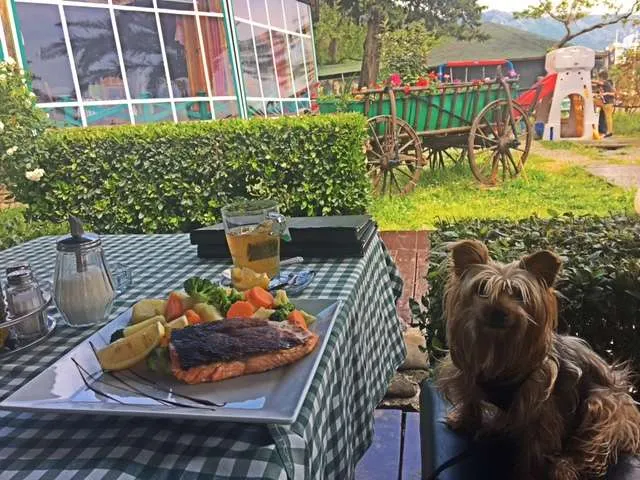 Arrrrfff! Anyone who knows me knows that I have a soft spot for salmon regardless of its form (kibble or fillet). And to my luck, the Montenegrins know exactly how to satisfy my little yorkie tummy with an impeccable grilled salmon steak. Salmon is usually my go-to fish as the wild caught variety offers great health benefits, from low levels of mercury to omega-3 fatty acids. Soft and succulent on the inside with a slight crisp and artistically golden skin on the outside make this one heck of a dreamy (and filling) meal. The only drawback is that it's not going to be easy to go back to my salmon kibble after this…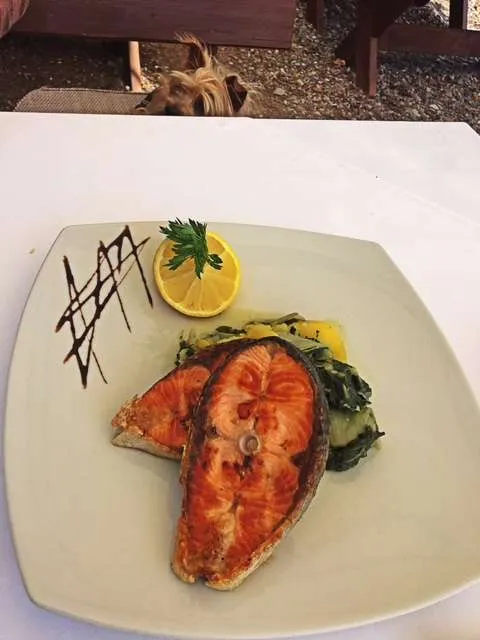 10 Things to do with Your Dog in Dubrovnik, Croatia
#5 Best Food in Budva – Beef Goulash
Where to get it: Obala (located at Slovenska Obala) and Kuzina (located at 20. Novembra)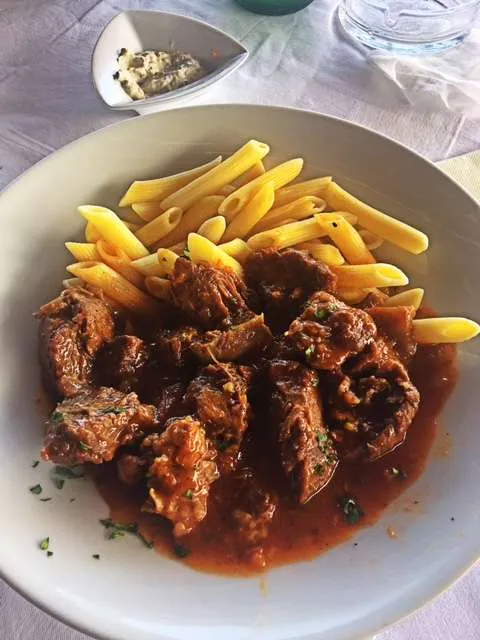 WOOF! Double WOOF! It's meaty BEEF time! Despite my aspiration to be a vegetarian, my tiny mouth and snout will forever be uncontrollably drawn to beef; it's simply yummy and worth burying away! Beef goulash is comfort food at its best: tender chunks of savory beef balanced with a side of penne pasta just can't be beat. The ingredient that elevates this dish to another level is time. You can taste the slow-cooked to perfection meat with every bite. It's exactly how a meat stew should be. Believe me, this dish exceeds all expectations. Despite originating in medieval Hungary, you can find varieties of this ambrosial dish throughout Europe several centuries later.
Sniff out my list of the 10 BEST Food in Rome, Italy
#6 Best Food in Budva – Porto Chicken
Where to get it: Porto (located at Nika Anđusa, Objekat 5A, Petrovac)
Woooooof! Now this is what I call a complete dish: two tender, juicy chicken breasts covered with a creamy mushroom sauce and served with "oversized yorkie" shrimp and vegetable risotto (not to mention a garnish of black olives and cherry tomatoes). The mushroom sauce alone is enough to make me lick both my nose and plate clean. First off, the chicken breasts (yes, plural) meet the standard for grilled-to-perfection: a tender, juicy interior and a slightly crisp exterior with perfect char.
Then add in some local seafood, grilled shrimp, before topping both off with an delectable mushroom sauce. As good as the main events are, the side of vegetable risotto makes this dish a CLASSIC! The creamy risotto, which consisted of a medley of shredded veggies (zucchini, mushrooms, eggplant, carrots, and cherry tomatoes), is a meal in itself. This is a can't miss dish while visiting Budva.
10 Things to do with Your Dog in Vienna, Austria
#7 Best Food in Budva – Sea bass
Where to get it: La Bocca (located at Slovenska plaza BB)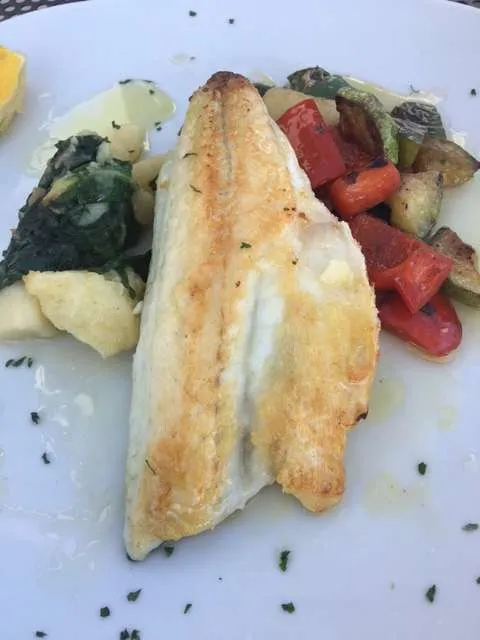 Tease me with wild-caught sea bass and I will growl at you. Grrr! Seriously, don't mess with a top dog yorkie (or any yorkie) and his fish. Fresh Adriatic sea bass grilled flawlessly and then exceptionally complemented with an assortment of toothsome veggies: sauteed swiss chard, roast potatoes, and grilled vegetables. Mmmm mmm. My rat tail will wag in infinite circles at the sight of this wonder. Simply, my FAVORITE!. The thing that really completes this dish is the consistency (and flavor) provided by the olive oil and lemon wedge. Topped off with some freshly chopped parsley: a perfect finish!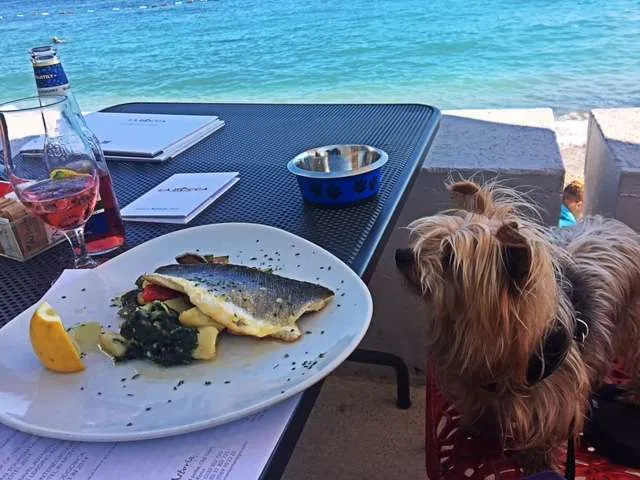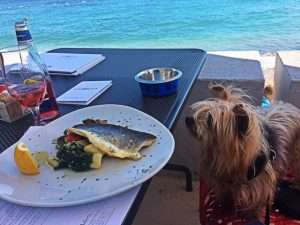 #8 Best Food in Budva – Veggie Pizza
Where to get it: Pizzeria Lav (located at Iva Mikovića 16)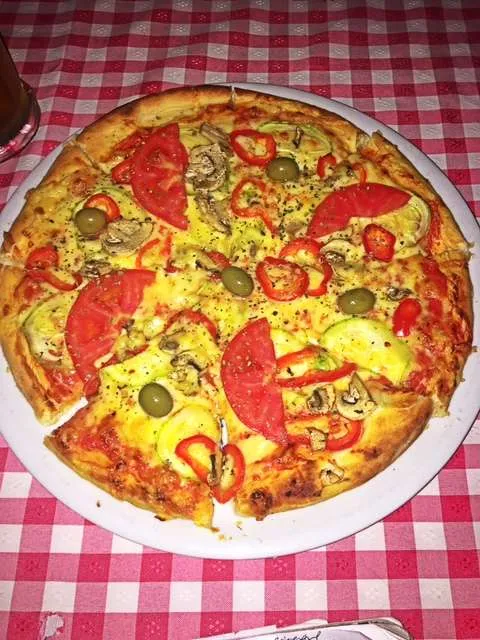 You're in luck if you ever get to sniff out this dynamic one-woman operation. (You may even see her cat lounging around. Grrr!) She creates pizzas from scratch in split seconds – from rolling and caressing the dough to strategically chopping up fresh ingredients. I love the veggie pizzas here; the crust is of medium size and baked so timely, giving it a crisp bottom and a soft exterior. Tomatoes, mushrooms, red peppers, zucchini, and olives served over melted mozzarella make this one heck of a meatless lover's pizza.
Watch how I survived the first 5 days of quarantine in Spain
#9 Best Food in Budva – Gurman Burger
Where to get it: Grill Bistro Parma (located at Mainski put)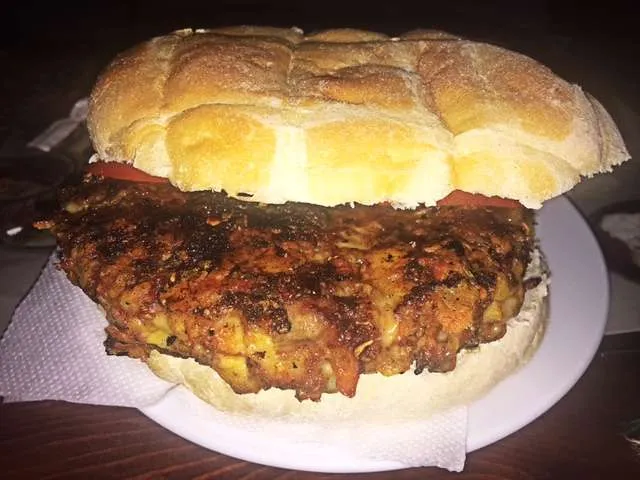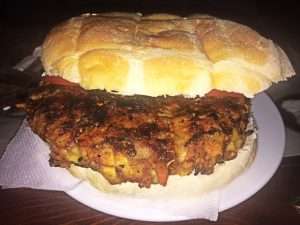 Grrr! This is when I growl AND bark if I don't get some action on this burger. A WHAT burger? Gurman? I couldn't help but tilt my head in confusion as the waiter explained the dish to me. I wasn't sure what I was getting into, but the waiter at arguably the best grill in town personally recommended it, so you know I had to give it a try. At first glance, I was already intimidated: it looked like an entire meatloaf sandwiched between a whole loaf of bread. After eventually getting over the size of the gargantuan sandwich, I finally sunk my canine's into it; that's when I figured out it out.
The gurman burger is simply the Montenegrin version of the gourmet burger. As if the name itself wasn't an obvious giveaway, the elaborately seasoned meat confirmed the deal. Deliciously seasoned meat with a great grill flavor served between two pillows of goodness would make any "vegetarian" take a (dietary) day off. Who needs condiments when you have a savory, melted local cheese binding the juicy, toothsome meat to the tasty, soft bun?    
#10 Best Food in Budva – Börek
Where to get it: Riječki Mlin (located at Mainski put bb) and Pan Expert (located at Ivana Milutinovica St., 13)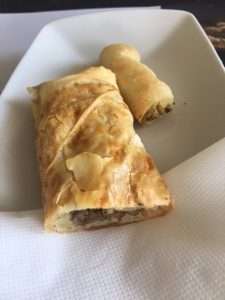 What makes this flaky, layered treat delightful is that it comes in a variety of fillings: cheese, spinach and cheese (similar to the Greek classic spanakopita), and minced meat (for you carnivores). So scrumptious cheese could be the sole filling of this flaky baked pastry? YEP! I LOVE CHEESE! I MUST HAVE CHEESE! This incredible treat satisfies my craving for cheese, and it does so by perfectly complementing the gooey greatness with a crispy, flaky exterior: a perfect marriage between flavor and texture. The locals have told me that this flaky pastry is IT. So what does "IT" exactly mean? Well, you'll have to try it for yourself to understand the blissful marriage between flavor and texture. Although the cheese filling is "cheesy," it is far from heavy, which makes it a worth-guarding light snack or breakfast on the go.
Watch me hit up the 10 COOLEST Places in Budapest, Hungary
Hope you enjoy all these eats in Budva! Want more of my Budva escapade? Put your furry paw HERE!
Don't forget to watch me fly all around the world + get my exclusive dog travel tips!
Markin' it up,
Roger Wellington a.k.a. The Doob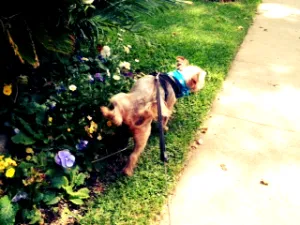 —
LIKE MY POST on "10 Best Food in Budva, Montenego?" PIN IT!