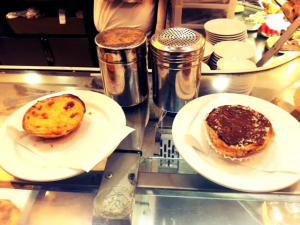 Last Updated 2/23/23
Olá, escapaders! Portugal's capital city, Lisbon, offers some of the best food I've ever had in Europe. From the mouth-watering daily catch to the sweet nata, Lisbon (or "Lisboa") overwhelms me with all its irresistible food. When I'm in the city, I feel like I'm at a wet food buffet; I can't help it – my nose leads me in all sorts of directions! I can even smell the Atlantic ocean from my hotel room in Alfama. Despite Lisbon's extensive, rich history, it seems to be an overlooked destination in Europe, buried behind its counterpart on the Iberian Peninsula, Spain. Besides the Age of Exploration, the Golden Gate-inspired bridge, and traditional fado music, Lisbon has a special place in my little yorkie heart for FOOD. Here are my picks for the Best Food in Lisbon: 10 Places You MUST TRY:
#1 Best Food in Lisbon: Crisfama
-Rua da Cruz de Santa Apolónia 56, 1170
Crisfama is a small (and somewhat hidden) neighborhood restaurant that you can easily walk past, unless you have a powerful nose like me. It serves some of the best local dishes.
Here are my favorites:
Grilled Seabass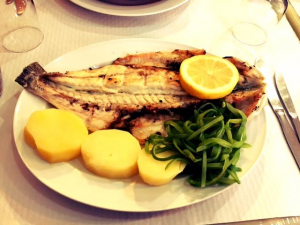 When visiting Lisbon (and Portugal in general), you have to order the fish! The seabass at Crisfama is one dish that my nose is naturally drawn to; I'm a sucker for seabass that is grilled to perfection. In addition to being drizzled with olive oil, which amplifies the flavor of the fish, the seabass comes with a lemon wedge, which helps the dish attain its refreshing balance. The complementary potatoes are simply boiled and seasoned appropriately.
*QUICK TIP – Don't order fish on Mondays!
In general, fishermen don't go fishing on Sundays so the fish that you're getting on Monday is not "fresh."
Chicken Breast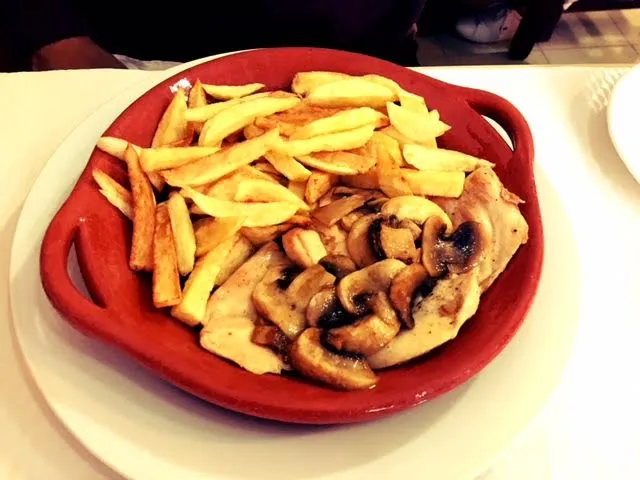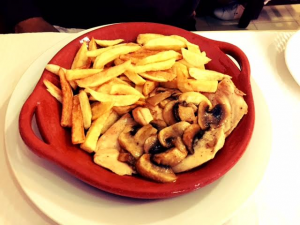 I <3 CHICKEN. Tender chicken breast topped with sautéed mushrooms and served with fries that are cooked flawlessly (and without the unnecessary grease).
Tomato Salad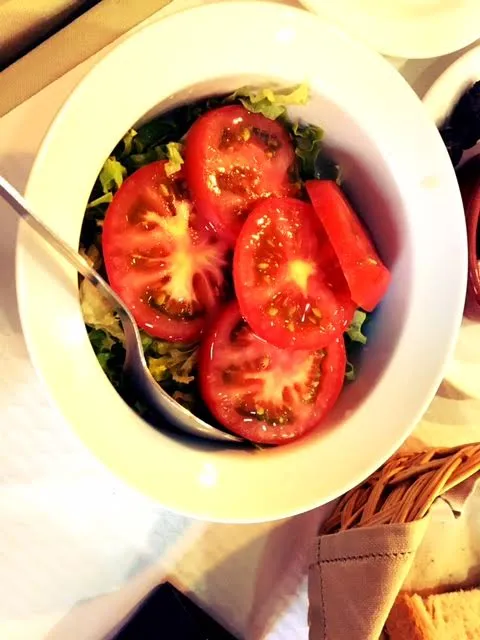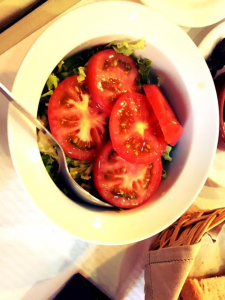 This is a delightful, healthy appetizer to get your stomach ready for a FEAST. Nothing intricate, but just juicy sliced tomatoes served over a bed of mixed greens lightly covered with healthy olive oil. Although dogs aren't supposed to eat tomatoes, I may have to make an exception and take a risk with this tasty salad.
#2 Best Food in Lisbon: Os Jeronimos
–Rua de Belem 74 8
Come to Belem for some no fuss, authentic Portuguese seafood. This restaurant had me entering licking-my-chops hungrily and leaving wagging my tail crazily. Don't feel like eating seafood? There are plenty of marvelous meat options as well.
What you must try:
Salmon Steak
Geez, humans. You guys are so spoiled. I wish my salmon kibble tasted like this grilled steak. It's cooked with a savory maître hotel sauce and served with olive oil. Love those lightly-seasoned crushable potato chunks and that colorful salad to complete the dish.
Charcoal Chicken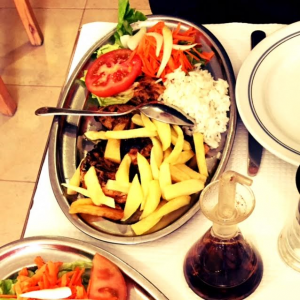 The charcoal grilled chicken is money! MO-NEY! This dish is served as a complete meal with a salad, rice, and fries. Despite being such a balanced meal, the component that makes this an exceptional dish is the piquant hot sauce that simply fuses the chemistry of all the separate items together.
#3 Best Food in Lisbon: Pasteis de Belem
–R. Belém 84-92, 1300-085
After that remarkable meal at Jerónimos, walk a few steps to Pasteis de Belem for a yummy pastel de nata; they are the sweet egg tarts that inspired the much-loved Cantonese version of egg tarts or "dan tuts." The line may look like a headache, but it moves quickly, so don't be deterred.
Grab:
Pastel de Nata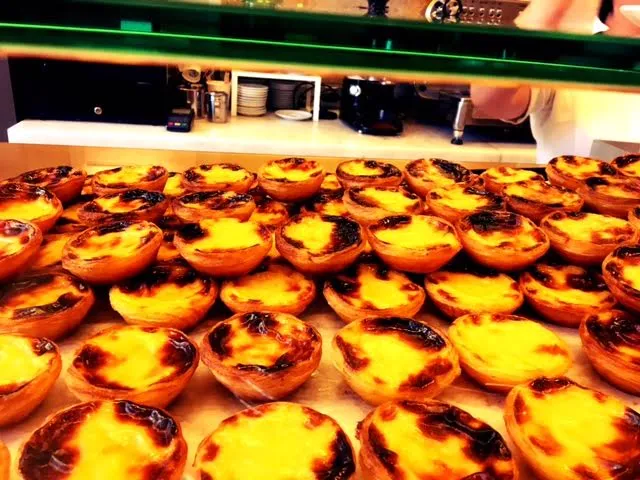 These fresh-out-of-the-oven dulcet tarts are well worth the wait. Avoid the crowd by getting your natas TO-GO and savor every bite at the nearby park so you can people-watch while you enjoy this delectable treat.
 #4 Best Food in Lisbon: Primeravera
–R. Morais Soares 101, 1900
Arrrrffff! This is THE local spot for chicken, chicken, chicken! You want a place where the locals go? Primeravera is your answer. This off the beaten track restaurant is a hidden gem that flies under the radar of the popular internet sites (well, until NOW).
Gotta try:
Full Roast Chicken
The charcoal grilled full roast chicken is more than enough for 2 people (and a yorkie). Perhaps the juiciest chicken I've ever devoured in my life. Man. Sooooo tender, flippin' deleeeecious and beyond surreal. Even the bones are worth sucking dry. Although the sides of rice and fries balance the dish, some cold beers may be your best accompaniment to complete this meal. Get ready to get your paws dirty!
#5 Best Food in Lisbon: Fábulas
–nº14, Calçada Nova de São Francisco, 1200-300
Fabulas (or as I like to call Fabulous) is a hip and trendy Hollywood-inspired restaurant with a classic interior, terrace, and sewing machines. (Anyone want to sew me an "I <3 Lisbon" shirt?).
What to get: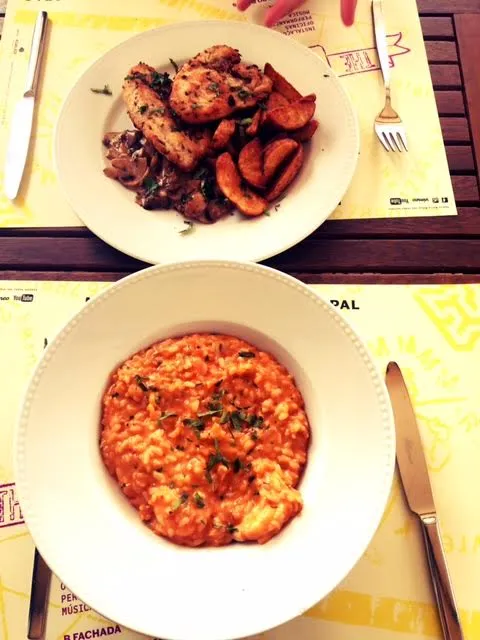 Turkey Confit (top) – Savory. Tender. Juicy. Mmmmm. The succulent turkey is served with sautéed mushroom and fries. All three items greatly complement each other, which work to take your taste buds on a wild culinary ride.  I can whine for hours just to get a sniff of this appetizing dish.
Shrimp Risotto (bottom) – The locals really know how to work this Italian rice dish! The rich and creamy risotto with shrimp, which tastes like it came straight from the Atlantic ocean, is worth doing a couple tricks for. The dish is garnished with chopped parsley, which is a good finish to this delicious dish.
2/23/23 Update: I'm lowering my tail as I bark that this arf-mazing place has closed for good. 🙁 BUMMER.
#6 Best Food in Lisbon: Casa Do Alentejo
–R. das Portas de Santo Antão 58, 1150
Visiting this restaurant is an event in itself. While the exterior is hidden among touristy restaurants actively competing for your business, if you happen to find the entrance, you will be blessed with its exquisite interior. It takes you back to another era with its tile murals and Moorish architecture. An enchanting place to hold an special event with its breathtaking banquet halls and terrace. (Wedding anyone?)
What I've been dreaming of having again:
Acorda with Boiled Codfish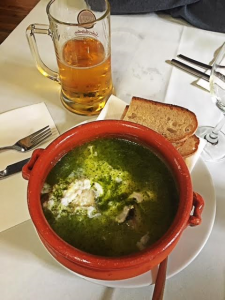 Try the Portuguese fish porridge, which never fails to mesmerize me. Don't worry about the rich green color; although it may look like the Grinch, it is not like the him at all! The main ingredient of this unique soup is the high quality fresh codfish that is slowly cooked to sublimity. The soup is warm, soothing, and astoundingly treat-like with every single bite.
#7 Best Food in Lisbon: O'Carvoeiro
–Calçada de São Vicente 70, 1100
A quiet, traditional restaurant that serves up some real homey food. The red walls and wooden tables inside almost seem to have as much character as the food here.
What I am raving about:
Salmon Steak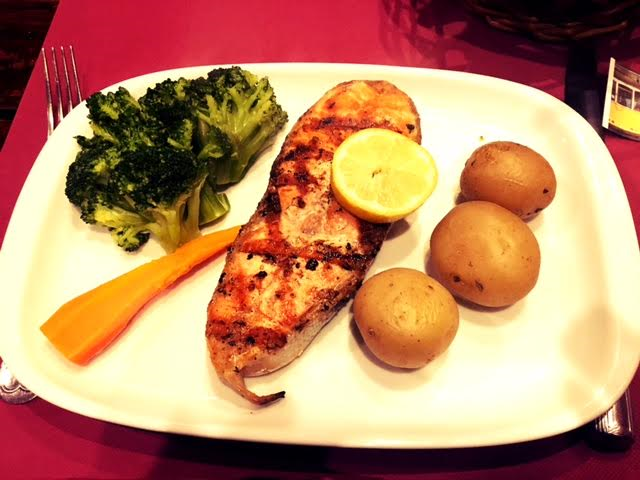 Yet another salmon steak done perfectly. Ohhh man, I want this straight-from-the-sea salmon steak NOW. Really, NOW. Grilled and beautifully flavored salmon served with my favorite veggies: boiled chopped broccoli, sliced carrot, and small potatoes. I'll sit, lay down, and jump for a small bite off your plate any day.
Turkey Steak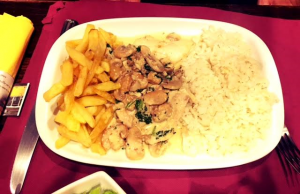 Arrrrrrrfff, you have to try this palatable turkey that is topped with a mushroom cream sauce and served with white rice and fries, which provide an excellent balance. This is one filling meal. Mmmm. Yum! It makes me have an open-mouth "smiling" face that all you dog lovers love to see.
Mixed Salad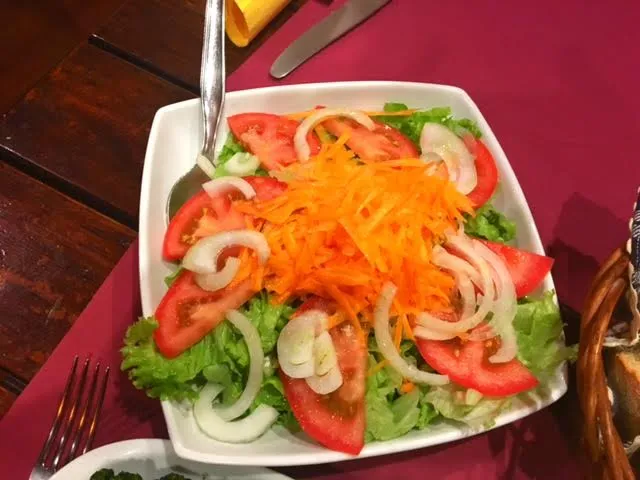 My ancestors may love only meat (as do I), but I also have a love affair with veggies and fruit. Gotta start your meal off right with something light! Scarf down this delectable salad made with chopped lettuce, sliced tomato, onions, and shredded carrots. As for the dressing, once again, olive oil works its miracles!
#8 Best Food in Lisbon: Aurora
–Calçada do Duque 39, 1200-156
My beloved Aurora. I randomly stumbled upon this cute, dynamic mother-son run restaurant as I walked up the stairs to look for the nearby Miradouro de São Pedro de Alcântara for a panoramic view of the city. It has a small bar and lovely décor with pretty platters on the wall.
GET:
Octopus Rice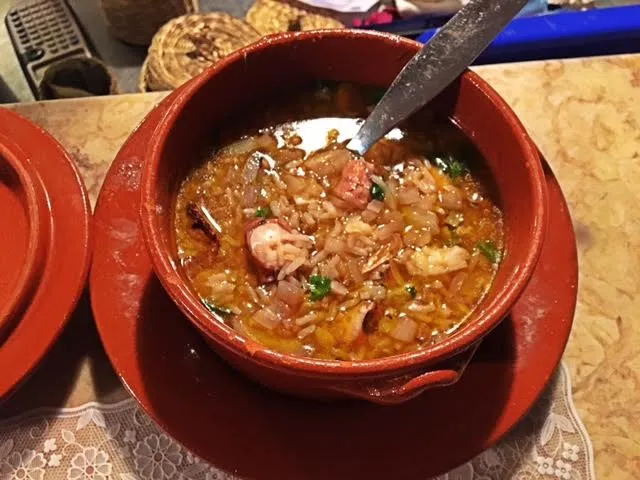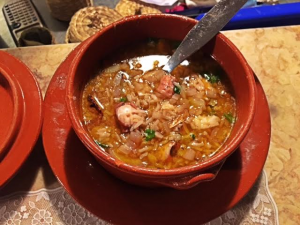 Oooooh sooooo divine! Tired of all the fish? Order this bowl of blissful octopus rice! This is a soup-like rice dish cooked with the most flavorful octopus I've ever tasted.
Arroz Doce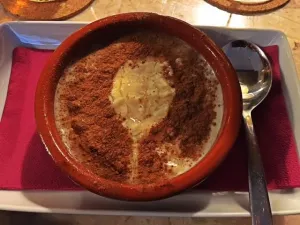 YES, it's time for dessert! Arroz doce is rice pudding mixed with a bit of dulcet and tartness. Also frosted with a layer of brown sugar, this savory treat is a dessert that is hard to refuse.
#9 Best Food in Lisbon: Natraj Tandoori
–R. dos Sapateiros 171, 04015-070
Need a break from traditional Portuguese food? Indian food in Lisbon is spot-on. What a surprising treat! Natraj Tandoori is a local Indian restaurant serving up scrumptious curry dishes near the heart of the city.
You MUST TRY:
Curries, of course!
Aloo Gobi – Potatoes and cauliflower mingle with some kickin' spices to make this one to-beg-for dish.
Chicken Tikka Masala – Tender white chicken meat in creamy tikka masala sauce that has been carefully cooked until it becomes paw-licking good.
Aloo Palak – A vegetarian's delight! Potatoes and spinach mixed in exotic spices to make this one tasty curry.
Oh, yea – don't ever forget the garlic naan!
#10 Best Food in Lisbon: Casa Brasileira
–R. Augusta 267, 1100
Casa Brasileira is one FUN dessert bar in the city. It's a vibrant scene here – hang out with locals and tourists on a sugar high and pick from a myriad of heavenly goods.
Try my favorite:
Pastel de Nata de Chocolate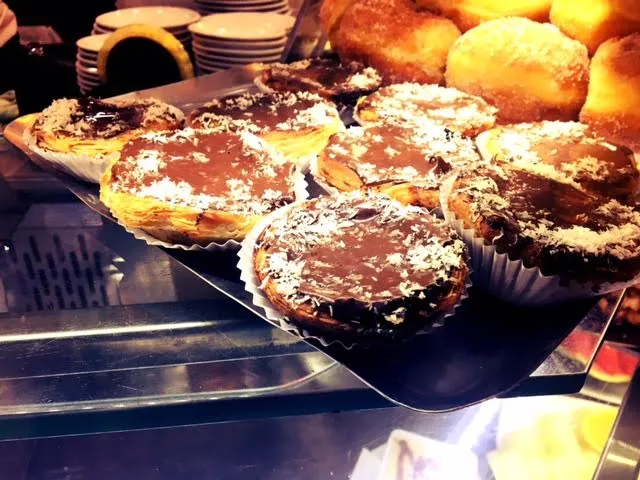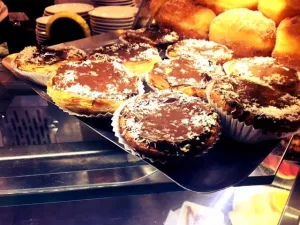 Of course, you can't go wrong when ordering the classic, original natas; however, I sometimes like to switch it up by ordering a luscious chocolate-flavored nata. Mmm mmm.
BONUS – Get a shot of ginjinha at any restaurant!
OKAY, I know it's not exactly something you eat, but you have to get a quick shot of ginjinha after your meal. Of course, not after every meal, but you gotta at least try gininha once while in Lisbon. IT'S A MUST! It's a distinctive hard liquor that completes the Lisbon experience with its bitterness and fruitiness. Ginjinha (or "gingha") is a Portuguese liquor made by fermenting ginja berries in a guardente among a host of other ingredients. It may leave you with a slight burning sensation in your throat, but it is quite intriguing.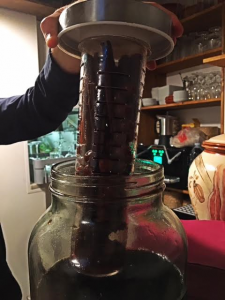 Escapaders, hope you enjoy all my picks for Best Food in Lisbon! Eat lots, but also remember to walk a lot AND drink lots of water! Check out all my tips on how to stay healthy on the road!
Markin' it up,
Roger Wellington a.k.a. The Doob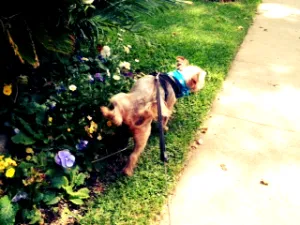 —
Like my post? PIN IT!