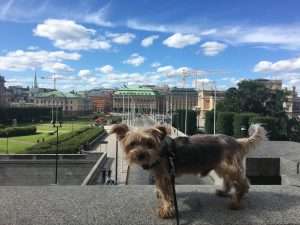 Hellooooo, escapaders! My love for Stockholm, Sweden stems beyond island-hopping, ice cream-indulging, and royal palaces. This widespread bike-friendly city is vibrant, yet laid-back and sophisticated; its remarkability spans over a whopping FOURTEEN islands with a plethora of green spaces for me to sniff endlessly (like a Sherlock yorkie), rake my feet repeatedly, and MARK IT UP like I own the city. Stockholm is a fantastic place to experience the Swedish culture, and by that, I always mean what I can take a bite out of with my anaconda neck. Check out my 10 Picks for the BEST Food in Stockholm:
#1 Best Food in Stockholm: Gästabud
(Österlånggatan 7, 111 31)
PAWS down, Gästabud is the BEST place for traditional Scandinavian food. Hear me bark – ARRRFF, you can find authentic Swedish food in the tourist central Gamla Stan without being "TRAPPED." My little yorkie stomach fell for Gästabud as my wet nose quickly detected such divinity. The ambience is quite intimate and cozy – ideal for a romantic evening; yet it sets off an unpretentious, no-frills attitude. Their meticulously plated food entices my vulnerable nose, even from islands away.
The winners:
Swedish sausage – This succulent homemade link is complemented by creamy boiled potatoes (sprinkled with parsley), pickled beetroots, and mustard. Swedish meatballs – You get three GIGANTIC luscious meatballs complemented by mashed potatoes and lingonberries. Fried salmon – This butter-fried salmon is a show-stopper! It sits on some mouthwatering dill potatoes and served up with herbs and truffle mayonnaise. Also, don't forget to try their appetizers! Their scrumptious toast skagen, which is a traditional Swedish masterpiece smothered with shrimp and homemade mayonnaise, is well-plated and indisputably savory.
#2 Best Food in Stockholm: Chutney
(Katarina Bangata 19, 116 39)
A pioneer of vegetarian food in Sweden, Chutney sets off a very unostentatious, yet inviting vibe; blending various cultures from the Middle East and Asia, the interior is colorful and hip while enhanced by smoothing worldly music. Reminds me of a cooool Bohemian spot in Berkeley, CA. And, the food? WOOOOF! Even as a carnivore, I happily binge on their belly-filling, homestyle veggie plates. Their portions are generous so expect one plate to feed three hungry oversized yorkies! Needless to say, you should expect a marvelous experience.
The winners:
Daily specials – Their daily specials change…well, daily. Wolf down any of their daily specials and your tail will wag uncontrollably. TRUST ME, I came here almost everyday during my stay in Stockholm. I love chomping on their veggie curry plate – the medley of vegetables was so flavorful as my mouth could experience all the fine spices. You also get unlimited access to salad, bread, fresh fruit, AND vegetable and fruit-infused water! Oh yea, save room for desserts – melt your mouth to their gourmet, made-from-scratch chutney ball and cheesecake!
#3 Best Food in Stockholm: Cafe Nova
(Järntorget 82, 111 29)
Cafe Nova is MY to-go breakfast spot in Stockholm. My little yorkie brain seriously lost track of the number of times I've visited this place on my last trip. My epicurean tongue can surely taste the difference here; I'm tantalized by the freshness and supreme quality of the homegrown ingredients. They offer an array of goodies, including coffee, pastries, tarts, sandwiches, soups, salads, and ice cream. Although dogs aren't normally allowed on their side patio, the sweet waitress made an exception for me (SCORE! Nevertheless, I do hope that they change their policy in their future).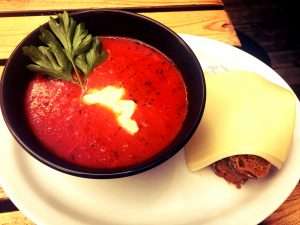 The winners: Tomato soup – This bowl of thick and smooth tastiness created in-house deserves to be licked CLEAN. It has a smooth and rich flavor that isn't overbearing; you can tell that it's been sloooooowly cooked to paw-fection! Spinach quiche – I love feasting on this enticing confection – it's a perfect balance of cheese and spinach over a flaky crust. YUM.
#4 Best Food in Stockholm: Da Luigi
(Swedenborgsgatan 13, 118 48)
On the dazzling street of Swedenborg in my beloved neighborhood Södermalm is Da Luigi, a local spot for some superb Italian food. The effervescent restaurant has a vast enticing menu that offers all the classics (with plenty of vegetarian options). It was pouring rain outside, but surprisingly PACKED here during my visit. Having spent extensive time in Italy, I ordered with skepticism, but my little rat tail then stood upright with staggering approval when the food arrived. The food here is market-fresh, house-made, and nose-lickin' delicious while maintaining a traditional taste.
The winners:
Spaghetti ai frutti di mare – The spaghetti with tomato sauce is cooked with fresh cherry tomatoes, chili, garlic, and white wine. It is then blended with scampi, clams, sea mussels, cockles, and a Norway lobster. Risotto con asparagi e scampi – This aromatic risotto is meshed with butter, green asparagus, scampi, and grana padano. Topped off with chili and garlic-fried scampi. Vegetariana pizza – Fresh out of the oven, this yorkie-satisfying pizza is baked with fresh tomatoes, mozzarella, black olives, grilled aubergines, red peppers, mushrooms, and zucchini. 
#5 Best Food in Stockholm: Cafe Kronan
(Stora Nygatan 37, 111 27)
With a dog-friendly patio that puts you in PRIME location of people-watching, Cafe Kronan is a cute place to eat, socialize, or simply work. With an expansive menu, you can either temporarily rest your feet to a quick pastry or immerse yourself into relaxation with some game meatballs and veggie focaccia. I could never turn my nose away from such a fun spot!
The winner: Kanebullar – Sink your teeth into the cinnamon roll's ancestor. It's less sugary, buttery, and creamy than a typical cinnamon roll (especially the ones found in the States); the kanebullar still maintains the irresistible cinnamon flavor, but is far from overbearing as it gives you just the right amount of sweetness with its pearl sugar sprinkles on top.
#6 Best Food in Stockholm: Mae Thai
(Hornsgatan 31b, Götgatan 85b, Drottningholmsvägen 14, Odengatan 33)
A dynamic international city like Stockholm will boast world-class international cuisine; Mae Thai is the perfect example. In Thailand, I find that the BEST food often comes from a one-woman operation on a random street and a few US dollars will fully satisfy my BIG yorkie appetite. With four locations in the city, Mae Thai is NOT a fancy Thai place by any means. Business is run from a "hut"-type establishment with an outdoors dining area right in front. The food is made-to-order (yet quick), affordable, toothsome, AND authentic. While the prices are higher in Stockholm, they are still reasonably low by Swedish standards without the compromise of quality.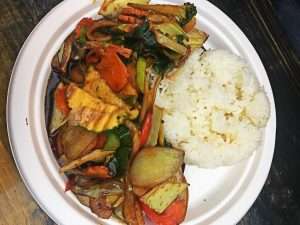 The winner:
Ginger wok with rice – Mmm this slightly spicy and slightly sweet wok dish fabricated with fresh ginger, garlic, vegetables, and wok sauce is worthy of my anaconda neck to reach in for a quick slurp.
#7 Best Food in Stockholm: Välkommen Bistro Magasinet
(Fiskaregatan 1, 185 32 Vaxholm)
Approximately 40 mins away from Södermalm and easily accessible by ferry and car, Vaxholm lies on the island of Vaxon in the Stockholm archipelago. Vaxholm is a nice break from all the commotion of the city. It's a cute pedestrian-friendly island town with a 16th century fortress as the famed attraction. Whenever I visit Vaxholm, my paws make way to Välkommem Bistro Magasinet for amazing food and picturesque views of the fortress. This fascinating multi-function place serves as a homegoods store, yoga studio, massage parlor, and eatery.
The winner:
Strawberry pastry – SAVE room for dessert! This artisan flaky-in-the-middle custard pastry meticulously crafted with FRESH strawberries is the finest sweet tooth-satisfying decadence in town.
#8 Best Food in Stockholm: Grindas Framficka
(184 97 Ljusterö)
You're not in Stockholm if you're not island-hopping! And JA, dogs ARE allowed on the ferries. From Vaxholm, you can easily hop on a ferry to the island Grinda for some nature walks, water excursions, and farm visits. After exploring the island, I head over to the fabulous Framficka to replenish my little yorkie tummy. With its prime location right next to the marina, Framficka boasts a relaxing environment with sweeping water views and farm-fresh, paw-lickin' GOOD food.
The winner:
Grona Grinda pizza – It's quite an esthetically-pleasing pizza baked with tomatoes, onions, spinach, mushrooms, peppers, and basil, and then finally completed with a generous scoop of hummus. Mmm mmm.
#9 Best Food in Stockholm: Kornhamnstorg No. 53
(Kornhamnstorg 53, 111 27)
Kornhamnstorg No. 53 was my first stop in Stockholm's Old Town or Gamla Stan. Can we really get a taste of Venezia in Stockholm? My open-mouth smiley face announced an astounding YES as I stuffed a slice of marguerita pizza into my mouth. This may be a family-run establishment, but it sets off a pretty swanky and hip vibe with perfectly dimmed lighting. With stellar food and fun ambience, Kornhamnstorg No. 53 is a foodie's dream.
The winner: Burrata caprese – This classic appetizer consists of rich burrata mozzarella adorned with fresh tomatoes, basil, pistachio (mmm my tail is already wagging), and extra virgin olive oil.
10 Dog Travel Essentials: What to pack for your dog (Part I)
#10 Best Food in Stockholm: Restaurant CC
(Skräddargränd 2A, 111 27)
JA, it's okay to play tourist once in awhile. In Gamla Stan, that means trying some GAME. I guess I'm sorta GAME for GAME. As a carnivore with natural wolf instincts, I can devour a myriad of "Swedish" meatballs made from meat that I will probably never taste again in my life (but WOOOF, when in Rome…). CC offers traditional home-cooked food with more than a touch of authenticity, even for being located in a highly-trafficked tourist neighborhood.
The winners: Meatballs of game – These "Swedish" meatballs are made with deer (JA, deer!) and pork, served with buttery mashed potatoes, cucumber slices, tomato wedges, and Swedish-famous lingonberries. If you don't eat much meat like my human, you can get a lick of their creamy chanterelle mushroom soup.
Eat LOTS and walk LOTS. Enjoy one of the world's greatest cities! Need tips on how to stay healthy on your trip to Stockholm? Get your paws over to my Healthy Travel Tips section!
Markin' it up,
Roger Wellington a.k.a. The Doob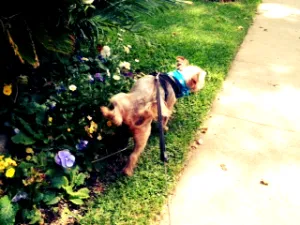 —
Like my post? PIN IT!