One of my favorite things to do as a world escapader is to wander throughout "the boot of Europe" trying all of the regional specialties: risotto in Milano (Lombardy), pizza and spaghetti in Napoli (Campania), pesto al trofie in Genoa (Liguria), chianti in Firenze (Tuscany). Since "all roads lead to Rome," it only makes sense that the heart of the Roman Empire and the current capital of Italy has an extraordinary culinary scene. From the Roman Republic (and later the Roman Empire) to the rebirth of the city through the papacy's sponsorship of the Renaissance a millennia later, the Eternal City is so drenched in history that one can only fathom to attain an understanding of its greatness by experiencing such greatness in person (or for me, in dog). The city itself is a museum; while most people flock to the main attractions (the Colosseum, the Forum, the Vatican…), one can simply wander the streets to unveil countless historical relics. What can you say about Rome that hasn't been said before? It would take numerous doggy years to even scratch the surface of attempting to describe probably the greatest (and most powerful) empire of all time. But for me, phenomenal edibles equate more to greatness; after repeated visits and extended stay in Rome, I have compiled a list of some of the best Italian food that my wet nose has ever sniffed out. Here is my list of the BEST Food in Rome: 10 GREATEST EATS!
#1 Best Food in Rome – Roman Chicken
Where to get it: Ristorante La Forchetta D'Oro (Via di S. Martino Ai Monti, 40, 00184)
ARF, come to the magnificent Rome and you gotta try the phenomenal ROMAN chicken. Chopped chicken legs and breast flawlessly braised with tomatoes, potatoes, olive oil, garlic, white wine, bell peppers, and sniff-worthy herbs make this one intriguing dish. Reminds me of the chicken cacciatore with its juicy tomato-based sauce. With such immense goodness, I can understand how one would coin this dish as the "ROMAN" chicken; seriously, if I had to be any type of yorkie, I'd want to be the "ROMAN" yorkie. If I lived in the wild like my wolf ancestors, I would bury bits and pieces of this chicken in countless sporadic areas that you would need a whole gang of yorkies with beyond exceptional noses to fully uncover my great treasures. 
#2 Best Food in Rome – Spaghetti with vegetables
Where to get it: Voglia Di Pizza (Via dei Giubbonari, 33, 00186)
When I think of my time spent in Rome, I lick my chops continuously as I recall all the delicious pastas I've slurped up. One of my favorites is spaghetti alla vegetale at Voglia Di Pizza. I'm an equal opportunity devourer; I love my veggies as much as I love meat. The spaghetti here is made right with a host of yummy and healthy ingredients, including chopped garlic, mushrooms, tomatoes, zucchini, eggplant, whole olives, red peppers, peas, and broccoli. The natural juice from all these dynamic ingredients blended with olive oil set off a refreshing and balanced flavor. Parsley, topped off as a beautiful garnish, also adds a crunchy taste to this dreamy dish. YUM YUM.
#3 Best Food in Rome – Lasagna
Where to get it: Cantina and Cucina (Via del Governo Vecchio, 87, 00186)
As a TOP dog, I can confidently call this a TOP dog lasagna. This layered beauty is the culprit that started it all. This traditional lasagna consists of five thin layers of heavenly goodness with each layer consisting of mozzarella cheese, tomato sauce, and ground beef. Surprisingly, the homemade pasta is the ingredient that stole the show. Not only does it serve as the structure to hold all of the ingredients together, but its great flavor and superb texture also greatly contribute to the dish's overall goodness. The homemade pasta's prominent role in the dish coupled with a limited amount of filling ensured that it would be light, yet scrumptious. It's also frosted with my favorite parmesan cheese!
#4 Best Food in Rome – Vegetarian Pizzas
Where to get it: Pizzeria da Baffeto (Via del Governo Vecchio, 114, 00186)
Without fail, my strong wet nose always leads me to the supreme pizzas in Rome. Pizzeria da Baffeto is THE local family joint in town with veteran expert pizza chefs rolling up dough, assembling the ingredients, and baking crispy thin crust Roman-style pizzas right before your eyes! This isn't Naples, but the pizzas here are worth doing a roll over for. I was one lucky dog as I got to sit next to the kitchen and witness the simple excellence of the restaurant creation. My two nose-licking favorites? Mushrooms and veggies! The pizza with mushrooms comes with a plethora of sliced fresh mushrooms over melted mozzarella and fresh tomato sauce, which are light and not overbearing. And, the pizza with veggies? Mmmm…there's mozzarella, zucchini, tomatoes, FLOWERS, and eggplant. The crust on both pizzas is thin and crispy. Perfect for my little yorkie teeth! I may growl at your hungry eyes if you take more than a second look at my delectable veggie pizzas.  
#5 Best Food in Rome – 
Penne all'
Arrabbiata
Where to get it: Hostaria Romana (Via del Boccaccio, 1, 00187)
My tail is wagging, I'm licking my chops repeatedly, and I'm jumping on the table to get a lick of the arrabbiata sauce, which gives the dish its intimidating name (in Italian, arrabbiata means "Grrr…angry"!). Think homemade penne (cone shaped pasta), fresh tomatoes, olive oil, garlic, and spicy peppers. Garlic, which gives the sauce a robust, refreshing kick, AND spicy peppers, which steal the show and give this dish its unique attribute, are added to make this one to-beg-for experience. What sets this specific dish apart is that they use actual fresh chili peppers as opposed to the crushed kind that you get in a plastic bottle. The diced, fresh peppers provide this dish with a refreshing, electric kick that makes this the best arrabbiata dish that I've ever had.
#6 Best Food in Rome – Beef Rolls
Where to get it: Da Tonino (Via del Governo Vecchio, 18-19, 00186)  
Arrrrrrffff, BEEF rolls! What a feast! This is what I consider a pack leader in the culinary world. I'm ready to get down on this paw-lickin' traditional Italian dish. Carrots and celery wrapped with a thin layer of tender beef (secured by toothpicks) covered with a luscious tomato-based sauce. It is cooked slowly with tomatoes, black peppers, onions, carrots, white wine, celery, and extra virgin olive oil into one unique AMAAAAZZING stew-like  meal. With a savory taste resembling beef stew (but BETTER), these beef rolls are good mixtures of meat and chopped vegetables with a fresh sauce that binds all the flavors together.
#7 Best Food in Rome – Zucchini Lasagna 
Where to get it: Da Alfredo e Ada (Via dei Banchi Nuovi, 14, 00186)
As the TOP DOG, I know where to find good food. I've realized that I don't always need to have meat in my lasagna – zucchini slices make this creamy pasta dish just as enticing and worthy of my guard. Never in my dream could I have imagined zucchini lasagna to be soooooo captivating to my wet nose and mouth that I seek to preserve every single melting bite for as long as dogly possible. The portion is compact, but filling. The homemade pasta is soft and flavorful. The roast zucchini has a robust smoky flavor. The cheese and olive oil not only provide a great base to hold the dish together, but also dramatically enhance the flavor. The cheese serves as a wonderful complement to the smoky zucchini slides that I love to devour.
https://wetnoseescapades.com/dog-in-florence/
#8 Best Food in Rome – Spaghetti with black pepper and pecorino romano
Where to get it: Birreria Marconi (Via di Santa Prassede, 9c, 00184)
As soon as my wet nose detects superb deliciousness, I wag my rat tail three times and walk my four paws into Birreria Marconi to find some of the best pastas this old city has to offer. This is a simple pasta dish called "cacio e pepe" that only consists of pasta, percorino romano cheese (a hard sheep cheese), and black pepper. Although the simplicity of the dish may not sound too exciting, the quality and freshness of the ingredients make this an unforgettable experience. The thick, long homemade noodles are an excellent match for the thickness of the cheese. The sharp, nutty flavor of the pecorino romano cheese gives this dish its strong, rich flavor while the pepper sets off a refreshing bite, which complements the strong cheese flavor. (I'd suggest burying some of this treasury treat for later!)
#9 Best Food in Rome – Chocolate-covered gelato
Where to get it: Frigidarium (Via del Governo Vecchio, 112, 00186)
When you are uncovering the magnificence of Roman history in the city, you must not forget to treat yourself to some authentic gelato! Sure, gelaterias in Rome are ubiquitious, but Frigidarium is fabulously different. At Frigidarium, you're not necessarily entering an actual cold Roman bath, but you will be getting some ice-cold creamy gelato dipped with CHOCOLATE (if you'd like). Try my favorite – the pistachio flavor for a slightly less sugary taste on the inside as the chocolate covering attempts to take over; whether or not you opt for the extra layer of sugar, the gelato here makes a fun afternoon or evening treat.
Flying with a Yorkie: 10+1 Tips on How to Travel with a Yorkie or Small Dog
#10 Best Food in Rome – Salmon Risotto
Where to get it: O' Pazzariello Ristorante Pizzeria (Via del Banco di Santo Spirito, 19, 00186)
Woooof, I love salmon AND rice. The flavor of the salmon makes this risotto distinctively toothsome; with smoked salmon bits infused into this super juicy risotto, this rice dish sets off a dreamy, light, and smoky flavor. It is topped off with chopped parsley for an earthy little crunch. I'll be giving a piercing stare with a dazzling display of my little teeth until this salmon risotto is finally willed to my mouth. If I'm too full to lick the plate clean, I'd hide the remaining bits and pieces of this succulent masterpiece so I could scarf it down another day.
Stay Healthy and Protect Yourself from Coronavirus (COVID-19) While Traveling
Hope you enjoy all my favorite GREAT eats of Rome! There's more to come so stay tuned. Looking for ways to burn off those calories? Head over to my Healthy Travel Tips section!
Markin' it up,
Roger Wellington a.k.a. The Doob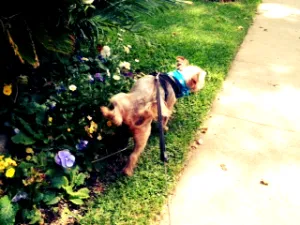 Like my post? PIN IT!