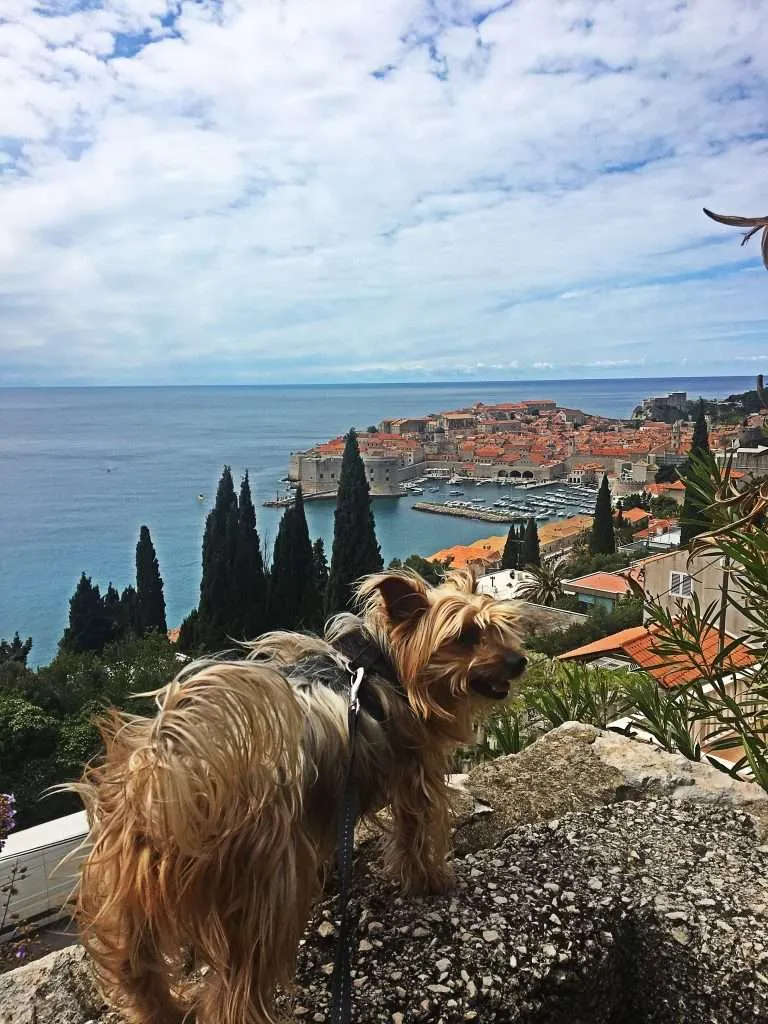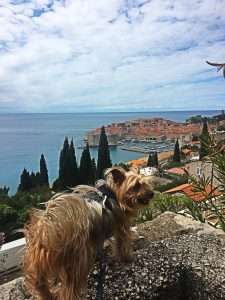 Escapaders, it's fairytale time! A castle. Defensive walls. The Adriatic Sea. Woooof, Dubrovnik, Croatia has awe-inspiring views that will surely make any dog tilt his/her head with pure curiosity. This dashing tourist town looks like a majestic place straight out of a children's story book. After spending over a month spoiling my lungs with fresh crisp air from the Adriatic, I sure have a soft spot for Dubrovnik.
It is an enchanted paradise for both international tourists and Croatians. I wag my little rat tail while gazing at beautiful sunsets over the Adriatic straight from my own bedroom, roaming around within the Old City Walls envisioning myself as a brave handsome yorkie knight, and marking it up along the wonderful dog-friendly pathway in Lapad. As a foodie yorkie, I quickly utilized my robust wet nose to familiarize myself with the best local restaurants that will satisfy my BIG appetite.
Sniff out my list of the BEST Restaurants in Dubrovnik: 10 Places You MUST Try…
#1 Best Restaurant in Dubrovnik –
SHIZUKU (20000, Ul. kneza Domagoja 1a, 20000)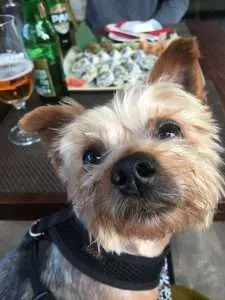 Paws down, Shizuku is my favorite restaurant in Dubrovnik! The two renowned sushi artists worthy of my perked-up ears are a husband-wife team hailing from Japan. With the Adriatic Sea literally at my footsteps, my little yorkie tongue licks nothing but fresh-caught fish here. All the sushi rolls on the menu get my rave reviews; take the salmon and avocado roll (bottom left), for instance – it appears so simple, but it's really the intricate artistic details that make a substantial difference in taste, from the actual cut to the sesame seed frosting.
Even if you're not a fish fan, you can undoubtedly find a roll that gets your tail wagging. I lick my chops repeatedly for a bite of the light vegetable roll; fabulously assembled with parsley, cream cheese, lettuce, nori bits, roast red bell peppers, tomago, and avocado, it is then rolled up by a delicious nori. The dynamic duo even have a teriyaki chicken roll for the Arh-Wooooo wolf in me!
#2 Best Restaurant in Dubrovnik –
LAPAD (Ul. Mata Vodopića 1, 20000)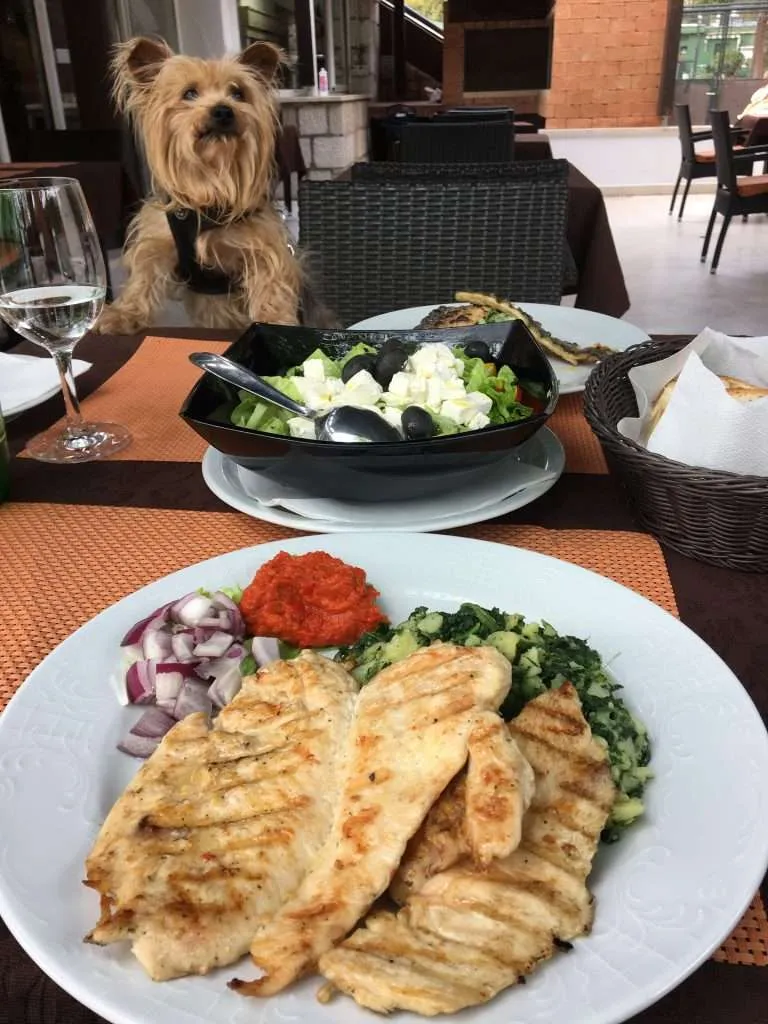 Mmmmm…my wet nose found this place while sniffing out my neighborhood of Lapad. It's all about the GRILL here. Grilled fish, grilled chicken, grilled steak – grilled, grilled, GRILLED! Woof, woof – I come here for a crispy and succulent filet of MY choice. I refuse to look away from (not even for a second) until I will these delectable treats to my mouth. Woof, what a divine world I'm living in; grilled flawlessly, the seabass sets off a smoky flavor with a slight crunchiness on the exterior and fork-tenderness on the interior.
As for the chicken, the slow grilling and browning technique retain the natural juices and keep the meat lusciously flavorful. Both dishes are complemented by the Croatians staple garlic-sauteed Swiss chard and potatoes (simmered in olive oil). Don't forget to try their delicious Greek salad (lettuce, feta, olives, tomatoes, yellow and red peppers with olive oil and balsamic vinaigrette) as a healthy refreshing appetizer.
#3
Best Restaurant in Dubrovnik –
KONOBA DUBRAVA (Bosanka, 20207)
Konoba Dubrava is what I bark as a "hidden gem" in Dubrovnik. Tucked away from all the main drives and pedestrian pathways in the hilly village of Bosanka, Konoba Dubrava is secretly one of the best restaurants in Dubrovnik. My nose worked extensively hard to find this Dalmatian joint and it was well worth the time and effort. The charcoal grill works miracles here, making every meat dish infused with an aromatic smoky flavor. The Dalmatian braised steak is thin and tender with plenty of natural meat juices for me to suck dry.
Perhaps my only complaint as a dog diner is that I'd really like to gnaw on a bone. It comes with a slightly buttered Swiss chard (sniff a pattern here yet?) cooked with potatoes along with a small piece of lettuce, chopped tomatoes, and butter (I opted to skip this condiment as the flavor of the steak was more than enough). I also recommend the chicken kebab with vegetables – white meat chunks, zucchini slices, and chopped bell peppers make this kebab a trick-worthy treat straight from the charcoal grill; it's accompanied by fries, lettuce, tomato, and mustard.
Not a meat eater? No problem! You can get paw-lickin' grilled veggies here too.
#4 Best Restaurant in Dubrovnik –
MIMOZA (Ul. branitelja Dubrovnika 9, 20000)
On my way to Old Town from Lapad, I stumbled upon Mimoza. The entrance is tucked away so it's easy to miss. Nonetheless, I'm glad my wet nose discovered this laid-back restaurant, which offers an aesthetically pleasing, dog-friendly open-air space. My favorites dishes to chomp on? Mmm their grilled chicken filet with red bell peppers and zucchini is something worth devouring! The filet is lean, juicy, and grilled until perfectly golden – ready for my tiny yorkie teeth to rip it apart into millions of pieces so it can quickly enter my tummy.
As a veggie lover, I also recommend the vegetarian risotto with chopped mushrooms, zucchini, bell peppers, and fresh cherry tomatoes. YUM!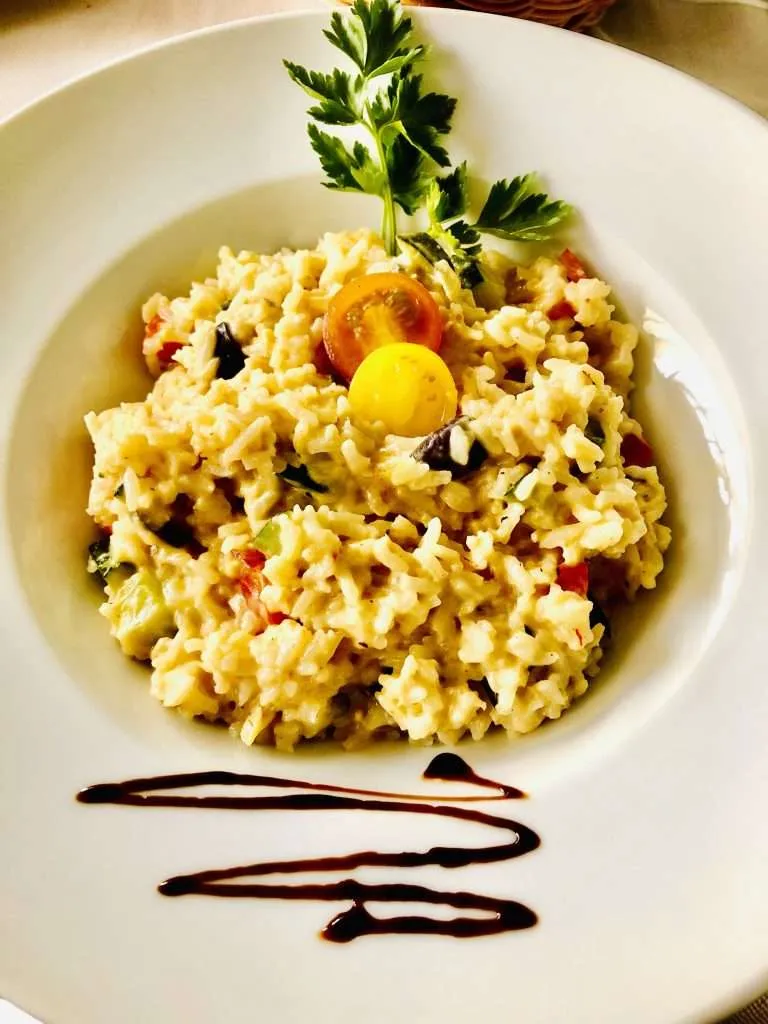 #5 Best Restaurant in Dubrovnik –
ORSAN (Ul. Ivana pl. Zajca 4, 20000)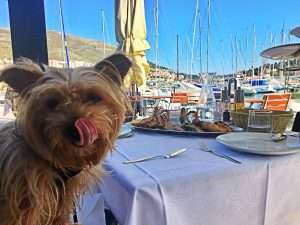 Fish platter for 2 means a BIG fish platter for me! Wild-caught seafood is a MUST when in Dubrovnik, and yet my Sherlock wet nose never fails to lead me to the right place. With a favorable location at the harbor, Orsan is undoubtedly one of the BEST restaurants in Dubrovnik and THE legit place to gobble down all the delectable seafood. There's so much exceptional food here that you'll be sure to take the time to indulge on stupendous treats (and lick your plate sparkling CLEAN).
Sniff out my extravagant main course, which consists of scampi, tuna steak, seabass fillet, and squid – all lightly grilled then balanced by my favorite side of potatoes with Swiss chard. I walked out of this joint with a very full tummy. Trust me, it's A LOT of food! 
If you don't eat meat, you can get your paws on a plate of perfectly grilled veggies!
#6 Best Restaurant in Dubrovnik –
TUTTOBENE (Šetalište kralja Zvonimira 29, 20000)
Tuttobene is my GO-TO spot in Lapad for a quick, easy, no frills bite. It's an affordable, made-to-order, over-the-counter local foodie experience. The chicken "kebabs" here are paw-lickin' good (and trust me, you'll be savoring the very last lick)! Known as the "gyro" in other parts of the world, this mouthwatering wrap is made with thin pieces of succulent chicken cooked on a rotating vertical spit, then meshed with colorful veggies (lettuce, cucumbers, onions, tomatoes, bell peppers, and corn), feta cheese, tzatiki, and spicy sauce, and ultimately wrapped with a lavash that is grilled so perfectly that it comes out as both soft and crispy.
My boy Mathias makes the best chicken kebab wraps – he's a vet kebab assembler who's never stingy with freshly harvested ingredients. You even get a 5% discount for using your credit card (10% with the Dubrovnik card). It's also easy if you want to skip the meat – grab a veggie kebab with the same exact ingredients without meat (and cheese, if you'd like). 
#7 Best Restaurant in Dubrovnik –
LEVANAT (Šetalište Nika i Meda Pucića 15, 20000)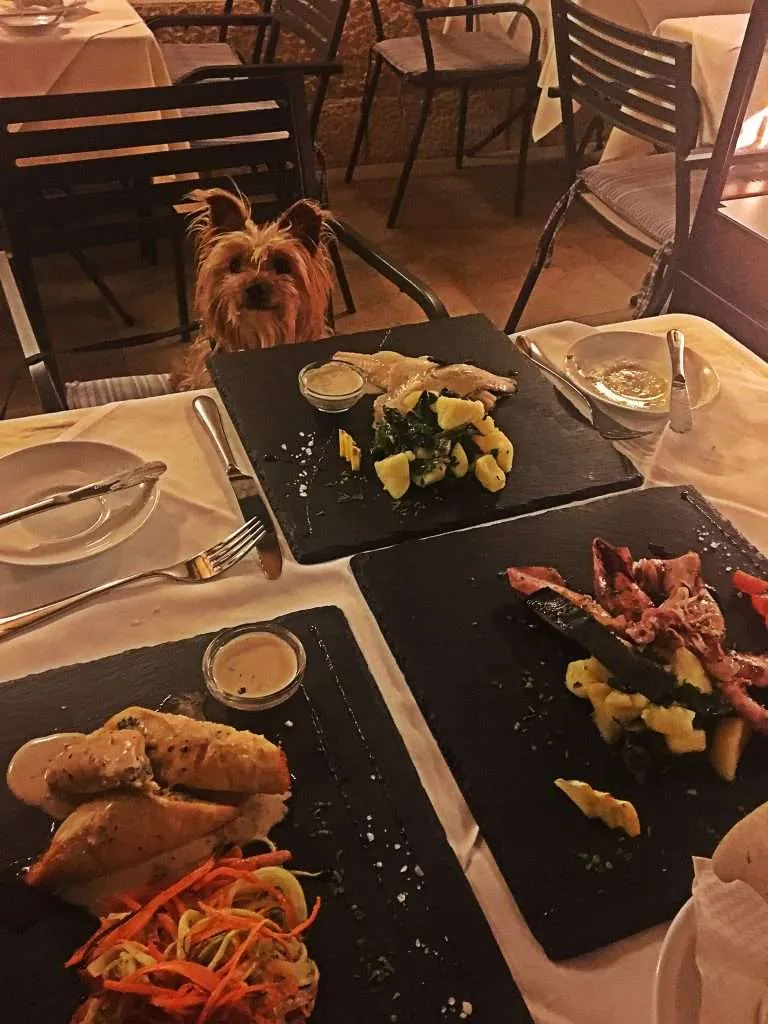 Wooof, my dear Levanat. This is where I wine and dine my cute mate(s) on date night. I have to thank my eager appetite that motivated my wet nose to locate such treasure along the picturesque Lapad pathway. This fantastic restaurant offers more than just stunning views of the Adriatic; it is, indeed, a culinary paradise. Seriously, sniff out these three tasty dishes under my guard. In front of me is the a very juicy sea bass fillet served up a creamy rosemary sauce with Swiss chard and potatoes.
On the bottom left is the MMMM mmmm chicken fillet stuffed with Swiss chard (again) and cottage cheese, and then nicely adorned with radiant julienne vegetables stirred in basil sauce on the side. On the bottom right is the straight-off-the-grill, lemon-infused calamari perfectly balanced by more luscious chard and potatoes. I even got tuna pâté on the house, created with olive oil from a nearby island.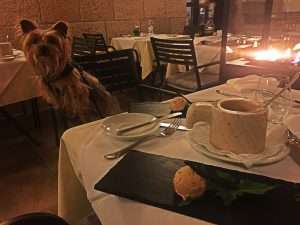 #8 Best Restaurant in Dubrovnik –
DUBRAVKA (Brsalje ul. 1, 20000)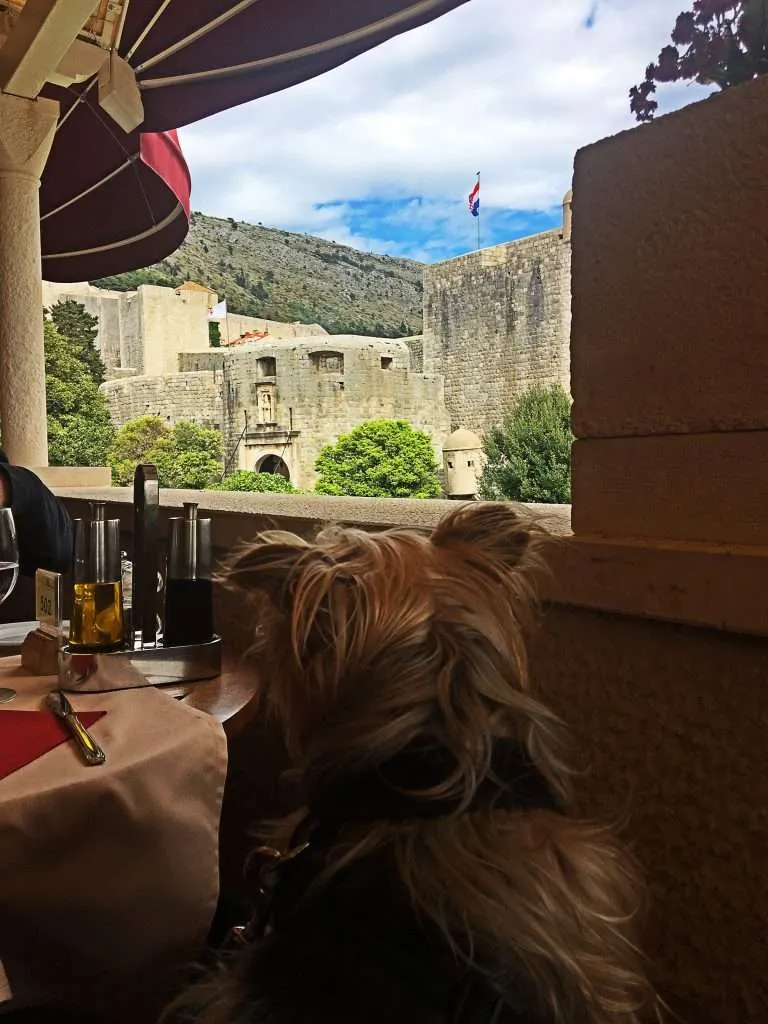 This touristy hustle and bustle gigantic corner restaurant located right outside of Old Town has a favorable location with phenomenal views of the Adriatic and Old City walls. Although drenched with tourists from literally all over the globe, Dubravka is not a typical "tourist trap" like most restaurants in Old Town. Rather, it offers an extensive menu of transcendent goodies that this city has to offer. Bring a good appetite (and your wallet), come during the day for spectacular views, and be prepared to have a FEAST here because it's challenging to just order one item.
High quality ingredients plus million-dollar views equate to one fine dining experience.  Starters – I got the thirst-quenching feta salad (feta, pepper, cucumbers, onions, tomatoes, olives). Then, I treated myself to the grilled chicken fillet (called "American" style) with roasted veggies (I opted without bacon for a healthier approach) and a John Dory fillet, which sits on a yummy capers sauce and is served with a generous scoop of white rice and julienne vegetables.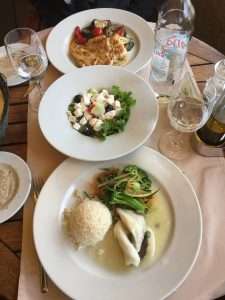 #9 Best Restaurant in Dubrovnik –
SPHERE (At Kompas Hotel, Setaliste Kralja Zvonimira 56, 2000)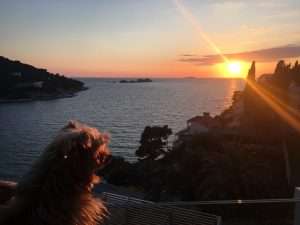 Whenever I feel like being fancy in Dubrovnik, I stay at Kompas Hotel and live LARGE. And, boy (or dog) do I treat myself here. From gazing out at gorgeous sunsets from my bedroom to swimming in their luxurious infinity pools, I quickly became the cutest spoiled resident here. During my stay, I was pleasantly surprised by their restaurant Sphere.
It's not your usual hotel establishment that lacks character in both ambiance and food; the food is as stunning as their waterfront views. After a long walk, I appeased my thirst with their hot fish soup (slowly cooked with bits of seabass, few sprinkles of white rice, julienne veggies, and clams). For entrees, I spent hours savoring each bite of the asparagus and artichoke risotto (that is lightly flavored with white wine) and the sizable piece of chicken breast (comes with scallions, asparagus, and mash potatoes with gravy).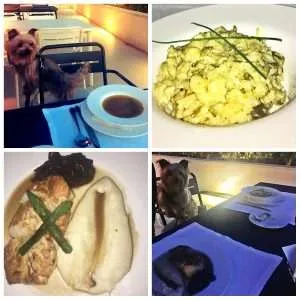 #10 Best Restaurant in Dubrovnik –
CHIHUAHUA (Šetalište kralja Zvonimira 2, 20000)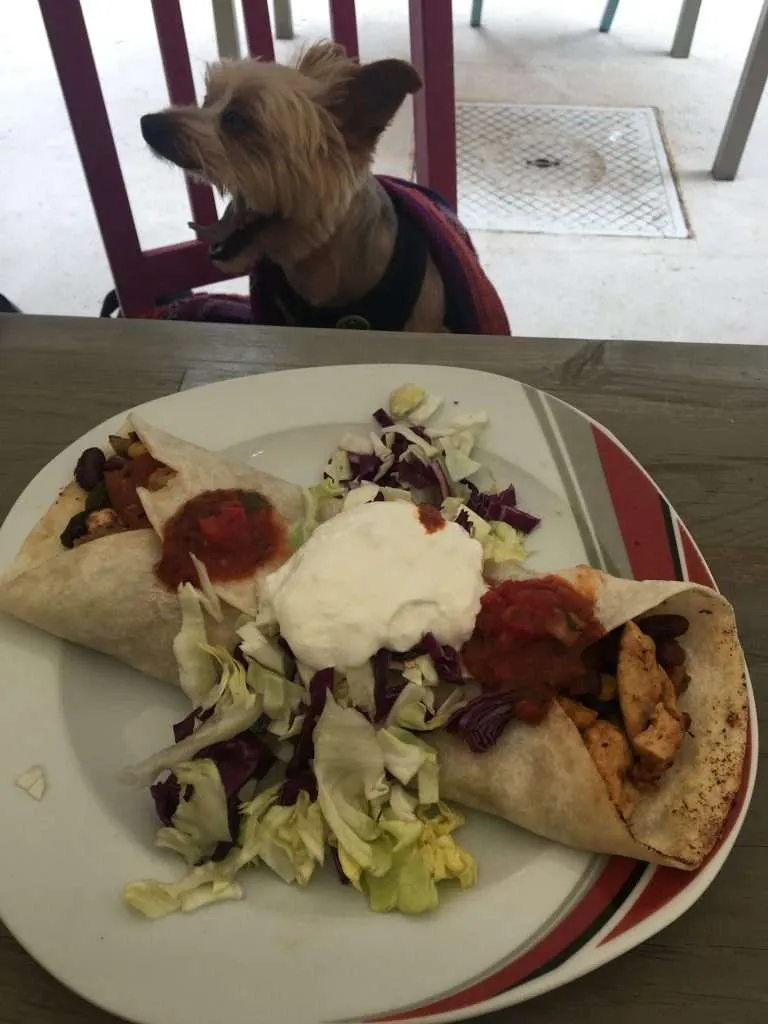 Yorkies ARE the best, but I don't hate on chihuahuas as I know plenty of those large-ear buddies back home. As a native Californian whose nose is well-acquainted with Mexican food, I can confidently bark that Chihuahua is your best bet for scrumptious filling burritos and chops-lickin' margaritas in Dubrovnik. The portions are huge, aesthetically pleasing, and filled with surprisingly authentic flavors and farm-to-table produce. With such colorful and inviting decor, this place turns into a crowded venue over the weekend with bumpin' live performances in the evenings that will rock you out.
My anaconda neck stretches for a lick of the chicken burrito; as a carnivore, I can taste the tenderness of the white meat, which is mixed with red beans, zucchini, tomatoes, onions, corn, and chilli. This culinary gluten-free masterpiece sits on a bed of crisp green and purple cabbage and is then topped with fresca sauce (derived from cheese, sour cream, and garlic) and fresh tomato-based salsa, giving it a spicy and chili-flavored kick. My meatless option is the vegetarian burrito; I love the taste of sauteed veggies, which consist of chopped mushrooms, red beans, melted cheese, and diced onion, and finally topped off with creamy fresca and spicy chilli.
Enjoy your meals at these BEST restaurants in Dubrovnik! Looking for more destinations? Sniff out my Destinations: Let's Mark section!
Markin' it up,
Roger Wellington a.k.a. The Doob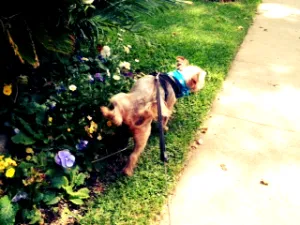 —
Like my post on "10 Best Restaurants in Dubrovnik, Croatia"? PIN IT!