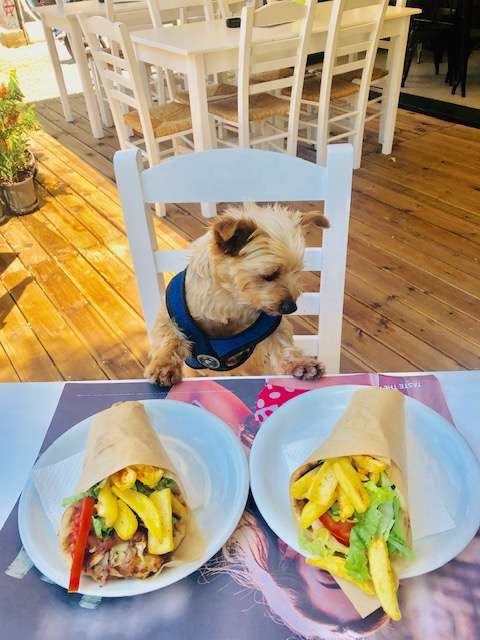 Humans and dogs often perk up their ears and tilt their head in a dazed fashion when they see me lick my chops and wag my tail uncontrollably to veggies. I am not a full-on vegetarian dog, but I do believe vegetarian food is something worth chomping on and barking about. Plus we can all agree that meat reduction can benefit our health, the environment, and of course, the millions of animals raised for consumption. In the Greek food world, vegetarian food is not only easy to locate, but also uber delicious to wolf down. As I made my mark from Athens to the islands, I filled up my yorkie stomach with an array of mouthwatering vegetarian food. Sniff out my picks now!
#1 Best Vegetarian Greek Food – "Gemista" 
Woof, I'll jump up and down in excitement for some gemista. My favorite vegetarian Greek dish, "gemista" simply means "filled with." These stuffed tomatoes and peppers are so darn tasty – worth every trick in the book. The original fillings inside are removed, then stuffed with sautéed rice (although I've also sniffed out a cheese filling variation), and then oven-baked until the tomatoes and peppers are soft, juicy, and slightly charred. 
#2 Best Vegetarian Greek Food – "Dolmades"
As I sniffed out ancient ruins and beaches in the country, I made sure to get my paws on my favorite dolmades or stuffed vine leaves. The scrumptious "stuffing" comprises of rice, mint, fresh dill, and fresh lemon juice. Drizzled in extra virgin olive oil and often accompanied by a wedge of lemon and tzatziki dip, these dolmades are super light, healthy, and ultra refreshing. It's a perfect summer meze.
#3 Best Vegetarian Greek Food – "Horiatiki"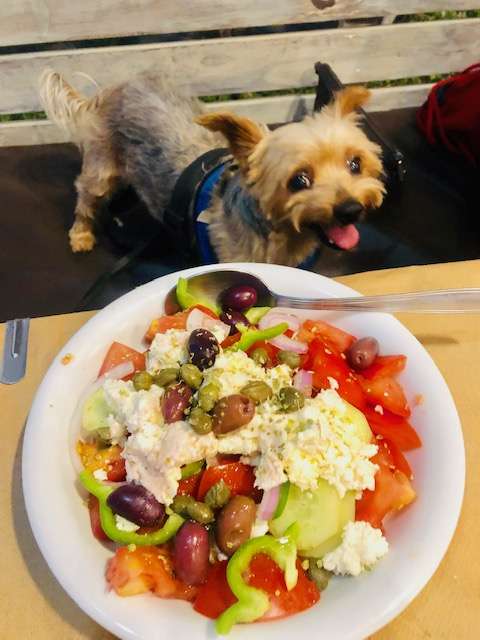 Yep, that's THE WORD for "Greek salad." It's my GO-TO salad on a scorching hot day in Athens or any Greek island. Chopped tomatoes, sliced cucumbers, olives (occasionally capers), onions, green peppers, and chunks or blocks of feta cheese – all adorned and finessed by extra virgin olive oil. Mmmm mmm. MUST WOLF IT DOWN, no crumbs left!
#4 Best Vegetarian Greek Food – "Vegetarian "Moussaka"
You can smack your lips to this savory eggplant-based casserole without minced beef and still find it utterly tantalizing. This meatless version of this Greek dish is like a casserole layered with eggplant slices, potato wedges, and creamy béchamel sauce. It's baked until all the ingredients have meshed perfectly with one another for a mouthwatering delight. In lieu of meat, you can expect to sniff out some extra tomatoes, potatoes, and/or eggplant.
#5 Best Vegetarian Greek Food – "Gigantes Plaki"
Yippee! Time for some BIG BEANS! Beans have always been part of the Mediterranean diet and provide for adequate protein intake. These gigantic baked butter beans are to-beg-for as they are massive in both size and taste. Slowly cooked in a tomato-based sauce made with onion, garlic, and parsley, this popular meze is filled with utmost flavor. I'd slurp it down and lick my plate clean in a matter of seconds! Can we bark out ambrosia or what?!
#6 Best Vegetarian Greek Food – "Vegetarian Pita"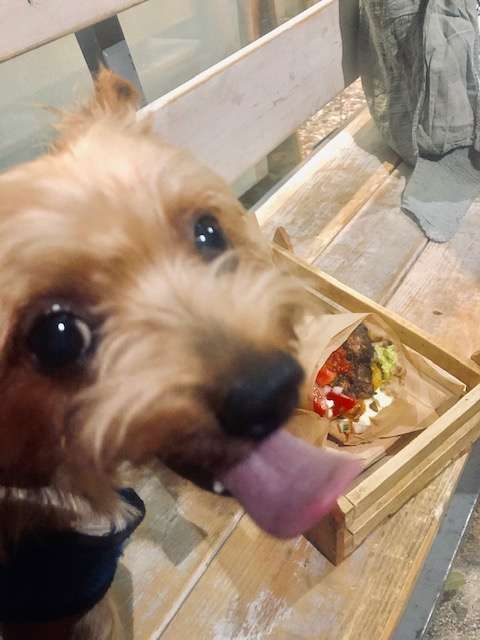 Pita wraps are fast, cheap yet filling snacks. They're PERFECT treats for a busy alpha dog like me who has to mark n' go. Yet you don't need to miss out on pita wraps just because you wanna skip the meat. Most, if not all, gyro and souvlaki shops offer vegetarian options. Fried potatoes, chopped lettuce, sliced tomatoes, and peeled onions are bounded by creamy tzatziki (or a mayo-ketchup sauce) and sniff-worthy paprika on a thick warm pita. There are also other vegetarian variations that can be found throughout the country; for instance, I've wolfed down "vegetarian burger" in pita and "mushroom gyro" in pita. As the "vegetarian burger" is typically deep-fried, I'd rather chomp on vegan pitas with scrumptious grilled mushroom gyros, avocado, and dairy-free sauces.
*The best vegan pita shop in Athens is CookooMela Grill – this hip, yet no-frills spot offers only plant-based wraps that are made-to-order with fresh ingredients. Try my favorite – the "RED" pita with mushrooms, tomato sauce, potatoes, vegan mayo salad, and avocado.
#7 Best Vegetarian Greek Food – "Imam Bayildi" (or Imam)
Originated in Turkey, the imam is a chops-lickin' stuffed eggplant dish that you can find practically anywhere in Greece. Large slices of eggplant are initially stuffed with bits of zucchini, onions, garlic, and tomatoes and then cooked as a stew with a host of seasoning and spices. Literally, "imam bayildi" means "the priest fainted" in Turkish. And, the story goes – the priest either fainted from eating too much imam or from the irresistible aroma. Regardless of the story's accuracy, one thing is for sure about the imam – it is a luscious and dreamy eggplant dish that can make anyone's legs weaken and tingle.
#8 Best Vegetarian Greek Food – "Hummus"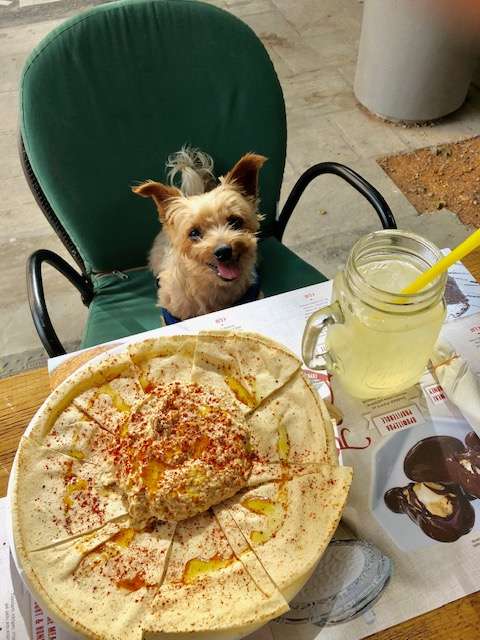 Due to countless years of cultural exchange with the Levantine Arab region, Greece is often mistaken as the homeland of "hummus," the popular yet healthy chickpea spread. Although not native to the country, freshly made, high-quality hummus is seemingly ubiquitous in Greece. Tahini, olive oil, lemon juice, garlic, and salt are blended to make hummus creamy, tangy, AND aromatic. 
#9 Best Vegetarian Greek Food – "Briam" 
I love briam a.k.a. Greek ratatouille! It's a colorful ensemble of savory roasted vegetables – sooooo succulent that I'd smack my lips and then lick my plate clean every time. Potatoes, zucchini, red onions, tomatoes, eggplant, and bell peppers are blended flawlessly and then slowly cooked with extra virgin olive oil, salt, pepper, various spices, garlic, and parsley to create an exquisite taste that lives up to its beautiful presentation. Grrr, it's alpha dog food so don't touch mine!
#10 Best Vegetarian Greek Food – "Kolokithokeftedes"
OK, I know these zucchini balls are far from "healthy," but they're a fun treat to get your paws greasy on when you're in Greece. Zucchini, feta and a host of herbs are mashed into a soft dough, rolled up into imperfect balls, and then deep-fried. Dip a crispy ball into the accompanying cool and creamy yogurt-based tzatziki before tossing it into your mouth for a heavenly bite.
*BONUS* Best Vegetarian Greek Food – "Melitzanosalata"
OK – just one more! Although I'm a bigger fan of hummus, I still love this paw-lickin' eggplant spread that's truly a Greek masterpiece. This tasty meze is a bark-worthy delightful; it's roasted and charred eggplant mixed with garlic, onions, extra virgin olive oil, lemon juice, and parsley. Spread some melitzanosalata onto a fresh pita for some delectable goodness. 
Hope you enjoy all my picks for vegetarian food in Greece! Follow my paw prints to more destinations HERE.
Markin' it up,
Roger Wellington a.k.a. The Doob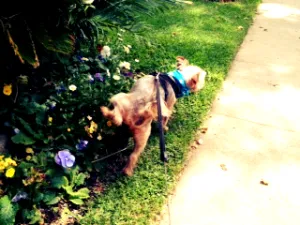 *Please note that this post contains affiliate links, and at no obligation or additional cost to you, we earn a small commission if you make a purchase. If you love the work that we do, you can show your support by making a purchase through an affiliate link. Proceeds will go towards feeding homeless dogs (and cats) along with improving the lives of the neglected and abused.
—
Like my post? PIN IT!