ARF, thinking of moving to Brazil with a DOG? Perk up your ears and listen to my alpha barks NOW!
*Please note that this post contains affiliate links, and at no obligation or additional cost to you, my humans and I earn a small commission if you make a purchase. If you love the work that we do, you can show your support by making a purchase through an affiliate link. Proceeds will go towards feeding homeless dogs (and cats) along with improving the lives of the neglected and abused.
Last year, my humans and I decided to change up the scenery and move to Brazil! OK – not for good, but for the time being until we figure out where to sniff out next in our nomadic journey. Arf-ter spending too many days in Europe in the past (from stuffing my little Yorkie mouth with Margherita pizzas in Italy to hitting up late-night tapas bars in Spain), we wanted to experience a different continent. AWOOO, South America, here we go!
Watch me take Rio de Janeiro:
My humans went to Peru many moons ago (pre-ME) to visit the magnificent Machu Picchu and have long wanted to return to S. America to experience Brazil, the largest country in the continent. Not to bark, I've always wanted to chase the furry butts of Brazilian hotties, chomp on some juicy picanha, and get my paws sandy at Copacabana, arguably the world's most famous beach.
Coming from my native California, Brazil is NOT an easy country to get to – at least in the summer of 2021. With no direct commercial flight from anywhere in California, the best itinerary at the time was to fly to Miami (or NYC) and then catch a direct flight to Rio de Janeiro, my dream destination. But if we don't intend on breaking up the travel day by spending some time in Miami, we would be looking at a supaw long travel day.
Think 5 hours to Miami plus another 8.5 hours to Rio, not counting actual layover time, which is not ideal for a senior dog like me. Despite being a seasoned world traveler who has flown on over 60 flights across more than 20 countries, I am now well into my senior doggie years and need to take it slow.
Since I've already sniffed out Miami and lived in NYC, I decided to slowly make my way down to South America by spending some time in Mexico first. Arf-ter getting our furry paws sandy on the Mexican Caribbean for a few months, my pack and I would fly to Panama City, where we could catch a direct flight to Rio.
So, let's bark about dog import requirements to Brazil. Upon the first sniff, getting a dog into the country seems clear cut from the official Brazilian government website:
-Veterinary Health Certificate: Must be issued or endorsed by an Official Veterinarian from the originating country's Veterinary Authority. This means that a health certificate signed off by a private veterinarian alone is NOT acceptable.
-Rabies Vaccination: This applies to all dogs 90 days or older. If this is your dog's first vaccination, the trip must occur 21 days after the shot. However, if you're coming from a rabies-free country like Japan, you do not need to present proof of rabies vaccine (although such information must still be indicated in the Veterinary Health Certificate).
-Internal/External Parasite Treatment: Must be done within 15 days before the International Veterinary Health Certificate is issued. Active ingredients must also be identified.
-Physical Examination: Must be done within 10 days before the International Veterinary Health Certificate is issued.
*The International Veterinary Health Certificate is only valid for 60 days, as long as the rabies vaccine is valid.
*The E.U. Pet Passport is NOT accepted.
*A microchip is NOT required, which is considered unusual for international dog travel.
You can get your furry paws on more info HERE. There's also an email contact for questions: [email protected]
WOOF, listen to my real BARKS on what happened!
My human emailed the Brazilian government for a clarification on whether or not the 3-year rabies vaccine is valid because several veterinarians in Mexico advised that my sidekick Penny and I must be revaccinated based on Mexican law.
We attached my rabies certificate, and their email response was quick and straightforward:
"You don't need a new vaccine. You must go to the health authority in the country of origin and request the International Veterinary Certificate (CVI). The important thing is that the animal is submitted up to 15 (fifteen) days prior to the trip, to a broad spectrum parasite treatment, internal and external, with products authorized by the Competent Veterinary Authority."
However, up to 15 days prior to the trip is different from within 15 days before the issuance of the International Veterinary Health Certificate, as indicated in their website. And, is it at least 15 days or within 15 days? We were a bit puzzled and wanted to cover all grounds. In the world of international dog travel, you can never be so sure – you should always confirm, and confirm again (and again).
To make matters worse, different vets in Mexico were just as confused with the timeframe, even the ones specializing in dog travel.
So, we followed up with another email:
"Just to confirm, the broad spectrum parasite treatment (external and internal) must be done within 15 days or less of issuance of the CVI, is that correct? I just want to clarify that it is not at least 15 days before, but within 15 days."
The government official then responded (again, promptly within two business days):
"The treatment must be carried out 15 days before departure to Brazil. The CVI will be issued on the same day of treatment or even on the day of departure. It depends on the appointment you make with the health authorities."
Even though he failed to confirm that the treatment must be within 15 days, he did indicate that it can be on the same day of departure (which sounds contradicting, tbh). Regardless, I wasn't going to take any chances by not following the wording on the official website. Besides, their response to an entirely different message confirming that the DHPP vaccine is not needed (again, the vets in Mexico were claiming another requirement that didn't exist) suddenly brought up a new 10-day timeframe nowhere found on the government website. Upon receiving such contradicting information, it was inevitable to conclude that we could not trust their email responses. It's best to stick with what's written in the official rules.
GRR, that's only the initial frustration with the dog import process to Brazil. Perhaps you may think that coming from Mexico complicated the process, but the requirements are the same regardless of where the originating country is. The only exception is if your dog comes from a rabies-free country like Japan or New Zealand that is recognized by the World Organization for Animal Health, in which the U.S. is NOT considered rabies-free. Hence, whether you're flying from Mexico or the U.S., you must play by the same rules. Nonetheless, our inexperienced vets in Mexico gave us such headaches as we constantly debated the requirements with them. GRR, let me just bark it was not a very good experience.
On the flip side, my traveling pals Boogie & Marcelo (former furry Brazilians from NYC) experienced a much smoother process than I did. They told me their vet was really chill and didn't write down an exact date for internal/external parasite treatment (but simply checked a box) on the Veterinary Health Certificate. It leads me to conclude that the vets in Mexico didn't know what they were doing by strangely fabricating requirements.
The difference between leaving Mexico and the U.S. is just the logistics. Instead of getting the paperwork endorsed by the USDA (options: in-person, online, or mail), we had to exchange the Veterinary Health Certificate (issued by our private veterinarian) for an Export Zoosanitary Certificate of Animals (issued by the Veterinary Authority). On the day of departure, we also had to get the new certificate endorsed by the Veterinary Authority who must technically conduct a physical exam of the dogs before signing off. However, there was no physical examination for me (or Penny) – the government official came out with a pen and stamp ready for endorsement without asking to see any dog.
Flying to Brazil with a DOG
We made flight reservations with Copa Airlines (Latin America's most pawpular airline) to hop on a short <3-hour flight to Panama City and then another 6.5-hour flight to Rio. Since Copa only allows three pets in their main cabin per flight, my humans called to add a "pet" to their flight reservations as soon as they finished booking. As it was an international route, in-cabin dog fees cost $125 one-way for each dog, which is NOT bad considering it includes a stop in Panama City.
Not to bark, domestic pet fees with airlines in the U.S. are usually already around $100 – again, for domestic travel (which Copa only charges $25!!!). Even though only dogs weighing 20 pounds and under are allowed, Penny and I were not weighed or examined (although there would have been no issues anyway since we don't even weigh 20 pounds combined).
Like most airlines, Copa's pet policy states that a dog with a carrier is considered one carry-on item, which means both of my humans had to pay an additional $40 per person to check in their baggage. ARF yeah, just a BARK that pets are NOT allowed in Business Class.
Any-HOWL, the flights and quick layover were smooth sailing until I set my furry paws on Brazilian grounds.
Going through Customs in Brazil with a DOG
Upon landing in Rio de Janeiro (GIG) in the morning at 7 am, I couldn't wait to get out of the airport for a much-needed potty break and some fresh air. Even though I exercised my furry paws a bit and left a few marks at the Panama Tocumen Airport doggie relief area, I wanted to let loose and mark up the streets of Rio like a real alpha dog. Upon arrival, my humans declared two dogs at Customs with all the required paperwork ready.
The staff scanned our baggage and led us to their Agricultural Department (Vigilância Agropecuária Internacional – VIGIAGRO), where we waited for an officer to inspect me and Penny and review our Veterinary Health Certificates. It was supposed to be an easy process that should not take more than 5-10 minutes. The only thing is that the officer never showed up, and no one onsite had the authority to release us.
ARF-my-Dog! We were stuck! GRRR, help!
It was a quiet morning with very few workers inside the airport but surely enough guards to keep us from walking off (not that we were considering it). The Agricultural Department area was completely empty of any workers. At first, Penny and I remained inside our carriers, but we got out as soon as it became evident that this could annoyingly take awhile. Everytime my humans asked for help, the staff (who all claimed to be from other departments) would motion their hands and tell us to wait. They kept insisting that the "right" personnel were coming to "inspect the dogs."
So we waited. And waited.
Arf-ter over 40 minutes of waiting around and desperately asking random airport workers for help, my humans started pleading that their dogs had a long travel day and needed a potty break. Even if it meant a doggie relief area inside the airport while we waited for the "right" person to come for the inspection.
A tall bald man with a boss-type demeanor finally came to us and explained – the staff from the Agricultural Department was frankly NOWHERE TO BE FOUND. He was merely a manager for the neighboring department but was trying to help. My humans pleaded for him to review the paperwork and conduct the inspection as we had everything lined up. Unfortunately, he asserted that no one had the authority to inspect and release the dogs except for the Agricultural Department.
However, he was nice enough to escort Penny and me to the side door exit so we could get our much-needed potty break. As soon as the doors swung wide open, I went on a crazy rampage to mark up every pole and wall I could paw-sibly sniff. WOOF, I felt like a FREE MAN! Seeing how ridiculously arf-cited we were to be outside, the boss man suddenly exclaimed and waved his hands, "You guys will be released! Just go!" Both ecstatic and in disbelief, my humans said "Obrigado" countless times (just in case he couldn't understand their broken Portuguese), hurriedly packed our bags, and walked us out to the nearest airport exit. At this time, our private airport transfer had been waiting for 2 hours for our arrival.
WOOF, and that was how Brazil welcomed my furriness.
But don't worry, going through Customs was pawbably my worst experience in this country to date.
Life in Brazil with a DOG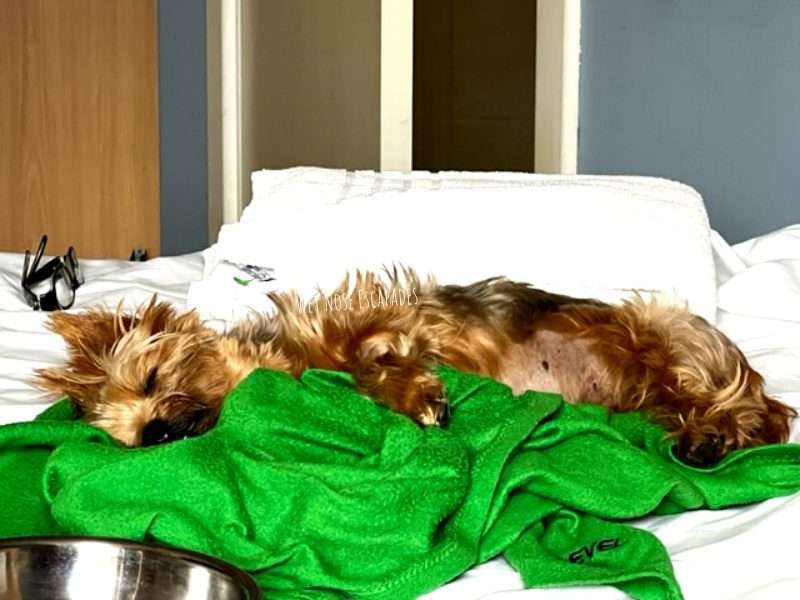 FIRST BARK FIRST, get your CPF as soon as you get to Brazil! The CPF is the individual taxpayer registration, similar to a social security number in the U.S. (but not as sensitive). Whether you are moving to Brazil permanently or planning to go home at some point (or travel to another country) with your dog, you will NEED a CPF. Besides being able to get discounts at pet stores (like Petz), markets, and pharmacies, you'll need a CPF to start the dog export process on Gov.br. The only way out of it is if you borrow someone's CPF, hire an animal transport company, or exit Brazil within 60 days (the maximum validity of your original CVI/Certificate Veterinarian Inspection that was used to enter the country).
Sniff out my guide on how to bring a dog from Brazil to USA here.
Rio de Janeiro is surprisingly (or unsurprisingly) a supaw dog-friendly city. ARF, it's dogs GALORE here! While Shih Tzus seem to run the city, Yorkies are not far behind in numbers (along with Frenchies). Brazilians appear to be dog-tolerant at the very least, with many being very dog-loving. Pet supply stores, veterinarians (including 24-hour emergency animal hospitals), dog-friendly restaurants with outdoor seating (plus occasional indoor), and dog-friendly accommodations are virtually everywhere – at least in Zona Sul, where the safe, tourist-friendly neighborhoods are.
During the first few weeks, we stayed in various dog-friendly hotels in Copacabana, Botafogo, and Flamengo (booked on Hotels.com to earn some free nights) while searching for a dog-friendly apartment. Compared to the U.S., pet fees at hotels are generally affordable at around $10 per dog per night, often at a cap of two dogs. Luckily, we did not have to pay any extra fees for our 2-bedroom apartment in Copacabana that we secured through Booking.com.
Although Rio's incredible, world-famous beaches are technically not dog-friendly, I've still sniffed out plenty of doggies chasing butts and getting their paws sandy. And yep, I've done my fair share of sniffing and digging for gold at Copacabana beach myself (SHHH), even in front of the beach-patrolling authorities who don't take a second look at me, Penny, or the many other furry creatures frolicking on the beach.
With that barked, there is a high number of malnourished, unvaccinated dogs living with homeless people on the streets. 🙁 Therefore, interaction must be avoided as Brazil is considered high-rabies. Also, if you are planning to return to the States with your dog at some point, then you must follow the latest CDC restrictions on importing a dog into the U.S. from a high-rabies country. Dogs vaccinated against rabies in the U.S. (with a valid rabies certificate) can return home without a CDC Dog Import Permit if they appear healthy upon arrival and fly into one of the 18 airports with CDC quarantine stations.
I've also sniffed out too-young-to-be-separated-from-their-mothers puppies and kittens for sale on the streets, which clearly implies that puppy mill laws are, sadly, not yet in place. At the same time, I sniffed out flyers in my apartment elevator about reporting animal abuse and at the grocery stores (like Zona Sul) advising that a dog-friendly policy is in the works. WOOF-HOO!
It's also impawtant to BARK that the streets of Rio are regularly disinfected by residents and store owners, and these chemicals may be harmful to dogs if ingested. Hence, my humans always pick me up when encountering noticeably wet areas or corners with strange blue-looking chemicals (which my pals Boogie & Marcelo confirmed to be disinfectants). Dog parks are also plentiful, but the ones I've come across do not look very sniff-worthy as they're equipped with poorly maintained dirt grounds and broken fences.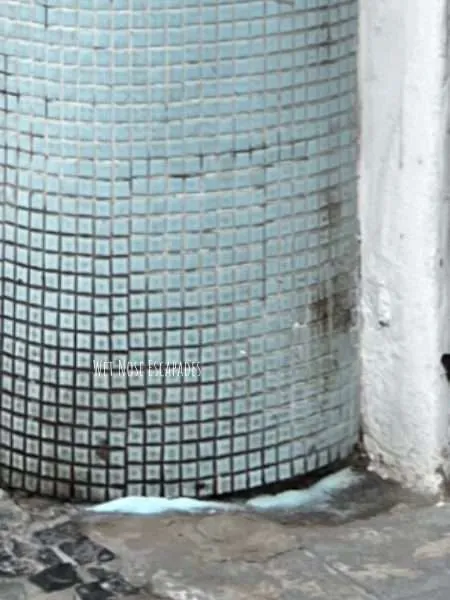 ARF, hope you enjoyed sniffing out my barks on moving to Brazil with a dog! Overall, life for dogs in Brazil has been great, to bark the least. Stay tuned to hear more updated barks!
Markin' it up,
Roger Wellington a.k.a. The Doob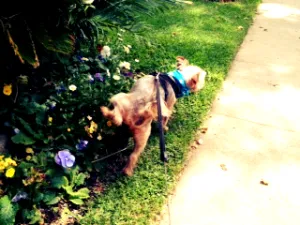 —
Like my post on "Moving to Brazil with a DOG: The Traveling Yorkie BARKS All"? CLICK TO PIN!