Trying to find out what you need to bring a dog to Argentina? Sniff out my comprehensive guide on traveling to Argentina with a dog!
*Please note that this post contains affiliate links, and at no obligation or additional cost to you, my humans and I earn a small commission if you make a purchase. If you love the work that we do, you can show your support by making a purchase through an affiliate link. Proceeds will go towards feeding homeless dogs (and cats) along with improving the lives of the neglected and abused.
WOOF, my pack and I made it to Argentina's cosmopolitan capital city, Buenos Aires! From dreamy European architecture to paw-lickin' empanadas to irresistible tango beats, Buenos Aires has long been on this world-traveling Yorkie's bucket list. ARF-ter spending eight months in Brazil, I knew I had to set my furry paws south to Argentina, sniff out some "good air," and trade samba beats for tango. Who knew that a quick 3.5-hour flight from Rio de Janeiro would land my furriness in a whole new world? My stylish undocked tail wagged uncontrollably as I left my alpha marks at public squares ARF-so-iconic that I thought I was back in Europe, my longest home away from home.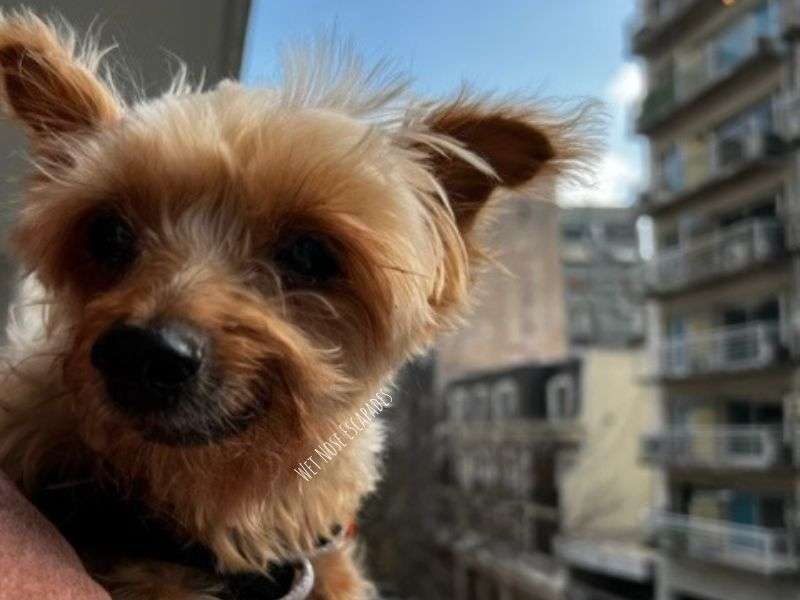 Honest barks: ARF, the most annoying part about preparation was the inconsistency of information on Argentina dog import requirements online. As a matter of bark, my pack and I almost didn't make the trip, thanks to inaccurate information found about what is needed to bring a dog to Argentina. For instance, several websites indicate that the rabies vaccination must be more than 30 days old and less than 12 months old, which has been proven false in my experience.
Some websites even claim that a rabies titer test and other vaccines are needed, like Canine distemper, Hepatitis, and Parvoviral. And yet, all this has been proven false (again, in my experience).
Since my pack and I were flying from Brazil, a high-rabies country, we thought we would face stricter dog import requirements. But we didn't. Whether you're coming from another rabies-controlled country like the U.S. or a high-rabies country like Brazil, the dog import requirements are the same. It only matters if you're coming from a rabies-free country (keep sniffing below). Any-HOWL, the process was easier than expected, BUT it still took preparation to get the dog import paperwork ready.
Don't worry, if you find it overwhelming – I'll walk you paw-by-paw on each step!
What You Need to Bring a Dog to Argentina
CVI – This is the International Veterinary Certificate, which must be issued by the Veterinary Authority of the country of origin (not an accredited private veterinarian).
OR
Pet Passport – For those with an E.U. Pet Passport like me, you can use it for entry instead of a CVI. However, it's not as easy as you think. Unlike using the Pet Passport in the E.U., the passport must contain all the required health information needed (see below for requirements) AND be countersigned, endorsed, or validated by signature and stamp of an official veterinarian of the country's Health Authority before boarding. Passports without validation by the official Health Authority are NOT accepted.
So, what does this mean? Despite acceptance of valid and unexpired E.U. Pet Passports, you still need the passport information signed off and endorsed by an "official" veterinarian. An official vet is essentially a vet employed by the government. Although I possess an E.U. Pet Passport, I didn't take this route since I still had to get anti-parasite treatment (see below for all the dog import requirements), which means I had to see the veterinarian anyway. To me, using the Pet Passport doesn't save any time or hassle since a veterinarian visit is inevitable, AND I would still have to get my passport validated by the Veterinary Authority. In all honest barks, I didn't want to risk not getting a CVI in case my passport isn't accepted in Argentina for whatever reason.
If you have an E.U. Pet Passport and prefer to take the Pet Passport route, email SENASA at [email protected] for guidance on how you can get your dog's passport validated.
TOP DOG HOWLS: The Veterinary Authority is different from an accredited veterinarian! The Veterinary Authority is employed by the government to verify the information provided by the veterinarian who examined your dog. Therefore, an accredited veterinarian can complete a Veterinary Health Certificate, but the certificate must be endorsed by the Veterinary Authority who then issues the CVI/International Veterinary Certificate needed to enter Argentina with your dog. All in all, you CANNOT travel with your dog with simply a Vet Health Certificate issued by an accredited veterinarian.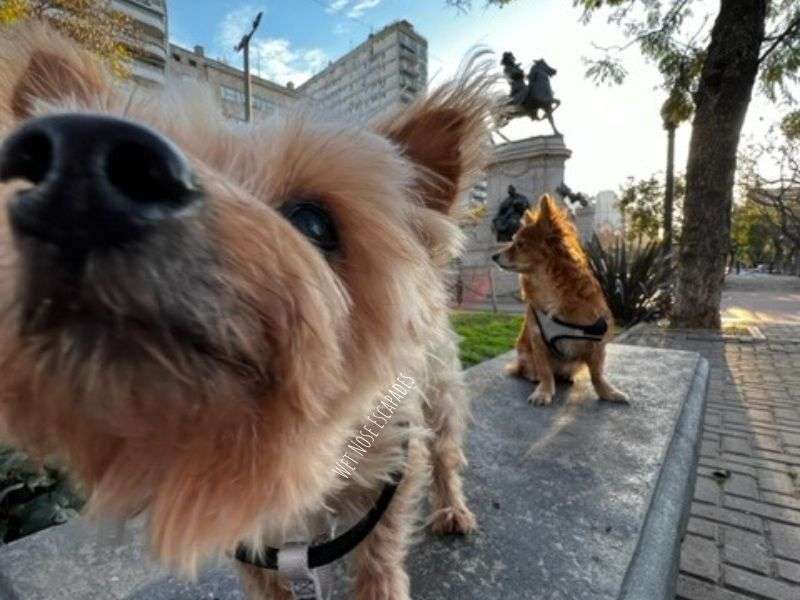 To get the CVI issued by the Veterinary Authority, you must go to a veterinarian authorized to complete a Veterinary Health Certificate (precursor to the CVI) with the following information below. Once completed, you must get it endorsed by the USDA (U.S. Department of Agriculture) or the Ministry of Agriculture in your country of origin. If you're confused, don't worry – I'll break it down step-by-step (paw-by-paw) AND give you a quick run down (I mean, bark-down) later.
How to Get a CVI/International Veterinary Certificate: STEP-BY-STEP (Paw-by-Paw) Guide
#1 Visit a veterinarian for a Veterinary Health Certificate – Go to a veterinarian authorized to issue a Veterinary Health Certificate, which must be issued within TEN days before the date of issuance of the CVI/International Health Certificate by the Veterinary Authority. Any accredited or licensed veterinarian should be able to complete the form, but ask before making an appointment.
Technically, the CVI can be issued on the same day of travel (yep, it happened to us), which means the Veterinary Health Certificate should be completed within TEN days before departure.
TOP DOG TIP: Make an appointment for a veterinarian visit 9 or 10 days before your departure date. Don't do it on the 11th or 12th day – again, it has to be within ten days. You should be able to do everything all in one appointment. After getting your Veterinary Health Certificate, you have at least a week to work on getting it endorsed (which is the issuance of the CVI/International Health Certificate).
Don't forget to have the veterinarian examine your dog and attest in writing (on the Vet Health Certificate) to the following – Your dog is clinically healthy, without evidence of parasites, and is healthy enough to fly.
#2 Get your dog vaccinated against rabies OR bring records of his current rabies vaccination to the appointment – Your dog must have a valid rabies vaccination, which should not expire during travel dates. If this is your dog's first rabies vaccination, it must be administered at least 21 days before entering Argentina.
REAL BARKS: Argentina accepts the 3-year rabies vaccine! When researching Argentina dog import requirements online, we kept coming across websites claiming that the rabies vaccine must be administered at least 30 days before entry but no later than 12 months. This is FALSE. GRR. I don't know if the 1-year rabies vaccine is an old requirement, but such inaccurate information created a lot of headaches! I'm assuming the 1-year expiration date may have been confused with a dog's primary rabies vaccination (which is always 1-year), and not a booster which is generally 3-years.
My pack and I almost didn't go to Argentina because my humans didn't want to vaccinate me (and Penny Gurl) again when we still had over a year before our 3-year rabies vaccination actually expires. Thankfully, when we finally found the official website of Argentina's Ministry of Agriculture, there was ZERO mention of a 12-month validity rabies vaccine. All it really says is that your dog must have current immunity, meaning the vaccine immunity date has NOT expired. The 12-month rabies vaccine requirement also would NOT make sense since Argentina accepts Pet Passports from the E.U., which accepts 3-year rabies boosters (except for the primary vaccine, which is, again, 1 year).
Obviously, Penny Gurl and I made it to Argentina using our 3-year rabies vaccine certificate (and we did NOT get vaccinated again). So glad we got the clarification we needed. WOOF-HOO! Otherwise, we would have missed out on Argentina!
EXCEPTION TO RABIES VACCINATION
Remember that I barked earlier that all dog import requirements remain the same UNLESS you're coming from a rabies-free zone? Well, this is it! Your dog doesn't need to be vaccinated against rabies if he's coming from a rabies-free country or zone (as declared by the World Organization for Animal Health) such as Japan, Australia, and New Zealand. However, the rabies-free status of the originating country must be stated by the Veterinary Authority in the CVI or passport. Please note that the U.S. is NOT considered rabies-free.
If your dog is under 3 months old, the Veterinary Authority must certify the age of your dog and that he has not been in a place where a case of urban rabies has occurred in the last 90 days.
BARK OF CAUTION: I do NOT recommend traveling with puppies! Due to the amount of training involved, puppies should NOT be globetrotting.
#3 Treat your dog against internal and external parasites – This must be done within 15 days before the issuance of CVI or validation of Passport, and with products approved by the Veterinary Authority of the country of origin.
Since you're visiting the veterinarian within ten days of departure, it's best to give your dog the internal and external parasite treatment on Day 9 or 10 – if it coincides. Because Penny Gurl and I are on a monthly oral flea/tick/heartworm treatment, we had to take the pills a few days before our vet visit. Our Brazilian veterinarian (who knew us well) simply attested to the date our human advised her of. We also brought the boxes to the appointment as proof. However, not all veterinarians may be that flexible.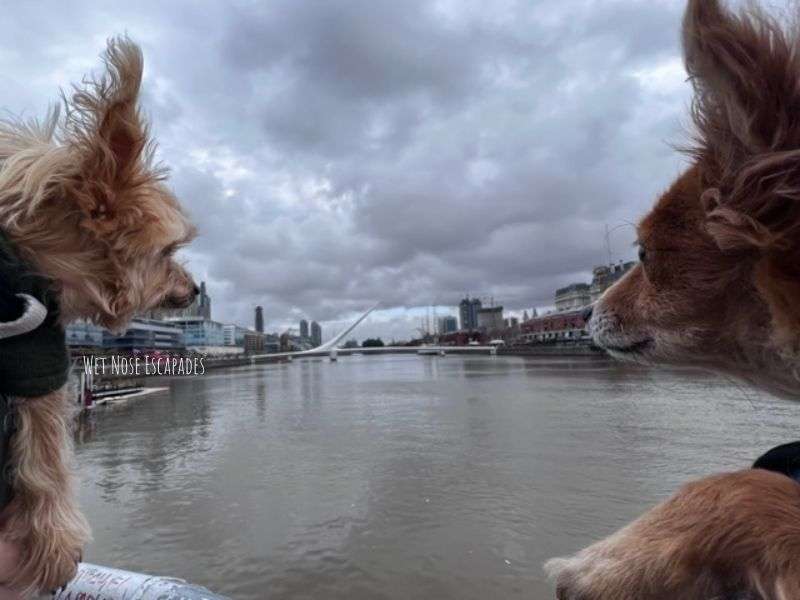 Unfortunately, our applications were rejected the first time because our veterinarian put down NexGard Spectra for both internal and external parasite treatment. Even though NexGard Spectra treats fleas, ticks, and heartworms, the Brazilian Ministry of Agriculture rejected it, asserting that Nexgard is not a sufficient treatment for flatworms. To fix this, our veterinarian replaced NexGard with the deworming tablets Drontal Plus and recompleted the certificate. And, we were all set!
#4 Get the Veterinary Health Certificate endorsed – Once you get the Veterinary Health Certificate from the veterinarian, your next step is an endorsement by the USDA or Ministry of Agriculture of your originating country.
REAL BARKS: If you haven't noticed, there has been no mention of a microchip requirement. And, that is because a microchip is NOT required to enter Argentina. YES, you heard my barks right.
Taking a Dog to Argentina from the U.S.:
GOOD NEWS: Argentina is considered a "Green Banner" Country! This means your accredited veterinarian can submit the vet health certificate for USDA endorsement electronically through VEHCS (Veterinary Export Health Certification System).
Being a "Green Banner" country, Argentina accepts USDA digital endorsement, which means the "final, endorsed health certificate" can be printed out directly from VEHCS and does NOT have to be mailed back to you. However, you must bring a paper copy of the CVI to the airport to accompany your dog.
Unlike getting the Vet Health Certificate endorsed for E.U. countries, you don't have to go to a USDA office in person or go through snail mail for endorsement.
But, don't get too excited yet! Talk to your veterinarian about the VEHCS submission. If you find that they're unfamiliar with the process, you may be better off finding another veterinarian – one experienced in handling the paperwork for pet travel. When completing my paperwork to fly internationally for the first time (to Paris), I went to my usual veterinary clinic in West Hollywood and met with a designated "travel" veterinarian. If you're going to a small clinic that's a one-person operation, you may or may not get an experienced vet. And, trust me – you'll save some headaches if you find someone who has done it before.
The veterinarian must sign off on the following:
1. I certify that the animals described have been inspected by me on this date, within 10 days prior to embarkation, showing no clinical signs of diseases typical of the species.
2. All animals over three (3) months of age have been vaccinated for rabies. A valid rabies certificate accompanies the shipment.
3. The United States of America is free of African Horse Sickness and Rift Valley Fever
4. During travel to Argentina: a. [O] The animals will transit the following countries: ______ b. [O] The animals will be traveling directly to Argentina.
JUST A BARK OF CAUTION that one of the languages of the CVI must be in Spanish.
Get your furry paws on the Veterinary Health Certificate from the U.S. here.
Taking a Dog to Argentina From Brazil:
Unless you're borrowing a friend's CPF or hiring an animal transport company, you'll need a CPF (Brazilian Tax ID) to start the CVI application process online. Sniff out my detailed paw-by-paw guide on how to get a CPF and navigate the online system to apply for a CVI to exit Brazil with a dog. Even though I wrote this guide for those wanting to bring a dog from Brazil to the USA, the online process of getting a CVI from the Brazilian Ministry of Agriculture is the same, including the ICP-Brazil digital signature requirement.
However, the only difference is the country requirements. For instance, Argentina's dog import requirements state that you must submit the paperwork within TEN days of CVI issuance while it's within five days of departure for the U.S. (due to screwworm inspection requirement). Also, Argentina requires internal and external parasite treatment within 15 days, while the U.S. doesn't. On the other paw, Argentina does NOT require a microchip, whereas the U.S. does.
TAIL-WAGGIN' BARKS: Once issued, the CVI has a 60-day validity!
The good news about getting your furry paws on a CVI for Argentina is that it is valid for 60 days – as long as the rabies vaccine remains valid. This means you can use the same CVI to return to your country of origin during these 60 days (again, as long as the rabies vaccine is unexpired and you present proof of departure within this period).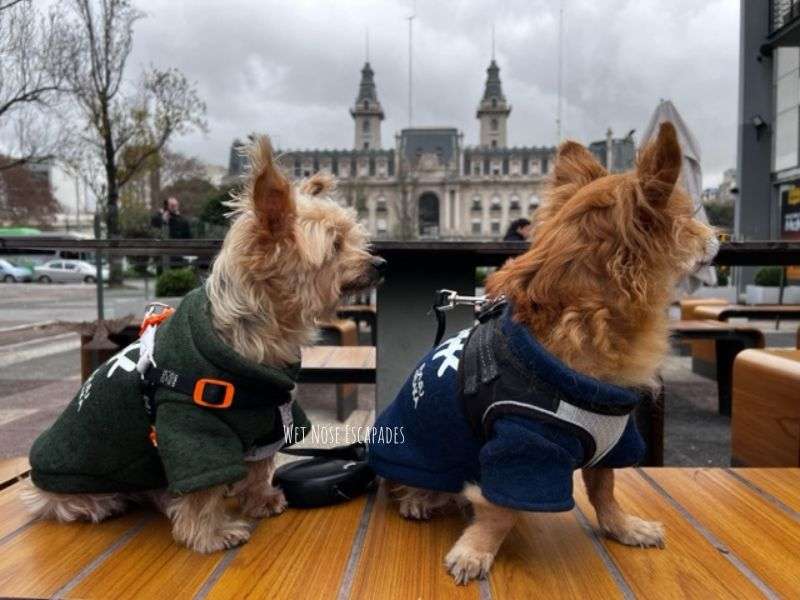 If your dog is under 90 days old, the issued CVI will remain valid until he reaches 90 days of age. ARF-ter that, he should be vaccinated against rabies, and you must then wait 21 days before a new CVI is issued. BARK OF CAUTION: Again, you should not be traveling with your puppy anyway!!!
Any-HOWL, there's no need to repeat the process of getting a new CVI to exit – as long as you return to your country of origin within 60 days. However, if you're planning to go to a country other than your originating country (for instance, we flew into Argentina from Brazil and will likely head home to the U.S. from Argentina), you'll have to get a new CVI to leave Argentina for your destination country.
And, even if the U.S. doesn't require a CVI for dog import, you'll still need to get one simply to exit Argentina. Trust me, I exchanged quite a few emails with the Argentina Ministry of Agriculture regarding this!
Still confused? No need to lower that tail! Here's a quick rundown of what you need to bring a dog to Argentina:
Your dog must be accompanied by a CVI/International Health Certificate at the airport. To get a CVI issued, you need the following:
-A valid rabies vaccination (a 3-year rabies vaccine is accepted, unless this is your dog's first rabies vaccine)
-Internal & External Parasite Treatment within 15 days of CVI issuance (CVI can be issued on the same day of travel)
-Vet Health Certificate within 10 days from an accredited veterinarian. This certificate must then be endorsed by the Veterinary Authority.
Instead of the CVI, you can present your dog's E.U. Pet Passport. However, all the required information must be in the passport and countersigned, endorsed, or validated by the signature and stamp of an official veterinarian of the country's Health Authority before your flight.
What Else You Must Know About Bringing a Dog to Argentina
Flying Your Dog to Argentina
It's imPAWtant to note that some airlines will not fly dogs in-cabin to/from Argentina, which was a terrible surprise for us. Even some airlines that are usually dog-friendly (like American Airlines) will not fly dogs in-cabin to/from Argentina. I've tried to do some digging with my paws, but couldn't find the answer. GRR. Luckily, United Airlines and Delta don't have such rules. If you're already in Latin America, your best value for dog-friendly flights is PAWbably with Copa Air and JetSmart.
Latin American Airlines That Fly Dogs In-Cabin
JetSmart – JetSmart was the most affordable flight we could find at the time, in dog fees AND total flight cost. My humans paid $80 per dog for a one-way flight from Rio to Buenos Aires, totaling $160 in dog fees for me and Penny (NOT including their own flight reservations). The best part was that my humans could make the reservation for me and Penny online when booking their flight reservation.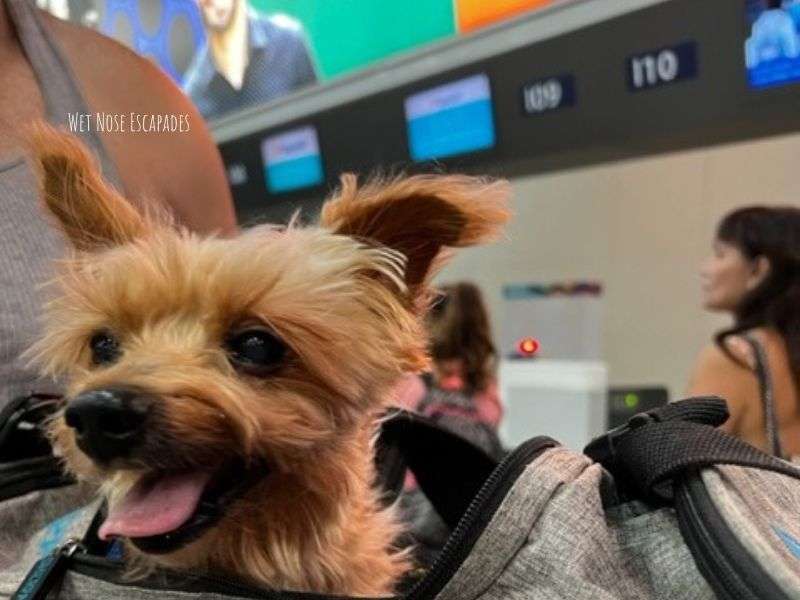 Copa Airlines – $125 per dog for a one-way international flight. Although we didn't fly Copa to Argentina (due to lack of availability of flights), Penny and I had a great experience with them flying to Brazil.
Aerolíneas Argentinas – $150 per dog for a one-way international flight between Argentina, Brazil, Chile, Paraguay, Uruguay and South America, and $200 one-way international flight between Argentina & USA.
GOL – $170 per dog for a one-way international flight, which is over double the pet fee at JetSmart! GRR.
Banned Breeds
Unfortunately, many countries ban breeds with a bloody history a.k.a. "fighting" dogs bred and trained by evil humans to fight each other. Luckily, Argentina does not discriminate against any dog breeds. ARF, I'm all for no discrimination.
PORTS OF ENTRY
Although I flew into Ministro Pistarini Ezeiza International Airport in Buenos Aires, my CVI allowed for all other points of entry, including but not limited to:
Ambrosio Taravella International Airport in Canudos Blancas, Cordoba
El Palomar International Airport
Islas Malvinas International Airport
San Fernando International Airport
Jorge Newbery Regional Airport
Santo Tome Land Border Post
Upon Landing in Argentina with a Dog
Once you and your dog arrive in Argentina, head to the SENASA counter with your CVI. It's located near Customs as you exit the airport.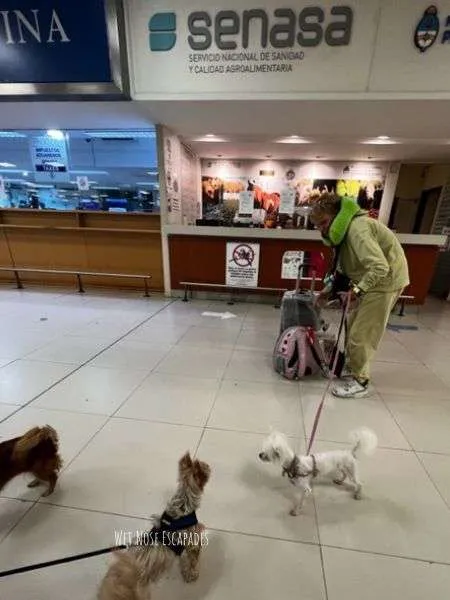 Even though we expected some sort of physical examination to occur (like in Mexico), there wasn't one. As a matter of bark, the representative didn't even look at me or Penny. Since there was only one person working, we had to wait for our turn while she helped a Russian lady who flew in from Vietnam with her tiny white dog. ARF-ter handing the rep our CVIs, it took about 20 minutes for her to enter everything into the system.
About 30 minutes later, she presented us with an invoice of 5846.22 ARS for three itemized tariffs or customs fee PLUS 980.20 ARS for an international transit certificate. At first, she only recorded my information (and not Penny's) and invoiced my human for one dog. When my human told her that the second CVI is different from the first one (and that there's another dog), she merely added Penny's information on the Temporary Admission Permit for Live Animals and didn't charge additional fees. *prices will likely change, especially due to Argentina's volatile currency inflation.
Thanks to the crumbling Argentinian peso (during this time), we got an ARF-mazing exchange rate – for the total charge of 6826.42 ARS, we were only charged less than $16 in USD for both dogs. WOOF-HOO! My human paid the fees with her travel credit card (charged in ARS) with zero foreign transaction fees, and we were waggin our tails out of Customs.
Surprisingly (or unsurprisingly), no one at Customs asked to see anything – not the paperwork or paid invoice from SENASA. Our humans waved HOLA to the staff as Penny and I walked right through on four paws – no questions asked. It makes us wonder if we really had to stop by SENASA first, but WOOF, rules are rules.
TOP DOG TIP:
Always use a Visa or Mastercard travel credit card with no foreign transaction fees whenever you can. Although you may need to carry some pesos here and there (e.g. for tips), most establishments take credit cards, especially in a big city like Buenos Aires. Credit cards offer much better exchange rates than exchanging your dollars for pesos, which come with exorbitant fees. 
Wanna know how to LEAVE Argentina with a dog? Sniff out my buttocks here!
WOOF, hope your dog got to Argentina safe and sound! Be sure to get your furry paws on my guide on How to Travel with Your Dog: Roger Wellington's Expert Guide to International Dog Travel.
Markin' it up,
Roger Wellingotn a.k.a. The Doob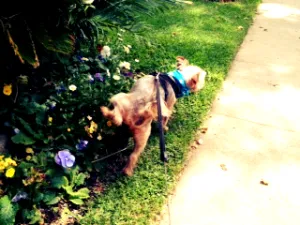 –
Like my post on "What You Need to Bring a Dog to Argentina: A Yorkie's Guide to Traveling to Argentina"? CLICK TO PIN!