WOOF, thinking of bringing a dog from Argentina to the USA? Your wet nose has stopped at the right place! Sniff out the world traveling Yorkie's comprehensive guide below.
ARF-ter nearly three months living off of empanadas and moving my furry paws to tango beats, it was time to leave Buenos Aires and go back home to California for a visit. As Americans, my pack and I had a 90-day allowance that was ending (plus our grannies' birthdays were coming up), which meant it was the pawfect time to leave.
Unlike leaving Brazil with a dog, leaving Argentina with a dog is, thankfully, a much simpler process. The tail-waggin' news about traveling to Argentina with your dog is that you CAN use the same CVI to return to your country of origin – that is, if you're only staying for 60 days. Yet, the same goes for taking your dog to Brazil. Besides staying for more than 60 days, Penny Gurl and I also flew in from Rio de Janeiro, which means we could NOT use the same CVI to fly home to the U.S.
Arrival in Argentina
Upon arrival at Buenos Aires (Ministro Pistarini International Airport), my humans went through Customs to declare me and Penny to SENASA (the country's Agricultural Department), where we sniffed out a fellow dog traveler. ARF-my-DOG! This suPAW chic furry chick is originally from Russia and had just gotten off a flight from Vietnam where she spent a month traveling throughout SE Asia. WOOF, my kind of chick. I'm liking the vibe in Argentina already.
Since my fellow furry world traveler was ahead of us in line, Penny and I had to wait for her to finish before it was our turn. The wait took about 30 minutes, which would have been more annoying if we had gotten off a long flight. Thankfully, the flight from Rio to Buenos Aires is only a little over 3 hours – easy peasy for a world traveler like me who's used to 10+ hour flights.
Sniff out what you need to BRING a dog to Argentina here.
Getting clearance with SENASA was a breeze – the counter representative generated some handwritten paperwork based on our CVIs and charged my humans a small fee (luckily, the exchange rate was on our side so no biggie), and AWOOO, we are ready to tango!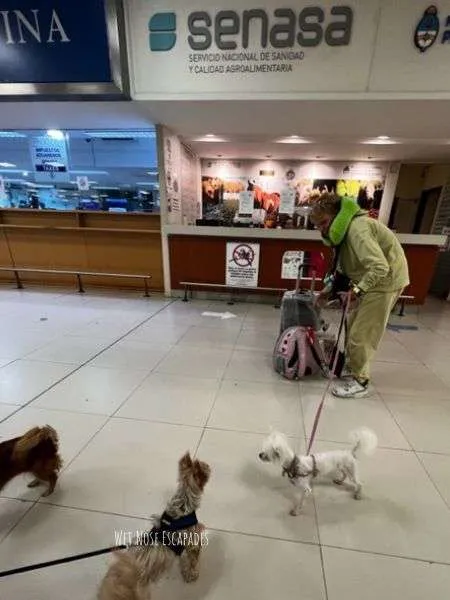 Most imPAWtantly, she also provided us with instructions on applying for a CVI to exit the country. Before we get to those instructions, let's sniff out what you must know about bringing a dog from Argentina to the USA:
What You Must Know About Bringing a Dog from Argentina to the USA
First bark first, don't assume that the same dog-friendly airlines (that you've flown your dog on previously) also fly dogs in-cabin from Argentina.
It's strange, but it happened to us several times. Airlines that normally fly dogs in-cabin may NOT fly dogs in-cabin coming from South America, which was the case of American Airlines. Since there were only a paw-ful of airlines that operate direct flights to the U.S. from Argentina, this was certainly something that put my tail between my legs! Per AA's policy, you cannot travel with a carry-on pet when traveling to/from Argentina, Brazil, Chile, Colombia, and Uruguay. Why not? I did some digging with my furry paws, but couldn't find the answer. If you know why, bark at me and let me know. Service dogs are, ARF course, exempt from this rule.
Luckily, United Airlines allows dogs to fly in-cabin to/from Argentina, so we went with them (despite the fact that I thought I would never fly United again). United is another major U.S. airline with flights to/from Argentina. At the time, we couldn't find direct flights to the U.S. with Delta, which is our preferred dog-friendly airline. Penny Gurl and I have also flown on Copa Airlines, Latin America's major airline that accepts dogs in-cabin to Argentina (but they also didn't have any direct flights to the U.S. at the time).
TOP DOG TIP: It's best NOT to book your flight on Tuesday – keep sniffing below to find out why!
Argentina's Rabies Classification
Unlike Brazil, Argentina is considered rabies-free/controlled, which means you can bypass the additional CDC requirements for dogs coming from high-risk rabies countries.
Technically, a CVI is NOT required by the U.S. for reentry – a valid rabies certificate is usually all you need (although there may be additional requirements depending on your state of arrival). However, a CVI is required by Argentina, which means there's no way around it if you're exiting from Argentina.
Screwworms Status
In addition to a valid rabies vaccination certificate, the U.S. requires dogs coming from countries or regions not free of screwworms to be declared screwworm free by a licensed veterinarian within 5 days or less of the flight, which is in the case of Argentina. Thanks to this requirement, returning to the U.S. from Argentina (and frankly, most South American countries) with a dog puts you in a real time crunch. This means you cannot visit a veterinarian for the Vet Health Certificate until 5 days (at the earliest) before your flight, which puts on a very strict time frame. Again, you may use the same CVI to exit if your dog is only staying less than 60 days – as long as the rabies vaccination is still valid AND your dog gets screwworm clearance (which is something you must get in writing from a veterinarian).
Per the official USDA APHIS website, dogs coming from countries or regions where screwworm is known to exist may enter the U.S. if they present a certificate upon arrival signed by a "full-time salaried veterinary official" of the originating region stating that your dog:
* has been inspected for screwworm within 5 days prior to shipment to the United States; and
*is either free from screwworm OR
*was infested with screwworm, held in quarantine, and treated until free from screwworm prior to leaving the region.
Foot and Mouth Disease
Because Argentina is NOT free of Foot and Mouth Disease (FMD), your dog will need Foot and Mouth Disease clearance upon arrival to the U.S. (although this is not as strict as the requirements as long as your dog looks clean. Enforcement can be a hit or miss depending on Customs). The rules state that your dog's fur and bedding must be free of excessive dirt, hay, or straw. You should also bathe your dog as soon as he reaches the intended destination and kept separate from livestock for five days after entering the U.S. If your dog is used in livestock handling, he should have no evidence of tapeworm infection.
There may also be additional requirements based on your state of arrival.
REAL BARKS: Penny and I were not inspected or asked for any documentation upon arrival to IAH in Houston!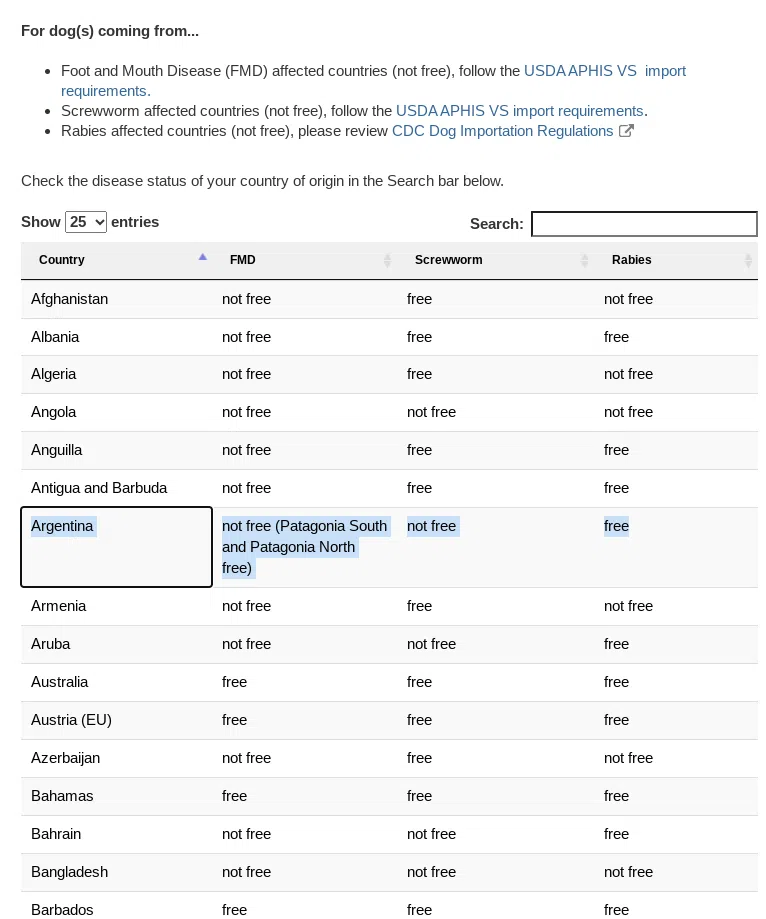 A Step-by-Step Process on How to Bring a Dog from Argentina to the USA
AWOO, now let's sniff out the paw-by-paw process on flying your dog out of Ezeiza International Airport!
To request an international Veterinary Certificate (CVI), SENASA recommends the following steps:
#1 You must send an email to [email protected] 15 days before departure.
TOP DOG BARKS: Even though 15 days is indicated, this isn't a strict requirement (but you'll want to do it by day 7 at the latest). The earlier, the better – notifying them of your intended travel date and time will allow them to make proper arrangements for you to pick up the CVI on the day of your flight. It'll also allow more time for you to prepare and meet requirements. It's imPAWtant to note that they will NOT issue the CVI on the same day.
Since SENASA is open 24/7, 365 days a year (including federal holidays), it has a pretty quick response time (usually within 24 hours or less from my experience). That's some open-face smiley, tail-waggin' news right there!
Watch me and Penny take Buenos Aires:
#2 In the topic of the email, you must indicate the departure date, destination country (which would be the USA), and the type of animal you're traveling with (which would be a DOG).
TOP DOG BARKS: In the body of the email, you can ask any questions you have regarding the process or simply advise that you're requesting a CVI to bring a dog from Argentina to the USA.
SENASA will respond with specific instructions and requirements on how to get a CVI to travel with your dog. JUST A BARK OF CAUTION: the instructions and email responses will be in Spanish, so be sure to copy and paste it onto Google Translate OR use the camera function from your Google Translate app. Also, it's best to communicate in Spanish (again, use Google Translate) instead of expecting them to understand English – just common courtesy when you're in a foreign country.
Below is the response I got from SENASA (I've changed a few translated terms and phrases for easier understanding).
In order to issue the International Veterinary Certificate (CVI) to the United States, you must send a clear photo or scan of the following documentation:
–Complete export request
–DNI of the person who will transport the pet
TOP DOG BARKS: DNI stands for Documento Nacional de Identidad and is given to Argentinian residents. You can use your passport number in lieu of a DNI.
–Anti-rabies vaccination certificate: The animals must have a current anti-rabies vaccination, carried out by a Private Veterinary Professional, using the Certificates authorized by the Professional Council of Veterinary Doctors (CABA) or the respective provincial College of Veterinarians, with a vaccine approved by SENASA. Certification in the LUSCyF booklet is accepted. In all cases, the vaccine data must appear (laboratory, trademark, serial or batch number, official control, application and expiration, signature, seal and registration of the acting veterinarian).
TOP DOG BARKS: The 3-year rabies vaccination is accepted! You will need to email them a copy of your dog's Rabies Vaccination Certificate.
–Health certificate that must NOT exceed 4 days prior to the trip plus the time of your flight make up the 5 consecutive days of validity. Be careful – the day it is carried out counts as day "1." It must be issued by a Private Veterinary Professional, using Certificates authorized by the Professional Council of Veterinary Doctors (CABA), or the respective provincial College of Veterinarians.
In the case of specimens younger than THREE (3) months of age, the age of the animal must be stated in this Certificate. The original copy of this Certificate will remain in the possession of the intervening SENASA Office.
-CANINES/DOGS: Myiasis (or screwworm) Free Certificate with the same date as the health certificate.
BARKS OF CAUTION: This part is suPAW tricky! Because Argentina is NOT considered free of screwworms, you cannot submit your documents until 4 days before your flight at the earliest (which puts you in a tight timeframe). Please note that this is different from the timeline of other countries not considered free of screwworms like Brazil, which allows you to submit the paperwork up to 5 days before the flight. My human asked SENASA if she could submit it on day 5, and they would NOT budge. They insisted that it needs to be 5 days to include the day of travel. Their time frame actually contradicts the APHIS website, which states that dogs coming from countries or regions not free of screwworms to be declared screwworm free by a licensed veterinarian WITHIN 5 days or less of the flight.
AIR SHIPMENT OF ANIMALS UNDER THREE (3) MONTHS OF AGE:
-SENASA does not have regulations on restrictions on this shipment.
-It is recommended to communicate in advance with personnel of the Air Company to know their criteria in this regard, also remembering that certain Companies may or may not authorize the boarding of canine or feline specimens in the passenger cabin.
#3 Once you've received a reply from SENASA, scan or take photos of the required documents and reply back to the email.
In case you got confused, here's a quick BARK-DOWN of the requirements to bring a dog from Argentina to the USA:
–Export Certificate, which will be provided to you by SENASA via email
–Rabies Vaccination Certificate, which should be valid (meaning your dog's vaccine validity time frame has not expired)
–Veterinary Health Certificate, which will be provided by an accredited veterinarian in Argentina
–Screwworm Free Certificate (Certificado de Libre de Miasis), which must be signed off by a veterinarian within 4 days before the flight
TOP DOG TIP: If you're anxious about getting your documents approved within that 4-day window, you can do what my humans did by asking SENASA if you can email them the Rabies Vaccination Certificate and Export Certificate first. That way, you can get two documents out of the way and approved beforehand. Then, you'll only have to worry about meeting the strict time frame with the Veterinary Health Certificate and Screwworm Free Certificate.
TOP DOG SNIFF: Based on our experience, the SENASA staff seems to be pretty on top of it. As barked earlier, they respond quickly within 24 hours, often within a few hours. My human was a bit anxious about the short time frame, but they appeased her worries by answering all her questions AND allowed her to submit the first two documents ahead of time for approval. Even though they have different staff members working the email account throughout the day, they appear to be consistent with their responses regarding dog export to the US.
Once they've received all the required documents, they'll send you an email acknowledging that they've received the documentation and are in the process of issuing a CVI. In the event of any questions or issues, they will contact you by email. If not, all that remains is for you to arrive with the original documentation and dog(s) 3 to 4 hours before your flight, in the office located in the Terminal A of the Ezeiza International Airport.
#4 On the day of your flight, you must go to the SENASA office 3 to 4 hours before the flight with your passport, original documentation, and dog to receive the CVI.
AGAIN, SENASA DOES NOT ISSUE CVI ON THE SAME DAY – it is RELEASED on the same day of the flight. Therefore, you must send in the requested information and documents 4 or 3 days at the earliest before the trip. They will then issue it and have it signed by a certifying veterinarian. It will then be ready to pick up on the day of the trip.
The value of the CVI is $3734.76 (490.10+3244.66)*, in which you will pay it at the time of withdrawal. *subject to change, price quoted at the time of our query
That day the BOARDING PERMIT will also be carried out. If it is outside the official hours or days of service of the public administration, a fee of $490.10* plus (+) the corresponding Required Services (SER) will be charged.
The official hours are Monday to Friday from 9 a.m. to 5 p.m.
Payments are made in person with a debit or credit card (Visa or Mastercard) to the SENASA staff who assist you, or in cash at Banco Nación (they are also open 24/7, 365 days a year).
FROM 6 a.m. to 9 a.m. and from 5 p.m. to 9 p.m., 1 SER hour is paid (required), the value is currently $3,244.66*.
From 9 p.m. to 6 a.m., as well as on Saturdays, Sundays and holidays, double hours run all day, that is, $6,489.32 (3,244.66x 2)*.
*BARKS OF CAUTION: Please note that prices are subject to change due to Argentina's volatile inflation. Despite the prices quoted in the original email, SENASA provided new prices in the response email. My human was charged the following prices on the day of pick-up: $3,633.98 (CVI) + $490.10 (boarding permit) = $4124.08 X 4 – yes, FOUR! Since there were two dogs (me and Penny), they issued two copies of CVI + Boarding Permit per dog.
The staff explained that two copies of CVI + Boarding Permit had to be issued per dog because one set goes to the airline for departure and another set goes to Customs upon arrival to the U.S. The truth is that ARF-solutely NOTHING was asked when Penny and I arrived at IAH (Houston), although the counter rep did ask to see them. BUT, nevertheless, as far as international dog travel goes, it's always best to have everything in line!
TOP DOG BARKS: We arrived at 4:30 pm for a 9 pm flight. You can find the SENASA window by walking past Starbucks. At the end, there is a corridor – keep walking until you see SENASA at the last window on the right. If you don't see the SENASA staff, be sure to ring the bell for assistance.
TOP DOG TIP: GRRR, don't choose Tuesday as your flight day like we did! In reflection, my human would have selected a different date for the flight. Because she could not submit the Veterinary Health Certificate and Screwworm Free Certificate until 4 days before the flight, she technically couldn't take me and Penny to see the veterinarian until Saturday (at the earliest).
As expected, most veterinary clinics are either closed or have limited hours on Saturdays. And, except for emergency hospitals, all veterinary clinics are closed on Sundays. To make matters worse, the day before our flight (which was Monday) was a national holiday, which meant the veterinary clinics that are usually open were also closed or had limited hours of operation.
Instead of rushing to a veterinarian to get the paperwork done on Saturday morning, we decided to sniff out a vet in the neighborhood a few days beforehand. ARF-ter doing some in-person research, my human found one who agreed to do the physical examination on Friday evening (with a last appointment at 6 pm) and then date the paperwork for Saturday, which would meet the strict 3-4 day window for screwworm.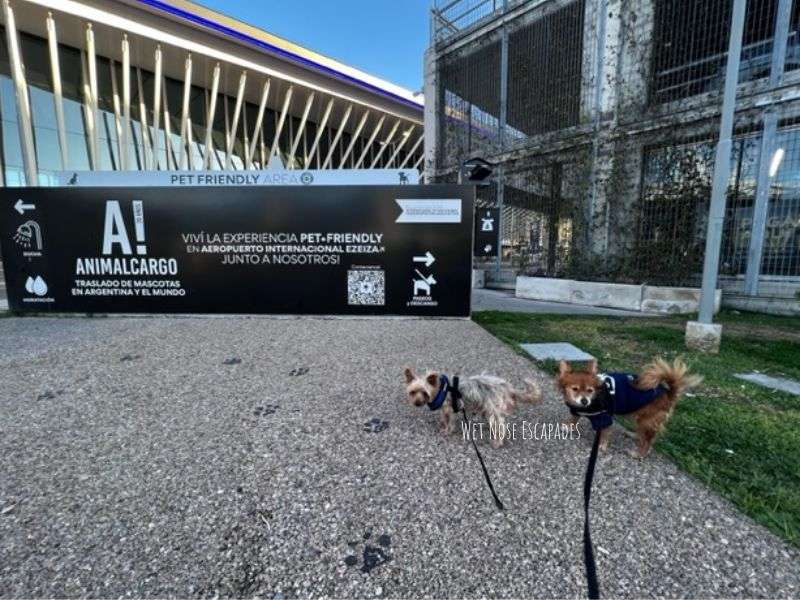 ARF-ter the vet visit, my human composed the email with the attachments (e.g. photos of the Vet Health Certificate and Screwworm Free Certificate). When she woke up on Saturday morning, she sent out the email and received a response that the paperwork is in the processing stage. WOOF-HOO, we were all set!
Before the Flight to the USA
ARF-ter getting our CVIs from SENASA, Penny and I went outside to burn some energy and relieve ourselves before the 10-hour flight to Houston. Once we crossed the street from the main Terminal A entrance, we sniffed out a pet-friendly area equipped with doggie bag stations. Since we arrived at the airport early to obtain our CVIs, we took our time sniffing around and markin' it up before heading back inside to check in at the counter. WOOF, we're headed home!
Watch me go on strike in Buenos Aires:
Be sure to get your furry paws on my guide on How to Travel with Your Dog: Roger Wellington's Expert Guide to International Dog Travel.
Have questions on bringing a dog from Argentina to the USA? Need more help with the process? BARK AT ME.
Markin' it up,
Roger Wellington a.k.a. The Doob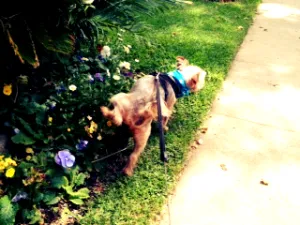 –
Like my post on "Bringing a Dog from Argentina to the USA: A Yorkie's Comprehensive Guide"? CLICK TO PIN!