WOOF, can dogs feel human emotions? Can dogs feel sad, depressed, or grief? Can dogs feel shame or guilt? Do dogs have the ability to suffer like humans?
ARF, the simple bark is YES, dogs CAN feel human emotions, BUT not all of them! There are more barks to the story. Perk up those furry ears and keep sniffing for the "truth" about dogs and their feelings.
AWOOOO! As descendants of wolves, dogs have surely come a long way since they were first domesticated some 15,000-40,000 years ago. Over these tens of thousands of years of interaction with humans, dogs not only learned human emotions and the human language but also became the most loyal beings on Earth. Not to bark, they've also become uber social creatures. Before I bark out if dogs can feel "human" emotions, let's sniff some bark-worthy related things dogs are capable of.
Although dogs supposedly possess the intelligence level of a 2-2 1⁄2-year-old, dogs are highly intelligent animals. Frankly, I find it hard to believe that dogs only have the mind of a toddler. I mean, just think about it – while dogs are saving lives, serving the military (even a Yorkie smaller than me became a war hero), and assisting with disabled citizens, toddlers are stumbling on the ground, shooting snot, and crying about a plastic toy. Seriously, when was the last time you saw a toddler or child work with law enforcement at a crime scene? OR save a dog or another human being?
My guess is never!
Here's the deal – dogs are so intelligent that they can sense when you're happy, sad, hurt, afraid, or stressed. REAL BARKS: Dogs can detect your mood without hearing your voice AND express empathy (or "emotional mirroring," which means they can respond to emotions without actually feeling them). Whenever my humans are sad, stressed, or upset, my robust wet nose can sniff it out right off the bat. To provide comfort, I'll snuggle next to them or "allow" them to give me a gentle stroke on the head.
And yet, dogs can easily pick up on what humans are feeling by observing human behavior regardless of how subtle (like the tone of voice, facial expressions, etc.). They also utilize their robust sense of smell, which can detect change in pheromone chemical alterations triggered by human emotions or even a change in scent due to sickness. Dogs who are exposed to human "fear smells" tend to show more signs of stress, such as higher heart rates compared to those exposed to human "happy smells."
If you don't already know, simply petting a dog reduces stress, and such impact can be felt immediately. That's right, the stress hormone cortisol decreases as a result of touching a dog and releases the "feel good" hormones of serotonin.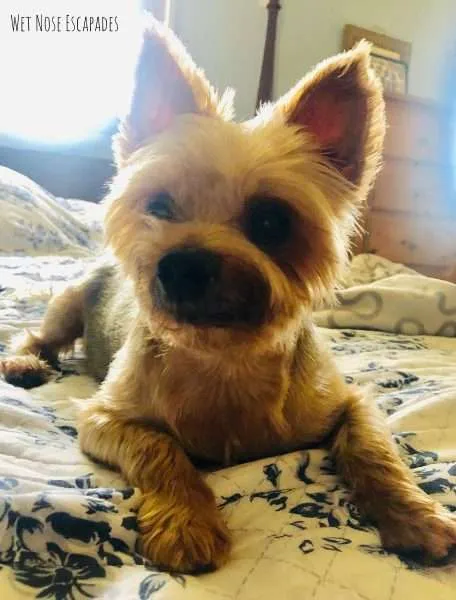 Yet, it's no surprise that dogs possess the same "love" hormone oxytocin, which explains why dogs can feel love and affection for humans, other dogs, and even other animals (e.g. cat, in the case of my Weimaraner cousin Sonny, who's the biggest cat dad). Therefore, the bond with your dog can generate the same physiological mechanism that parents feel with their newborn human babies. Due to the same warm, fuzzy feelings from oxytocin, the bond with your dog is (unsurprisingly) very similar to the bond with your child. So, it's true – having a dog is similar to having a baby. Regardless of what the naysayers think, it's OK to call your dog "BABY"!
Furthermore, dogs even possess the ARF-mazing ability to understand vocabulary and language – even more than one language if raised in a multilingual household. ARF-my-DOG! Whenever I hear the word "foodies," I'll jump out of my seat and run to the kitchen. On the other paw, whenever I hear the word "shower time," I'll run down the stairs for refuge.
If you're a dog lover, you can PAWbably tell that dogs CAN feel the same (if not, similar) emotions as humans. ARF-ter all, you can obviously tell when your dog is happy or excited through his tail-wagging. And, WOOF – you're so right!
As a matter of bark, dogs possess ALL the same brain structures that produce emotions in humans. They even possess the same hormones and experience the same chemical changes as humans during emotional states!
But can dogs really feel "human" emotions? TOP DOG BARKS: Dogs are capable of feeling BASIC human emotions, such as happiness, love, excitement, anticipation, fear, pain, suffering, anxiety, grief, sadness, confusion, anger, frustration, jealousy, loneliness, relaxation, and so forth.
Ever notice how your dog seems jealous or upset when you're petting another dog? Your gut is right. Dogs do get jealous and angry! Yep, I get jealous whenever my humans give their attention to other dogs, even if it's my sidekick/little sis Penny Gurl. As a rescue dog who was surrendered (not once, but twice), I suffer from separation anxiety and worry as soon as I know my humans are preparing to leave the house without me. As soon as I hear the keys at the door that signal their return, I feel immense excitement and joy – I'd jump up, wag my tail, and drop an open-mouth smiley face (yes, dogs DO smile :)) like I haven't seen them in years!
As you would imagine, dogs grieve when their loved ones (whether furry friend or human) are no longer with them. Like humans, they can suffer from depression and even withdrawal. Due to the fact that dogs can feel such negative emotions, you should always think twice before surrendering a dog. Despite being resilient creatures, surrendered dogs will inevitably suffer and feel sad to be separated from their families. REAL BARKS: Dogs are sentient individuals, NOT toys to be tossed to the side whenever you're done playing with them.
However, as barked earlier, there's more to the story. Although dogs can feel basic human emotions, the emotional ranges may be different between dog feelings and human feelings. For instance, dogs don't necessarily feel the more complex or secondary human emotions like disdain, pride, shame, or guilt.
And yet, this is because dogs don't develop more complex emotions beyond what a young child would experience. Even though dogs seem way more intelligent and are undoubtedly more resourceful than young children, they still possess a similar level of emotional range like children. Toddlers and young children don't feel hatred, pride, shame, or guilt – all these more complex emotions are learned as they grow older once their innocence fades. The difference with dogs is that they never evolve to feel these secondary emotions, but are more than capable of feeling primary emotions like happiness, sadness, fear, and grief.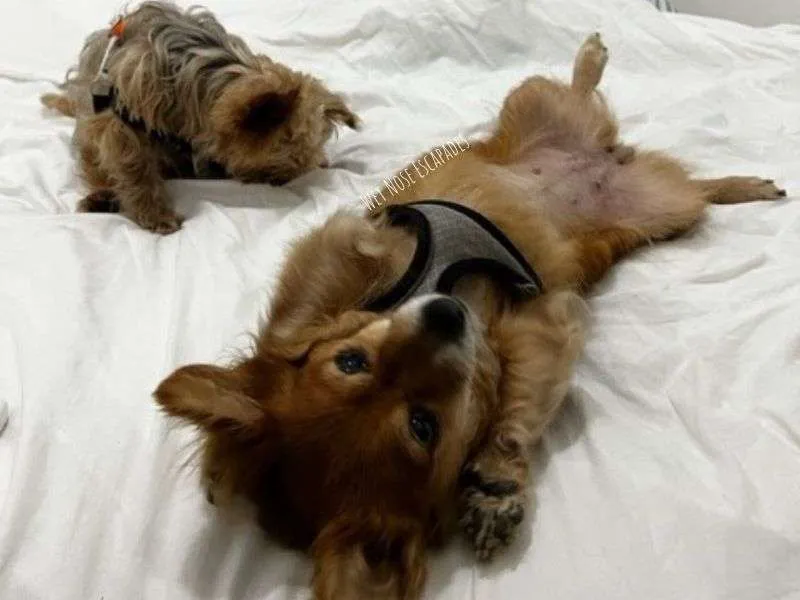 Although many dog pawrents insist that their dogs have a "guilty" look on their faces after doing something "wrong," they have inevitably confused guilt with FEAR. Dogs are merely associating the particular scene with their human's behavior or reaction from the past. As a pawrent, It's imPAWtant to understand that there is no "right" or "wrong" in a dog's world, but only how they've conditioned to act based on previous human interaction.
Your dog's "guilty" look is not a look of guilt, but fear of what will happen to them based on YOUR reaction or behavior. Hence, dogs are NOT capable of feeling "guilty" for what they did – they are merely afraid of what happens next. Understandably so, you must use (PAWsitive) positive reinforcement (and positive reinforcement only) to train your dog or attempt to correct behaviors that you find "undesirable." Besides being abusive and outdated, negative reinforcement (such as yelling, hitting, or any type of emotional or physical abuse) only generates fear and confusion in your dog. Simply barked, it's WRONG! Don't do it – animal abuse is for cowards.
What about shame? Do dogs really feel shame when they've gotten neutered or spayed??? Hence, the term cone of "shame"? The answer is NO, not necessarily! Dogs don't feel shame or humiliation the same way humans do. However, they can certainly feel some degree of self-consciousness and may express embarrassed-like tendencies (even if they don't feel shame or humiliation like humans do). For instance, when obnoxious kids point at me and laugh, I certainly react negatively and have my ears pinned back. Nonetheless, secondary emotions are more intricate when it comes to dogs.
So, when I hear people say, "it's just a dog" or "dogs aren't humans," I feel disheartened that dogs are still regarded as solely "property" after such a long history of human companionship. ARF-ter tens of thousands of years of domestication, dogs have evolved as a species that cannot survive without humans. Dogs are, PAWS DOWN, family. ARF course, you can find countless feral or street dogs roaming around parts of Latin America and Asia as civilians, but they still heavily rely on human scraps and leftovers for survival. And, the truth is that they would much rather have a real home and live like spoiled, pampered companion dogs just like me and Penny Gurl (given that they are adopted into a good home and treated well by compassionate humans).
The wishful little Yorkie ME is optimistic that this world will become more progressive in animal rights and welfare. Currently, 32 countries have reclassified dogs (and other animals) as "sentient beings," including Austria, Australia, Belgium, Croatia, the Czech Republic, the Netherlands, New Zealand, Sweden, the U.K., and others.
Unfortunately, the U.S. isn't one of them (at least yet), which is suPAW surprising to me. When dogs (and cats) are only considered "property" (just like a car or table) instead of sentient beings, legal protections are limited. With an upright tail, I am hopeful that stricter animal protection laws worldwide will follow as more people adopt dogs and begin to recognize animal sentience.
Learn to read your dog's body language to understand his emotions!
*Note – lists are not all inclusive
Happy dog
Relaxed body

Relaxed eyelids and gaze

Relaxed mouth (loosely closed or slightly open)

Upright tail (exemplifies confidence)

Wagging tail (bear in mind that tail wagging doesn't always mean that they're happy – it just means they're excited. Trust me, I've been attacked by a tail-wagging dog before. Luckily, my human pulled me back to prevent any injury.)

Sleeping on back with paws up (worry-free and living the BEST life as this is the most vulnerable position for dogs)
Fearful dog
Flattened ears

Stiff tail (between hind legs) or lowered tail

Crouching down (in fear)

Licking lips (with no food around)
Stressed or tense dog
Pacing around

Shaking (when it's not cold)

Whining

Barking

Yawning

Drooling

Licking lips (with no food around)
Sad or depressed dog
Sleeping more than usual

Sad eyes

Loss of interest in food and in general

Paw licking

Withdrawal or in hiding

Dropping ears (farther back)
Mad or upset dog
Flattened ears

Turns back on you

Walks away from you

Yawning

Licking lips (with no food around)

Growling

Showing teeth

No eye contact

Stiff body
So, can dogs feel human emotions? WOOF, ARF-solutely, YES! Bear in mind that every dog is a unique individual WITH his own needs and wants. With that said (oops, I mean BARKED), I sincerely hope you always consider your dog's feelings and give your dog the BEST life ever, as he deserves.
TOP DOG BARKS: This post hopes to change the views of those who perceive dogs as "just" dogs, which often inhumanely justifies or paves the way for poor treatment, neglect, abuse, and cruelty. Dogs may not be humans, but they indisputably possess the ability to feel human emotions and suffer – just like YOU.
Get my exclusive lesson on how to spoil your dog here:
Don't forget to subscribe to my YouTube Channel: Wet Nose Escapades by Roger Wellington for fun dog videos!
Markin' it up,
Roger Wellington a.k.a. The Doob
—
Like my post on "Can Dogs Feel Human Emotions? The TRUTH about Dogs & their Feelings"? CLICK TO PIN!