Should you fly dogs with collapsed trachea? Is it safe for dogs with collapsed trachea to fly?
Last Updated 4/14/23
*Please note this post (like ALL my posts) is based on my opinions, experience, and research. It is NOT intended to replace or substitute veterinarian consultation.
*This post contains affiliate links, and at no obligation or additional cost to you, my humans and I earn a small commission if you make a purchase. If you love the work that we do, you can show your support by making a purchase through an affiliate link. Proceeds will go towards feeding homeless dogs (and cats) along with improving the lives of the neglected and abused.
As a senior Yorkie with collapsed trachea living the nomadic life for 7 years and counting, I'm often asked if it's safe for dogs with collapsed trachea to fly. WOOF, here are my real barks – I actually got diagnosed with collapsed trachea the same year I hopped on my very first flight, which was back in 2016. Since then, I've hopped on over 60 flights across 24 countries on 3 continents. So, in simple barks, YES – dogs with collapsed can fly, especially if it's just a mild collapse where your dog is coughing infrequently or exhibiting minor symptoms. BUT sometimes, it's not that simple – keep on sniffing.
ARF, first bark first, let's start with the trachea. The trachea is described as the "windpipe" or tube connecting the throat to the lungs with small cartilage rings along the tracheal wall. In dogs, the rings cover roughly 80% of the perimeter with an ultra-thin tissue completing the circle. When the trachea has "collapsed," the cartilage rings lose strength and flatten, essentially making it difficult for air to get to the lungs. Many veterinarians describe this condition as trying to breathe through a straw. Can you imagine that??? 🙁 This results in bouts of a "goose-honk" dry cough, the single most recognizable early symptom of the collapse. The harsh cough may be exacerbated by excitement, stress, strenuous physical activity, obesity, hot and humid weather, and environmental pollutants (like second-hand smoke). Clinical signs are generally seen in middle-aged to senior dogs, starting from age 4.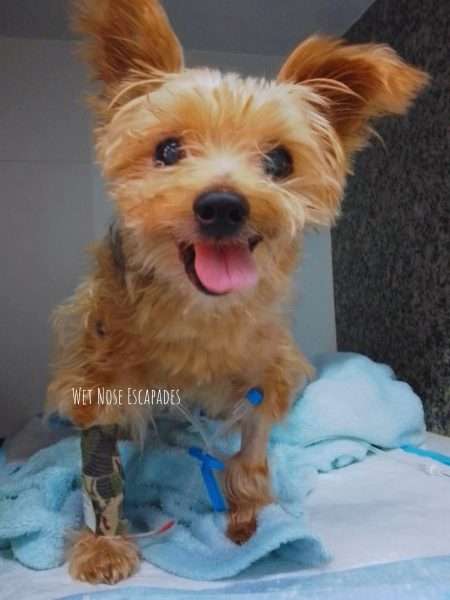 There are four stages of the collapsed trachea, and only in the most severe stage, it can become life-threatening.
Stage 1: Mild condition with no symptoms. Lumen is reduced by approximately 25%.
Stage 2: Mild-to-moderate stage that exhibits some intermittent symptoms like coughing, wheezing, or heavy breathing. Lumen is reduced by 50%. Diagnosis is likely at this stage.
Stage 3: Serious condition with frequent coughing or respiratory distress. Lumen is reduced by 75%. Must be treated immediately to prevent the progression of the disease.
Stage 4: Severe condition that is life-threatening and may not be treatable. As the tracheal membrane is on the dorsal cartilage, the lumen is practically obliterated.
Collapsed trachea is a predisposed respiratory condition commonly found in small dogs like Pomeranians, Chihuahuas, Toy Poodles, and arf course, Yorkies like myself (who are overrepresented). The diagnosis is typically in middle age or older, which means your younger dog may very well have collapsed trachea but isn't exhibiting any symptoms to warrant a medical examination or diagnosis. As a rescue dog, my exact age is unknown, but it is assumed that I was roughly between 5 to 7 at the time of diagnosis.
Can Dogs with Collapsed Trachea Fly?
If your dog has been diagnosed with mild collapsed trachea (Stages 1 or 2), flying generally should NOT pose a risk because your dog is exhibiting zero or little symptoms (at this stage). However, if you're concerned, you should discuss with your veterinarian.
Shortly arf-ter my diagnosis, I took my first flight ever, which was from Los Angeles to San Francisco (and vice versa) before hopping on my first international flight from Los Angeles to Paris. I was at the beginning of Stage 2, where I had very infrequent coughing bouts – maybe once or twice a month (mainly from excitement of meeting another dog). The bouts were short, lasting under a minute and resolving naturally. Although my veterinarian prescribed an opioid called Hydrocodone, I didn't have to take any for years to come but still traveled with it for emergency purposes.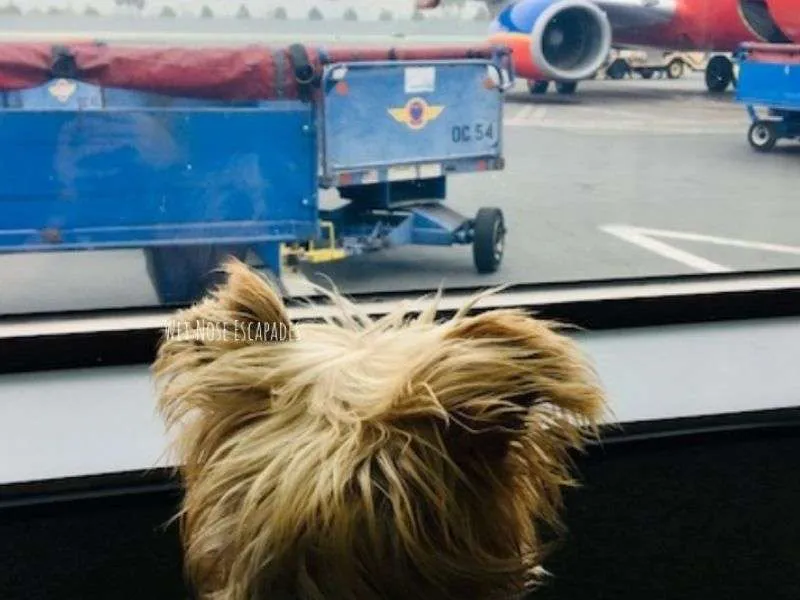 The good news about collapsed trachea is that the disease, if mild enough, can be effectively managed by lifestyle changes like replacing a collar with a choke-free harness, losing weight (which puts less pressure on the trachea), getting rid of cigarette smoke or air pollutants with an air purifier, moistening the indoor air with a humidifier (or with a dehumidifier if in an overly humid area) – among other options.
In case you're wondering – yes, I wore a choke-free harness arf-ter my rescue. From the very beginning (and long before my collapsed trachea diagnosis), my furever humans got me on a choke-free harness, which is arguably the easiest (and cheapest) thing pawrents can do to help their dog with a collapsed trachea. Drop the neck collar!
In the next 6 years, I continued to travel far and wide with my two nomadic humans. I'd spend about 8-9 months of the year traveling (mostly) throughout Europe by plane and train (and sometimes ferry) and the remaining 3-4 months back home in California (with some domestic flights). Despite having a few flare-ups over the years (including two minor ones that happened in Spain), I'd always bounced back to my normal Yorkie self either naturally due to a change of environment OR arf-ter a visit to the veterinarian. For years, I escaped consistent, long-term use of any medication – until the end of 2022. By then, I had flown on over 60 flights and even marked up Brazil in South America, my 24th country and 3rd continent.
What about Dogs with SEVERE Collapsed Trachea?
In Rio de Janeiro, I went to the ER not once but twice for my collapsed trachea – my worst flare-up to date. Luckily, arf-ter two aggressive treatments involving injections of Prednisone (a steroid to decrease the inflammation) and Butorphanol (an opioid to suppress the cough), I've been brought back to stability. Despite those crazy coughing fits, I (fortunately) didn't experience cyanosis, a life-threatening condition where insufficient oxygen is getting to the brain. It has been over 3 months since my last discharge, and I'm wagging my tail to bark that I'm in a much better place. Plus, I'm being followed by a pulmonologist. However, I can no longer escape the regular use of conventional meds for collapsed trachea, like opioids or anti-inflammatories.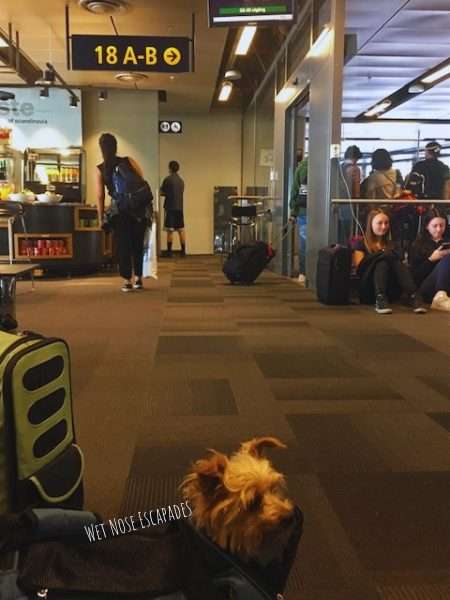 Now that my tracheal collapse has progressed into the more severe Stage 3 (or perhaps even into 4), is it still safe for me to fly? The answer is YES – since my condition is currently stable and controlled with meds, my general veterinarian and pulmonologist have both given me the green light. In case of emergencies where I'm having trouble breathing on the plane, my veterinarian advised me to carry on a small bag of oxygen and nebulizer. All my human needs to do is call the airline to let them know she'll be carrying on medical devices in a separate bag, which should not counted as a carry-on item. In the past, my human has brought an air purifier and humidifier onboard without any issues.
Most commercial aircraft are equipped with HEPA (High Efficiency Particulate Air) filters, which effectively cleans about 40% of a cabin's air. The remaining 60% is fresh and originates from the outside. Additionally, while the aircraft is operating, cabin air is changed every 3 minutes. Therefore, the air on the plane is actually safer than air in other confined spaces. WOOF-HOO! Nonetheless, because the air inside a plane still contains less oxygen than "normal" air, this can lead to a drop of oxygen level in the blood, posing a risk to those with pulmonary disease or a lung condition. Even though my lungs remained clear in previous X-rays, my human was concerned that I may not have enough oxygen if I'm having a terrible coughing attack on the plane.
However, my pulmonologist doesn't think bringing along oxygen is necessary. He explained it's not necessarily the act of flying that will be risky for my collapsed trachea condition, but the potential stress of flying that can lead to a coughing attack on the plane or an awful flare-up arf-terwards. However, since I am a seasoned furry traveler who is able to relax and sleep through long flights and remain calm throughout the airport experience, my pulmonologist isn't worried about the flights negatively impacting my current condition. BUT, if my condition ever progresses into life-threatening cyanosis (where I'm having trouble getting oxygen into my brain), flying will likely be out of the picture for me. Fur-ever. Hopefully, I'm able to maintain stability indefinitely.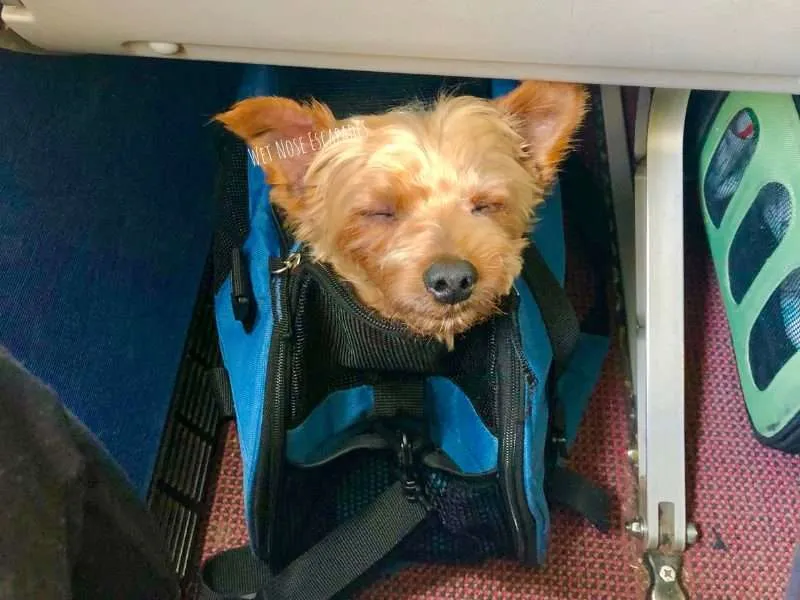 How stressful is flying for dogs? Sniff out the answer here!
Therefore, if your dog has progressed into a more severe stage of collapsed trachea (3 or 4), you MUST consult a veterinarian before hopping on that flight. Ultimately, it depends on your dog's severity of collapsed trachea, ability to relax while flying, and overall health. Most dogs at a severe stage of collapsed trachea tend to be older and geriatric, meaning they have concurrent health issues (which could also affect their ability to fly). Fortunately, I currently do not have any other major health issues besides collapsed trachea – claws crossed that this continues. And, because my collapsed trachea condition is effectively managed by medication, my coughing fits are controlled; although the cough can never disappear, they're now less frequent and resolve quickly.
While collapsed trachea is a non-curable progressive disease, the good news most affected dogs can be treated successfully through medical management (e.g. cough suppressants and anti-inflammatories), a whoppin' 70% according to some studies. Those who don't respond to medicine need to consider stent surgery, which may result in complications. Not to bark, conventional medicine is likely necessary to maintain quality of life post-surgery.
Will Flying Worsen the Condition?
Given that your dog is in a stable condition with collapsed trachea, whether or not flying will worsen his condition depends on how well your dog handles air travel. Since coughing bouts can be triggered by stress, flying your dog could worsen his condition IF he gets stressed out on the plane, especially on long flights where he has to stay inside a carrier for hours.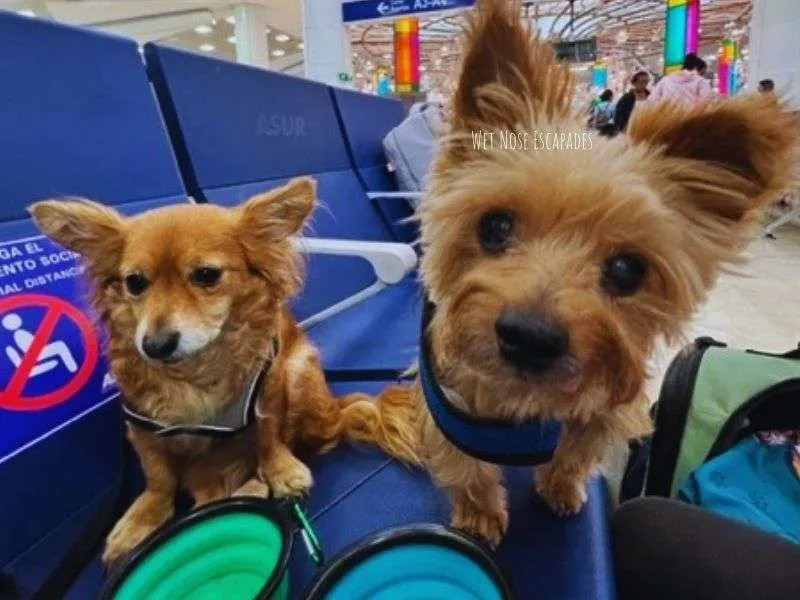 Fortunately, when it comes to flying, I've always been a born traveler; due to lack of stimulation on the plane, I usually sleep through most of the flight (even on 10+ hour flights) and feel more relaxed than most human travelers. I am definitely more relaxed than my sidekick Penny Gurl, who can be an anxious little furry traveler (she had a bit of a learning curve before she was finally ready to leave the country). As barked earlier, for over 6 years, I flew around the world and didn't have any serious issues with my collapsed trachea, which was mild for the most part. Now that I'm 12 to 14-years-old (again, exact age unknown), my condition has gotten noticeably worse but remains stable due to long-term medical management (which wasn't necessary up until a few months ago).
With that barked, it's best to do "slow travel" with your dog with a more serious case of collapsed trachea (but remains stable through medical management) versus jet setting. And, that's essentially how I've been traveling for the last few years – I'd mark up a city or town for at least a month or two before moving on to the next.
On the other paw, given that your dog is NOT in a stable condition with collapsed trachea (e.g. tends to have frequent coughing fits that don't resolve quickly), it's pawbably best NOT to fly your dog until he is fully stabilized. One thing I've learned from my experience with this disease is that if the coughing fit doesn't end quickly, the attacks can easily spiral out of control. Essentially, the more your dog coughs, the more he will cough. This is primarily due to the inflammation caused by coughing and vice versa, perpetuating a vicious cycle.
Even if your veterinarian gives you the green light, seeing and hearing your dog cough and suffer for hours will be a stressful experience – for you and your dog (and nearby passengers may complain or get annoyed). Regardless of how short the flight is, it will feel 10x as long if your dog is coughing the entire time or most of the time. Also, if you're flying internationally, going through Customs with a coughing dog may lead to unnecessary interrogation and even PAWsible detainment for further examination.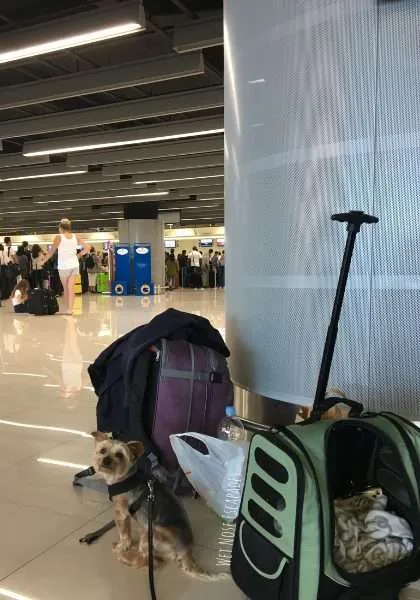 Tips for Flying with Dogs with Collapsed Trachea
*Always consult your veterinarian first – every dog may be experiencing different stages of collapse and undergoing different treatments.
*Ask your veterinarian if carrying on a small bag of oxygen and a nebulizer is necessary or a good idea.
*Ask your veterinarian if carrying on an Albuterol inhaler (along with a spacer like Aerodawg) is necessary or a good idea. Known as a "rescue" inhaler, Albuterol is a short-acting bronchodilator that can relax the muscles around the airways to make it easier for your dog to breathe.
*Pack all your dog's medications and supplements! Ensure they're easily accessible from your carry-on.
Try this all-natural supplement for collapsed trachea
*If your dog is on regular medication for collapsed trachea, give him his meds about an hour before heading to the airport. Since most medicine can take 1-2 hours to be in effect, you'll want to give it to him early enough so he has a comfortable start of the travel day.
*Keep up with the medicine throughout the travel day! Plan ahead by packing treats or goodies to stuff or hide your dog's medicine in. Set everything aside in a plastic bag in an easily accessible place inside your carry-on.
*Whenever PAWsible, unzip your dog's carrier for better ventilation. I recognize that it is technically against the rules of most commercial airlines (unless you have the means to fly private), so be sure to gauge the environment before doing so.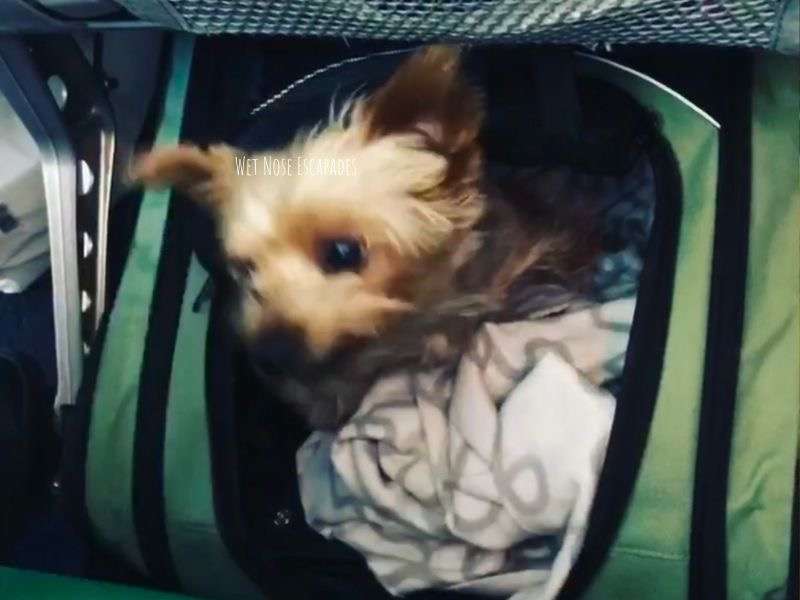 Get my favorite carrier HERE – it's a spacious 5-in-1 roller backpack carrier.
*Monitor your dog at all times. Don't fall asleep! Keep in mind that no flight is ever worth your dog's life – if you see him struggling (e.g. panting heavily inside the carrier or coughing nonstop), please take him out of the carrier immediately.
*In case it gets hot and stuffy on the plane (especially before take-off and arf-ter landing), carry on a handheld portable fan. Remember, heat can exacerbate the collapsed trachea condition.
*Keep your dog as calm as PAWsible throughout the flight.
*As the heat & humidity and pollution can worsen your dog's symptoms, it's best to plan your itinerary carefully by choosing destinations with cooler climates and less pollution.
Sniff out more tips on flying with a Yorkie & a senior dog! Want more? Sniff out my long battle with collapsed trachea.
So, can dogs with collapsed trachea fly? ARF, for the most part – YES, but it ultimately depends! While dogs with mild collapsed trachea (exhibiting little or no symptoms) shouldn't have any problems (or PAWblems) flying, dogs in more severe stages should be examined and consulted by the veterinarian before flying.
WOOF, wherever your dog is flying to, I hope he gets there safe and sound!
Markin' it up,
Roger Wellington a.k.a. The Doob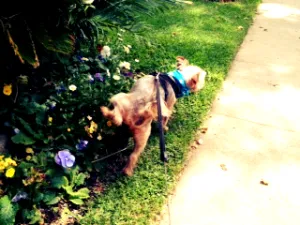 –
Like my post on "Can Dogs with Collapsed Trachea Fly? The Traveling Yorkie BARKS All"? Click to Pin!