WOOF, we've all heard the benefits of fish oil in dogs, BUT can Yorkies eat fish oil? Or should you add fish oil to your Yorkie's diet? Perk up your ear and listen to my alpha barks NOW!
Posted 3/15/22
*Please note that this post contains affiliate links, and at no obligation or additional cost to you, my humans and I earn a small commission if you make a purchase. If you love the work that we do, you can show your support by making a purchase through an affiliate link. Proceeds will go towards feeding homeless dogs (and cats) along with improving the lives of the neglected and abused.
*Please note that this post, like all my posts, is based on my own experiences and research.
The two main ingredients in fish oil are eicosapentaenoic (EPA) and docosahexaenoic (DHA) fatty acids, which are known as Omega 3 fatty acids. EPA and DHA are bonded to a three-carbon backbone structure called glycerol, which makes a triglyceride. Fish oil or Omega-3 fatty acid is now known as one of the best supplements to a dog's diet. For dog pawrents opting for a more holistic approach to improve their dog's health, the miraculous claims of fish oil sound like a dream. Just think about these bold claims – "Research shows that the essential fatty acids EPA & DHA in fish oil help support your pet's heart, skin & coat, immune & joint health." Also, they claim to support brain and eye development AND maintenance. Upon further research online, fish oil supposedly helps slow down the progression of kidney disease, improves neurologic development and cognitive function, and lowers blood triglyceride levels (for dogs suffering from heart disease, pancreatitis, and inflammatory bowel disease).
Sounds ARF-mazing, right? Who doesn't want their precious furry family member to have a healthy heart, better coat, stronger immune system, and strengthened joints? Especially for pawrents with senior dogs like myself, such wonderful promises are enough to give fish oil a shot, whether you opt for liquid or soft gel. Why not? A small bottle of most veterinarian-recommended fish oil is priced reasonably at $30 or below. Surely, something so beneficial to your Yorkie that's not breaking the bank is worth trying, right? However, just a bark of CAUTION – this doesn't mean fish oil is recommended or even safe for every dog, including Yorkies.
ARF-ter hearing constant raves for several years from other dog pawrents about the wonders of fish oil, my human decided to give fish oil a shot. Before making an impulsive buy, she reached out to my veterinarian to make sure the supplement is suitable for me. The veterinarian quickly approved the usage and even provided a link to their recommended brand, which is advertised as an award-winning omega-3 formula made in the U.S. (I'll zip my lips on the exact brand, in case I get some "hate" barks). Not to bark, it's also non-GMO verified and 3rd party purity tested. Upon receiving the order, my human was supaw excited, thinking that it can boost my health and hoping that it'll help extend my time on this Earth.
On the first day, she only gave me one quarter of the recommended dosage. She mixed it with my usual prescription wet food, and I gobbled it down right away. WOOF, as the TOP DOG and #1 Pack Leader, I never refuse a meal. Gotta fill up that belly of mine. However, I immediately had diarrhea inside the house, which never happens because I'm 100% potty trained. Other than some diarrhea, I seemed pawfectly fine. My human read about diarrhea as a common side effect for dogs new to fish oil, so she slowed down the introduction the next day. Instead of giving me one-quarter of the recommended dosage in one setting, she sprinkled less than half dose on my bowl of food to be eaten throughout the next two days. And, that was all it took for the side effects to come storming down.
Despite not receiving the entire recommended dose, fish oil made me sick. Really sick. Please note that there is absolutely ZERO change in my diet or lifestyle besides being introduced to fish oil.
The next few days were strange, and sometimes, scary. A good chunk of the day, I'd seem pawfectly fine, barking at my human for food. Other times, I wanted to be left alone on my King bed inside the Master bedroom. I would be completely lethargic up to a point where I wouldn't even come out to the sound of food. Heck, I even turned my nose at food a couple times when delivered, which generated multiple calls to the veterinarian. The veterinarian responded that upset tummy/gastrointestinal issues and diarrhea are common side effects of fish oil for dogs, and it should just take a few days for me to get used to it. It seems as though I had a terrible allergic reaction to taking a little bit of fish oil, which shows how dangerous it can be. Unfortunately, Yorkies are prone to gastrointestinal issues and pancreatitis, which may have been triggered by the fish oil.
The veterinarian advised my human to monitor my condition, feed me bland food like chicken with rice, and stop the dosage immediately (which she already did). After a few more days of me exhibiting both normality and concerning symptoms along with more calls to the veterinarian's office, my diarrhea returned with vengeance. I even threw up one morning. Then I…collapsed. It was very scary because my hind legs gave out on me. I could no longer stand up without support. I looked paralyzed. Every time I tried to walk or stand, I'd fail miserably; my hind legs would shake in distress, and I'd resort to sitting. My humans were terrified by my paralyzation and rushed me immediately to the nearest ER with the best ratings.
GRRR. I ended up in the ER, thanks to a little bit of fish oil. ARF-ter an initial examination, I was then hooked up on IV fluids, received pain meds through injections, and had my blood drawn for extensive lab work along with urine/fecal samples for tests. The vet said that they will most likely keep me overnight for observation, but it'll just depend on how well I respond to the treatment.
Right after I was taken to the backroom, I had another diarrhea episode inside my hospital crate a.k.a. cage. My right front leg was shaved for an IV catheter to receive fluid therapy. The vet techs are gentle, but I was so scared – my humans were nowhere in sight and I had no idea what was going on. What a way to lower that big boss tail of mine. 🙁
Luckily, my labs came back normal! My organs were still functioning properly, which meant I got the treatment early enough. Had my humans waited to take me to the veterinarian, my organs would have been negatively impacted. Nevertheless, the veterinarian concluded that the fish oil most likely caused me to have pancreatitis and gastrointestinal issues since there had been no other change in my diet or lifestyle (I was already on a strict, prescription diet). My diarrhea episodes caused me to be so dehydrated that I collapsed due to weakness. To my humans' relief, I wasn't actually "paralyzed."
ARF, the good news is that I recovered quickly. Instead of a 3-day projection of hospitalization, I was discharged after only one day. WOOF-HOO! Under veterinary care, I started eating again and my diarrhea subsided. I went out for a quick potty break and still marked it up. HAH, the TOP DOG was back! The veterinarian said I was in good spirits and felt confident that my recovery would continue with antibiotics and pain meds at home. I barked from my crate the moment I heard (or sniff) my humans enter the exam room – I knew they wouldn't leave me here in this RUFF place fur-ever. Even though I recovered as expected at home (already demanding food at the moment I marched my furry paws inside the house – I was so hungry!), I needed to be under close watch for signs of colon cancer.
Now, let's go back to the question – can Yorkies eat fish oil? Ultimately, it depends on your Yorkie. Even though fish oil was approved to be safe by my veterinarian, I almost died from taking it, which makes this whole situation extra scary. The truth is that veterinarians cannot always make accurate predictions. For Yorkies and dogs prone to gastrointestinal issues and pancreatitis, a little bit of fish oil may be just enough to cause indigestion, upset the tummy, or worse, lead to acute pancreatitis. However, if you do research online on fish oil and pancreatitis, plenty of sources assert that fish oil helps dogs with chronic pancreatitis, not necessarily causing it.
Here's a quick BARK just in case you don't know what pancreatitis is – it's the inflammatory reaction of the pancreas, causing abdominal pain, inappetence, and vomiting. The pancreas is a long, flat gland located behind the stomach in the upper abdomen. This organ produces enzymes that help digestion and hormones that help regulate sugar processing in your body. Fatty foods often trigger pancreatitis in dogs, although some breeds like Yorkies are prone to it regardless. Certain prescription foods made to be easily digestible like Hill's i/d Low Fat can help settle digestive upsets for dogs and decrease the chances of pancreatitis happening again in the future. Although I was already on a low-fat prescription diet to combat pancreatitis, the fish oil still got me. It got me good, even with a slow introduction. With dogs prone to pancreatitis and digestive issues, fish oil may do more harm than good.
ARF course, maybe I was just unlucky to have experienced such terrible side effects, but I wouldn't want another Yorkie or dog to go through the same. Fish oil supplements may regard as "safe" supplements, but that doesn't mean it's safe for your dog – even with the BEST brand out there and at low doses. A big pawblem with fish oil is that the oceans are filled with toxins, which are stored in the skin and fat of fish. Hence, it's impawtant to find a quality one, made with the least polluted fish. If you plan on giving your dog fish oil, please research thoroughly and discuss all your concerns with your veterinarian. If you still decide to proceed, be sure to introduce it extra slowly (well below recommended dose) to your Yorkie, and watch closely for side effects. Make sure you have your veterinarian and emergency vets #s ready. I hope your Yorkie doesn't end up in the ER. 🙁
WOOF, what was your Yorkie's experience with fish oil? Do you feel that Yorkies can eat fish oil? BARK AT ME!
Subscribe to my YouTube Channel: Wet Nose Escapades by Roger Wellington for fun dog videos!
Markin' it up,
Roger Wellington a.k.a. The Doob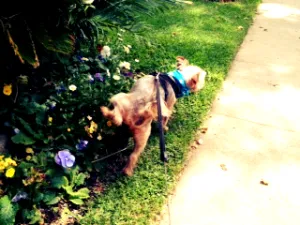 —
Like my post on "Can Yorkies Eat Fish Oil? A MUST-READ This Before Giving Your Yorkie Fish Oil"? CLICK TO PIN!