ARF, can you bring your dog to Isla Mujeres? The answer is YES, Isla Mujeres is dog-friendly! Keep on sniffing my Yorkie buttocks to get the lowdown on how to take your dog to this tiny Caribbean island just 13 kilometers off the coast of Cancún.
Last Updated 6/13/23
*Please note that this post contains affiliate links, and at no obligation or additional cost to you, my humans and I earn a small commission if you make a purchase. If you love the work that we do, you can show your support by making a purchase through an affiliate link. Proceeds will go towards feeding homeless dogs (and cats) along with improving the lives of the neglected and abused.
ARF-ter markin' up Cancún for a few weeks, I was ecstatic to change up the pawty scene by setting my little furry paws in Isla Mujeres. Once a sanctuary and former fishing village, this 1.629 mi² island got its ear-perkin' name from Yucatán conquistador Francisco Hernández de Córdoba, who, upon arrival, saw all the women statues that the Mayans offered to their goddess Ixchel. Hence, the name "Women Island," as translated into English. Today, it's a supaw pawpular day trip destination for Cancún visitors, furry nomads like myself included.
Press PLAY with a furry paw to watch my wet nose escapade to Isla Mujeres:
Since the ferry ride to Isla Mujeres is only 30 minutes from the coast of Cancun and departs as often as every 30 mins, it's easy to be spawtaneous without much planning. Currently, two main ferry companies operate from Cancun to Isla Mujeres – Ultramar and Naveganto. Even though both are high-speed ferries that take about 30 minutes, Ultramar has been around longer with a more established reputation (just over 30 years of history). They also offer a snack bar onboard, which is convenient for those hungry ferry-goers who can't manage to wait 30 minutes until deboarding (I know I always have an appetite).
Due to their more established foothold, I went with Ultramar knowing that the tickets cost more at 512 pesos round trip or 256 pesos one-way. The tickets don't expire until 6 months after purchase, which means travel plans don't have to be set in stone. On the other hand, it's only 265 pesos round trip or 140 pesos for a single journey at Naveganto, and tickets don't expire until 3 months from the day of purchase (Prices as of September 2022). 
Nonetheless, both fleets are dog-friendly and allow "pets" onboard. I can't bark about Naveganto, but Ultramar even has dog-designated seats (that I didn't use because I didn't see them until the very end). WOOF-HOO! Not to bark, both fleets have air conditioning, bathrooms, and indoor and outdoor seating.
Besides the high-speed ferry, you can also get to the island with your dog via private boat charter or day trip tour like the all-inclusive Catamaran, which is pricier but comes with lunch, drinks, and snorkeling (since you can't take your dog snorkeling, this would be a waste). My humans confirmed with the hotel concierge that they could bring a small dog on the Catamaran, but were not given a size restriction.
Do you need to reserve a ticket for your dog?
Nope! ARF-ter reserving their tickets on the Ultramar website, my humans walked me to Playa Caracol, a 5-minute walk from our hotel. Besides Playa Caracol, there is another departure area in the Hotel Zone – Playa Tortugas, which is closer to Downtown than the center of the zone. We arrived 20 minutes beforehand just in case, but the ferry didn't arrive until 5 minutes before departure time. I waited alongside other travelers, who were unsurprisingly, mostly Americans.
Since I couldn't find any official rules about their dog policy online, I brought my carrier as a backup, but I didn't end up utilizing it. As the Ultramar staff scanned my humans' mobile tickets, he did not reference or even look at me at all, which is always a good sign in the world of dog travel! WOOF-HOO!
Even though there was indoor seating on the lower deck, the staff motioned everyone to walk upstairs (so there goes the AC. GRR). Fortunately, with the Caribbean breeze on my furry face, it didn't feel unbearably hot on the upper deck. I was lovin' it – at least in the beginning. Then, arf-ter 15-20 minutes into the ride, I started fidgeting and trying to get down. For the rest of the ride, I snoozed next to my humans' feet under the shade arf-ter sipping on some fresh cold water (even the mesmerizing voice of the onboard entertainer couldn't keep me up at that point).
If your dog is prone to motion sickness, be sure to consult a veterinarian before taking him on a ferry.
Before I knew it, the ferry halted at the Terminal Marítama – I'm now setting my alpha paws in Isla Mujeres! Time to mark it up. As soon as my four paws hit the streets of Downtown, I tilted my head to a large brown dog running loose. While he was wearing a collar (hopefully, this means he has a home – I hope a good home, that is), my humans and I were concerned for his safety, especially with all the golf carts and cars passing by (watch in my YouTube video above).
*Shortly arf-ter my visit, I was relieved to discover that a compassionate animal lover from Boulder, Colorado named Alison Sawyer Current started the first spay/neuter clinic from her home on the island to help stray dogs and cats. Besides spaying and neutering over 20,000 homeless dogs and cats over the years, she also found homes for over 2,000 animals. Thanks to her, stray animals on the island are virtually nonexistent.
Most people rent a golf cart to explore the island – it's the "thing" to do, and the second most pawpular option is to rent a bike. Although my humans confirmed that the golf cart rental allows dogs, it was simply too hot at the time for me to ride around town. Due to safety concerns, I would only suggest that you take your dog on a golf cart if there is someone else attending to your dog while you drive. And, for dogs, bikes are a NO GO unless your dog is "used" to biking around with you. Even if we could find one with a basket large enough for me to sit inside, it would not have been a comfy ride for my furry butt. Not the bark, the heat would still be there! GRRR.
ARF-ter exploring the streets of Downtown by paw for a bit, I directed my humans to settle down for a tropical beach day in Playa Norte. Playa Norte is one pawbulous beach! As a matter of bark, Playa Norte is one of Mexico's most famous beaches (and arguably, the most beautiful beach with its flawless white sand and ARF-mazing views of where the Gulf of Mexico and the Caribbean Sea meet).
It's impawtant to note that not all beaches on the island are dog-friendly. In fact, the ones closest to Terminal Marítama have clear signs indicating that dogs are NOT allowed. GRRR. But, if you keep walking your furry paws north, you'll find dogs frolicking on many of the beaches. I recommend spending the money on a beach club so you can access chairs, an umbrella, bathrooms (plus drink and food service), and even huts (at some clubs), making it a more relaxing experience. Plus, your dog will appreciate the much-needed shade on a sunny day. However, if you're tight on money, please try to find a shady spot for your dog, and don't forget to bring a large beach towel, fresh water, and snacks (for yourself and your dog).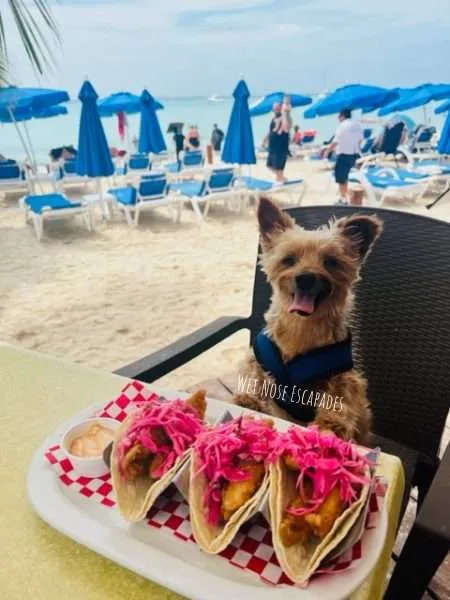 All in all, beach clubs are still the way to go for utmost comfort and relaxation at Playa Norte, especially you want to escape the crowd. At Mayan Beach Club, they quoted 800 pesos for two lounge chairs and an umbrella, but we could use part of the charge to order food and drinks. I stared down my human #1 for some battered fish tacos while my human #2 took a dip in. But you'll never find me in the water – GRR, unlike dogs who love a good swim, I just hate it!
As expected, the prices here are a bit steep (relatively barking) and the food is lackluster, but the scenery is more than worth it. I'd recommend only getting bebidas (drinks) unless you need to fill up your belly. Next up, I worked out my thighs by marching on the sand to sniff out another beach club.
*As dogs are pack animals who'd LOVE to experience meals with you, don't forget to pack a bag of treats, dog-safe food, bottled water, and to-go bowls for your dog! Don't make your dog feel left out.
My robust wet nose stopped at Las Hamacas where I found exactly what I needed – unoccupied front row chairs to the ocean. AWOOO, gotta love the Caribbean breeze! Once I got tired from messing with the sand, I fell asleep underneath my human's lounge chair, where it's pawfectly shaded. My humans and I posted up here for hours – well past sunset until the smell of some local furry beach bums led me out of my nest.
My human #1 also got her hands on a mouthwatering coconut chocolate bar from a young local vendor carting around in exhaustion. Wished I could have gotten my paws on one (or even a lick would have sufficed), but my human insisted that it was "not good" for me. GRRR.
At first, the wait staff service at this beach club was SPAWT ON and my humans happily sipped on their cervezas and horchatas. We also negotiated a longer rental time to 6:45 pm (compared to Mayan Beach Club which closed strictly at 4 pm that day). However, when 5 pm rolled around, the service slowed dramtically. It was hard to get any staff's attention despite multiple handwaving attempts, as they were frantically cleaning and stacking up unoccupied chairs. It was obvious that they were trying to get us to leave so they could end the workday.
ARF-ter the sun went down, I led my humans back to Downtown to sniff out a good place to fill up our bellies for dinner. Since the last Ultramar ferry ride back to Playa Caracol departed at 5 pm (5:30 pm to Playa Juarez for the Naveganto ferry), we intended on having dinner here before heading back to Cancún. Nonetheless, this meant getting dropped off at Playa Tortugas, farther from our hotel than Caracol. Much to our disappointment, it seemed as though every restaurant we passed by was empty! The tourists who flooded during the day have already left (with just a few remaining). Yet this makes pawfect sense since Isla Mujeres is a day trip destination for Cancún visitors (although a paw-full may opt to spend the night). So note to my Yorkie self next time – eat up before dinnertime!
Reluctantly, we left the island hungry (well, I guess not me since my humans always pack food and water for me on the go). GRRR, landing in Playa Tortugas was a real pain because it took furever for Uber to find a driver, only to be canceled just a few minutes before the pickup time. It took over an hour and several cancellations to finally get picked up from the "designated" location near a military base Uber had strategically selected. It was also too late in the evening to attempt to walk back (plus, my little legs were tired by that time).
The only redeeming experience of being stranded was to witness a few loose dogs guard the military base. Two black dogs (one female, one male) came running at me and barking up a storm. A third fluffy dog later came out of the opposite end. My human hurriedly picked me up and kept walking – it turns out that these dogs didn't mean harm as they were simply guarding their territory. I'm not sure if they are strays or live on the base, but I can only hope that they are well-fed and treated. :/
Hence, if you plan on staying past 5 pm on the island, keep in mind that the Ultramar ferry will only take you to Playa Tortugas, which is close to Downtown and at the edge of the Hotel Zone (not the center of the zone). Be sure to figure out a ride back to your hotel ahead of time because Uber can be unpredictable in Mexico (and cabs are notorious for ripping off tourists).
Tips on Visiting Isla Mujeres with Dog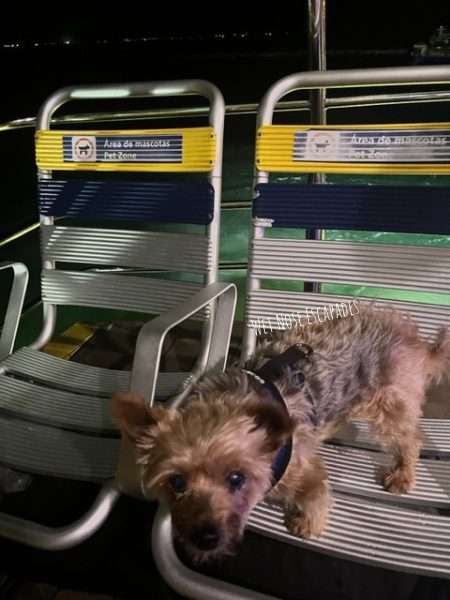 *If pawssible, carry your dog on and off the ferry. Obviously, this is purely for safety reasons. GRRR, it's no fun getting your paws stepped on!
*During hot days, sit indoors on the lower deck with air conditioning. In our case, we didn't have a choice, unfortunately, since the indoor section was PAWS OFF. If not, try to find a shady or cool spot for your dog throughout the ferry ride.
*Always have fresh water available for your dog throughout the day, including the ferry ride.
*Even though your dog can most likely get on that golf cart, it's best if there is another person with you who can keep an eye on your dog.
*Unless your dog is used to riding inside a basket on bikes back home, it's just NOT a good idea to bike around with your dog on the island. This can lead to both discomfort and potential danger for your dog. I'm not sure if all bike rentals on the island even have baskets in front.
*Like in most restaurants on the Yucatán Peninsula, dogs are NOT allowed inside but can join their humans in al fresco dining.
*Have a game plan if you stay on the island past 5 pm with your dog. Again, Ultramar will only take you back to Playa Tortugas instead of Playa Caracol after 5 pm. Depending on the location of your hotel, this can be a real pain or sweet convenience (GRRR, it was a real pain for me). Therefore, plan accordingly!
Dog Beach Safety Tips
*Keep sand out of your dog's eyes as much as pawssible! If you see sand in or around your dog's eyes, be sure NOT to let him scratch or rub his eyes – this can cause a painful infection or cornea scratch. Don't use your hands or fingers to remove sand from your dog's eyes – it can do more harm than good. The best way is to let water (NOT salt water) gently run through his eyes AND/OR squirt a few drops of saline solution into his eyes until the sand is completely rinsed out. Consult a veterinarian if necessary.
*Make sure you have fresh water available for your dog at all times.
*Make sure your dog has access to shade should he want to take a break from the sun. Be wary of potential heatstrokes. Keep your dog cool!
*AWOOOO, be careful of exposing your dog's paws to hot sand (the same goes for cement)! Remember, your dog's paws can burn. If it's too hot for your bare feet to walk on, it's too hot for your dog as well. When you see those paws moving quickly to find a shady spot, it's a sure sign that the ground is too HOT.
*If your dog is digging a hole in the sand and burying himself inside, he's essentially trying to create a spot to stay cool. A BARK OF CAUTION: It's HOT for him.
*Don't let your dog eat or inhale sand! While small may be pawfectly fine for your dog (for instance, by accident), ingesting a large amount of sand can cause blockage in the intestine. Sand impaction is an urgent health issue that requires immediate veterinary care. Symptoms include vomiting, dehydration, and abdominal pain. It's no joke!
*If you plan to have an all-day beach day with your dog, you should consider putting sunscreen on your dog, especially if you have a short-haired dog. Like humans, dogs can also suffer from sunburn along with complications and diseases caused by excessive sun exposure. Sunburn in dogs also resembles that of humans. HOWEVER, please remember to NEVER use human sunscreen on your dog as the ingredients may harm them. Instead, purchase sunscreen specially formulated for dogs like this one HERE.
*Don't let your dog drink saltwater! While small bits may be OK for your dog to consume, a large amount may be harmful due to bacteria and high salt content.
*Prevent choking hazards and blockage by keeping your dog away from starfish and shells.
WOOF, so can you bring your dog to Isla Mujeres? My real bark is ARRRRF, YES! Hope you enjoy visiting Isla Mujeres with your dog. Be sure to share your dog-friendly trip with me. BARK AT ME!
Sniff out a cheap flight to Mexico HERE.
Remember to subscribe to my YouTube Channel: Wet Nose Escapades by Roger Wellington for fun dog videos!
Markin' it up,
Roger Wellington a.k.a. The Doob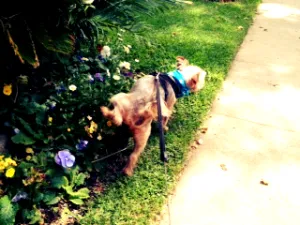 –
Like my post "Can You Bring Your Dog to Isla Mujeres?" CLICK TO PIN!