Thinking of going to Costa Rica with your dog? Keep on sniffing!
Posted 12/9/22
As I mark up Brazil with my sidekick Penny Gurl, I've been waggin' my tail to see where else I can sniff out in Latin America. Located in Central America, Costa Rica is unsurprisingly on a world traveling Yorkie's bucket list. Arf-ter all, it's a vacation hot spawt known for its incredible natural wonders – gorgeous beaches, tropical rainforests, waterfalls, active volcanoes, steep mountain ranges, and wildlife (sloths, spider monkeys, toucans – just to bark a few).
Costa Rica also boasts picture pawfect, rugged coastlines of both the Pacific Ocean and the Caribbean Sea. Years ago (pre-ME), my humans landed in San José and made their way to Manuel Antonio, La Fortuna, and Arenal Volcano. It is, PAWS DOWN, one of their most memorable trips! But yet, they have not revisited or taken me so I can sniff out such beauty for myself (plus, I'm dying to chomp on a casado). GRRR.
Luckily, my Yorkie-Pom buddy Lemon has been sniffing out this exciting country for all the furry wanderlusters. His pawsome human mommy Lauren is here to share her experience of traveling to Costa Rica with a dog.
ARRF, before I hand (paw) it over to Lauren, here's a little BARK about her:
She grew up with dogs and had her first family dog when she was about 6-years-old. Since then, she has always had a family dog and eventually got her own as an adult! Even before her family got their first dog, she was obsessed with dogs and would make her parents stop at any dog she saw so she could ask to pet them. 🙂
Let's take a deep sniff of the world traveling Yorkie-Pom:
As told lovingly by his mommy 🙂
I rescued Lemon in February 2018. While his exact age or breed is unknown, it is speculated that he is about 6 or 7-years-old, and a Yorkie-Pomeranian mix of some kind! He is a whopping 7-8 lbs, depending on the day. 🙂 I met the love of my life in December of 2018, and since then, Lemon inherited the most amazing pup-dad. It was his dad's dream to travel full-time one day, so we made that dream a reality three years ago.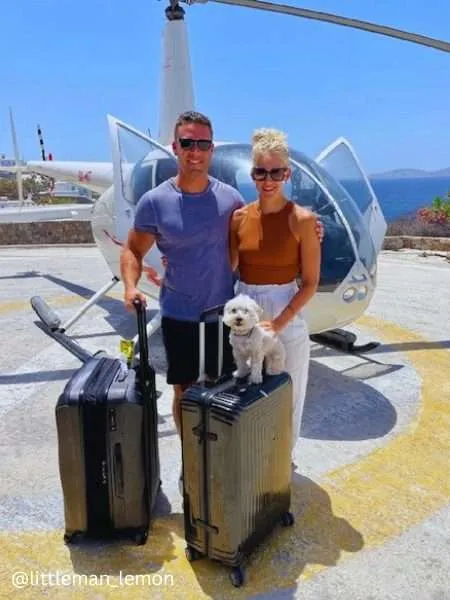 Ever since, Lemon has been living the nomad life! Lemon has now been to 8 countries and countless states. We have about two more years of full-time travel before we settle down in the house we are building in Sedona, AZ.
I love so many things about Lemon! If I had to choose a couple, I would say his loyalty, loving personality, and adaptability. Lemon is incredibly loyal to us. He is also the sweetest, easiest, and most chill dog ever. He has been extremely adaptable as we transitioned to full-time travel. He has been on almost every mode of transportation imagined – planes, trains, 4-wheelers, helicopters, boats, and even a paraglide! And as long as one of us (me or his dad) is around, he is as content as he could be.
LIKES: Lemon's favorite activities are hiking and chasing after any small creature he can find (lizards, birds, squirrels, crabs… you name it!).
Lemon will eat almost ANYTHING but loves peanut butter and cheese!
DISLIKES: Lemon hates high-energy big dogs, cats, and large objects that move! He is not a fan of any green vegetables.
So, exactly how spoiled is Lemon? Lemon is so spoiled that he gets to travel the world full-time, no matter what the cost! His travels are usually as much or more expensive as ours 😂, but I don't blink an eye because I can't imagine a life without him by our side.
What it's Like Having a DOG in Costa Rica
You can do almost everything with them! Costa Rica is all about that "Pura Vida" life – it is super laid-back, friendly, and open. Dogs are allowed almost everywhere, and because most of the activities we do are outside, there is rarely a time he stays home alone.

The biggest challenge is stray dogs and other wildlife. The stray dogs are mostly very, very friendly, but you can never be too safe. Lemon has been attacked a couple of times here (thankfully he has never been hurt), but it is good to keep a close eye on your dog at all times. As most dogs are off-leash here, it can be tempting to let them wander. However, you should always keep an eye out, especially if your dog is small! As for wildlife, they will leave your dog alone as long as you don't invade their space where they feel threatened. I would never bring Lemon out in the jungle or to areas that aren't well-traveled. As long as you use common sense, you are more than safe!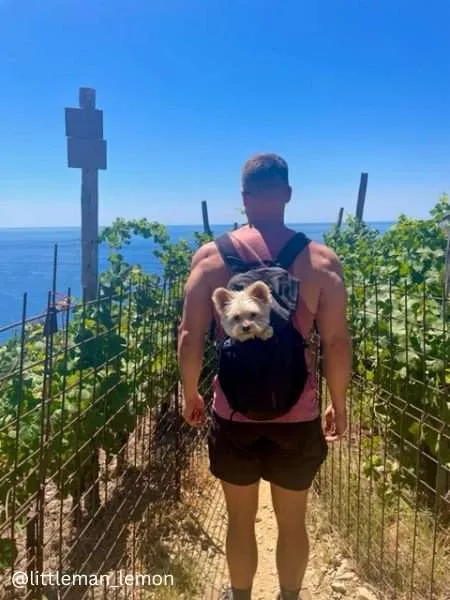 Are there dog-friendly parks in Costa Rica? Dog parks aren't a big thing here in Costa Rica (at least not in the beach towns I have been to, but I'm sure there are more in the cities), but the beach is like one big dog park! We usually come to Nosara, and my favorite beach is Bakers Beach where you can find plenty of dogs. For a more private and quiet beach, the beach in Guiones is a great option.
Are restaurants in Costa Rica dog-friendly? Almost all restaurants here are dog friendly since dining is mostly outside. However, I've never had a problem bringing Lemon inside on the rare occasion the weather is not permitting. I don't think I have ever been to a restaurant where he is NOT allowed.
My top 3 favorite restaurants in Nosara are La Luna, Coyol, and Destiny Café.
What kind of attractions are dog-friendly in Costa Rica? Because we travel full-time, I don't usually go to tourist attractions as my goal is to immerse myself in the culture and live my "regular" life. The few tourist attractions I have been to here have been national parks, which do not allow dogs due to the wildlife.
However, the beaches in Nosara, Guiones, and Dominical are all dog-friendly (the only ones I have been to), and all the tourist shops/boutiques, restaurants, and bars here have never turned Lemon away. The trails I have been on also are dog-friendly, but you want to be careful with your dog due to the heat!
Regarding dog-friendly housing, I only stay in Airbnb, and they've always been open to having Lemon.
Traveling to Costa Rica with a DOG
Since we travel full-time, it is less of a Why/How and more of a "if this is a place we CAN bring Lemon, we will." When we look at traveling to countries we have not been to before, we review the requirements for dog travel. We usually book our travel a year out. But for people looking to book a vacation to Costa Rica and bring their dog along, a couple of months in advance would suffice!
Getting a dog into Costa Rica is relatively simple compared to other places we have taken Lemon. Within two weeks of the flight, you must take him to a USDA-accredited veterinarian to conduct an exam and complete the international health certificate. At this appointment, your dog may need boosters for any overdue vaccines and flea/tick medication. This health certificate will then be sent to the USDA office to be reviewed and signed, and you need the USDA-signed certificate to enter Costa Rica.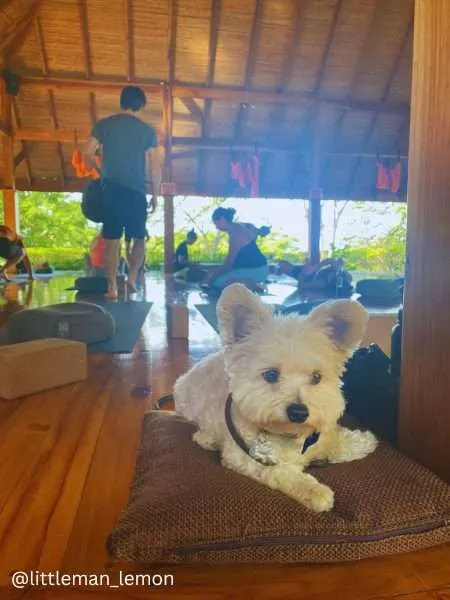 The great thing about Costa Rica is it is a "green banner country," meaning Accredited Veterinarians can submit health certificates for USDA endorsement electronically through VEHCS, AND this country accepts USDA digital endorsements. This means the final, endorsed health certificate that travels with the dog can be printed out directly from VEHCS and does NOT have to be mailed back to you. Hence, it saves immense stress from wondering if your certificate will be mailed back in time!
You also need to book with an airline that allows dogs and notify them in advance, as each airline has its own regulations and process with dogs that travel. I have only traveled with Lemon in-cabin.
If you stay in Costa Rica for longer than 30 days, you'll need an updated health certificate to fly back to the U.S.
Dog Travel Challenges?
I don't know if anything has been too difficult in traveling with Lemon to Costa Rica. The most unexpected thing during our first visit was that we did not know we had to get an updated health certificate to fly out of the country and back to the U.S. We showed up at the airport and were told our health certificate had expired! Thankfully, they still let us through, and we now know what to do for future visits. In Nosara, we found a great vet who can do these health certificate appointments (Safari Vet).
Because Costa Rica is now a green-banner country, the process of obtaining the signed health certificate is so easy, there is no mailing of anything, and it is 100% electronic. It allows the vet to look up where the process is, and if something goes wrong, you can quickly fix a mistake without worrying about snail mail. They did not have this status the first time we visited, so the second time was much smoother! We flew from Portland, OR, but had the health certificate done in San Diego, CA.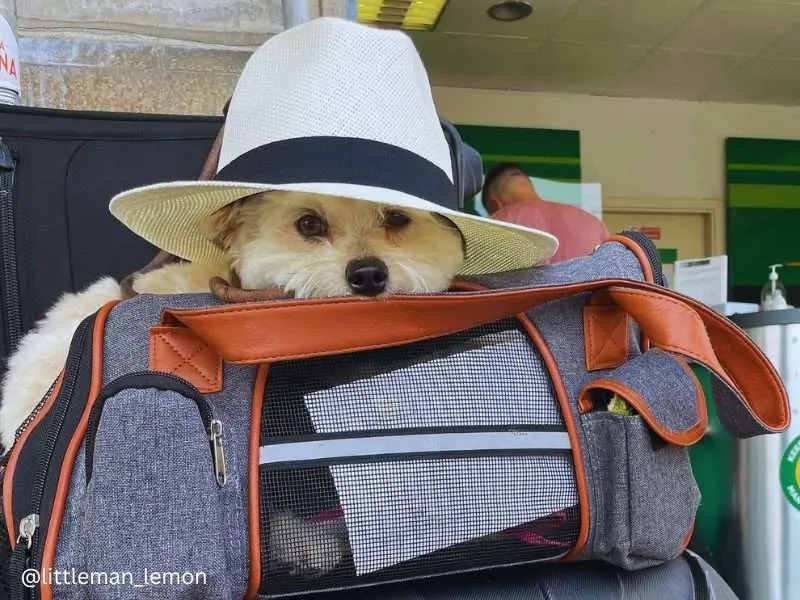 Flying to Costa Rica with a Dog
Lemon does amazing on flights. He associates his carrier with "getting to go" and does not mind napping in it while in the air. Because we have flown with him so many times, I know what works well for us. I make sure he does all his business prior to leaving for the airport, and I take him to the pet relief area in the airport as well (he always does at least a little something there because of all the smells).
I hold his food and water the morning of (we always take morning flights), so he doesn't feel the need to potty mid-flight. I bring little treats to give him during or after a long flight. And, I make sure he has water once we reach our final destination since he has not had access to any for quite some time.
Favorite Moments in Costa Rica
Every evening we take a long walk on the beach for sunset. Lemon loves to run around the beach, chase the little crabs and birds, and just get super sandy and dirty while living his best Costa Rican dog life! I definitely recommend people take their dogs here. Lemon has already been here twice, and it won't be his last!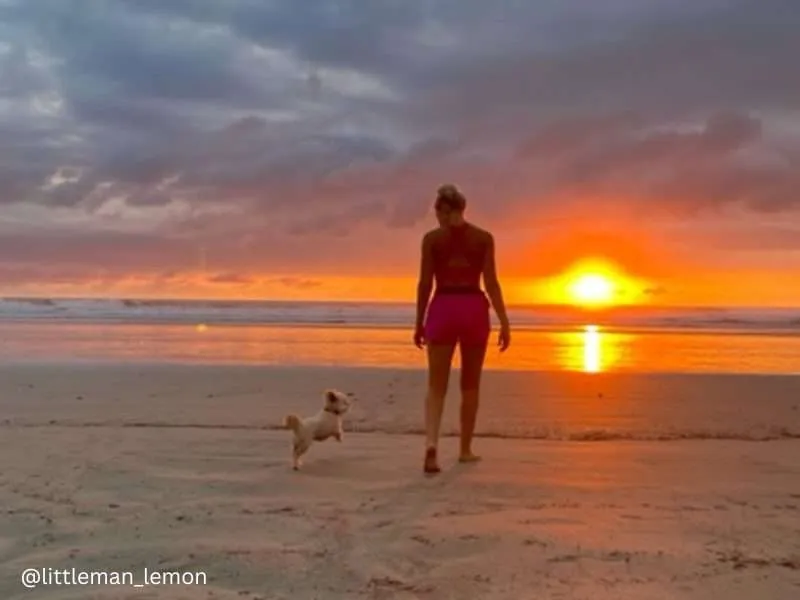 Dog Culture in Costa Rica
There are many stray dogs in Costa Rica. You can't go anywhere without seeing at least one, if not many, stray dogs walking around, down the road, or hanging out. Some of these dogs actually have owners but are left to their own accord during the day and tend to wander. Most dogs aren't leashed here. I mentioned above that Costa Rica has a chill/laid-back/slow culture, and it is no different for the doggos here! They live a very relaxed life in Costa Rica that consists of many beach runs and a lot of naps!
4 Tips on Traveling to Costa Rica with a DOG
#1 Prepare in advance, and do your homework!
Hands down, the most important tip for any pet travel is to fully understand the requirements of the country you are going to. Be sure to plan enough time to schedule a vet visit in the required timeframe and request pet travel with the airline. When entering Costa Rica both times, we've seen dog owners without the proper paperwork. The immigration office will make you fly back to wherever you are coming from if you don't have something.
#2 Mentally prepare yourself to clean your dog daily 😂
Costa Rican days almost always include the beach at some point, and your furry friend will get super sandy! You don't want this tracked into the house, so plan for baths or hose down your dog.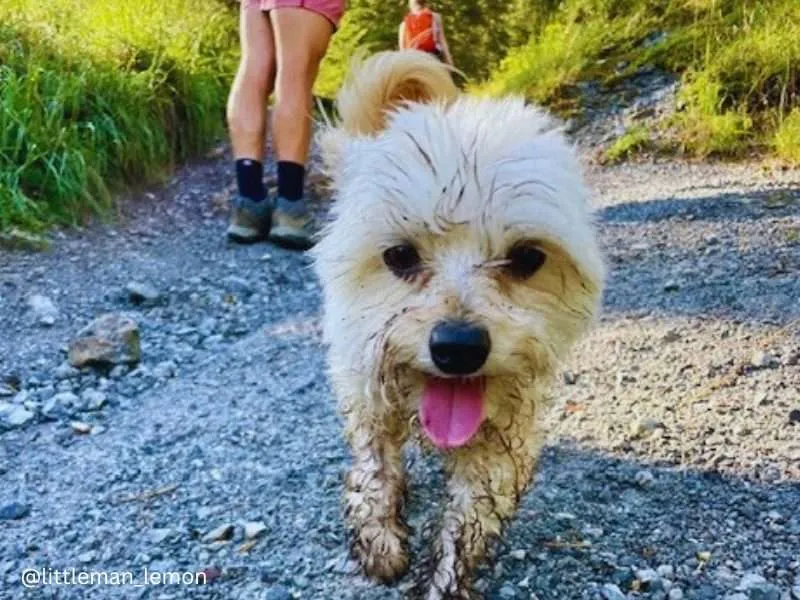 #3 Beware of unleashed dogs everywhere
Both strays and owned dogs tend to be unleashed. If your dog is shy with other dogs, it will be hard for them to thrive unless they stay in a private area.
#4 Prepare to carry your dog's poop until you get home
There are no public poop-bag stations here (or trash cans)! Make sure you have an ample poop-bag supply and be prepared to carry the waste with you until you get home or to a facility with a trash can.
The Costs of taking a DOG to Costa Rica and Back
If I only include the vet visit and costs associated with flying, I would say about $500-600. Airline pet costs vary significantly between airlines, and vet visits also vary depending on your dog's vaccination schedule. This estimate does NOT include pet food or supplies or the vet visit in Costa Rica (again, this only applies if you stay 30+ days).
The Traveling Yorkie-Pom's Bucket List
Lemon has been to 8 countries now (USA, Canada, Costa Rica, Greece, Italy, Switzerland, France, Belgium), and we definitely plan on continuing our international travels with him wherever it makes sense and is allowed. Of the places we have NOT been that (I know) are dog-friendly, I would love to take him to Mexico, Spain, Austria, Argentina, and Turkey!
WOOF, a BIG bark of THANKS to Lauren and Lemon for sharing their pawtastic Costa Rican adventures with us. Can't get enough of the traveling Yorkie-Pom and his mommy? Be sure to follow both Lemon and Lauren on Instagram!
Dog Import Requirements to Costa Rica from the U.S.
Veterinary Health Certificate
-APHIS FORM 7001
-Must either be in Spanish or translated
-Must be endorsed by a USDA Veterinarian
Required Vaccines
-1 or 3-year rabies vaccine (for dogs over 3 months of age only)
-Distemper, Hepatitis, Parvovirus, and Leptospirosis
Required Treatments
-Approved products for endo and ectoparasites (external and internal parasites) within 15 days before travel
Veterinarian Examination
-2 weeks before the departure date
-Your dog must be found to be healthy and free of any clinical signs of infectious disease
*For more information on the official dog import requirements, put a furry paw HERE.
Markin' it up,
Roger Wellington a.k.a. The Doob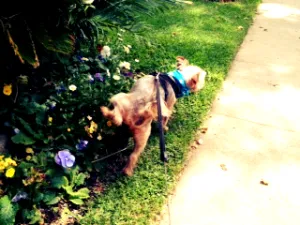 —
Like my post on "Traveling to Costa Rica with a DOG: A Yorkie-Pom's Escapade"? CLICK TO PIN!