WOOF, wanna find out if Cozumel is dog-friendly? Are you thinking of taking your dog to Cozumel? Find out everything you need to know before you go!
Posted 1/25/23
As a former furry resident of Playa del Carmen, I arf-solutely loved venturing out to Cozumel for the day. A pawpular cruise ship stop, Cozumel is a predominantly undeveloped island on the Mexican Caribbean known for prime scuba diving, snorkeling, and Mayan ruins. As a matter of bark, less than 5% of the 185-square-mile island is developed! Although dogs should not be engaging in such water sports or allowed to visit ancient sites, a myriad of dog-friendly activities exists in Cozumel a.k.a. Mexico's "original Caribbean destination."
Located roughly 40 miles south of Cancun and 12 miles from Playa del Carmen, this pawradise on the Yucatán Peninsula boasts pristine beaches with turquoise waters, a beautiful waterfront boardwalk, pawstatic Mexican cuisine, charming downtown, and inviting parks. Whether you do a day trip or weekend getaway, Cozumel is the SPAWT to relax and explore with your dog.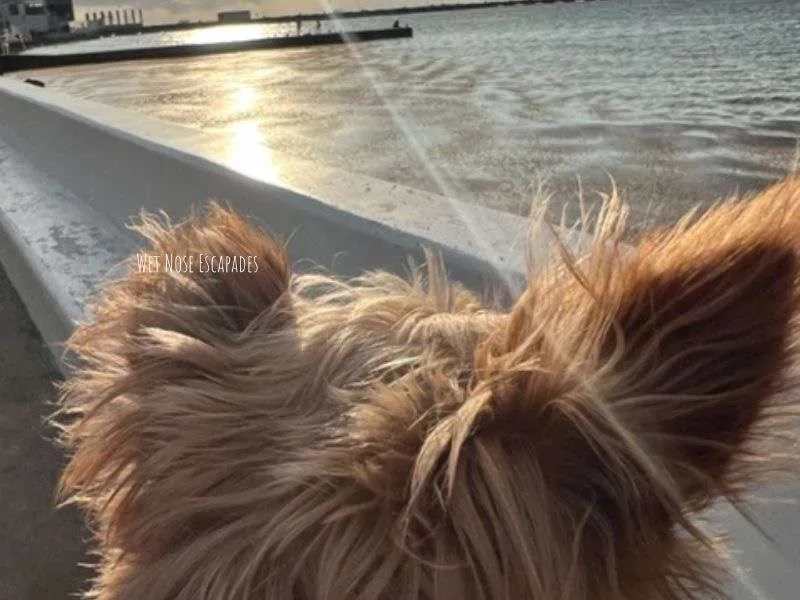 In short, Cozumel is dog-friendly, but keep on sniffing to find out more.
How to get to Cozumel with a DOG
There are two ways to get to Cozumel with a dog – BY FERRY or BY AIR.
#1 By Ferry – With or without a dog, hopping on a ferry is the easiest, most convenient, and CHEAPEST way to get to Cozumel. However, you must depart from Playa del Carmen, a 45-minute ferry ride from the pier on 5th avenue. Ultramar and Winjet are two main companies with operating ferry service to Cozumel. Departures are usually every other hour, with the last ferry departing from Cozumel back to Playa at 8 pm (Ultramar)/9 pm (Winjet).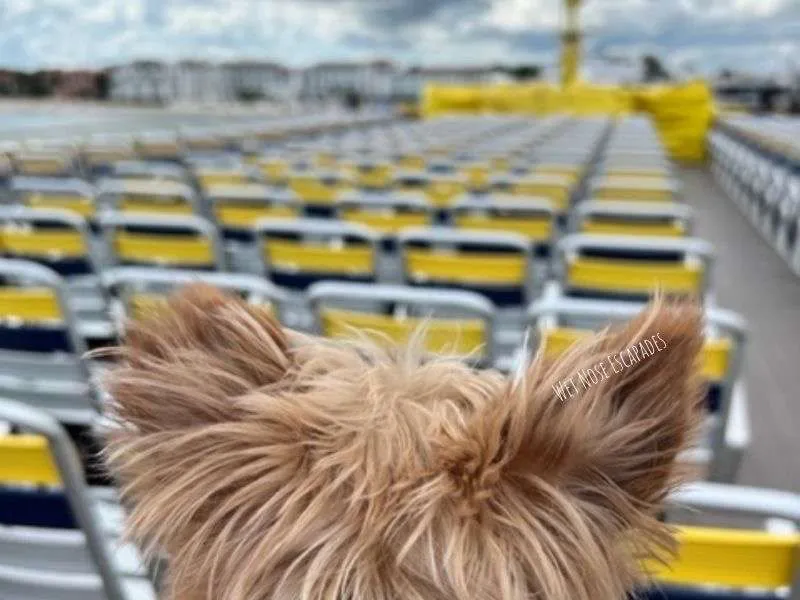 Just a bark of caution that the online schedule isn't always accurate. Arf-ter checking the online schedule, my humans and I arrived at the pier 30 minutes early to find out that the ferry wasn't departing until the following hour. We ended up killing time at the nearby Señor Frogs, which is always fun but undoubtedly a tourist trap. On return, the last ferry left an hour earlier than indicated on the schedule. GRRR. Hence, it's impawtant to check at the ferry station for their most up-to-date schedule instead of relying on their online schedule. Tickets can be purchased in advance online or at the station. I've done both – online and in-person. I would bark that online definitely saves some time, especially if there is a line (which I have yet to sniff). Despite being nonrefundable, your purchased ticket is valid for six months from the day of purchase.
Adult prices:
250 MXN one-way/500 MXN round-trip (Premium Plus Service)
Current exchange rate: $13.30 USD/$26.60 USD
300 MXN one-way/600 MXN round-trip (First class)
Child prices:
200 MXN one-way/400 MXN round-trip (Premium Plus Service)
Adult prices
12 USD one-way/24 USD round-trip PLUS 1 USD for sanitation (applies to all departures from Playa del Carmen)
Minor prices
7 USD one-way/14 USD round-trip PLUS 1 USD for sanitation
Even though Ultramar and Winjet are both high-speed ferries that take 45 minutes one-way to Cozumel, Ultramar has been around longer with a more established reputation (arf, just over 30 years of history). Nonetheless, both ferries offer live music, air-conditioned indoor seating, open-air outdoor seating, a snack bar, restrooms, and a designated area for passengers with dogs.
Do you need to purchase a ticket for your dog?
ARF, the answer is NO. Dogs ride for FREE on both ferries. WOOF-HOO!
Having set my tiny furry paws on both ferries, I am barking with an upright tail that Ultramar is, PAWS DOWN, the more dog-friendly one.
Sure, both ferries offer dog-designated seating; for instance, Winjet's website states, "According to the regulations of the legal provisions, the transport of domestic animals will be carried out exclusively in the spaces of the boats enabled for this purpose."
While both ferries offer dog-designated seating, the staff wasn't strict about where I rested my furry butt.
However, the Winjet staff was uber strict about having me get inside my carrier before boarding (although no one saw that I discreetly came out for a breather halfway during the ride). From the ticket counter to boarding, the staff demanded that my human put me inside the carrier AND fully zip it up before joining other passengers. There's also a notice at the ticket window stating that dogs must travel in a transport box OR with leash and muzzle.
On the other paw, the Ultramar staff couldn't care any less! With that barked, there are some (non-dog related) upsides of Winjet – it is slightly cheaper (1-2 USD), departing from Cozumel back to Playa (no sanitation fee) AND it has a later last ferry departure (one hour later than Ultramar), which helps if you want to extend your day trip.
On one (last) Winjet ferry back to Playa del Carmen, we were lucky to travel with a mariachi band, which the entire crowd was cheering on for them to play a song or two (even though we already had live music onboard). And, dog – it was such a crazy tail-waggin' time with singalong, clapping, and cheering.
How to get to Cozumel from Cancun
From Cancun, there is no direct ferry to Cozumel. Hence, you would have to get to Playa to catch the ferry. The cheapest way to get to Playa from Cancun is via Ado Bus, a straight shot from Cancun Airport. Unfortunately, Ado Bus is NOT so dog-friendly as I sniffed that it only allows dogs in the baggage compartment, which sounds like a death sentence. Otherwise, it would be an arf-mazing option to travel between these two cities.
Although private transfers are costly, they are the safest option to get to and from these two cities. With a private transfer, it's a seamless process where you can bring your dog along! Penny and I have used USA Transfers 4x to go between Cancun and Playa without any pawblems. However, I would keep your dog inside a carrier – at least at the beginning of the ride, but most drivers are friendly and speak English. A one-way trip will cost 75 USD, NOT including gratuity (expected from Americans).
Another option is to try to Uber from Cancun to Playa, but the pawblem is that cars are very limited in Cancun so expect to get canceled a few times before getting picked up. Uber drivers in Cancun are prohibited from picking passengers up from the Hotel Zone and will ask if any taxis are around before the pickup. With that barked, we were still able to successfully get around via Uber in Cancun (even though it took a lot of time to find a driver who wouldn't cancel). None of our drivers had an issue with me riding in their car, even outside my carrier.
The flip side is that even if you make it to Playa via Uber, you cannot get back to Cancun the same way. GRR, this is because Uber cannot currently operate in Playa, which is a real bummer for people who are used to this convenient rideshare service.
Another way is to rent a car, in which there is a plethora of rental car agencies at Cancun Airport or Hotel Zone. Please research the rental policy to ensure that dogs are allowed inside the car to avoid potential penalty fees.
From Cancun, however, you can hop on a quick 30-minute ferry to the famous Isla Mujeres with your dog.
#2 By Air – Surprisingly, this island does have a small airport located 2 miles north of downtown San Miguel de Cozumel. However, domestic and international flights are limited, and flying to Cancun is generally cheaper (than flying to Cozumel). Dog-friendly airlines serving Cozumel include AeroMexico, Air Canada, American Airlines, Delta Airlines, and United.
Exploring Cozumel with a DOG
Once I got off the ferry, I hit the ground running on four paws. WOOF, I was waggin' my tail with an open-mouth smiley face. Compared to Isla Mujeres, Cozumel is a TOP DOG. Arf-ter all, Mujeres is only 1.7 square miles, supaw tiny compared to Cozumel's whoppin' 185 square miles. Therefore, renting a car would be recommended if you're doing more than a day trip with your dog. For day trippers, going by taxi (unfortunately, Uber is not an option at this time – as of January 2023) is ideal, although exploring by paw is doable as well (if you're OK with not covering too much ground).
Dog-Friendly Downtown (Centro/San Miguel de Cozumel)
First stop, Centro a.k.a. San Miguel de Cozumel! Right next to the pier, Benito Juarez Park is a must-MARK spot. Its colorful Cozumel sign is arf-solutely iconic and Instagrammable. Despite its lack of greenery, this park is still very stiff-worthy with a mesmerizing square, stunning statues (especially one of Benito Juarez, former Mexican president), Caribbean water views, and a fountain.
Downtown or Centro (San Miguel de Cozumel) is very walkable (and safe to walk around during the day), if you choose to explore by the paw. Upon my first roam, I sniffed out many front yard "guard dogs" who didn't appear to have indoor or water access. 🙁 Unfortunately, such dire living conditions are common for dogs in Mexico, which is a step up from being one of the innumerable strays. I can't help but lower my tail to see such unhappy sights.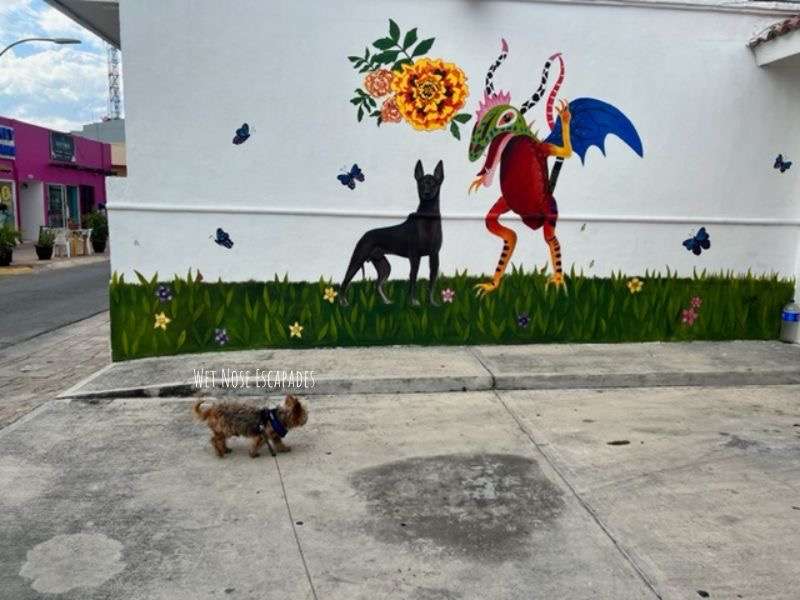 Dog-Friendly Boardwalk
The bustling Avenida Rafael E. Melgar is a supaw fun street to meander with your dog. But, with warm temperatures year-round on the island, you must be supaw careful with walking your dog here during the day. Evening time has cooler temperatures, making it a much more comfortable stroll (although it can get a bit loud with live music at various restaurants and bars).
Dog-Friendly Places to Eat & Drink
From art galleries to public wall art to cafes to restaurants, Downtown has a plethora of dog-friendly spawts. As a matter of BARK, the very first restaurant I sniffed out accepted me with open paws INSIDE, which is not the norm in Mexico. From Cancun to Playa del Carmen, I've wined and dined alongside my humans but usually outdoors. La Choza is an old school joint to devour authentic Mexican food in a bustling atmosphere surrounded by bright-colored wall art and hanging ceiling decor.
Despite having an outdoor patio in the back (which we would not have minded), the host led us to a large round table INSIDE. I wagged my tail as I rested my furry butt on a human chair. My humans love their supaw tasty tortilla soup, sizzlin' veggie fajitas (accompanied by fresh guacamole), and hearty chicken mole. Mmmm, so many goodies! With an upright tail, I marched out the door without feeling the need to scavenge as I stuffed my little Yorkie belly with such a chops-lickin' meal. Arf-ter a big meal, I wanted to burn some calories by roaming the streets of Downtown.
While marking up the waterfront Avenida Rafael E. Melgar, I randomly stumbled upon a dog-friendly bar with some arf-mazing $1 (USD) drink specials, from beers to margaritas. Plus delicious taco specials! ARF-my-DOG, we were sold! Needless to bark, my humans and I ended up spending a few hours here. Once I got up the stairs, the staff immediately welcomed me to sit indoors (once again), which offered some spectacular seaside views.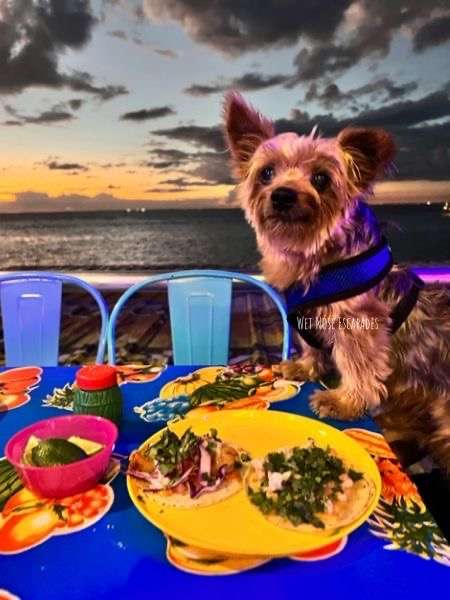 Relaxing on a human chair, I fell asleep with the gorgeous Caribbean sunset in the backdrop. The only downside is that the staff cheated us on the bill by forcing the conversion from MXN to USD without my human's consent, which led to an upcharge coming out of my human's pocket. GRRR. Unfortunately, getting cheated at food and drink establishments at these pawpular Mexican destinations seems to be a recurring theme, e.g. adding additional drinks or forcing the conversion for an extra fee.
But, nonetheless, dog-friendly restaurants and bars are easy to come by in Cozumel. Even if you're not offered indoor seating with your dog, you won't have any pawblems finding places with dog-friendly outdoor seating.
Are beaches in Cozumel Dog-Friendly?
ARF, it's a YES and NO. Although you may see some NO DOG signs, you'll also come across many local four-legged beach goers getting their paws sandy and chasing furry butts. When it comes to dogs on Mexican beaches, very few follow the rules. And yet, the same goes for enforcement.
As barked earlier, Cozumel is known for some of the best beaches Mexico offers. Finding a spawt to take a dip is not hard – arf-ter all, you're on an island! Since I hate getting my paws wet (unlike my water-lovin' cousin Sonny), I opt to admire the sparkling waters of the Caribbean Sea from a safe distance. From Playa Bonita to Playa Chen Rio to Playa Mia Grand Beach, beaches are limitless in Cozumel!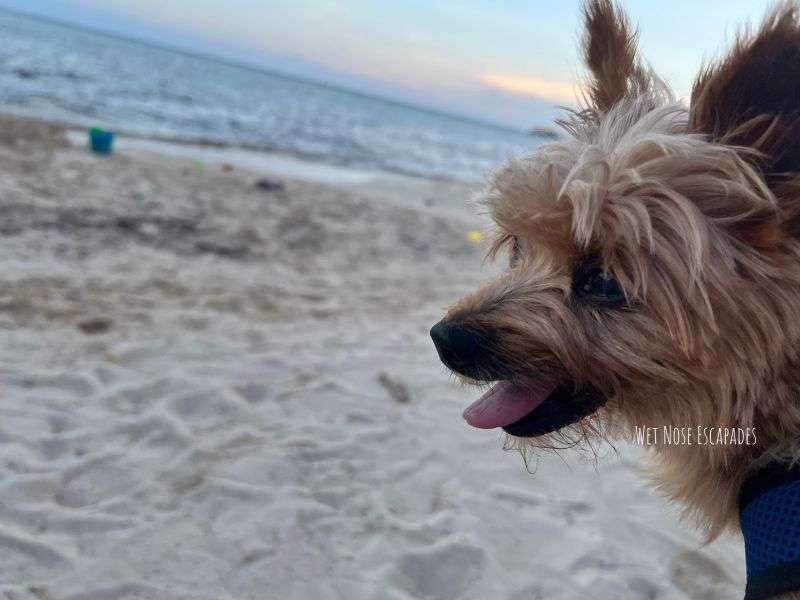 If you prefer relaxing on the beach most of the day, you should check out one of their many beach clubs, where you can rent some lounge chairs and get access to food & drink service for a fee. However, just a bark that not all beach clubs are dog-friendly. As a matter of bark, the first club (No Name Bar at Hotel Barracuda) my humans and I attempted rejected me with no remorse. GRRR. And yet, the prohibition of dogs was not found anywhere online (at the time). If you cannot find the information online, your best bet is to go there and look for signs or ask politely. Generally barking, the pet-friendly hotels on the island will welcome dogs on their beach clubs, like Club Playa Azul.
Dog Beach Safety Tips
*Keep sand out of your dog's eyes! If you see sand in or around your dog's eyes, be sure NOT to let your dog scratch or rub his eyes – this can cause a painful infection or cornea scratch. Don't use your hands or fingers to remove sand from your dog's eyes – it can do more harm than good. The best way is to let water (NOT salt water) gently run through his eyes AND/OR squirt a few drops of saline solution into his eyes until the sand is completely rinsed out.
*Make sure you have fresh water available for your dog at all times.
*Make sure your dog has access to shade should he want to take a break from the sun. Be wary of potential heatstrokes. Keep your dog cool!
*AWOOOO, be careful of exposing your dog's paws to hot sand (the same goes for cement)! Remember, your dog's paws can burn. If it's too hot for your bare feet to walk on, it's too hot for your dog as well. When you see those paws moving quickly to find a shady spot, it's a sure sign that the ground is too HOT.
*If your dog is digging a hole in the sand and burying himself inside, he's essentially trying to create a spot to stay cool. A BARK OF CAUTION: It's HOT for him.
*Don't let your dog eat or inhale sand! While small may be pawfectly fine for your dog (for instance, by accident), ingesting a large amount of sand can cause blockage in the intestine. Sand impaction is an urgent health issue that requires immediate veterinary care. Symptoms include vomiting, dehydration, and abdominal pain. It's no joke!
*If you plan to have an all-day beach day with your dog, you should consider putting sunscreen on your dog, especially if you have a short-haired dog. Like humans, dogs can also suffer from sunburn along with complications and diseases caused by excessive sun exposure. Sunburn in dogs also resembles that of humans. HOWEVER, please remember to NEVER use human sunscreen on your dog as the ingredients may harm them. Instead, purchase sunscreen specially formulated for dogs like this one HERE.
*Don't let your dog drink saltwater! While small bits may be OK for your dog to consume, a large amount may be harmful due to bacteria and high salt content.
*Prevent choking hazards and blockage by keeping your dog away from starfish and shells.
Dog-Friendly Parks
Besides Benito Juarez Park, I make sure to leave some marks at Andres Quintana Roo, right on the edge of Downtown across from the waterfront walkway Avenida Rafael E. Melgar. Compared to Benito Juarez Park, this park feels more laid back with more shady spawts to relax and green spaces for endless roaming.
There are some giant monuments that look new and NOT rundown, which made my human insist on snapping a few annoying photos of me (don't worry, I got paid with treats). I also sniffed out plenty of furry locals, including some Mexican Yorkies! Locals told us that special events are frequently held at the park, which I am still waiting to experience. 3 DE MAYO Park is another lovely park to take a serene stroll with your dog; it's also clean and well-maintained.
If you're looking for an actual dog park, go sniff out Dog's Paradise, a safe haven for dogs to run, play, and jump around in Cozumel. Regardless of where you go, be sure to be a good visitor and clean up arf-ter your dog.
Pet Supply Stores & Veterinarians
I also tilted my little Yorkie head to sniff out several pet supply shops on the island, including Beautiful Dog Spa and Puppy Pets D&C. There are also doggie boarding and daycare centers. Although I didn't have to visit a veterinarian during my visits (thankfully), my human always finds one ahead of time in case of emergencies. A quick Google search indicated that at least five are on the island (despite having few reviews for each). Not to bark, there's the Cozumel Humane Society, which we were grateful to know exists since homeless dogs are ubiquitous in Mexico, even in the wealthy state of Quintana Roo. 🙁
WOOF, is Cozumel dog-friendly? You betcha! Hope you enjoy visiting Cozumel with your dog! Feel free to share your experience with me. BARK AT ME!
Markin' it up,
Roger Wellington a.k.a. The Doob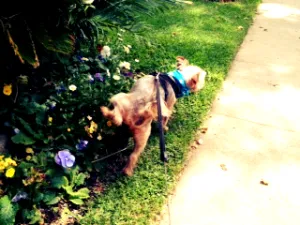 –
Like my post on "Is Cozumel Dog-Friendly? A Yorkie's Guide to Visiting Cozumel with a Dog"? CLICK TO PIN!