WOOF, are you thinking of having a destination wedding with your dog? WOOF, this wedding Yorkie has you covered!
Posted 4/1/23
As dogs are irreplaceable family members, it's no surprise that many brides and grooms incorporate them into their weddings. Having your dog partake in a destination wedding isn't imPAWsible, but it does take a little bit more planning and preparation compared to a local wedding. From Dog of Honor to Ring Bearer to Flower Dog – there is a phethlora of PAWsibilities of how to incorporate your dog into your destination wedding. Sniff out how to plan the PAWFECT destination wedding with your dog below!
Location, location, location
First bark first, what is considered a "destination" wedding? Here's the deal – any wedding that doesn't take place in or nearby the bride or groom's hometown can be considered a destination wedding. Essentially, traveling is involved for the bride and groom and their guests. For instance, a venue located 2 hours away from either hometown could technically be a "destination" wedding. So, if you live in San Francisco and have your wedding 2 hours away in Monterey or 3.5 hours away in Tahoe, it is considered a destination wedding. However, that is a destination wedding on a more regional scale. These days, destination weddings are commonly out of state (like in Hawaii) or even out of the country like in the ARF-so-stunning Greek Islands or Cinque Terre in Italy.
Therefore, in order to have your dog join, you'll have to first consider your wedding location. If your wedding is out of the country, you must research dog import requirements such as vet health certificate, vaccinations, treatments, and even pawsible quarantine (along with requirements to get your dog back home).
If mandatory quarantine is involved, it's pawbably not a good idea unless you plan to stay at your wedding destination long-term, meaning at the very least 3-4 months. Plus, you'll have to arrive at the destination earlier to ensure your dog gets out of quarantine before your BIG day.
Otherwise, it's really not worth putting your dog through such a traumatic experience. Yet, that is on top of booking a flight for your dog, which can be even more complicated and costly if your dog is too big to fly in-cabin. When it comes to wedding planning, it's often an already stressful and time-consuming experience; if you are adamant in bringing your dog along to your international destination wedding, be sure to start planning and research dog import requirements as early as PAWsible.
However, if your wedding is within driving distance or accessible by a domestic flight, getting your dog there is much easier since you don't need to worry about meeting any dog import requirements. Regardless, you still need to find the best way to GET your dog there. If it's more than an 8 to 10-hour drive, flying might be the better option unless your dog is too big to fly in-cabin. If your dog hasn't flown before, you must prepare and train him for air travel – at least a few months in advance.
Is flying stressful for dogs? Find out here!
Get my guide on how to travel with your dog NOW.
Select the venue CAREFULLY – Sniff for the rules
Besides getting your dog to the destination, you must find a dog-friendly venue. Unless you're getting married in uber dog-friendly countries like Italy where dogs are allowed almost everywhere or have an entirely outdoor wedding, chances are your dog can only join the outdoor ceremony. However, what are you going to do with your dog arf-ter the ceremony? You must find out whether or not dogs are allowed to stay inside the bridal suite (unattended or attended), if kennels or crates are required, and if there are any "banned" breeds (I could never support such a venue that bans certain breeds, btw).
It pays to be upfront with the venue about your dog's attendance and level of participation, especially when they DON'T have your money yet, but desperately want to secure the contract. Ask questions to avoid any surprises on the BIG day. Get a feel for their dog policy for the entire property, not just the ceremony site.
As a wedding doggie, I had the honor of stealing the show at 3 weddings, with 2 out of 3 being destination weddings. One was an 8-hour drive (with no direct flight) from Los Angeles, where I was staying at the time. Four years later, while residing in San Francisco, I went to another destination wedding going the opposite direction – a 9 to 10-hour drive/less than 2-hour flight. Fortunately, both venues had a very lax dog policy and allowed me to attend the indoor reception (in addition to the outdoor ceremony).
When my humans were shopping for venues, they took me along to get a feel of how dog-friendly the venues were. By dog-friendly, I mean not just dog-tolerant, but also how receptive the staff was to me and what kind of rules would apply to dogs. The staff I met were mostly dog-indifferent, with a few being supaw dog-loving (and welcomed me with open paws). Some mentioned that dogs were not allowed at the reception, and those places were crossed off the list IMMEDIATELY. But, with that barked, having your dog attend the reception is not always a good idea – while dinner and toasts can be relatively laid-back and quiet, the dancing portion may be too chaotic and loud for those sensitive furry ears. However, it's nice to have the option – if you want your dog to attend part of the indoor reception, the non-rowdy part, that is.
One venue asserted that dogs must remain OUTDOORS inside a kennel or crate after the ceremony. That place was also crossed off immediately. Another mentioned that dogs must stay inside a kennel or crate at the bridal suite after the ceremony. GRRR, NEXT. Depending on the area, finding a truly dog-friendly venue (one that allows dogs at the ceremony and reception) may not be easy. Arf course, other factors can come into play, such as the availability, price, duration, and contract. And, most impawtantly, do YOU really want to get married there?
Consider the Weather
Not only are destination weddings fun, but they're also usually jaw-droppin' beautiful due to the setting. With that barked, a common pawblem with destinations with incredible sceneries like the ocean, desert, or mountains is that these places can have extreme climates, which can be dangerous for dogs – especially if you have a senior dog like me. Even if your dog can endure the heat or cold without detrimental consequences, he'll still feel uncomfortable. Hence, before deciding to bring your dog along, consider the weather at the destination during the month of your wedding and how you plan to have your dog participate.
If they are only taking part in a quick 10-minute outdoor ceremony with uncomfortable temperatures, will they be able to stay indoors otherwise with access to the A/C or heater? Sounds like a given that all venues should have A/C or a heater, right? But you'd be surprised in certain regions or countries, where energy conservation is high. For instance, Americans are known to Europeans as being wasteful when it comes to utilities, and hence, dryers are generally not found inside a typical apartment in Europe.
Get Your Dog a Date
Whether you have a family member in mind or prefer to hire a professional dog wedding attendant (yes, that's a real thing), you must designate someone to care for your dog on your BIG day. From meals to potty breaks, your dog will need attention while you're running around, getting ready, and pawtying – hopefully, having the time of your life. If you're worried about having someone else watch your dog, there's ARF-solutely no way around it because you'll have too much going on. I'm not opposed to hiring professional help ONLY because it's understandable not to want to burden your wedding guests, even if they're family.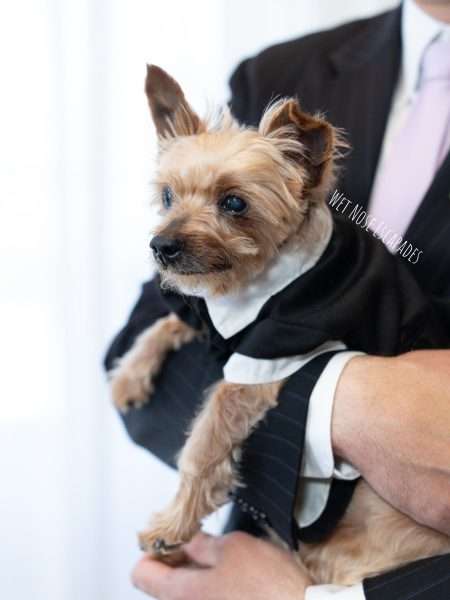 For instance, although it was great to have my human's niece and nephew (a.k.a. my cousins) care for me and my sidekick Penny, they ended up missing their dad's toast because my human asked them to take us out for a quick potty break before the coyotes came out at night (the wedding was on a golf course with active coyote sightings). ARF course, such a situation is less than ideal. But, if all PAWsible, it's best if your dog's date is someone with whom he is familiar and comfortable.
Familiarize your dog with the venue
To ensure that your dog doesn't wreck havoc or freak out on the BIG day, you should try to familiarize your dog with the venue as much as PAWsible. For destination weddings, frequent visits to the venue are obviously not so convenient (compared to having your wedding locally). Hence, you'll have to resort to visits whenever you arrive at the destination, which may be only a few days before the wedding.
In addition to the rehearsal, find out other times you can visit the venue – if visits need to be scheduled ahead of time or if you can simply walk in. Many venues don't allow walks-ins as they abide by a tour schedule. My humans were able to schedule a drop-off of items (e.g. seating chart, wedding favors, framed photos, and decorations) one day before the rehearsal or two days before the wedding, so be sure to check for additional opportunities to familiarize your dog.
Consider the time
Having a destination wedding combines a vacation with a big social/family event. As your guests arrive, the pawty will get going! You'll want to spend time welcoming them in addition to tying any loose ends for the upcoming BIG day. This means your time is limited as soon as you land at your destination, but please don't forget about your dog. Be efficient with your schedule and prepare as much as PAWsible at home before arrival. Plan out the walks in advance to avoid neglecting your dog. Again, seek help from a family member or dog wedding attendant, if necessary.
Familiarize your dog with the crowd
In addition to familiarizing your dog with the venue, it helps to familiarize your dog with people – depending on how big your wedding is, this may be A LOT of people (most of whom are strangers to your dog). If your dog is the kind of dog who stays at home and only goes for walks in the neighborhood, attending a wedding may be very overwhelming. Not to bark, he may already be overwhelmed by all the traveling to the destination, especially if he's not used to going out and about. Even though having your dog attend the most special day of your life is impawtant, you also don't want to make it an uncomfortable or downright terrifying experience for him. And, nor do you want to deal with an (excessively) barking or antsy dog on your wedding day. As the bride or groom, you'll have enough on your plate.
You know your dog best. How does your dog behave around strangers? Friendly and curious OR reactive and terrified? If he's the reactive type, you'll need to invest sufficient time in training him to relax in new surroundings and people. Start by taking him out and about – outings like going to a coffee shop, grabbing brunch with a friend, or running errands should help prepare him to feel more comfortable in a new environment on the BIG day. All in all, ease your dog's way into conquering the BIG day.
Lastly, don't forget to do the obvious…
Dress up your dog (in a comfortable wedding outfit) and take unforgettable pre-ceremony photos that will melt your heart for years to come. 🙂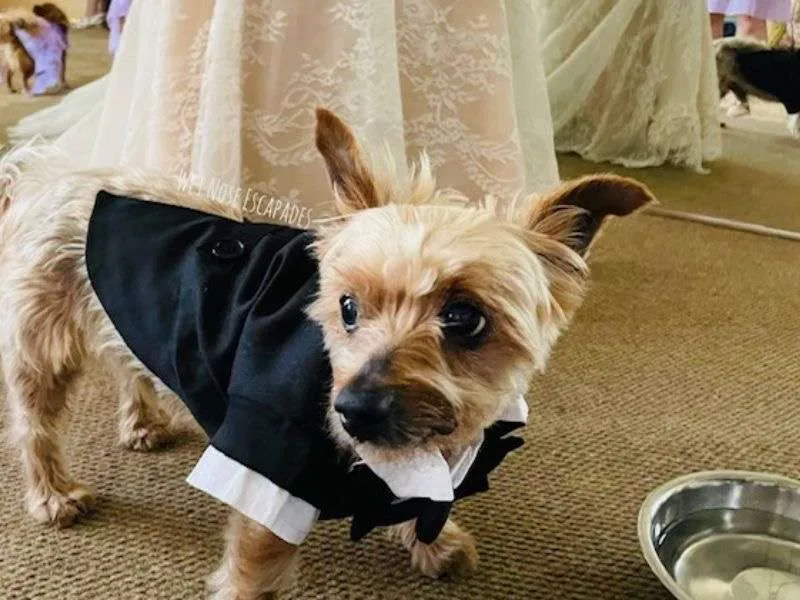 WOOF, want ideas on how to plan a dog-themed wedding or more wedding doggie tips? Sniff me out:
How to Incorporate Dogs into a Wedding: 12+1 Ways to Have a Dog-Themed Wedding
How to Include Yorkies in a Wedding
The Ultimate Packing List for Your Wedding Dog
Dog Wedding Outfits: Dos and Don'ts for Yorkies (other dogs welcome)
How to Train Your Dog to Walk Down the Aisle
Should You Have Your Dog in Your Wedding?
Through careful planning and preparation, you can plan the most arf-mazing destination wedding with your dog! ARF, Feel free to share your dog-friendly destination wedding experience with me. BARK AT ME!
Be sure to subscribe to my YouTube Channel: Wet Nose Escapades by Roger Wellington!
Markin' it up,
Roger Wellington a.k.a. The Doob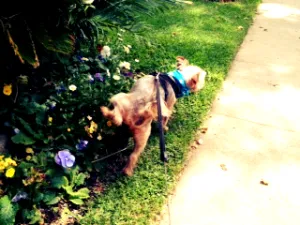 –
Like my post on "How to Plan the PAWFECT Destination Wedding with Your Dog"? CLICK TO PIN!