First Published 2/7/19, Last Updated 2/2/23
WOOOOF! So, it's no secret that one of my favorite things to do when I travel is to dine at some of the best spots that a town has to offer. As a world escapader, I love marking up the food scene, from mom-and-pop hole-in-the walls to trendy upscale restaurants. Whether you're looking to dine out with your dog in your own hood or on your next international escapade, I have carefully sniffed out fabulous tips to ensure a tail-wagging, pawsitive dining experience for both you and your furbaby. Here are my 8 tips on how to dine with your dog!
**Please note that this post contains affiliate links, and at no obligation or additional cost to you, I earn a small commission if you make a purchase. It helps me maintain the costs of running this site. If you love the work that I do, you can show your support by making a purchase through an affiliate link. 🙂
#1 Tip on how to dine with your dog – MAKE SURE HE'S WELL-BEHAVED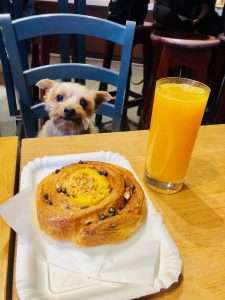 Even in the most dog-friendly countries where dogs roam happily around bakeries, fancy restaurants, and supermarkets, it's frowned upon when your dog isn't well-behaved in a public setting. Constant barking, aggressive growling, and erratic behavior (e.g. jumping on the table for food) will quickly wear out your dog's welcome anywhere. The less negative attention your dog garners, the better the dining experience will be. Use positive reinforcement to transform your dog into a sophisticated dining companion; hopefully, after a few practice sessions, he'll be able to sit still or lay down quietly next to you as you start your day with a freshly squeezed orange juice and delicious pastry.
#2 Tip on how to dine with your dog – RESPECT YOUR NEIGHBORS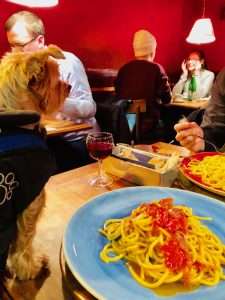 Please accept the fact that fellow diners may or may not be pleased to dine in the same space as your darling four-legged child. Even as adorable as I am, I've gotten some negative reception from across the room without being physically close to those dissenters. 🙁 Unfortunately, many people in this world (some found even in dog-friendly places) feel uncomfortable or fearful around dogs. Hence, it is your responsibility as a dog owner to make sure your dog isn't running loose and intruding on your human neighbors who want nothing to do with him. Always keep him reasonably close on a leash, but allow him some freedom to move around within your dining space.
#3 Tip on how to dine with your dog – EXERCISE GOOD HYGIENE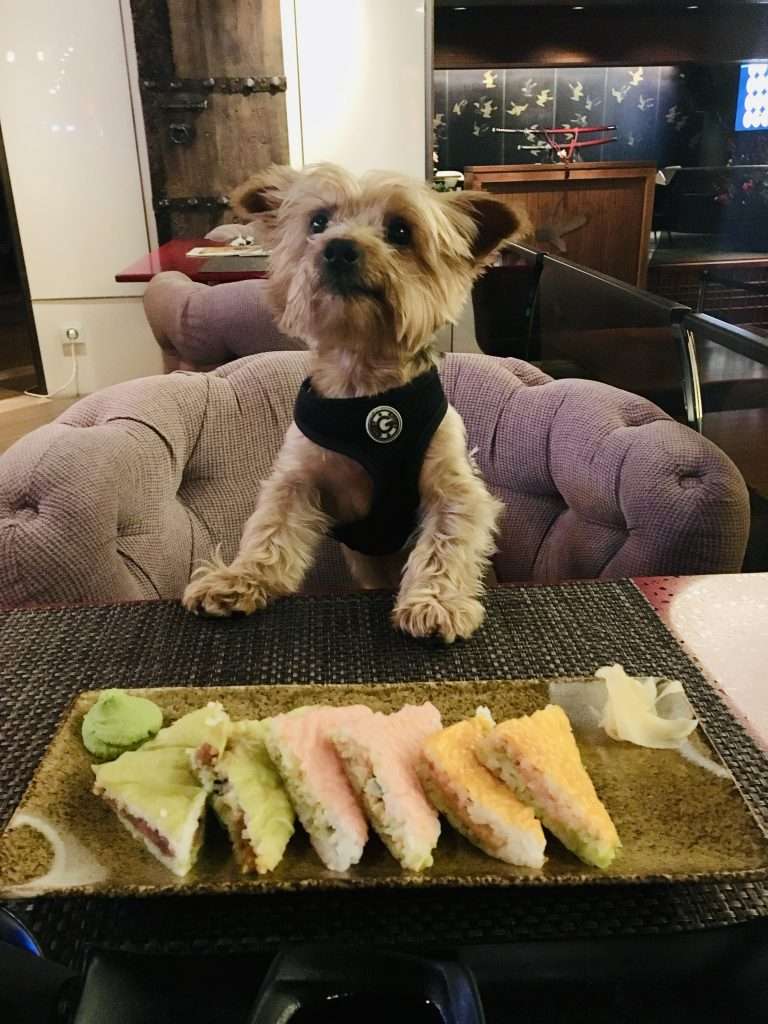 As your mama has always said, WASH YOUR HANDS BEFORE DINNER (general rule applies whether or not you have a dog). Dogs are truly the most amazing companions, but they can also come with a host of germs and dirt, especially if they love marking up every single pole on the street like me (yep that one is MINE!). Therefore, it's imperative that you exercise good hygiene by cleaning your hands before (and after) a meal. Pack wet naps in case a bathroom or wash closet isn't readily accessible or convenient. And, here's a no brainer (that I see humans do at times) – never eat with your bare hands after scooping up poop! If you usually feed him food off your plate, I'd recommend bringing along a fork for easy feeding (without using your own hands).
#4 Tip on how to dine with your dog – MAKE HIM PRESENTABLE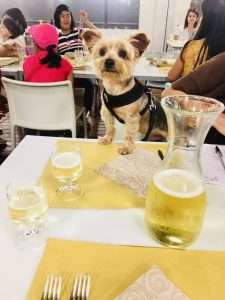 No human will find it appetizing to dine near a filthy or stinky dog, even in an outdoor seating area. Grooming your dog on a regular basis should keep him smelling fresh and looking like an IG celebrity. As a frequent diner, I routinely maintain my appearance by brushing my decay-prone teeth (gotta have fresh breath), combing my flawless coat, and cleaning my toned body (and tiny paws). To stay fresh, I use deodorizing wipes in between baths, which are recommended by my vet every 3-4 weeks due to my skin allergies. Feeling fresh also makes me more confident around the ladies. 🙂 If your dog just finished running around the park on a rainy day, please dry him with a towel and/or clean him with those deodorizing wipes (safe for everyday use) before walking his muddy paws inside a restaurant.
#5 Tip on how to dine with your dog – GAUGE THE RESTAURANT EXPECTATION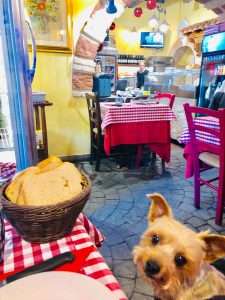 Be respectful of the restaurant expectation of your dog! This applies even in the most dog-friendly places where dogs are frequent indoor diners. You should gauge the staff to see if he's allowed to sit on the chair or on your lap (given that he's a small dog like me), OR if he has to solely remain on the floor. In the U.S., your dog will likely dine outside on a patio due to health codes. Regardless of the setting, you still have to gauge the restaurant expectation and use your own judgment. If you're asked to keep your dog on the floor, please kindly abide by their request. Expectations can be unpredictable as they ultimately depend on the staff and/or restaurant owner; I've sat on trendy designer chairs while being petted by the staff AND met with complete disdain while strictly laying down on the floor under the table.
#6 Tip on how to dine with your dog – PACK WATER BOWL + WATER
Although most restaurants in urban areas are used to dog-parent diners and offer doggy bowls (and sometimes even fun doggy menus), you should always bring your dog's own bowl and water in case they're not available. This backup plan can be a total lifesaver! I've also noticed that many bowls offered by restaurants are extremely dirty (making the water unsafe and/or unappetizing to drink); it's best to trust your own supply!
#7 Tip on how to dine with your dog – BE SELECTIVE WITH TABLE FOOD
A lot of human food can be perfectly healthy and safe for dog consumption while some can actually be dangerous or toxic to their health. Fat trimming, seasoned food, chocolate, candy, gum, garlic, tomato, onion, avocado, and macadamia nut – this is only a partial list of food that dogs shouldn't eat. Do your research thoroughly and check with a credible source online before offering your sweet furbaby food from your dinner plate. Nevertheless, they can certainly snack on cucumbers (my favorite), carrots, broccoli (cooked), zucchini, apples, peas, and cheese (in small quantity). On several occasions, my humans have even requested for chefs to cook up my own special meal – an unseasoned piece of succulent meat (salmon, chicken) with a side of farm-to-table veggies. YUM!
#8 Tip on how to dine with your dog – BRING TREATS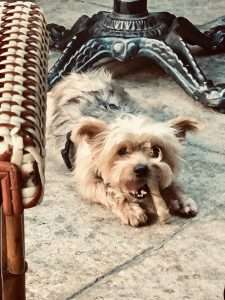 Pack a small bag of treats and goodies in case you are unable (or choose not) to offer him food from your meal. This is NOT to give into "begging," but it's more about treating your dog as an equal dining companion. It's only fair to do so! If you're enjoying your mouth-watering Neapolitan marinara pizza, you should give him some yummy goodies to lick his chops as well. PLUS it keeps him busy so you can savor every single bite of that pomodoro goodness. Take care of his appetite as you do yours, and you'll surely discover that dining with your dog creates a wonderful bonding experience! Gnawing on a tasty chew while my humans lick their plates clean always makes me feel like I'm an equal member of the family. In addition, you can bring along his favorite toy. 🙂
Have fun dining with your furry pal! Don't forget to walk him afterwards. 🙂
Wanna travel with your pooch? Find out how HERE and book your flight today!
Markin' it up,
Roger Wellington a.k.a. The Doob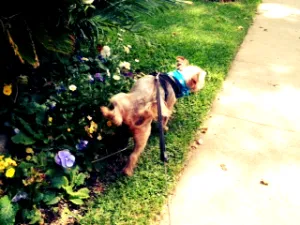 __
Like my post "8 Tips on How to Dine with Your Dog"? CLICK TO PIN!