ARF, ARF! Yes, an American dog copes with coronavirus lockdown in Spain…that is ME! Find out how I survive quarantine days 19 to 26 in Barcelona, the beautiful international destination turned ghost town.
During this period (April 1 to April 7, 2020), Spain saw a significant drop in the number of daily infections on April 5, 2020, from 6,969 to 5,478. Even though the number of infections and deaths went back up on April 7, 2020, it appears that Spain has finally surpassed its peak. WHEW! However, this was not the time for me to relax or wag my tail as experts say that loosening restrictions may cause a resurgence of cases. Nevertheless, we must all proceed with caution. Spain is the 2nd most infected country in the world; with its infection numbers overtaking Italy, it is currently only behind my home country, the United States of America, which has a much larger population. Back in the U.S., things were looking direr as the U.S. government projected 100,000 to 200,000 deaths from coronavirus (COVID-19). Fortunately, the projected number later decreased to 60,000 after health experts noted that social distancing has been working in reducing the transmission rate. GRRR I just can't wait until things are better everywhere in the world.
Read 11 PRECAUTIONS TO TAKE WITH YOUR DOG IN A LOCKDOWN
Throughout these 8 days of quarantine, I found many ways, once again, to keep myself busy indoors. As the weather becomes warmer, my humans and I are hopeful that the nicer weather can only improve the situation. From a new bone to a new hairdo, I conquered the extra time remaining from my normally longer walks. I transformed into a ruthless fitness trainer and became obsessively wealthy by building up my TREAT account. Gosh, it's so PAWSOME to collect delicious treats for my hard work AND get goodies from humans on command. Luckily, my socialization skills remain impeccable despite my reduced time outdoors. As humans practice social distancing, dogs could still sniff out one another. Strangely, I somehow came across more Yorkies than usual and even got my little heart stolen. Sniff out more below!
Watch "American dog copes with coronavirus lockdown in Spain: Days 19 to 26" by pressing PLAY with your furry paw:
If you missed my previous lockdown updates, feel free to sniff out my buttocks down below:
Click here if you need ideas to keep busy with your dog indoors!
I hope you stay safe and healthy! Unless you're a dog, please do NOT touch your face and keep your distance from one another.
Markin' it up,
Roger Wellington a.k.a. The Doob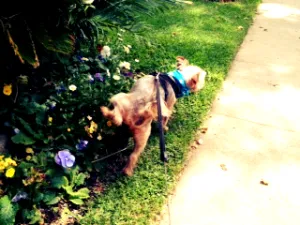 Like my post on "American dog copes with coronavirus lockdown in Spain: Days 19 to 26"? PIN IT!