Looking for the BEST dog-friendly activities in Los Angeles? This Angeleno Yorkie got you covered!
Even though I left my little Yorkie heart in San Francisco, I am wagging my tail to bark that I've transformed into a furry Angeleno over the years! I may be a NorCal native, but I've sure spent a whole lot of time marking it up in Los Angeles, which has been one of my California home bases since becoming a real nomad in 2016. Aft-ter all, LA is also where I've stayed when my pawrents took off (temporarily) to international destinations with strict entry requirements or mandatory quarantine for animal import. GRRR.
Is Los Angeles dog-friendly? WOOF, you betcha! Angelenos love dogs. Whenever I'm not globetrotting, I'd march up and down on funky Melrose, stroll along the star-studded Robertson Boulevard, cruise through Mulholland Drive in Hollywood Hills, and stick my wet nose out of the car window for a sniff of the Sunset Strip. Needless to bark, there are A LOT of dog-friendly activities in Los Angeles!
*Please note that this post contains
affiliate links
, and at no obligation or additional cost to you, my humans and I earn a small commission if you make a purchase. If you love the work that we do, you can show your support by making a purchase through an affiliate link. Proceeds will go towards
feeding homeless dogs (and cats) along with improving the lives of the neglected and abused
.
Sniff out my list of 10 BEST Dog-Friendly Activities in Los Angeles:
*As the definition of "LA" can be extremely broad depending on who you talk to, this post focuses on dog-friendly activities within Los Angeles city limits (not LA county or the 5-county Greater LA area). But don't fret, more dog-friendly SoCal posts are underway! In case you're confused, Hollywood is a neighborhood in the city of Los Angeles (NOT its own city like West Hollywood and Beverly Hills).
Sniffing for somewhere else? Perk up your ears to my posts on dog-friendly Beverly Hills, dog-friendly Redondo Beach, dog-friendly Hermosa Beach, dog-friendly Manhattan Beach, dog-friendly Malibu, and dog-friendly Orange County.
#1 Ride The Trolley at The Grove
WOOF, what the heck is The Grove? Located in the Fairfax District conveniently next to The Original Farmers Market, The Grove is an upscale outdoor shopping mall with high-end retail (from Lululemon to Swaroski) and aesthetically pleasing restaurants along with a multi-screen theater. The Grove also boasts a Las Vegas Bellagio-like (but smaller) water show that's pretty pawsome.
During the holidays, my humans will take me here to look at their spectacular 100-foot Christmas tree (with Santa and his reindeers flying over it). Even though The Grove has been around since 2002, many native Angelenos (such as my #2 human) will still consider it to be relatively "new" since the Beverly Center used to be THE SPOT for shopping. Whether old or new, this open-air shopping destination has an ultra dog-friendly environment; I never fail to find other furry Angelenos who are ARF-so-stylish and pawfectly groomed.
My favorite part of The Grove is taking The Trolley from First Street through their quintessential property. It's a MUST every time I set my tiny alpha paws here! Powered electronically, The Trolley is constructed on an old undercarriage from a 1950s Boston streetcar. So cool, isn't it? And, did I bark that the ride is completely FREE?
The Grove – 189 The Grove Dr, Los Angeles
Sunday – Thursday, 12:00PM – 7:45PM
Friday & Saturday, 1:00PM – 8:45PM
The Trolley Recharges from 3:45PM – 5:00PM, Daily
#2 Hike up to the Hollywood sign
Yep, it's that iconic Hollywood sign that you see in all the movies! Remember when Justin Timberlake (my #1 human's dream guy) got stuck on the Hollywood sign in Friends with Benefits? The sign is also rumored to be haunted since actress Peg Entwistle took her life by jumping off the "H" back in 1932. While you can no longer get super close to the sign (it's fenced up for protection with security cameras, sensors, and loudspeakers), the views are still utterly striking.
If I'm lucky to get up there on a clear (well, non-smoggy) day, then I'd tilt my head to views of Hollywood Hills, DTLA (Downtown Los Angeles), and the Pacific Ocean. Unless you start at the Griffith Observatory, the hike is easy and suitable for most (if not, all) dogs, even a small dog like myself. All trails are dog-friendly and open from sunrise to sunset, year-round. Despite the rules that dogs must be leashed, I sniffed out and chased the butts of numerous unleashed, well-behaved dogs.
Fun Fact: Dogs aren't the only animals enjoying the Hollywood sign! Griffith Park's most famous furry resident is a gorgeous mountain lion named P-22, who comes out after dark when the park is closed.
Popular Trails:
Mount Hollywood – A relatively easy 3-mile trail
Brush Canyon Trail (part of Griffith Park) – A more difficult 6.5-mile trail, suitable for bigger dogs
A Few Starting Points:
3100 Beachwood Drive, Los Angeles
2927 Canyon Drive, Los Angeles (there's also a nearby dog park called Lake Hollywood Dog Park located at 3000 Canyon Lake Drive just 3 miles away)
#3 Go OFF-LEASH at Runyon Canyon Park
Located near Hollywood Hills on the eastern end of the Santa Monica Mountains, Runyon Canyon Park is arguably the most popular park for dog-friendly hikes in Los Angeles. The reasons are simple – the ARF-mazing views of LA are unbeatable (with the highest elevation at 1,320 ft) AND dogs are allowed OFF-LEASH in a whoppin' 90 out of a total 160 acres.
That's more than half the park where I can run loose to chase after those furry Angeleno cuties. WOOF-HOO! Regardless of your dog's physical capability, there are trails suitable for nearly every level, including an easy 2-mile hike with 500 ft of elevation change – just pawfect for small senior dogs like myself. But if you're looking for something even easier, there's a .85-mile trail with only 200 feet of elevation. The longest hike is only a 3.3-mile loop, where you can see the Hollywood Sign and Griffith Observatory. 
Even if you don't feel like making the trek up, you can still relax to nature and the sweeping hillside views. Perhaps you may run into a celebrity or two (after all, it's next to Hollywood Hills where almost every celebrity has a home there). Not to bark, this place is also fantastic for the backdrop of IG photos. 🙂 Whenever I'm here, I usually take a quick sniff or two at Runyon Canyon's very own dog park.
Runyon Canyon Park – 2000 N Fuller Ave, Los Angeles
Hours: Sunrise to sunset.
#4 Grub at the
original
Pink's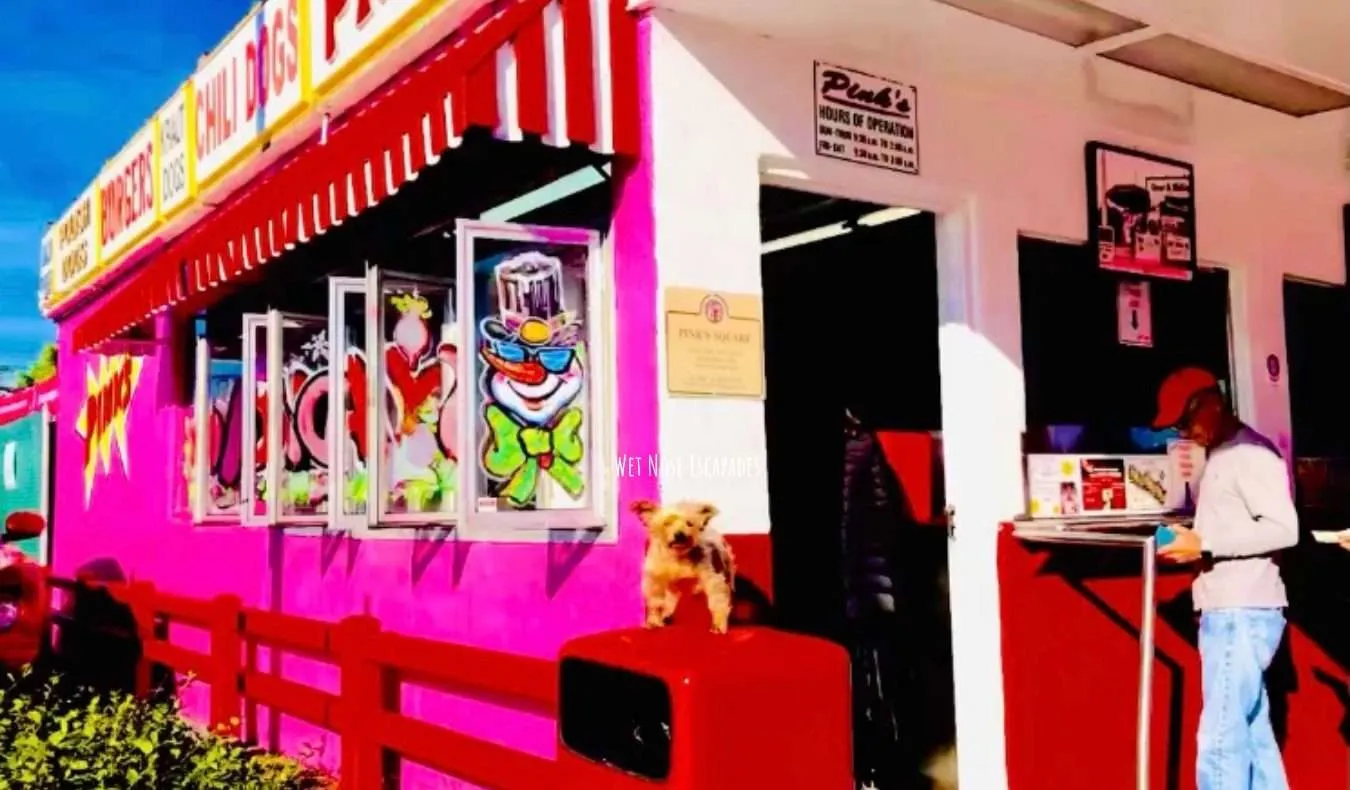 Paws on the table for Pink's Hot Dogs! Well, as soon as my humans get some yummies after getting in that long line. TIP: Go there during the weekdays to avoid the crowd (say, in the morning or later in the evening). Founded in 1939, Pink's started as a humble hot dog cart by Betty and Paul Pink. This heavily-trafficked colorful hot dog joint is located on Melrose and La Brea; while technically in Fairfax, Pink's is considered one of Hollywood's greatest landmarks. From framed celebrity autographed photos to celebrity-named hot dogs (Rosie O' Donnell Long Island Dog, anyone?), Pink's is, indeed, legendary, to bark the least. After all, their known title is "A Hollywood Legend Since 1939" (although the Pink family is more humble, calling themselves "We are the little hot dog stand that could").
With ample outdoor seating and casual over-the-counter ordering, this is a pawfect dog-friendly place to dine with your dog, especially when you wanna hit up some LA-centric attractions. If hot dogs aren't your thing, they also sell tasty, succulent burgers that I'll happily chomp on every day (if my humans allow). And, if you don't eat much meat like my humans, no PAWblem!
My #1 human loves the ARF-so-tasty Patt Morrison "Beyond" Veggie Dog (it's a beyond meat hot dog topped with sauteed peppers, onions, mushrooms, tomatoes). Even though Pink's has expanded to amusement parks and other locations over the years (including an international location in the Philippines), there's no experience like setting my furry paws in line (a quick sniff while waiting will stimulate my little BIG appetite), getting petted by dog-lovin' Japanese tourists, scavenging for scraps in their dog-friendly dining area, and lickin' my chops to a classic chili dog with a life-size printout of LA Dodgers Justin Turner right next to me. 🙂
Pink's Hollywood – 709 N La Brea Ave, Los Angeles
*As dogs are pack animals who'd LOVE to experience meals with you, don't forget to pack a bag of treats, dog-safe food, bottled water, and to-go bowls for your dog! Don't make your dog feel left out.
#5 Explore Larchmont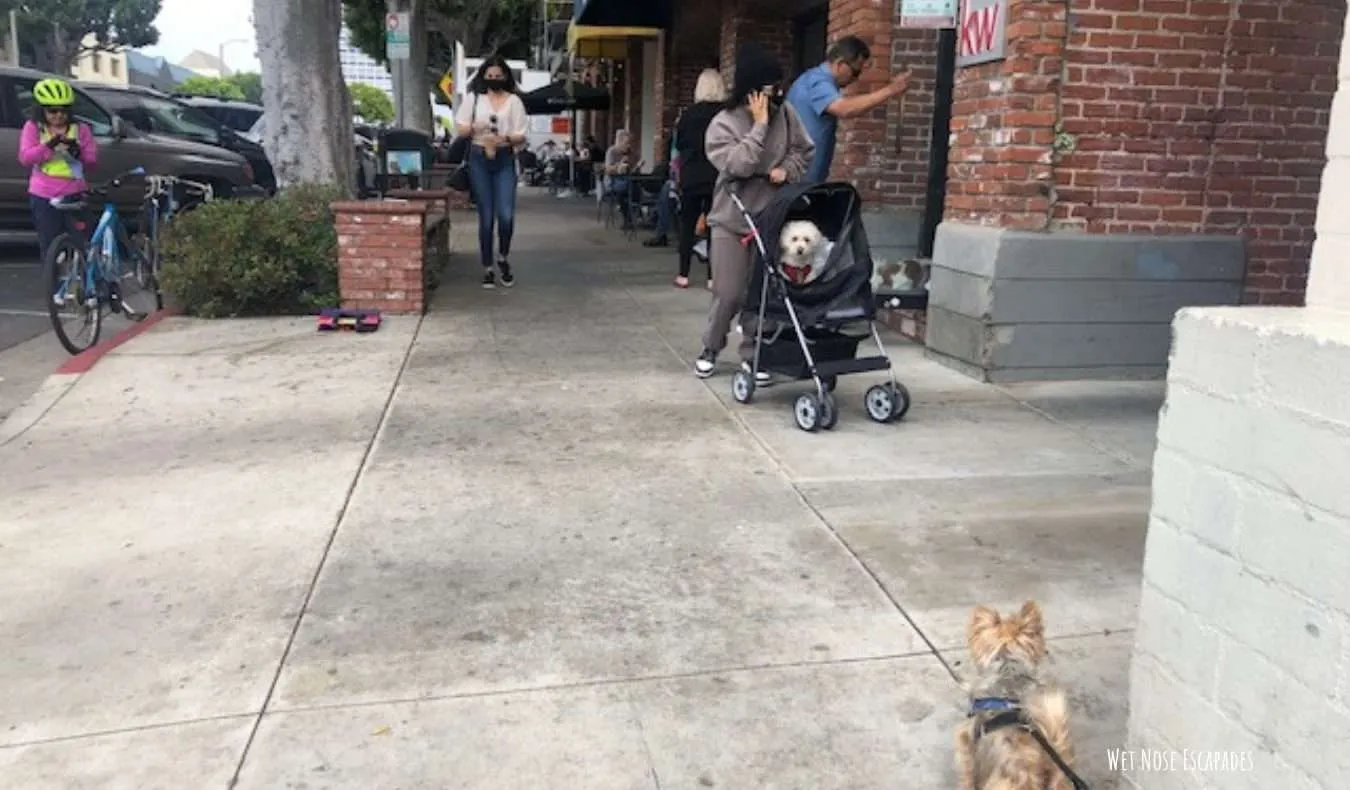 Unlike DTLA and Hollywood where it's a constant effort to dodge your dog away from homeless tents (and oftentimes, a gigantic splatter of human urine), Larchmont is one of the cleaner commercial streets to walk your dog in Los Angeles. The most pawsome part about Larchmont is that it's lesser-known to tourists so you'll get more of a local Angeleno feel here. Although its official name is Larchmont Village, most locals call it Larchmont for short. This half-square-mile neighborhood south of Hollywood near KTOWN (Koreatown) sets off a charming, small town vibe with head-tiltin' historic homes.
From organic ice cream to New York pizzas to cold-pressed juices to vegan burgers, Larchmont Village is a cutesy place to enjoy a relaxing lunch, chomp on desserts, or just explore with your dog. Since Larchmont borders the prestigious well-preserved neighborhoods of Windsor Square and Hancock Park, I tend to lead my humans to sniff out some jaw-droppin' multi-million dollar houses with pedigree, many of them built back in the 1900s in gorgeous Spanish-Moorish Revival or English Tudor Revival styles. But, arf course, we always walk quietly to not disturb the residents.
My Go-To Dog-Friendly Spots:
Salt & Straw – 240 N Larchmont Blvd, Los Angeles
Village Pizzeria – 131 N Larchmont Blvd, Los Angeles
#6 Hang out with the hipsters in Silver Lake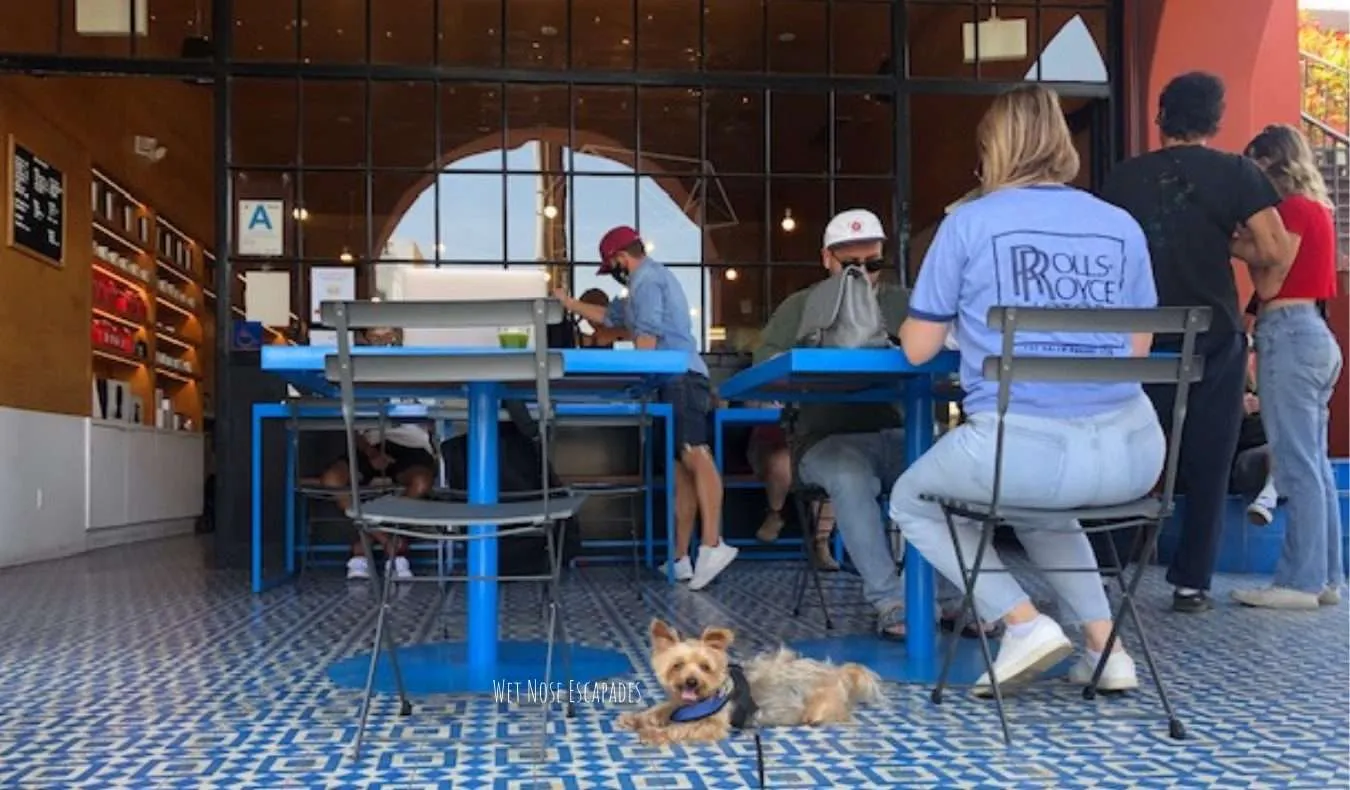 Get a sniff of the hipster scene in LA by hitting up Silver Lake, Southern California's hipster mecca. ARF-my-dog, this neighborhood just slightly east of Hollywood is hipper than hip. Known as the "Brooklyn of Los Angeles," Silver Lake is hipster central, without a doubt. A few sniffs from my robust wet nose already got me in the KNOW – this ultra-cool diverse neighborhood sets off a Bohemian vibe, attracting out-of-state transplants who are too cool for Hollywood, artistic folks with unconventional views, and dive bars without the typical pretentious LA vibe.
However, Silver Lake wasn't always so cool; even though Walt Disney built his first large studio here back in the 1930s, this neighborhood had a RUFF industrial past in the 1950s that led to its demise. But, since the late 1990s, the area started undergoing gentrification with trendy restaurants, posh coffee shops, and expensive boutiques that gradually made Silver Lake the hipster haven it is today. 
The main streets that I like to mark up in Silver Lake are Sunset Boulevard, Silver Lake Boulevard, and Hyperion Avenue. After sniffing out my fair share of different hipster coffee shops in the hood, I can bark loudly with an upright tail that Intelligentsia (3922 Sunset Boulevard) is one of the chicest places to hang out and watch those skinny-jeans-and-thick-framed-glasses-wearing hipsters sip coffee with their ARF-so-cool dogs next to them.
#7 Experience Venice Beach
Technically within the Los Angeles city limits, Venice Beach is an eccentric beach town on the Westside worthy of your dog's wet nose. The Venice Boardwalk is famous for an earthy Bohemian vibe with souvenir shops, street entertainers, and a rich art scene (not to bark, you'll stumble upon many grassroots rappers luring you to buy their music).
Although dogs are NOT allowed on the actual beach in Venice, they are welcome to take a stroll with their humans on the electric waterfront boardwalk. However, since it can get a little busy on this scenic walkway, it's best to walk your dog there earlier in the morning for a safer and more pleasurable experience (the afternoons and early evenings can get jam-packed, and I don't want to risk getting my paws stepped on!). 
Besides the boardwalk, I love setting my furry paws on Abbot Kinney Boulevard, the mile-long thoroughfare where I can lift my leg and find dog bowls outside of storefronts (e.g. art galleries, boutiques, and upscale restaurants). ARF-yeah, don't forget to sniff out those intriguing Venice Canals. As a former furry Italian resident, I can only bark that these artificial canals are no match to what I'm used to in the real Venice. Nonetheless, built by developer Abbot Kinney (hence the name of the main street) in 1905, these six historical canals in Los Angeles are certainly still worth a sniff or two. 🙂 The six canals (Carroll, Linnie, Howland, Sherman, Eastern, and Grand) are also part of the National Register of Historic Places.
#8 Grab Mexican food at Cactus
No matter where I am in Southern California, Mexican food must find its way into my little BIG belly! WOOF, the border is just right there. Taquerias may be ubiquitous in LA, but my go-to spot for a ginormous, juicy chops-lickin' burrito is Catcus Tacqueria. PAWS DOWN, this local, no-frills authentic Mexican joint is SPOT ON. If you're not the type to stuff your face with fat meaty burritos, Cactus also offers quite an extensive menu – from vegetarian burritos with fresh avocados to vegetarian rice bowls to fried fish burritos/tacos to grilled shrimp tortas. YUM!
While there are four locations in the LA area (with two in the San Fernando Valley), I will only set my furry paws in their original location on Vine Street and Barton Avenue in Hollywood, which has been around since 1992. With casual over-the-counter service and adequate outdoor seating, Cactus is a fun local spot to hang out with your dog and fill up your belly with authentic Mexican food in Los Angeles. Whether I get my paws on burritos on-the-go or eat in their unpretentious space, I always leave with my tail wagging.
Cactus Taqueria – 950 N. Vine St. Los Angeles
*As dogs are pack animals who'd LOVE to experience meals with you, don't forget to pack a bag of treats, dog-safe food, bottled water, and to-go bowls for your dog! Don't make your dog feel left out.
#9 Visit Westwood
WOOF, what's so good about Westwood? For starters, it's home to the University of California, Los Angeles (UCLA), one of the best schools in the country. And, then there's the 55-acre Westwood Village – the main commercial drive with bragging rights to the historic Fox Village Theatre (which has hosted their fair share of movie premiers), Fox Bruin Theatre, and an eclectic mix of businesses (from lively restaurants like Broxton Brewery & Public House to fast food joints like Poke Bar to fancy retail like Brandy Melville).
Besides UC students, Westwood is known for wealthy residents residing in some of LA's glitziest neighborhoods – the ones that you're accustomed to seeing on TV. Think Bel Air (Fresh Prince), Beverly Hills (90210), Holmby Hills (Playboy Mansion, Kardashians). Even though Beverly Hills is technically a different city, it makes up the exclusive "Platinum Triangle" together with Bel Air and Holmby Hills, where 8 or 9-figure gated megamansions are the norm. 
Just because you can't go crashing through the gates of Jeff Bezo's 175-million dollar compound doesn't mean you can't get a feel for this ritzy part of LA – just go and explore the enchanting Westwood Village with your dog!
#10 Shop at Hollywood & Highland
Situated on Hollywood Boulevard and Highland Avenue, this fabulous indoor mall and entertainment center of the same name is, indeed, dog-friendly. Considered the HEART of Hollywood, this landmark boasts over 70 shops and 25 restaurants over a total square footage of 387,000, which includes the world-famous Chinese Theatre and Dolby Theatre (Academy Awards, anyone?) along with a fancy bowling alley. Heck, you may even stumble upon a few filmings here if you're lucky.
All dogs weighing 25 pounds and under are welcome to shop with their humans as long as they are leashed. Dogs exceeding the weight limit are only allowed if they are service dogs. There are a few ground rules though as sniffed out from the official website:
-Owners are responsible for picking up after their dog and will be cited if this does not occur.
-Dogs must not impede any store entrances.
-Dogs will be removed from property if they are a nuisance of any kind including, but not limited to barking, biting or other disruptive behavior.
-Owners must curb their animals.
-Owners shall bear the responsibility of their dog's actions while on property.
Hollywood & Highland – 6801 Hollywood Blvd, Los Angeles
Just a bark about Hollywood: As an Angeleno Yorkie, I don't necessarily recommend walking your dog on the streets of Hollywood (for instance, on the Hollywood Walk of Fame) at least NOT for too long. And, it's not because it's not cool or sniff-worthy, but because many parts of Hollywood (except for the hills) are not exactly the cleanest places for dog walking. Unfortunately, the homeless encampments have such a huge presence in Hollywood that it has become an unavoidable public health crisis.
Therefore, it's better to take your dog to Hollywood & Highland, where it's cleaner indoors. GRR, I don't know about you but I sure don't like getting my paws dirty, which almost always means bath time! While some parts of Hollywood may be cleaner than others, you would still have to do a lot of dodging around trash, litter, homeless tents/encampments, and oftentimes, human urine and feces (and stop your dog from mingling with those poor innocent unvaccinated dogs may live with the homeless). Hopefully, this situation improves so I add the Hollywood Walk of Fame to my list of BEST dog-friendly activities in Los Angeles! But, as for now, this Angeleno Yorkie's tail is down. :/
Getting Around in Los Angeles with Your Dog:
If you're traveling with your dog in Los Angeles, you NEED a car. With Uber/Lyft costs on the rise nowadays, there's no way around being carless in LA – especially with a dog. Despite massive funds diverted into public transportation here, taking Metro is still not the norm. Get a car for your dog's sake!
WOOF, hope you enjoy my list of 10 BEST Dog-Friendly Activities in Los Angeles! Feel free to share your experience with me – BARK AT ME!
Markin' it up,
Roger Wellington a.k.a. The Doob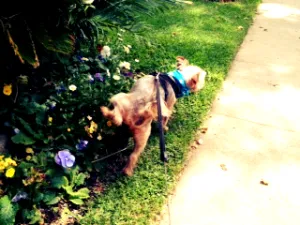 —
Like my post on "Dog-Friendly Activities in Los Angeles: 10 Things to do with Your Dog (from the Angeleno Yorkie)"? CLICK TO PIN!