ARF, is Miami dog-friendly? My stylish upright tail is waggin' as I bark an astounding YES!  Looking for dog-friendly things to do with your dog in Miami? Keep on sniffing!
WOOF, Miami almost needs no introduction! Known for incredible beaches, mouthwatering Cuban food, Latin culture, vibrant nightlife, swaying palm trees, and nearly pawfect weather, Miami is a vacation hot spawt (largely thanks to movies), especially for New Yorkers who wanna get away from those nasty chilly winters. But the Magic City isn't just a dreamy escape for humans (or East Coasters); it is equally dreamy and fun for dogs, and everyone looking to get their paws sandy and experience the city's unique blend of different cultures, from Latin to Caribbean.
As part of a bachelorette pawty, I joined the bride tribe and hopped on a 5-hour flight from San Francisco to Miami. As soon as I landed, I left my alpha marks in the glamorous neighborhood of South Beach. I dropped my tiny jaws to an open-mouth smiley face to show my four remaining teeth. AWOOO, I knew I was going to have a ball! From dog-friendly beaches to dog-friendly eateries, I sniffed out numerous activities to keep my stylish undocked tail upright and wagging. Sniff out my favorite dog-friendly things to do in Miami, Florida:
#1 Pawty in South Beach
Woof, I was more than pleased that the humans decided on this famous Miami neighborhood as our home away from home. PAWS DOWN, South Beach is the most pawpular place to be in the city. For clarification, South Beach is a part of Miami Beach – obviously in the south zone, hence the name. One of the three distinct areas in Miami Beach, this iconic hood starts at South Pointe Park north and runs to 23rd Street. From beautiful beaches to trendy restaurants to upscale bars, the South Beach neighborhood has a lot to offer visitors with doggies.
Even though the actual beach in South Beach does NOT allow dogs, dogs can still meander along the 7-mile paved Beach Walk, which runs parallel to the ocean. With many food and drink establishments offering dog-friendly outdoor seating, the sight of dogs wining and dining alongside their humans hardly turns heads in South Beach. One of my favorite restaurants is Habitat at the arf-so-posh 1 Hotel South Beach. From the award-winning chef Jose Mendin.This classy eatery features brunch goodies, Mexican fare, and Spanish tapas (small plates I'll gladly lick clean). With string lighting and ceiling drapery, their dog-friendly patio is supaw cute – pawfect for any occasion.
If you're looking for an IG photo op with your dog, take a stroll on their spectacular main street Ocean Drive and look for pale-tone colored Art Deco architecture dating back to the 1930s. From 6th to 23rd Streets, South Beach has arguably the highest concentration of Art Deco buildings in the world – along Ocean Drive, Collins Avenue, and Washington Avenue.
#2 Explore Lincoln Road Mall
Whether or not you're a shopper, Lincoln Road Mall is a MUST with your dog. Located just a few blocks from the beach, this world-famous South Beach pedestrian-friendly mall makes such a pawsome outdoor stroll with your dog. Featuring a jaw-droppin' 200+ shops, retail stores, luxurious boutiques, and art galleries (many of them welcoming dogs inside with open paws), Lincoln Road Mall is one of the best places in Miami to explore with your dog. I marched into Gap and American Eagle on four paws – no PAWBLEM!
The 10-block, pedestrian-only promenade also boasts ample dog-friendly restaurants and sidewalk cafes pawfect for some people-and dog-watching. Arf-ter markin' it up, I'll stuff my little Yorkie belly at one of the many dog-friendly dining options, including the New York favorite Shake Shack, the sleek Italian pizzeria and wine bar Pizzette, the cozy Rosetta Bakery, and the trendy Tapelia Spanish Cuisine.
#3 Bum it out on the Beach
Your dog can't visit Miami without getting their paws sandy! With quite a few dog-friendly beaches to sniff out, I DO recommend beach hopping. Grr, I can't stop my furry paws from digging up the sand for gold at Lummus Park Beach, where dogs are allowed on the walkways, grass, and beach 24/7 year-round. WOOF-HOO! However, dogs do need to remain on-leash for some sandy fun.
For off-leash fun, take your furry beach-goer to one of these off-leash dog-friendly beaches in Miami:
Haulover Park Beach (10800 Collins Ave.) – Dogs are allowed on the beach off-leash from 8:00 am to 3:00 pm between towers #2 and #3, directly across from the bark park. They must be under the control of their humans at all times. Two dogs per person. Other rules include, but are not limited to: Puppies under six months are not permitted. You must clean up after your dog and fill any holes dug up by your dog.
Bark Beach at North Beach Oceanside Park (entrance on Collins and 81 Street on the east side of the park) – Dogs are permitted off-leash in the designated beach area on Fridays, Saturdays, and Sundays from 1:30-5:30 pm, except for Christmas Eve, Christmas Day, New Year's Eve, and New Year's Day. Two dogs per person. Other rules include, but are not limited to: Dogs are not allowed to dig in the sand or create a nuisance (e.g. excessive barking). As usual, you must clean up after your dog.
Hobie Island Beach Park (Rickenbacker Causeway) – Dogs are allowed off-leash at this bay beach with shallow waters, from sunrise to sunset daily. You must keep your dog under control and be respectful of other visitors.
#4 Grab Cuban sandwiches and coffee in Little Havana
A visit to Miami is never complete without marking up Little Havana, the heart of the city's immigrant Latin American community. With marks traced back to the 60s when exiled Cubans flocked to the area, this bustling Cuban neighborhood makes for a fun sniff and stroll. I LOVE going up to the walk-up coffee window with my human. With an upright tail, I held my spawt in line for some cheap and tasty coffee and barked at any human attempting to cut me. GRR.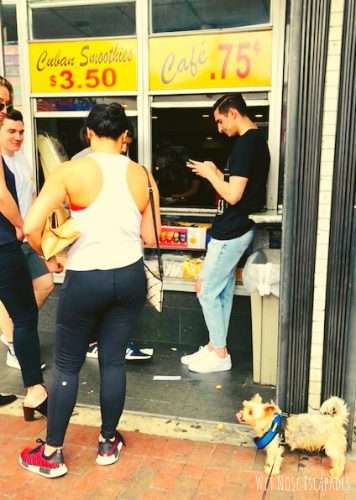 A fascinating dog-friendly thing to do in Little Havana is to watch the highly-skilled cigar makers or torcedores perfect their craft. Due to second-hand smoke, I don't support smoking, but I'd watch from a distance out of curiosity. But most impawtantly, I'll wag my tail to a bite of a paw-lickin' Cubano. "Cubanos" are no other than Cuban sandwiches! Although variations exist (with vegan alternatives on the rise), Cuban sandwiches or "Cubanos" typically consist of ham, roasted pork, Swiss cheese, pickles, and mustard multi-layered on Cuban bread.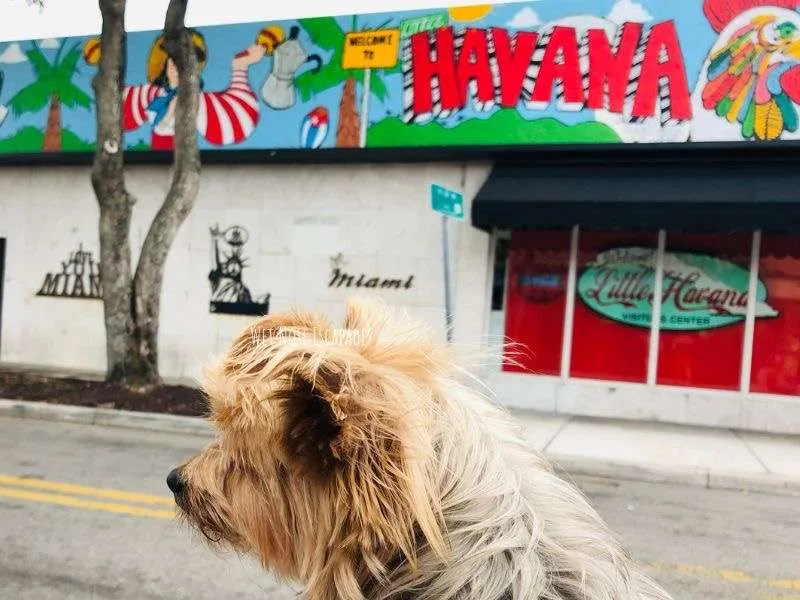 #5 Discover Lummus Park
Feeling like singing along to Will Smith's "Welcome to Miami"? Walk your furry paws over to Lummus Park and feel the spirit of Miami Beach! Between the Atlantic Ocean and Ocean Drive (between 5 St & 14 Place), Lummus Park is, PAWS DOWN, one of my favorite dog-friendly parks in the area. Arf-ter all, the park's backdrop has been featured countless times in movies and on TV shows.
With its prime location on the eastern side of Ocean Drive, this 10-block, 74-acre urban oasis boasts multi-million dollar views of the Atlantic Ocean and abundant green spaces with tall, slender swaying palm trees (making it arf-so-IG worthy). And yes, it is dog-friendly! From the grassy areas to the wavy Copacabana Beach-inspired pedestrian walkway, I must always leave a few alpha marks while my human annoyingly snaps pictures of my Yorkie hunkiness.
#6 Hang out at Nikki Beach
WOOF, Nikki Beach (1 Ocean Drive) is my kind of PAWradise. This Miami Beach hot spawt is the place to sniff and to be sniffed. Not only is the admission free (except for special events), but Nikki Beach is also dog-friendly! Having roamed around in Hollywood and Beverly Hills, I love how it's a luxurious beach club WITHOUT the unnecessary pretension. Grab chops-lickin' brunch or lunch, sip on creative cocktails, and surround yourself with a laid-back yet fantasy-land atmosphere concocted by music, palm trees, cabanas, and teepees – with your dog right next to you!
From getting my paws sandy to brunching it up with the humans to lounging at the cabana all day long, I can't bark for a more dog-friendly experience. Just a bark that Nikk Beach does enforce an upscale beach chic dress code, so dress accordingly! Unless you're a dog, shoes, shirts, and/or cover-ups are required for entry.
The pawbulous Nikki Beach is open on Mondays thru Thursdays from 12 pm to 6 pm, and Fridays & Saturdays from 12 pm to 8 pm, and Sundays from 11 am to 8 pm.
#7 Strike a pose at Wynwood Walls
ARRF, I'm not an artsy kind of guy, but I love being able to walk my four furry paws around this arf-so-pawpular Miami attraction. Opened in 2009, Wynwood Walls (2516 Northwest Second Avenue) is a pawtastic street art museum that has garnered global recognition. Luckily for dogs, the famous Wynwood Walls welcomes dogs with open paws. As long as you keep your dog on-leash, you can delight yourself in spectacular massive outdoor murals from all over the world with your furry best friend by your side.
Pictures are an arf-solutely MUST during the stroll of the mural-lined path. Be ready to admire their colorful, head-tiltin' dynamic collection. Although dogs aren't generally allowed inside the galleries or the actual facility, I didn't experience any pawblem entering as I rested comfortably in my human's arms. Expect to spend at least an hour or two here to fully appreciate their colorful, eclectic street art, which spans across 80,000 square feet of abandoned warehouse walls.
Unfortunately, Wynwood Walls started charging for admission in 2021. You'll have to reserve a time and ticket online to take the stroll – with or without a dog. Tickets start at $12 for adults and are free for children under 12 . Wynwood Walls is open daily starting at 11 am with closing time at 7 pm on Sundays thru Thursdays and 8 pm on Fridays and Saturdays. Be sure to check the weather because your dog isn't going to enjoy a rainy walkthrough!
Get all my exclusive dog-friendly travel tips HERE!
#8 Stroll along Bayfront Park & Hit up the Marketplace
WOOO, the Bayfront Park area is one of the most dog-friendly places in Miami! Dominating Downtown Miami, the scenic 32-acre Bayfront Park borders Bayfront Marketplace, the 2-story open-air shopping center. Not to bark, it also borders the famed American Airlines Arena, which houses NBA games and huge concerts. Sitting on Biscayne Bay, Bayfront Park boasts beautiful memorials, statues, bay views (hence the name), and most impawtantly, meticulously landscaped greenery worthy of some hind-leg kicking.
After raking my feet at Bayfront Park, I like to sniff out the intriguing scent in the air at Miamarina and then go window shopping at Bayfront Marketplace, where dog-friendly stores and shops are the gold standards. Although I'm more of a sniffer, not a shopper, I wagged my tail as I led my human into a shoe store and clothing store without any nasty looks or questions. Arf-ter making a few purchases, my human and I walked away and perked up our ears to some live music outdoors at Bayfront Marketplace. (from a safe distance). Bayfront Park is almost a guaranteed tail-waggin' time!
#9 Dine and Drink at a Rooftop Lounge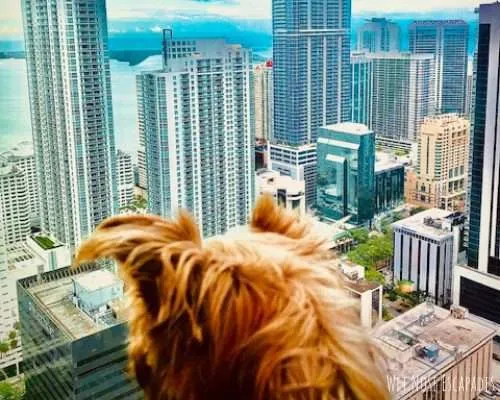 A rooftop bar or lounge with your dog is a MUST in Miami. Why? Because the Miami skyline is utterly spectacular with a whoppin' 439 high rises. Arf-ter all, it's the country's third tallest skyline after NYC and Chicago. Hence, posh dog-friendly dining + tail-waggin' city views – what more can you bark for? I especially love the ultra-cool vibe at Sugar (a trendy rooftop bar and lounge at the EAST Miami Hotel) and the paw-lickin' Japanese fusion food at Watr at 1 Rooftop (poolside dining at 1 Hotel South Beach).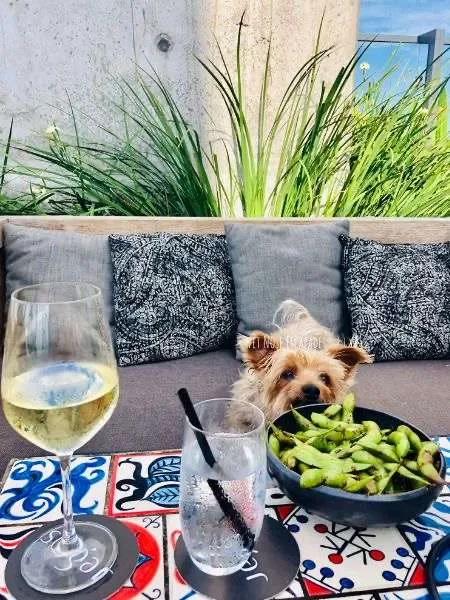 For the best rooftop experience, the best time to visit Miami is typically between November and March as the weather is most comfortable. However, to avoid the winter crowd and expensive flights and accommodations, plan to visit March through May when the temperatures are rising to the low 80s but not too hot for your dog. Nonetheless, don't be enticed by cheap flights during hurricane season because you'll likely spend most of your vacation wet or indoors! Whether you are starting or ending your day, chillin' at a rooftop lounge with your dog is both a soothing and exciting (I mean, arf-citing) dog-friendly activity in Miami!
A quick bark on wining & dining with your dog in Miami:
WOOF, the best part about Miami is that most restaurants and bars offer outdoor seating, which are usually dog-friendly. Even if Yelp states that dogs are not allowed, I've found that these establishments with outdoor seating still welcome me without any questions or hesitation. Not to bark, quite a few restaurants with only indoor dining have also accepted me without any issues; therefore, I have a little Yorkie hunch that a restaurant's dog-friendliness may ultimately depend on the staff working at the time or the establishment owner (if present).
Nevertheless, always consider restaurants with outdoor seating first to save yourself some headache. However, if you are dying to try a restaurant with only indoor seating, go for it and see what they say! The worst thing that can happen is they say NO. Whether you dine indoors or outdoors with your dog, follow these 8 tips on how to dine with your dog.
#10 Explore Coconut Grove
On the shoreline of Biscayne Bay, Coconut Grove is a quaint, upscale neighborhood. Arf-my-DOG, Coconut Grove is legit! I love taking a nice stroll here because it's clean, not so busy, and supaw cute. Coconut Grove (or simply known as "The Grove") is a supaw different Miami scene compared to the touristy South Beach since it's much more relaxing. Arf-ter all, it's one of the greenest areas in the city with trees and gardens GALORE.
Outdoor sidewalk cafes, expensive boutiques (with dog bowls outside), enchanting gardens, pretty marinas, and even a mangrove forest (yes, a FOREST) create an ultra calming atmosphere, making this high-end, lush area worthy of visiting with your dog. Don't forget to sniff out CocoWalk (3015 Grand Avenue), a dog-friendly open-air shopping mall with 42 shops and plenty of dog-friendly restaurants in the heart of the neighborhood.
There are also two dog parks in the neighborhood – Blanche Dog Park (3045 Shipping Avenue) and Kennedy Dog Park, the bigger one of the two (2400 South Bayshore Drive). Plus, a family-owned pet grooming salon (Lovely Pets Grooming) for all the furry travelers who need to smell fresh and look fly in Miami.
#11 Mingle with the furry Miamians
From Miami to Miami Beach (yes, those are two distinct cities), there is a myriad of dog parks and dog-friendly parks where your dog can sniff the behinds of some furry Miamiams and meet a furry friend or two.
Dog Parks or "BARK PARKS" in Miami Beach include:
–Allison Park (6475 Collins Avenue) – Boasting greenery and beachfront views, the bark park at Allison Park offers an open designated area for dogs on leash *currently closed due to beach restoration, last checked February 2023. Please check before going.
–Belle Isle (Island Avenue on Belle Isle) – Right smack in the center of a small island connecting Miami Beach to the city, Belle Isle Bark Park offers two separate zones for small dogs and big dogs along with a nicely paved walkway into the dog areas.
–Fairway Park (Corner of N. Shore Drive & S. Shore Drive) – This scenic 4.5-acre grassy park found on the east end of the Normandy Shores Golf Course has a nicely maintained double-gated dog park.
–Flamingo Bark Park (13 St. & Michigan Avenue) – The 36-acre Flamingo park offers a pawsome 39,900-square-feet off-leash dog park with double gates and two separate zones for small (under 25 lbs) and large dogs along with agility obstacles.
–North Beach Oceanside Park (Collins Avenue & 81 Street) – On the north side (without the touristy crowds), this scenic park right off the beach has a massive 46,550 square feet/1.02-acre dog park with two separate zones.
–South Pointe Park (1 Washington Avenue) – Miami Beach's only dog park with allocated times for off-leash play, from sunrise to 10 am and 4:30 pm to 8 pm. Dogs can still mingle with other dogs during off hours – as long as they are leashed. This Bark Park has a TOP DOG location southwest of the Washington Avenue entry where you can get a good gaze of the bay and Fisher Island.
For more info, put a furry paw HERE.
Dog Parks or "BARK PARKS" in Miami include:
–Haulover Park (10800 Collins Ave.) – Near the south picnic area at a 177-acre urban oasis, this dog park features two separate enclosures – one for small dogs (less than 35 lbs.) and another for large dogs. $2 user fee per vehicle, and your dog must be in the car. The park is situated north of the Broad Causeway and Collins Avenue, between the Atlantic Ocean and Biscayne Bay.
–West Kendall District Park (11255 SW 157 Ave.) – This 164-acre park features new dog zones for small dogs (under 35 lbs.) and large dogs with play equipment like tire jumps and a paws table.
–Amelia Earhart Park (401 E 65 St., Hialeah) – With two separate sections for small and big dogs, this 5-acre fenced-in dog park is located by the lakes at this 515-acre park just north of Hialeah in unincorporated Miami-Dade county.
–East Greynolds Park (16700 Biscayne Blvd.) – In North Miami, the massive 249-acre East Greynolds Park boasts a 1.76-acre dog park with ample shade and two sections – one for small dogs and another for big dogs.
–Tropical Park (7900 SW 40 St.) – On a former horse track site, the uber pawpular Tropical Park with four beautiful lakes features a local's favorite dog park with two fenced-in sections for small and big dogs
-Lago Mar Park (8165 SW 162 Ave.) – Despite not having a small dog section (at least yet) or typical amenities like poop bags, this 1.25-acre fenced-in dog run is still a fun, spacious playground for dogs.
*Please ensure your dog is up-to-date with vaccinations, and remember to always clean up arf-ter your dog.
Hope you like these dog-friendly activities in Miami! Feel free to share your experience with me. BARK AT ME!
Markin' it up,
Roger Wellington a.k.a. The Doob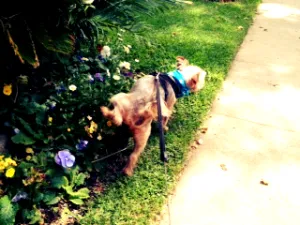 —
Like my post on "Dog-Friendly Miami: A Yorkie's Guide to 10+1 Dog-Friendly Activities in Miami, Florida"? CLICK TO PIN!