Is San Diego dog-friendly? Are you looking for dog-friendly activities in San Diego, California? WOOF, this traveling Yorkie has you covered!
First Published 12/24/20, Last updated 4/17/23
As a native Californian, I'm lucky to have visited "America's Finest City" more times than I can count with all my claws! Located in sunny Southern California near the Mexican border, San Diego is, PAWS DOWN, one of the most dog-friendly cities in America, with a plethora of dog-friendly restaurants, bars, beaches, and hotels along with free poop bag stations at practically every corner. With year-round sunshine and comfortable, consistent weather, San Diego (or SD, for short) is a fun destination to visit with your dog practically any time of the year. Unlike my hometown San Francisco where it's always a lil' chilly, SD is the perfect (I mean, PAWfect) place for some furry fun in the sun (without panting). 
Sniff out my 20+1 dog-friendly activities in San Diego:
#1 Walk along the San Diego Bay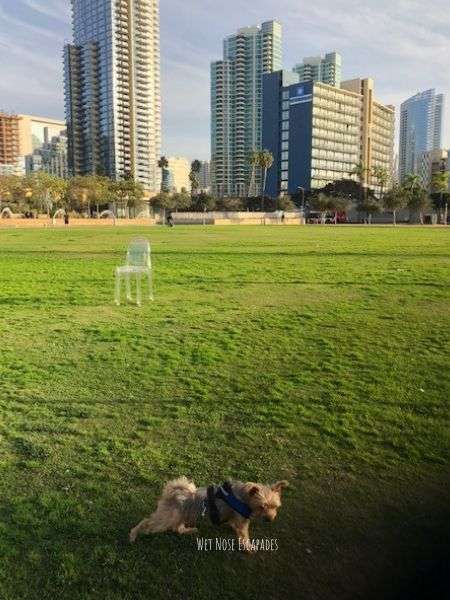 WOOF, follow your dog's robust wet nose along N Harbor Drive or Pacific Hwy for some sniff worthy views of the San Diego Bay and all the ships that call it home. Start in Harborview District and walk those furry paws southward along the water, passing the California dreamin' towering palm trees on the rectangular ARF-so-green Waterfront Park. Since I'm quite the 7 lb. athlete, I usually don't make a stop until I set my alpha paws on South Embarcadero Park, which makes about a 2-mile walk one-way. However, you can cut right in to explore some of San Diego's best dog-friendly neighborhoods – Little Italy, Downtown, Marina, or Gaslamp. 
#2 Pose with that giant Red Chair in Little Italy (corner of India Street & Date Street)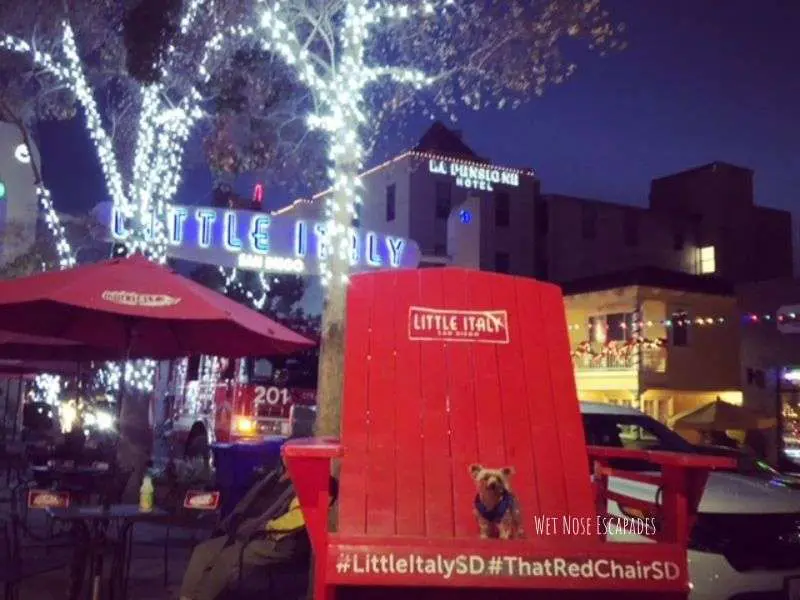 ARF, I may be tiny compared to this gigantic, wooden bright red lawn chair, but that doesn't mean I can't put my furry butt in it. "That Red Chair" is a famous custom-built adirondack chair sitting right in front of the Little Italy San Diego sign at the corner of India Street & Date Street. It is one of the most iconic things you can do in SD with your dog. Sitting or standing on such a massive high chair reiterates my TOP DOG identity. Whether you have a small dog like me or a big dog (like my "little" Weimaraner cousin Sonny), you must make a quick stop for a timeless picture of your dog with the iconic blue and white Little Italy sign in the backdrop. Don't forget to add #LittleItaly and #ThatRedChairSD to your IG post!
Why dogs make the BEST travel buddies
#3 Watch the sunset over the Pacific Ocean 
From La Jolla to Pacific Beach to Mission Beach to Coronado, I can watch (or sniff) the dreamy California sunset over the Pacific Ocean all day, any day. For every single day of your stay, choose a different viewing spot each time to enjoy the sunset with your furry traveler. In San Diego, your viewing locations for sunset watching are endless: white sandy beaches, oceanfront restaurants, oceanview parks, or waterfront walkways. Regardless of your selection, I am pawsitive that the brilliantly red and orange sunset on the often turbulent coastline will melt your heart (as it did with my little Yorkie heart). My go-to viewing spot is Ellen Browning Scripps Park in La Jolla, which gives me jaw-dropping panoramic views of the gorgeous Pacific ocean. 
#4 Enjoy a beach day
As a former Greek Island beach bum, I cannot leave San Diego without digging my paws deep into the fine white sand. Perhaps I'll strike it rich and find some gold one day! Sniff me out as I perk my ears up to the surfers at Pacific Beach in the photo above. According to the official city website, dogs are generally allowed on ALL beaches after 6 p.m. from April 1 to Oct. 31 or after 4 p.m. from Nov. 1 to March 31. Licensed dogs (with proof of rabies vaccination) are allowed on the beach, sidewalks, and park areas near the beach, during the night and early morning hours until 9 a.m., but they must be leashed. 
Additionally, two incredible beaches allow dogs to run off-leash at ANY time – Dog Beach (San Diego River Floodway) and Fiesta Island (Mission Bay Park). ARF, keep on diggin'!
Dog Beach is in Ocean Beach at the foot of Voltaire Street. It's on the west end of the San Diego River Floodway a.k.a. the Ocean Beach Flood Control Channel. Open 24 hours!
Fiesta Island is located in Mission Bay Park and allows dogs anywhere outside the fenced areas. 
*Always be a good visitor and keep California beaches beautiful by always cleaning up after your dog! Plus, it's ILLEGAL: the city's municipal code Sec 44.0304.1 requires dog pawrents to "immediately remove feces." Unless you're considered unsighted or blind with guide dogs, the law applies to ALL dog pawrents. Therefore, leave only paw prints!
#5 Socialize at The Dog Society (6331 University Ave.)
ARF, this may sound like an exclusive elite club for dog pawrents and their pooches, but luckily, it's not. Despite the name, membership is NOT needed. The Dog Society is a wonderful haven for dog lovers and dogs (their homepage even barks, "Welcome to Your Dog's Happy Place"). There's a sports bar, beer garden, outdoor game area, cafe, grooming area, doggie daycare, training facility, and off-leash areas. They also host breed meetups, pup parties, and game days (with over 35 TVs). ARF-my-DOG! Although membership packages are available, there is no cost to access the outdoor patio and off-leash beer garden. 
For the best experience for your dog, avoid the weekends because (human) children can run wild (without leashes), easily overwhelming and scaring dogs.
#6 Mingle with furry San Diegans at OFF-LEASH parks 
ARF, as an alpha dog, I can never pass up an opportunity to sniff furry butts, mark them up, and kick out my paws! While dogs on leash are allowed in ALL city parks, there are numerous leash-free zones for dogs to run free and chase those furry San Diegan cuties! As always, be a respectful visitor by picking up after your dog. 🙂
Here's the list of parks with leash-free locations (along with off-leash hours):
Balboa Park – open 24 hours 
Cadman Community Park – Fall / Winter / Spring – From 7:30 to 10 a.m. and from 4:30 to 7 p.m. Summer – From 7 to 9:30 a.m. and from 5 to 7:30 p.m. Note that there are NO leash-free hours on Independence Day, July 4, and Saturday mornings during Little League season.
Capehart Park (Pacific Beach) – open 24 hours
Charles L Lewis III Memorial Park – open from dawn to dusk
Doyle Community Park – open 24 hours, but not lighted (so beware)
Dusty Rhodes Neighborhood Park (Sunset Cliffs Boulevard) – open from dawn to dusk
Fiesta Island (Mission Bay Park) – open 6 am to 10 pm every day
Grape Street Park – Monday thru Friday: 7:30 a.m. to 9 p.m., Saturday, Sunday, and Holidays: 9 a.m. to 9 p.m.  
Kearny Mesa Community Park – open 6:30 am to 10 pm every day 
Maddox Neighborhood Park (Mira Mesa) – open from dawn to dusk
Nobel Park (University City) – open from dawn to dusk
Rancho Bernardo Park – open from dawn to dusk
Rancho Peñasquitos Park – open from dawn to dusk
Torrey Highlands Park – open from dawn to dusk
Ward Canyon Neighborhood Park – open from dawn to dusk
#7 Neighborhood hop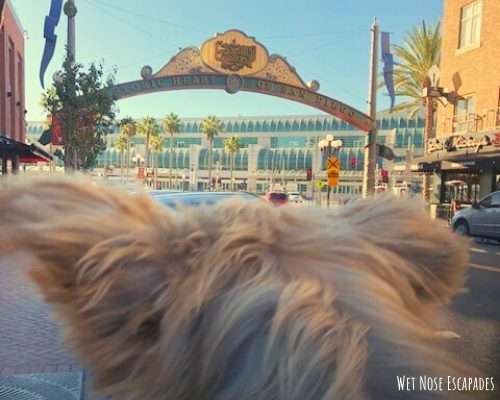 Besides the alluring weather and sandy beaches, the best part about "America's finest city" is its culturally diverse neighborhoods. In San Diego, you can devour authentic Neopolitan pizza in Little Italy, get a tan alongside broke college students AND the uber-affluent residents in La Jolla, march your paws with an upright tail during Pride week in Hillcrest, and bottoms up with locals and tourists in Gaslamp Quarter. And, don't forget the surfers' community in Pacific Beach and hipsters' central North Park (only 2 miles from Hillcrest). ARF, the list barks on! No matter which neighborhood you and your dog choose to venture into, you'll be amused by the pawsomely rich cultures the city has to offer.
Find out what essentials to pack for your dog!
#8 Melt your heart in Coronado
Just 6 miles from downtown and right across San Diego Bay, the tiny yet incredible city of Coronado is a MUST visit with your dog. Even after traveling the world since 2016, I can bark that Coronado never fails to melt my little Yorkie heart – many thanks to their legendary beach resort Hotel del Coronado. The 757-room "Hotel del" is famous for its stunning Victorian architecture with a wooden, white exterior and peachy rooftop.
I've seen plenty of designers brand-wearing furry friends walk their paws in and out like they own the place, which leads me to think that their dog policy may be laxed. Without exploring the hotel interior, you and your dog can still marvel at the exterior grounds of this charming masterpiece, stroll along their dog-friendly pathway, and wine and dine at their beachfront restaurants. I especially love chillin' at Sun Deck Bar and Grill to watch the sunset (but anywhere on Ocean Boulevard will give you an ARF-mazing view). Food and drinks are a little pricey but totally worth the view and ambiance.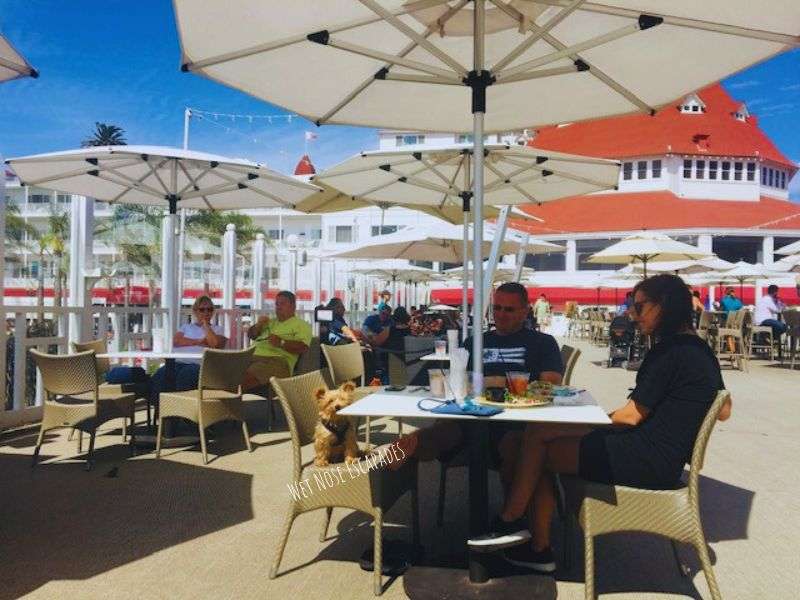 ARF-my-DOG, Coronado also has its own dog beach! Boasting leash-free romps year-round, Coronado Dog Beach is located directly across from Sunset Park on Ocean Boulevard. Hotel del Coronado is to the left!
#9 Grab a California burrito 
Since San Diego is right next to the Mexican border, you can only imagine that the Mexican influence has ravished this city since the beginning of time. ARF, originated in San Diego, a California burrito is a juicy, gigantic flour tortilla burrito wrapped with carne asada, guacamole, cheese, sour cream, and their key ingredient, FRIES! For my non-meat eaters, vegan and vegetarian versions of the burrito have also sprung up.
I love hitting up outdoor taquerias, which are ubiquitous in San Diego and always dog-friendly (and many taquerias will allow dogs inside for a quick to-go order despite an official "No Dog" policy). Grab those California burritos with your dog and walk to a nearby park or beach to get your grub on! Sniff out my two favorites: Taco Surf Pacific Beach (4657 Mission Blvd) and The Taco Stand (621 Pearl St in La Jolla).
Is your dog ready for an epic road trip? Get these 16 Dog Road Trip Essentials!
#10 Brunch it up
In this uber dog-lovin' city, most (if not, ALL) restaurants offer dog-friendly outdoor patios or sidewalk seating. Many foods and drink establishments provide doggie water bowls and dog treats to lure in furry customers, while some even boast special doggie menus. With pleasant weather year-round, San Diego is the perfect (I mean, PAWfect) city to dine outdoors with your dog. San Diegans and their furry friends are avid brunchers – bottomless mimosas, bloody marys, breakfast burritos, hashes, and scrambles conquer the tables as the human diners buy off their furry brunch dates with mouthwatering treats or table scraps.
My favorite dog-friendly restaurants in San Diego are the New Zealand-themed Queenstown Public House (1557 Columbia St), the Mediterranean eatery Olive and Basil (8008 Girard Ave #220), and the healthy-inspired True Food Kitchen (7007 Friars Rd Suite 394). 
Get my 8 tips on how to dine with your dog!
#11 Watch seals and sea lions in their natural habitat
GRRR. Forget marine parks (and zoos) where animals are bred in captivity or cruelly captured to live in unnatural habitats for human amusement. From La Jolla Cove to Shell Beach to Children's Pool Beach, you'll find plenty of beaches to see harbor seals and sea lions in their natural habitat – up close and personal. WOOF, I am so intrigued by these marine creatures – I'll take a couple of extra sniffs and perk up my ears to their loud honks and barks. Occasionally I'll even growl and bark to respond to theirs. Quick marine biology lesson – sea lions walk with their large flippers on land, whereas seals have small flippers and squirm on their bellies. With that barked, please respect these beautiful beings by observing from a safe distance and leashing your dog.
#12 Have some water fun
WOOF, for those water lovers, get a boat or hydrobike with your dog and enjoy the beautiful San Diego skyline from the bay. Exploring the San Diego Bay can be just as fun for your dog as the land – that is, if he's not prone to motion sickness. I'll bark the truth – I'm not a sucker for getting my paws wet, so water activities are a no-go for me. However, I know plenty of dogs who love hopping on a boat and dipping in the water (like my "little" Weimaraner cousin Sonny). Dogs who love the water are in luck since most aquatic rentals in SD are dog-friendly. Here are three recommended by my cousin:
Eco Boat Rental (2803 Emerson St) – Located in the San Diego Bay next to Point Loma Seafood Restaurant. Dogs are allowed on eco pedal boats (capacity up to 4 people + dog – maximum weight 600 lbs.)
Seaforth Boat Rental (1641 Quivira Rd) – Located in Mission Bay, dogs are allowed on power boats ranging 19'-25' and sailboats under 27'.
HydroBikes SD (1548 Quivira Way) – Also located in Mission Bay, dogs can hop on a hydrobike with their humans! Hydrobikes are a fun way to exercise and see the gorgeous waters of SD. 
*Be sure to keep your dog under control at a safe distance when encountering sea lions, seals, and other sea creatures.
#13 Go wine tasting
San Diego may not be Napa Valley, but it has its fair share of PAWtastic wineries. After all, you're still in California, the American capital of wineries. California has the best topography to create perfect (or I mean, PAWfect) conditions for vineyards. And yet, most have dog-friendly tasting rooms. Here are a few sniff-worthy ones in San Diego County:
Pali Wine Co. (2130 India St. San Diego) – Dogs are allowed on the outdoor patio at this chain wine-tasting bar in Little Italy with simple, yet trendy decor. 
San Pasqual Winery – Seaport Village (805 W Harbor Dr. San Diego) – Dogs are allowed at the outdoor seating of their Seaport Village tasting room. This is a small, family-owned winery based in nearby La Mesa, but has a tasting room in the city.
Blue Door Urban Winery (4060 Morena Blvd. San Diego) – Based out of nearby Julian, this urban winery specializing in high-quality reds has a dog-friendly tasting room in the city. 
#14 Shop & stroll at Seaport Village (849 W. Harbor Dr.)
OK, I'm not much of a shopper, but I love taking a stroll at the 14-acre Seaport Village, a complex featuring premier shopping, dining, and entertainment near the San Diego Harbor in Downtown. There are 54 retail shops, 13 casual/fast-food spots, and 4 upscale eateries with waterfront views – many of which welcome dogs with open PAWS. I love it here because there's so much energy and things to do – I can shop til I drop (if I choose), get a sniff of the harbor, devour a nice meal on one of their many dog-friendly patios, and sniff out (and mark up) the furry guest book on the large grassy lawn. Arf yeah, the dog-friendly San Pasqual winery is here!
#15 Rest those furry paws
Dog-Friendly Hotels are ubiquitous in San Diego BUT do expect to pay a fee for your dog's stay. Except for Motel 6 (which has locations in Downtown, Mission Valley, and Seaworld) and Kimpton Hotel (Downtown), most (if not, all) hotels in the city will likely charge a daily or weekly fee for your dog.
Motel 6 – Downtown
2-star hotel – nothing to brag about, but it does the job if you're on a tight budget
1546 2nd Ave. 
Two dogs stay FREE, like at all Motel 6 locations
DoubleTree by Hilton – Downtown
3-star hotel
1646 Front St.
Dogs are allowed with an additional fee of $150 per stay with a maximum weight limit of 100 lbs.
2 dogs maximum per room
Off-leash area nearby
Hilton – Bayfront
4-star hotel
1 Park Blvd.
Dogs are allowed with a $50 non-refundable fee with a maximum weight limit of 75 lbs.
Kimpton Alma – Downtown 
4-star hotel
1047 Fifth Ave.
Dogs stay for FREE, like at all Kimpton hotels (no restriction to type, size, or #)
#16 Lick the plate clean at Phil's BBQ (3750 Sports Arena Blvd. – Point Loma)
Mmm mmm. It's time to get my furry paws greasy, and WOOF, I got dibs on EVERYTHING at Phil's. Since 1998, Phil's has been an iconic bbq joint in San Diego, filling the bellies of San Diegans, Californians, domestic visitors, and even foreign travelers! From mesquite-barbecue baby back and beef ribs (for carnivores like me) to mouth-watering sides like potato salad & fresh coleslaw to veggie sandwiches (for my human who reduces meat consumption whenever possible), Phil's menu has something for EVERYONE. With an inviting dog-friendly patio, this paw-lickin' experience is meant to be enjoyed with your dog! 
*As dogs are pack animals who'd LOVE to experience meals with you, don't forget to pack a bag of treats, dog-safe food, bottled water, and to-go bowls for your dog! Don't make your dog feel left out.
#17 Shop at luxurious pet boutiques and doggie bakeries
WOOF, it's time to get my paws on some doggie luxury! One of the best parts about going to a dog-friendly city like San Diego is the myriad of pet boutiques and doggie bakeries. Here are a few MUST-SNIFFS whenever I'm in town:
Paw Pleasers Dog Bakery (2818 University Ave.) – ARF-my-DOG! Proclaimed as the city's first pet bakery, this spot (or SPAWT) really got my wet nose sniffing and chops lickin'. Paw Pleasers specializes in fresh-baked birthday cakes for dogs and cats, cookies, and ice cream. YUM!  
Muttropolis (227 S Cedros Ave. Solana Beach) – From stylish collars to organic chews & treats, Muttropolis is a luxurious pet boutique that organizes weekly doggie meet-up and playtime. 
#18 Take a scenic hike
Surrounded by stunning hills and the Pacific Ocean, San Diego has (unsurprisingly) miles and miles of scenic trails – many are dog-friendly.
Mission Trails Visitor Center Loop (1 Father Junipero Serra Trail) – An easy 1.4 loop (ideal for small dogs like myself) that starts from the Visitor Center that takes about 35 minutes to complete. Dogs must be leashed.
Balboa Park Gardens Loop (at Balboa Park) – This flat, paved 1.4-mile loop makes an ARF-mazing walk with your dog. After all, it is surrounded by the beautiful Rose Gardens and some of the best museums San Diego has to offer. Dogs must be leashed and under control of their humans at all times. 
Embarcadero to Spanish Landing – Spanning at nearly 8 miles roundtrip, this trail is more suitable for bigger dogs like my Weimaraner cousin Sonny. However, since it's still considered an easy trail, dogs of all sizes are welcome to venture. Some areas are also off-leash.
Lake Kumeyaay (2 Father Junipero Serra Trail) – Located in the heart of the Mission Trails Regional Park, this small campground is only 12-miles northeast of San Diego. There's a <2-mile trail that takes you to the shores of Kumeyaay Lake. Dogs must be leashed.
Sunset Cliffs Walk – Located inside Sunset Cliffs Natural Park, this quick 2-mile scenic trail makes a relaxing walk, especially for a small (athletic) dog like me! Plus, it only take 45 minutes from start to finish. Dogs must be on-leash. 
Fiesta Island Trail (Mission Bay Park) – Located at Mission Bay Park, this 4.2-mile coastal trail boasts paved walkways and beautiful bay views. Some parts of the trail are off-leash. 
*Be sure to keep your dog on-leash unless in areas where off-leash is allowed. Don't forget to be a good visitor and pick up after your dog!
#19 Bar hop
WOOF, it's time to drink up and PAWTY – with your dog right next to you! Like dog-friendly restaurants, dog-friendly bars are all over the city. Bars with outdoor patios almost ALWAYS welcome dogs with open paws (with dog bowls served), and it's also NOT atypical to find dogs INSIDE some bars. Get your drink on at Home & Away (2222 San Diego Ave.), Lazy Dog Restaurant & Bar (1202 Camino Del Rio N.), The Tilted Stick Bar & Grill (4970 Voltaire St.), and The Regal Beagle (3659 India St.).
#20 Watch the Padres at Petco Park
YES, it's true – dogs CAN watch the San Diego Padres at Petco Park! Although Petco Park technically prohibits dogs from entering the stadium (except for ADA-defined service dogs), they've hosted countless dog-friendly events, including "bring-your-dog" game days like "Dog Days of Summer." Additionally, Petco is proud to feature the ARF-so-pawsome THE BARKYARD, which boasts 5 semi-private, dog-friendly viewing sections in left-center field for every Padres home game. Each section can accommodate up to four people and two dogs! If you're looking to take your dog to a game while in town, be sure to plan accordingly.
BONUS: Sniff out Barks and Brews Fest
For all the beer and dog lovers, Barks and Brews Fest is a MUST! Usually hosted at scenic Waterfront Park, Barks and Brewfast is an ultra-fun social event featuring craft beer tasting, yummy food, local vendors, dog contests, and off-leash zones. Most imPAWtantly, it benefits The Barking Lot Rescue, a non-profit rescue organization in the city dedicated to dog adoption and foster homes. WOOF, gotta wag my tail to that. This massive dog-friendly event happens once a year, so be on the lookout and check their website for some furry mingling fun!
Watch some of my highlights from visiting dog-friendly San Diego & Coronado:
WOOF, hope you enjoy these dog-friendly activities in San Diego! Subscribe to my YouTube Channel: Wet Nose Escapades by Roger Wellington for fun dog travel videos.
Markin' it up,
Roger Wellington a.k.a. The Doob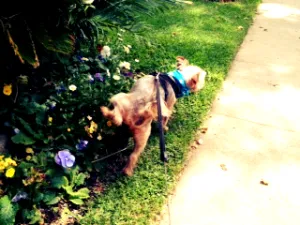 Like my post on "20+1 Dog-Friendly Activities in San Diego?" CLICK TO PIN!