Are you looking for dog-friendly activities in San Francisco? WOOF, I got you covered! I may have racked up thousands of miles around the globe, I left my little BIG Yorkie heart in San Francisco, my home sweet home. San Francisco consists of distinctive neighborhoods that are home to people from China, Vietnam, Thailand, Mexico, Russia, etc. as well as 4th or 5th generation San Franciscans and techie transplants. Moreover, most of the city's best neighborhoods are dog-friendly – from my old hood the Marina to the foggy Richmond District to the hipster Mission. While the city is not uber dog-friendly like Paris and Vienna, there are plenty of PAWSOME dog-friendly activities to be found.
Last Updated 6/29/23
*Please note that this post contains affiliate links, and at no obligation or additional cost to you, my humans and I earn a small commission if you make a purchase. If you love the work that we do, you can show your support by making a purchase through an affiliate link. Proceeds will go towards feeding homeless dogs (and cats) along with improving the lives of the neglected and abused.
Sniff out 10+1 best dog-friendly activities in San Francisco (as barked by ME, the San Franciscan dog) – #5 is my human's favorite! 
#1 Stroll to Crissy Field from Marina Green 
Surrounded by multi-million dollar houses, Alcatraz, and enticing views of Golden Gate Bridge, Marina Green is my GO-TO dog-friendly spot. It's also my old stomping ground. When I lived in the city, I roamed around this dog-friendly picturesque grassy area every single day. Starting from Marina Green, I love strolling westward on Marina Boulevard until my tiny alpha paws hit Crissy Field, a former U.S. airfield with jaw-dropping views of the bridge. Even though I have to frequently battle the wind, the backdrop of the iconic Golden Gate Bridge is timeless. As the entire walk is dog-friendly with clean spaces (a nice breather compared to Downtown or Tenderloin), you'll likely come across many impeccably groomed San Franciscan dogs here – both off and on leash.
#2 Wander around Golden Gate Park 
Housing several gardens, famous museums, and lakes, Golden Gate Park is GIGANTIC (which just means a lot of work for me to do)! ARF, my wet nose just goes crazy here. With FOUR designated dog areas, dogs can pretty much roam around off-leash all day. This well-maintained park is a pawsome place to socialize your dogs (and yourself :)). Just remember to follow the rules and leash them where required. 
Find out what essentials to pack for your dog! 
#3 Explore the grounds of the Palace of Fine Arts 
ARF! One of the best places for human and dog-watching in my old hood! Besides being the perfect setting for wedding and engagement photos, the stunning grounds of the Palace of Fine Arts are very dog-welcoming, making it a spectacular place to explore with dogs. With its Greek-Roman rotunda and columns, this San Francisco architectural beauty sure feels (or smells) like a different world. Come during non-peak hours for a more relaxing stroll with your dog. 
#4 Hike Coit Tower 
San Francisco is not short of scenic dog-friendly hikes, but I especially love this short climb up to Coit Tower in Telegraph Hill, which borders North Beach. Even for a small senior dog like myself, the 20-minute or so hike up to the iconic Coit Tower is pretty easy – just be careful of opposing traffic and wet, slippery steps (on rainy days)! Climb up from Greenwich steps and climb down from Filbert steps. You and your dog will feel like you're in an urban forest as you pass by local residences and hear some wildlife. Even though dogs aren't allowed inside the tower, the surrounding beauty is enough for some amazing views of the city and the bay (in other barks, IG-worthy pictures)! If you aren't down for the trek, you can always take the elevator up and still enjoy the sweeping views. 
Sniff out my 10+1 favorite dog parks in San Francisco!
#5 Walk to Aquatic Park from Great Meadow
Just east of Marina Green lies Great Meadow in Fort Mason, which offers a wide dog-friendly green space with both fantastic harbor and city views. This area is the perfect location for a weekend hangout with your dog! My humans and I picnicked here until our very last day of SF residency (along with the other 20 to 30-something-year-olds and their dogs). Heck, you can even get pizza delivered while playing ball with your dog. For another unforgettable dog-friendly walk, take the mesmerizing scenic path to Aquatic Park near Ghirardelli Square. Just follow the signs to the Pier/Fisherman's Wharf! 
Watch me fly around the world! 
#6 Play "Full House" at Alamo Square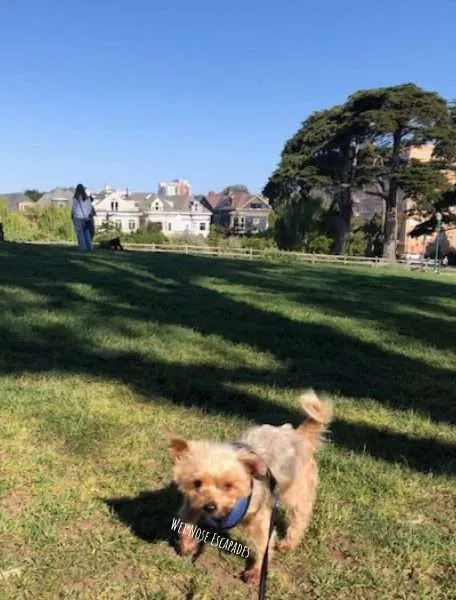 Sing "Everywhere you look (everywhere you go)" while you and your dog pretend to be DJ Tanner and Comet in Full House. Gosh, I love sniffing out the scene here across from The Painted Ladies (the ARF-so-famous Victorian and Edwardian houses). Besides the heartwarming feeling known as nostalgia, Alamo Square offers a cool dog play area on Fulton and Scott Street with the western half of the park allowing dogs to go off-leash. As it can get pretty busy, this area is quite the social place for dogs to sniff butts, play fetch, and show off who's BOSS a.k.a. MARK IT UP.
Now, if you're looking for the actual Full House house, walk your furry paws a mile north to 1709 Broderick St. in Lower Pac Heights. Since the filming actually took place in LA, only the exterior of the house was used in the opening credits. Sadly, the red door is gone though! 🙁  Just a bark to be sure to be respectful and quiet as this is private property! 
Get my exclusive dog-friendly travel tips HERE!
#7 Eat and drink with your dog (
outdoors)
Dining out with your dog is one of the most popular dog-friendly activities in San Francisco! Although San Francisco is not like Paris where you can dine indoors anywhere with your dog, you can still eat and drink with your dog outside – well, on most outdoor restaurant patios or sidewalk dining spaces. Throughout my entire SF residency, I was only denied once for outdoor seating (the law gives authority to the restaurant owner whether or not to allow dogs on their outdoor dining areas). However, I was warmly welcome more than several times INSIDE bars and restaurants just because the staff was super sweet and dog-lovin'. Nevertheless, the safe bet is to find places with outdoor seating or grab food on-the-go (Mission burrito, anyone?)! Try some of my favorite dog-friendly restaurants: Osha Thai (4 Embarcadero Center), Tacolicious (2250 Chestnut St), Flores (2030 Union St), and Squat and Gobble (2263 Chestnut St).   Get my 8 tips on how to dine with your dog!
Sniff out my list of 16 BEST Dog-Friendly Restaurants in San Francisco!
#8 Run loose at Ocean Beach 
YES, Ocean Beach IS dog-friendly. Located in the Richmond and Sunset districts, Ocean Beach is massive, stretching over 3 miles. I've spent many afternoons digging for gold and running against the winds here. Heck, I even went to a campfire here many moons ago. If you and your dog are up for some chilly beach time, Ocean Beach is THE SPOT for dogs to go off-leash, run loose, and take a dip. Don't forget to bring a sweater or blanket for your dog, just in case it gets too cold. After all, Mark Twain said, "The coldest winter I ever spent was a summer in San Francisco." My other GO-TO dog-friendly beaches in San Francisco are Baker Beach, Fort Funston, and Crissy Field East Beach. 
#9 Visit the famous Fairmont Hotel 
WOOF-HOO, the luxurious Fairmont Hotel in Nob Hill is dog-friendly! Hosting many famous VIPs throughout the years, this historic property is an AAA Four-Diamond luxury hotel that is added to the National Register of Historic Places. As I returned to San Francisco for an event, I wagged my tail as I entered their classy Casablanca Suite on the 6th floor. And dog, was that a fancy pawty! Who doesn't want to be pampered? Fresh water, dog bowls, a fancy dish mat, and a comfy dog bed (although I prefer to take over the massive KING bed with ultra-soft human pillows) were waiting in the suite for my pawsome arrival. Depending on the season, their basic room (Signature room) starts at around $400 a night PLUS $75 pet fee. If you don't want to fork out the cash, NO PAWBLEM – you and your dog can still get a sniff (and pictures) of the elegant, lavish hotel interior and iconic Art Deco exterior. Just a bark that the Architectural Digest calls the Fairmont lobby one of "Top 15 Most Beautiful Hotel Lobbies in the World." ARF-my-DOG!
#10 Hang out at Lafayette Park 
Another favorite dog-friendly park of mine! Located in ritzy Pacific Heights, Lafayette Park is meticulously designed and landscaped (not to mention, clean). Come on, it's only located on a HILL surrounded by multi-million dollar homes with incredible views of the Marina, Alcatraz, and the Bay! WOOF, did I bark that their off-leash dog area rocks? With top-of-the-line artificial turf, gate, and fence, this grand dog park only cost a jaw dropping $305,000 and is bound for canine fun anytime of the year. Sniff out my other favorite dog parks in the City.
BONUS ACTIVITY
If you have a small dog like me, you can take hop on a ferry to Sausalito. A 30-minute ferry ride from San Francisco will take you and your dog to timeless views of the Golden Gate Bridge and a charming waterfront walkway with restaurants and shops. Official ferry rules state that dogs are allowed on the ferry FOR FREE as long as they remain in a handheld kennel or airline-approved carrier.
Big dogs can hop onto the Blue & Gold Fleet vessel from Pier 41 in the city as long as they're on a leash. Small dogs can also board as long as they're in an approved carrier. Per their policy, you must be able to control your dog at all times; otherwise, your dog may be subject to removal.
Practical Information: Getting around San Francisco with your dog
For harder to reach places, ride Uber/Lyft with your dog. If you're traveling with a small dog like me, don't forget to bring a carrier. My fabulous green carrier has been in more countries than the average human on Earth – Get yours HERE!
If you prefer public transportation, I've compiled some useful information below:
SF Muni Pet Policy, from SFMTA website:
Pets

may not

ride Muni during peak hours:




Monday through Friday




5:00 am – 9:00 am




3:00 pm – 7:00 pm

During off-peak hours,

only one pet per Muni vehicle

is allowed to ride.

Dogs must be leashed and muzzled and can only ride on the lap of the rider or under their seat;

all other pets must be carried in a small closed container on the lap of the rider or under their seat.

Pet owners or guardians

must pay a fare equal to their own

for their pet to ride.
*Always check the official website for changes or updates
BART (Bay Area Rapid Transit) Pet Policy, from BART website:
Trained service animals assisting people with disabilities, or properly secured pets, are welcome on BART at no extra charge when following these guidelines:
Service animals must be on leash or harness. For additional accessibility accommodations please contact the Customer Access and Accessibility Department.

All non-service pets, including dogs whose sole function is to provide comfort or emotional support, must travel in a secure, enclosed carrier specifically manufactured for transport of a pet.

Keep animals off seats and out of aisles.
*Always check the official website for changes or updates
Cable Cars Pet Policy
One dog is allowed per passenger during non-commute hours. Dogs are not permitted to ride weekdays 5-9 a.m. and 3-7 p.m.
10 Tips for Summer Travel with Your Dog
Hope you and your dog enjoy these dog-friendly activities in the City by the Bay! Although I only barked out 10+1 of my favorites, dog-friendly activities in San Francisco are innumerable. With breezy weather almost year-round, San Francisco is a delightful city to visit with your dog anytime.
Don't forget to share your trip with me. What is your favorite dog-friendly activity in San Francisco? BARK AT ME. Sniff out other dog-friendly places I've conquered with my alpha paws.
Markin' it up,
Roger Wellington a.k.a. The Doob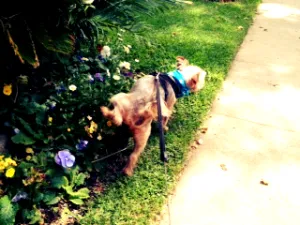 Like my post on "10+1 Dog-Friendly Activities in San Francisco, CA (from the San Franciscan Dog)"? PIN IT!