HALLO, escapaders! Watch me explore dog-friendly activities, places, and restaurants in Vienna, Austria as an American dog traveler. From claiming my throne at The Hofburg to late-night chilling at the wüstel or bratwurst stands, I love making my alpha mark in Vienna, one of the most dog-friendly cities that I've ever set my tiny paws on Planet Earth.
Press PLAY with your furry (or greasy) paw to watch me find all the dog friendly activities in Vienna:
Get your paws on my recommended dog travel essentials!
Video Highlights:
Getting a free, dog-edible bratwurst (YUM!)
Claiming my throne by making alpha commands at The Hofburg
Waiting for a table at Cafe Sacher (at the luxurious Hotel Sacher) to get a lick of the Original Sacher Torte
Playing (or I guess, BEING) tourist at Figlmüller (schnitzels, anyone?)
CRAZY hair at Rathauspark
Sniffing for PRETZELS
Watching Viennese humans perform and trying to "understand" them
Shopping for delicious goodies at Nashmarkt
Setting my furry paws on a vineyard
Don't forget to sniff out my post on Top 10 things to do with your dog in Vienna, Austria!
My Dog Friendly Travel Score for Vienna: 9.5/10
Dogs allowed at restaurants? YES, INSIDE! No questions asked, no nasty looks. Water bowl served pretty quickly. 🙂
Dogs allowed in public spaces? YES
Dogs allowed inside markets? NO (I had to take off a 1/2 point for this :(. Otherwise, I would have barked out a perfect 10 for Vienna)
Dogs respected as companion animals? YES, absolutely (with some of the strictest animal rights laws in the world)
High number of stray dogs? NO, I encountered ZERO.
Hope you enjoy watching me sniff out all the wonderful dog-friendly activities in Vienna. Feel free to share your barks on your dog travel experience in Vienna. If you need help preparing, click here to find out what you need for your travel dog.
If you're loving my videos, be sure to subscribe to my YouTube Channel: Roger Wellington. And, don't forget to check out where else my humans and I have marked up!
Markin' it up,
Roger Wellington a.k.a. The Doob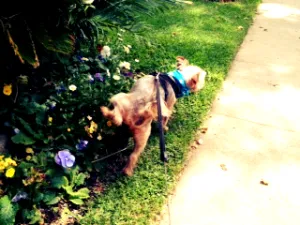 Like my post on "Dog Friendly Activities in Vienna: An American dog travels to Austria"? PIN IT!