WOOF, wanna know if Adelaide is dog-friendly? Or what should you do with your dog in Adelaide? Perk up your ears and hear some TOP DOG barks!
*Please note that this post contains affiliate links, and at no obligation or additional cost to you, my humans and I earn a small commission if you make a purchase. If you love the work that we do, you can show your support by making a purchase through an affiliate link. Proceeds will go towards feeding homeless dogs (and cats) along with improving the lives of the neglected and abused.
The coastal capital of South Australia, Adelaide is known for opals, Indigenious art, head-tiltin' architecture, ultra-cool festivals for every season, rich cultural heritage, and ARF-course, sweeping views of natural scenery. From Cleland Conservation Park with Mt. Lofty to River Torrens to Cobbler Creek Recreation Park, this pawtastic city is an oasis of stunning Australian nature. With a metro population of nearly 1.4 million people, I can only guess that there are quite a few dogs who bark Adelaide as their home. Is Adelaide dog-friendly? AWOOOO, although I haven't set my furry paws in Australia myself (thanks to some of the strictest dog import requirements known to "dog-kind." GRRR.), my stylish tail is wagging to have my Aussie pals Cathie (human) and Winnie the Mini Poodle to share the dog-friendly Adelaide life with us.
A bark about my pals in Adelaide:
Cathie (human) is retired and living with Winnie (Little Win), her 8 kg, 5-year-old miniature Poodle. Besides being your typical spoiled dog, Winnie is also a therapy dog who frequents a hospital in the city. WOOF, so let's just bark that she's one badass doggie! With a sweet personality and cheerful disposition, Winnie is the sweetest dog Cathie has ever had. 🙂
As you would only guess, these two ladies are inseparable best friends! Winnie loves doing anything she can do with Cathie, from walking every morning to playing fetch at the park. ARF-course, like any pampered pooch, she loves her toys and her weekly visit to Doggie Daycare. In the words of her human, "Winnie is so spoiled that she has her own wardrobe that is full of all types of clothes, harnesses, leads and accessories." What a dream, ARF-my-DOG!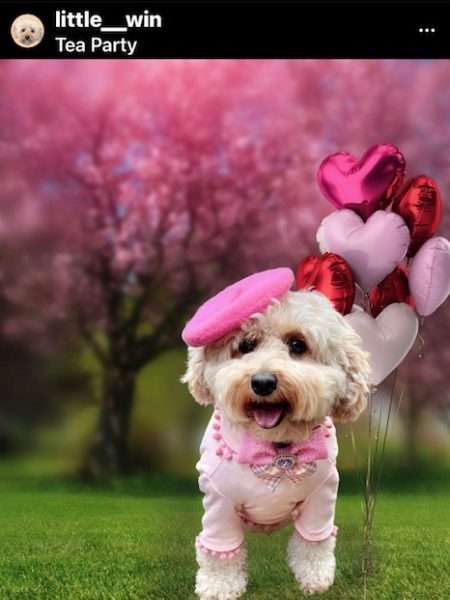 Two things that Winnie arf-solutely hates are cats and cars (which I don't mind tbh, especially with my crazy cat cousins back home and countless road trips under my Yorkie belt). And, unlike my undiscriminating appetite, she hates anything raw and ONLY prefers cooked food (what a fancy gal). Although I'm not sure if I wanna try, Kangaroo and Lamb are her favorites (ARF course, I won't hate :)).
The Dog Culture in Adelaide
Even though Cathie was not allowed to have a dog growing up, this Aussie was always an animal lover as far back as she can remember! At age 19, she finally got her first dog. According to her and Winnie, Adelaide is a city filled with a plethora beautiful parks and gardens and dog-friendly beaches. Plus, no strays! BUT the biggest challenge to having a dog is limited dog-friendly shops. Nonetheless, people in Adelaide are pretty tolerant with dogs as more people take dogs into their home. Their biggest peeve is, PAWS DOWN, dog pawrents not picking up after their dog (and unnecessary barking).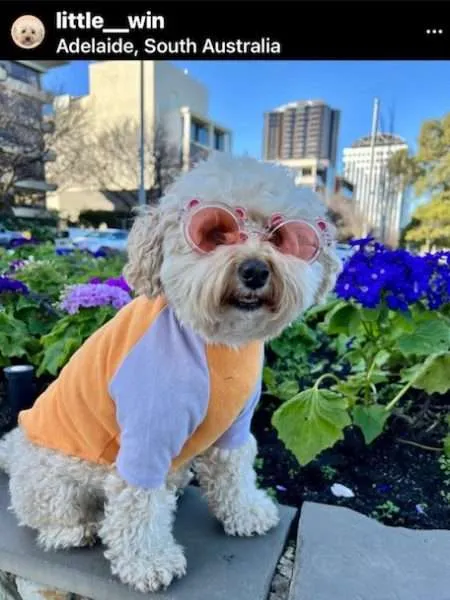 In Adelaide, the dog community is alive and well and has become more so since Covid. Having dogs is a great excuse to get out and meet fellow like-minded dog pawrents.
Adopt vs. Buy in Adelaide
Per Cathie & Winnie, pets are HOT commodities in Adelaide since and during Covid. Unfortunately, a few pet shops selling dogs in Adelaide exist (GRRR). As far as they know, most dogs are purchased online or from breeders. People still rescue dogs, but they are harder to find in the smaller designer breeds that people are after.
BEST Dog-Friendly Parks in Adelaide & surrounding areas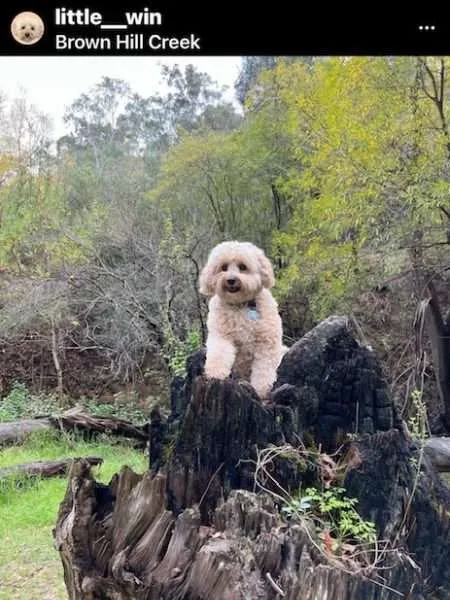 Marshmallow Park – There's a fenced-in dog park located at the northern end of the park with natural obstacles and a doggie water play feature
Goodwood Oval – Big sports complex park in Millswood with plenty of areas for dogs to run around
Orphanage Park – Off-lead dog park in Millswood where dogs can roam free at all times! But keep in mind that the dog park isn't entirely fenced :/
Victoria Park Racecourse and Wetland – Also known as Park 16 and Pakapakanthi, Victoria Park used to be a horse racing course :(, but now it's a dog-friendly public park. In May 2022, an impressive 3.2-hectare wetland in the southern end of the park opened in May 2022, costing a whoppin' $13 million!
BEST Dog-Friendly Restaurants
All places that Winnie frequents only allow dogs outside except Smiling Samoyed, which allows dogs inside.
La Crema – St. Marys (14 Denis St, St Marys SA 5042)
Dear Daisy – Forestville (66 Leah St, Forestville SA 5035)
Oceanique – West Beach (9 Barcoo Rd, West Beach SA 5024)
Smiling Samoyed Brewery – Myponga (Hansen Street, Myponga SA 5202)
Fare and Square – North Adelaide (6/8 Wellington Square, North Adelaide)
Dog-Friendly Tourist Attractions in Adelaide
According to Cathie & Winnie, Adelaide boasts numerous dog-friendly beaches close to the city. There are also many dog-friendly wineries in the Barossa, Mclaren Vale, and Adelaide Hills. Not to bark, a few dog-friendly distilleries and breweries.
Belair National Park – Wild bushland home to koalas and kangaroos
Carrick Hill – Historical property and former home of Sir Edward Hayward resting at the foot of the Adelaide Hills
HarbourTown – Shopping mall outlet offering brand-named items at discounted prices
Kuitpo Forest – A 3,600 hectares of forest just 25 miles southeast of Adelaide that is a great place to take your dog for a walk in nature
Gilles at the Grounds – Pawsome indoor market at Wayville Showgrounds where dogs are welcome
TOP 5 things to do with a dog in Adelaide
#1 A walk through the Victoria Park Racecourse and Wetlands. Great for all dogs!
#2 Walk through Belair National Park
#3 Picnic at Carrick Hill
#4 Walk along any of the Adelaide Beaches
#5 Shopping at HarbourTown Outlet
Winnie's Travels in Australia
Winnie has had many memorable stays down the Fleurieu Peninsula and Clare Valley where she and Cathie stayed in beautiful pet-friendly houses and accommodations. Winnie travels extremely well and has never been car sick. She is always happy to be harnessed in and take on a new adventure. Do I sniff a born traveler here? 🙂
Winnie's Veterinarian Care in Adelaide
The closest veterinarian to Winnie is only less than 1 km, and that is an emergency vet. Her regular vet is approximately 4 km away, which is still supaw close. Luckily, she has at least five other vets in proximity! She usually gets vaccinations when consulting a vet, but a standard exam typically costs around $100-$150. As Winnie's pawrent, Cathie is very happy with the level of care received at her vet and emergency vet. ARF-ter all, she gives the veterinary care in her area an EXCELLENT rating.
Can Dogs go on Public Transportation in Adelaide?
NOPE! Per Cathie & Winnie, dogs are NOT allowed or welcome on any form of public transportation in Adelaide unless they are registered service animals.
Dog-Friendly Housing in Adelaide
According to Cathie, there are quite a few pet-friendly housing in the holiday areas near Adelaide. However, pet-friendly long-term rentals are few and far between. 🙁 People are still very discriminating when renting a property to anyone with dogs. She has found herself paying an extra deposit when getting a holiday rental in the form of a bond.
Winnie's Wish List for Dogs in Adelaide
Cathie & Winnie would like to see dogs accepted in more rental properties and eateries. It would also be lovely if dogs are allowed to shop in non-food shops. They feel that people still live in the dark ages with the acceptance of dogs in public areas. Dogs are now part of people's families as opposed to animals living outside in kennels. People have come a long way in pet ownership, and Adelaide needs to move with the times. For instance, Cathie would love to be able to take Winnie on public transport, which would be ARF-MAZING!
But ultimately, they still recommend that people visit Adelaide with their dogs. Adelaide is behind the eastern states where dogs are allowed. However, they are hoping that it will be rectified down the line. Adelaide still has lots to offer, including beautiful beaches and parks that dogs would love.
Winnie's Final BARK for Adelaide
ARRRF, why is Adelaide worth a visit? Fabulous wineries, beaches, parklands, and close to numerous holiday districts!
Thank you to Cathie & Winnie for sharing their dog-friendly Adelaide life with us! Can't get enough of Winnie? Be sure to follow her paw prints on Instagram!
Are you interested in taking your dog to Australia? Sniff out the ARF-so-long, roughly 20-step import process coming from the U.S., which includes permits, vaccinations, parasite treatments, blood tests, and mandatory 10-day quarantine. WOOF, just a bark that I wouldn't recommend traveling to Australia with your dog unless it's for a permanent or long-term move.
Markin' it up,
Roger Wellington a.k.a. The Doob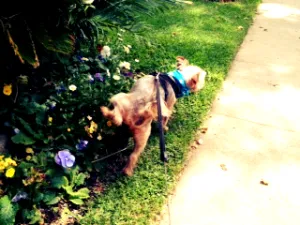 —
Like my post on "Dog-Friendly Adelaide with Winnie the Mini Poodle" CLICK TO PIN!