Looking for dog-friendly beaches in Malibu, California to get your paws sandy? Keep on sniffing!
Posted 9/2/21
*Please note that this post contains affiliate links, and at no obligation or additional cost to you, my humans and I earn a small commission if you make a purchase. If you love the work that we do, you can show your support by making a purchase through an affiliate link. Proceeds will go towards feeding homeless dogs (and cats) along with improving the lives of the neglected and abused.
WOOF, let's bark about one of my favorite beach cities in the world – Malibu! West of the city of Los Angeles along the stunning Pacific Ocean, Malibu is a fabulous beach city with some Top Dog prestige unlike any other. After all, it's infested with A-listers and multi-million dollar ocean view homes. ARF-my-Dog! From Baywatch to Two and a Half Men, Malibu beaches are, without a bark, world-famous and attract domestic tourists along with visitors from Europe and Asia. Are Malibu beaches dog-friendly? Can you have a beach day with your dog? As a furry world traveler with a long-time base in SoCal, I am wagging my stylish tail to bark – YES, you can take your dog to Malibu. However, contrary to popular belief, there aren't many dog-friendly beaches in Malibu. In fact, there is only ONE public beach here that allows dogs on leash (but don't lower that tail now because that beach is still pretty pawsome).
Hence, "dog-friendly beaches in Malibu" sound deceiving because there's technically just ONE public beach in the city that allows dogs, and one beach only.
According to the city's official website, "Dogs are not allowed on any beach in Malibu. If you bring your dog to the beach, you will be asked to leave, and you may also be cited. Leo Carrillo State Beach (near the Malibu/Ventura County line) does allow dogs on leash in some areas. Malibu does have a designated dog park area located in Trancas Canyon Park."
Now, how's that one and only dog-friendly beach in Malibu? Follow my alpha paw prints, and I'll also let you in on a little secret!
The REAL Bark about the Dog-Friendly Beach in Malibu:
The dog beach is part of Leo Carrillo State Park, which rests along the Malibu coast and boasts 1.5 miles of beach. Dogs are allowed ON-LEASH only in North Beach in the area north of Lifeguard Tower 3. This includes Staircase Beach, which is also dog-friendly with a separate entrance at 40000 Pacific Coast Highway.
North Beach (north of Tower 3): 35000 Pacific Coast Hwy Malibu, CA
Staircase Beach: 40000 Pacific Coast Hwy Malibu, CA. Make a U-turn when you see 40000 Pacific Coast Highway. Then, slowly and carefully drive back south past the gated state park manager's residence until you see the discrete entrance to your right. Unfortunately, I didn't see a sign.
Parking can be found on the Pacific Coast Highway, but you should check for any parking restrictions. It can also be dangerous to pull your car into a spot on the side of a busy highway, so please be careful! After parking on the PCH (Pacific Coast Highway) near Tower 2, I started walking my furry paws toward the water only to find a "No Dogs Allowed" sign. GRRR. As I headed towards Tower 3, my tail wagged to sniff out the following sign:
Needless to bark, this small dog-friendly beach is easy to find!
The beach was clean, well-maintained, and quiet (especially for a weekend). I sniffed out a few canine pals getting their paws sandy with their humans and a chic Yorkie chick hanging out with her family under a beach umbrella. You know you're in SoCal when you can't stop sniffing a cutie you just met! Regardless, this place didn't feel like a crazy dog park. Since it wasn't busy (and I'm so well-behaved), my humans felt tempted to let me off-leash, BUT then rules are rules. GRRRR.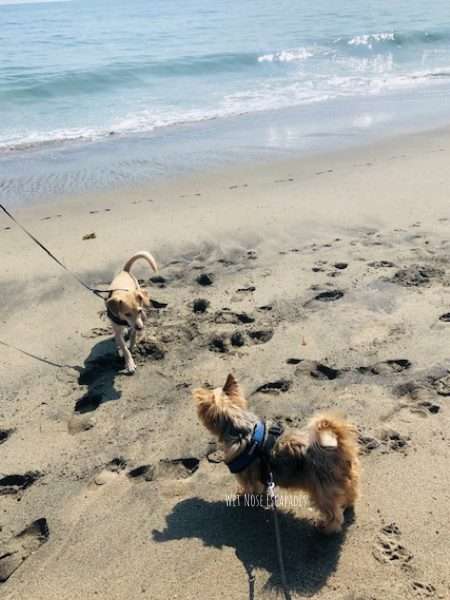 Although I've lived on the Greek Islands, I'm not much of a furry swimmer myself. Instead, I prefer to stand back with an upright tail and watch those turbulent waves from a safe distance. But heck, I know many dogs who love to take a dip. As for me, I like to keep my furry paws nice and dry. With that barked, I don't mind if my nose and paws get a little sandy. I love getting down and digging for gold (or some shade against the scorching SoCal sun). However, your dog chooses to enjoy the beach, be sure to pack poop bags and clean up after your dog like a responsible pawrent.
A TV show was being filmed during my visit, which was pretty cool (although it looked like a bootleg Baywatch). As LA is one of my home bases, I've become quite accustomed to seeing Hollywood sets; hence, my little wet nose didn't do extra sniffs. Nevertheless, for visitors new to LA, seeing a film crew and actors on set can be ARF-citing!
Unless you find parking along the highway (which probably isn't the safest) as I did, you'll have to pay the following rates at Leo Carrillo State Park:
All-day – $12.00 per car, per day
3 hours – $9.00 per car
2 hours – $6.00 per car
1 hour – $3.00 per car
There's also a parking lot right behind the dog beach.
Besides the dog beach at North Beach, dogs are also allowed in the Park's day-use areas and campgrounds at Leo Carrillo State Park. Per their official website, dogs are NOT allowed on backcountry trails or south beach (south of Lifeguard Tower 3).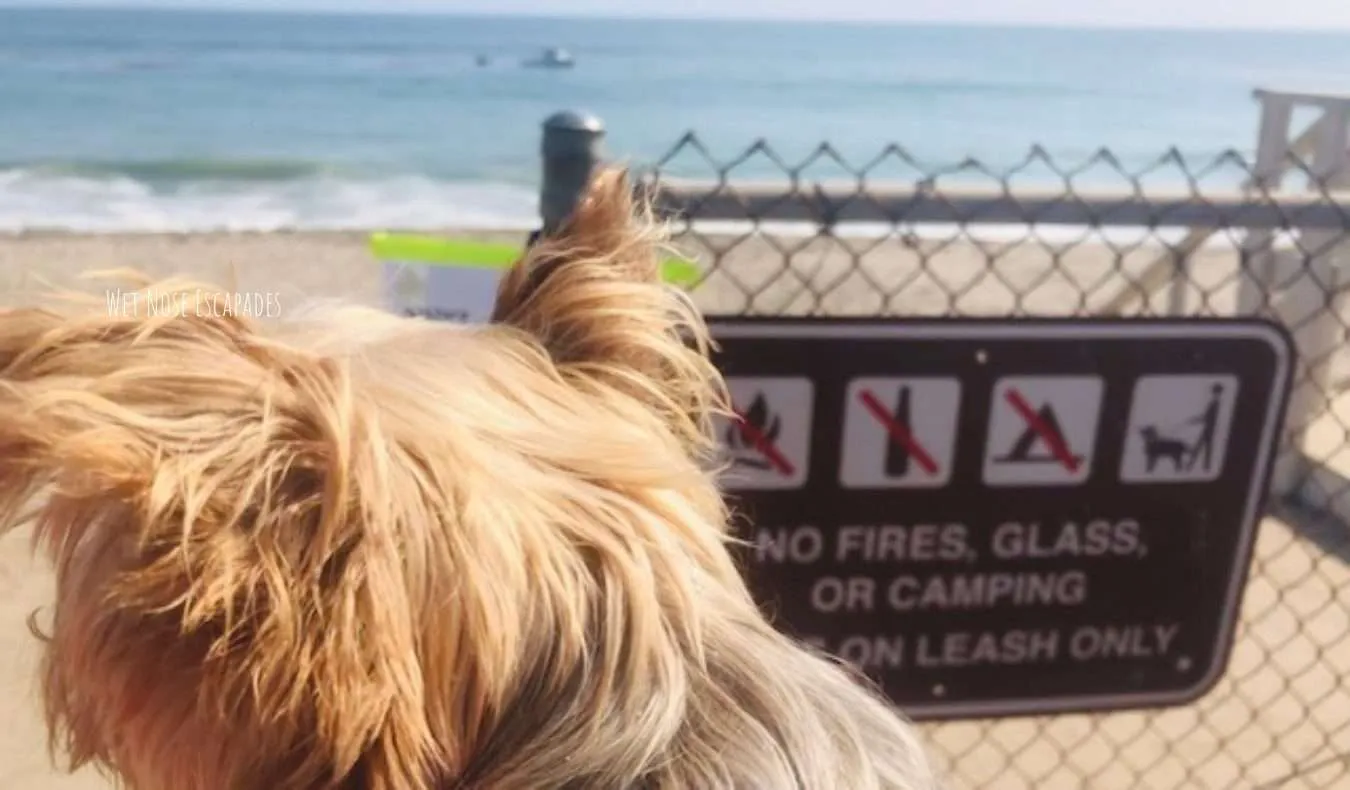 Top Dog Secret
OK, Malibu may only have one public dog-friendly beach, but the secret is that there's a small private beach that allows dogs. Little Dume Beach (Point Dume State Marine Reserve at Whitesands Place Malibu, CA 90265) welcomes dogs "above mean high tide level, but not below it." There IS a catch – the only way to access this dog-friendly private beach is to walk from Paradise Cove Beach or Big Dume Beach at Point Dume State Park, but both beaches prohibit dogs. WTH?? So, what does that mean? GRRR, if you can carry your dog across from either beach, then you can let your dog down once you get to Little Dume Beach. Sadly, dogs are not allowed to walk from adjacent beaches. Therefore, unless you can carry your dog across, you won't be able to access this dog-friendly beach. :/ This is surely a WIN for small dogs like me.
Dog-Friendly Beaches NEAR Malibu
ARF, just because there's only one dog-friendly public beach AND one dog-friendly private beach in Malibu doesn't mean that you should stop your furry adventures there! If you want to sniff out more dog-friendly beaches near the Malibu area, I've got you covered.
In nearby Ventura County (to the west of Los Angeles County), there are 3 ARF-mazing dog-friendly beaches on the 5-mile stretch of coastline at Point Mugu State Park – all worthy of some sand diggin'! Per the official rules, on-leash dogs are allowed on the Park's day-use areas, campgrounds, AND beaches. WOOF-HOO! Dogs, however, are prohibited on trails and dirt roads.
Sycamore Cove Beach – 5 miles from Leo Carrillo State Park
This sandy cove has a dog-friendly beach and picnic tables for a pawsome treat break with your dog. Sycamore Cove Beach is in southern Ventura County near the border of Los Angeles County. Some websites even list this beach as being in Malibu, but it looks like its official location is in Ventura County. On-leash dogs are welcome.
Thornhill Broome Beach – 6 miles from Leo Carrillo State Park
To the west of Sycamore Cove Beach lies Thornhill Broome Beach. Situated in front of a 2-mile-long oceanside campground on Pacific Coast Highway, this beach is across from a gigantic sand dune that attempts to block your ocean view. Dogs are welcome on leash with open paws.
Mugu Beach – 8.4 miles from Leo Carrillo State Park
Resting north of Point Mugu Rock against the backdrop of the Santa Monica mountains, Mugu Beach is a heavily photographed beach next to Point Mugu Naval Base. While I love watching ocean waves dashing over black rocks, I cannot let my guard down as deaths from waves have occurred in the past. ARF-my-DOG! Therefore, be sure to keep your dog safe and be wary of waves.
WOOF! If you're in for a long drive, then get your paws over to Long Beach, where the only OFF-LEASH dog beach in Los Angeles County exists.
Rosie's Dog Beach (Granada Beach) – 62 miles from Leo Carrillo State Park (fastest route)
With a whoppin' 4 acres of beach on Ocean Boulevard between Roycroft and Argonne Avenues, dogs can roam around off-leash in the "Dog Zone" from 6 am to 8 pm every day. WOOF-HOO!
Dog Beach Safety Tips
#1 Pack bottled water and to-go bowl – Always make sure your dog has access to fresh, cool water. On a sunny day, keep the water cool with a stainless steel water bottle. If you fail to provide water, your dog may resort to ocean saltwater in desperation, which could cause a tummyache later. 🙁
#2 Provide adequate shade and shelter – Make sure you find a shady spot or bring an umbrella for your dog to retreat.
#3 Don't go to the beach when it's hot – Dogs and heat are a deadly combination! Remember, dogs naturally have fur that humans lack, which means they can't tolerate heat at the same level as humans. If you see your dog panting heavily, then you must take him indoors or to a shady or cool spot immediately.
#4 Be careful of hot sand – Ever walk on hot sand? OUCH! Despite padded feet, hot sand can burn your dog's paws. Test out the temperature with your own feet before allowing your dog on the sand. To be on the safe side, you can always walk your dog near the water for some cooler (and wet) sand.
#5 Don't force your dog in the water – As I barked earlier, some dogs love water while others (like myself) don't. Forcing your dog to get in the water when he is resisting is NOT right. A beach day should be fun, not scary!
#6 Keep a close watch at all times – Don't fall asleep on the beach! For your dog's safety, you must always keep a close eye by monitoring your dog's actions and watching out for any hazardous items (e.g. broken glass).
#7 Get a life jacket (for dog swimmers) – If you have a dog who loves a good swim, be a smart pawrent by investing in a quality life vest.
#8 Consider sunscreen protection – Like humans, prolonged exposure to UV rays can be harmful to your dog's skin. If you plan on being at the beach for more than an hour, then it's best to give your dog some sun protection. ARF, believe it or not – they do make sunscreen for dogs.
#9 Give your dog a bath – Rinse off all the sand, salt, and any yuckiness that your dog might have picked up from the beach. Not bathing your dog after the beach can cause skin irritation.
Watch me explore Malibu's dog beach:
ARF, hope you enjoy visiting dog-friendly beaches in Malibu and nearby! How was the Malibu beach day with your dog? Be sure to share your experience with me. BARK AT ME!
Don't forget to sniff out LA County's three beach cities: Manhattan Beach, Hermosa Beach, & Redondo Beach!
Markin' it up,
Roger Wellington a.k.a. The Doob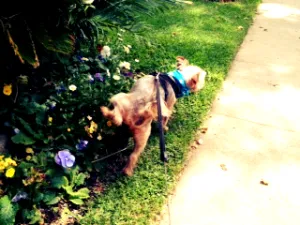 —
Like my post on "The REAL Bark about Dog-Friendly Malibu Beaches"? CLICK TO PIN!