Looking for dog-friendly activities in Beverly Hills, California? ARF, it's time to roll out the red carpet and hear the barks of the Angeleno Yorkie!
Posted 7/28/21
Thanks to pawpular movies and TV shows (The Beverly Hillbillies, Pretty Woman, 90210, and RHOBH – just to bark a few), Beverly Hills has long been a world-famous name. With a population of 34,186 within a mere 5.71 square miles, Beverly Hills is a small city in the massive Los Angeles County (population 10.04 million). Bordered by the cities of Los Angeles and West Hollywood, Beverly Hills has a whole lot of wealth, prestige, and glamour. Glamorized by the film industry and Hollywood celebrity residents, Beverly Hills is what visitors expect to see when they set their paws in Los Angeles, NOT necessarily the filthy streets of Hollywood and Downtown/Skid Row.
Is Beverly Hills dog-friendly? You betcha! What can you do with your dog in Beverly Hills? Unlike the dirty streets of Hollywood, the uppity, notoriously pretentious Beverly Hills is a pawfect way to get a sniff of the ritzy "LA scene" with your dog. 
Sniff out my favorite dog-friendly activities in Beverly Hills, California:
#1 Mingle at Beverly Gardens Park
9641 N Santa Monica Blvd, Beverly Hills
WOOF, this 22-block/1.9-mile-long park is THE SPOT in Beverly Hills! Not only is Beverly Gardens Park a pawpular spot for human tourists, but it's also super heavily frequented by dogs – both Angeleno doggies like myself and furry tourists. Since my LA home base is only a few miles away, I set my furry paws here at least once a week when I'm in town – GRR, the pee-mail gets piled up quickly whenever I'm away so there's a lot of sniffing and leg lifting to catch up on. Designed by Harvard grad landscape architect Ralph D. Cornell, this park is widely known for the gigantic 40-foot-long arched Beverly Hills sign seen on TV. Spanning from Wilshire Boulevard to North Doheny Drive on Santa Monica Boulevard, Beverly Gardens Park welcomes dogs to investigate the grassy fields, pose for pictures in front of its enchanting rose gardens, artwork, and duck pond, and run on the paved trail. Unlike Beverly Hills Dog Park, which is only for resident dogs registered with the City of Beverly Hills, this park is completely FREE and open to the public (ARF, bark about being snobby and exclusive).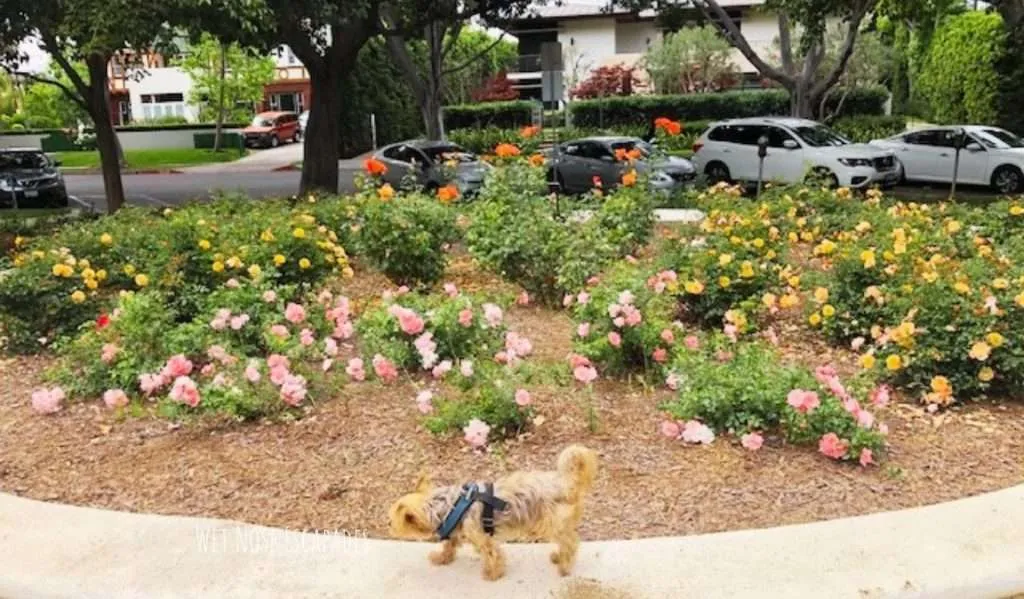 Is Manhattan Beach, CA dog-friendly? Find out HERE!
#2 Take pictures with Hunter and Hounds (a Memorial to a Fallen Soldier)
Beverly Gardens Parks (9641 N Santa Monica Blvd, Beverly Hills)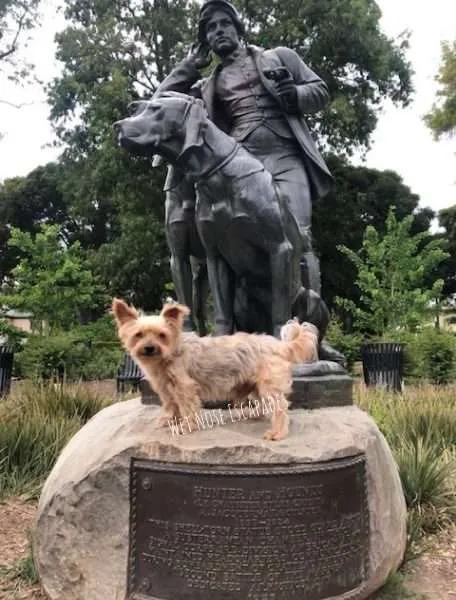 Located in Beverly Gardens Park, this eye-catching hunting dog statue is a MUST-sniff! ARF-course, I'm never a fan of hunting (especially with dogs – sadly, many dogs are often either killed and abandoned by hunters), but this historical life-sized, meticulous statue makes one marvelous photo opportunity in Beverly Hills. Well, at least for my human's sake (she's obsessed with taking pictures of me). AH-WOOOO, so here's the story behind it: A young man from Beverly Hills died in the World War I battle near the hunting preserve Belleau Wood in France.
Many years later, the soldier's parents visited the site of their son's death and came across this statue of a hunter and his two dogs. With bullet holes in the back of one dog, this copper statue once stood in the town square before being destroyed during the war. The couple subsequently brought the statue home and donated it to the city in their senior years. Whether or not you care for the sweet story, this dog statue is worthy of a quick sniff or two. Heck, I can even jump on the rock for a closer sniff of the two doggies!
10 BEST Dog-Friendly Activities in the City of LA
#3 Devour cupcakes at the original Sprinkles
9635 S Santa Monica Blvd, Beverly Hills
ARF, I'll do anything for a lick of a Sprinkles cupcake! Founded in 2005, Sprinkles is the very first "cupcake" bakery. With a sleek, modern, and bright interior, Sprinkles is a fun place to visit with your dog. Although there are over 24 locations throughout the U.S. (and more coming in Europe and Asia), the original cupcake shop is in Beverly Hills.
Besides baking up chops-lickin' cupcakes with premium ingredients like sweet cream butter, Belgium chocolates, fresh fruit and vegetables, and high-quality vanilla, they offer vegan, gluten-free, and most importantly, doggie cupcakes a.k.a. pupcakes. ARF-my-DOG! Carefully crafted with dog-safe ingredients, their "pupcake" is a sugar-free cupcake topped with yogurt "frosting." What a real TREAT! Whenever I don't feel like walking my furry paws into the store, I can still paw a pupcake from their cupcake ATM outside, which is the very first in the world and operates 24 hours a day. 
Is Hermosa Beach, CA dog-friendly? Find out NOW!
#4 Visit Will Rogers Park
9650 Sunset Boulevard, Beverly Hills
ARF, this is such a pawfect little park for dogs in Beverly Hills! Surrounded by West Sunset Boulevard, North Canon Drive, and North Beverly Drive, this ARF-so-cool triangular-shaped park is named after Will Rogers, the first "Honorary Mayor" of the city. Formerly Sunset Park, Will Rogers Park offers 5 acres of clean, well-maintained, and eye-pleasing dog-friendly space (that's very pleasing to my soft brown eyes and investigative wet nose).
This small dog-friendly park boasts beautiful rose gardens, towering palm trees (that make you feel like you're really in LA), a strange-looking dragon tree, serene picnic areas, a fish and duck pond with a fountain in the middle, and winding asphalt paths (for me to leave my endless trail of alpha marks). You'll see plenty of off-leash dogs playing fetch in the grassy area or posing in front of the pond for pictures. 
Going to San Diego with your dog? CLICK HERE!
#5 Look for signs & sculptures in the city
OK, I mean literally look for signs. 🙂
Beverly Hills Shield – For such a small city, Beverly Hills has one monstrous city sign recognizable to most humans on Earth. As seen on TV, the Beverly Hills "shield" signs are in eight different locations. The shield sign also illuminates after dark, which means photos are still ARF-so-spectacular in the evening (even better with my wolf-eye night vision). Since most of the shield signs are on busy streets, I like to go to Beverly Gardens Park (9641 N Santa Monica Blvd) or the Beverly Hills Visitor Center (9400 South Santa Monica Boulevard) for the most accessible signs.
Via Rodeo & N. Rodeo Drive – These two street signs are as famous as any Hollywood celebrity! On the heavily trafficked European-inspired walkway of Two Rodeo, the two iconic cross-street signs are a MUST-snap. For your dog's sake, go in the morning or later in the evening to avoid heavy foot traffic.
In more recent years, three vibrant, edgy sculptures with some pawsitive messages by French-born, LA-based artist Mr. Brainwish were placed in the city. Sniff them out:
Life is Beautiful – This spunky, bright red sign is my favorite Beverly Hills sign! Follow your dog's lead to Rodeo Drive and Dayton Way. For spoiled dogs like myself, I can only bark that life is truly beautiful! I wish one day all dogs (and cats) can live a deservingly spoiled life like me.
Beverly Hills is Beautiful – Located at Beverly Canon Gardens, this bright pinkish, cursive sign gives me an open-mouth smiley face any day!
Beverly Hills is Life – These cute colorful children's blocks are right outside of Wells Fargo on South Santa Monica Boulevard at Camden Drive.
#6 Explore Coldwater Canyon Park
12601 N. Mulholland Drive, Beverly Hills
I love setting my furry paws here for some good ol' easy dog-friendly hikes, head-tilting sculptures, and some ARF-mazing views at Coldwater Canyon Park! With just 5.5 acres, this local park is super laid-back with a spacious greenfield, a water stream, Cougar III bronze sculpture, and Stillwater art sculpture. In my younger years, I could take down their 3-mile trails – no pawblem! But now, as a senior Yorkie, I probably need ample breaks to rest my little legs before I can complete the loop. Even though my human always has a carrier ready for me, the beast is still in me!
ARF-ter all, it's dogs GALORE here, which means those smelly furry butts keep me going. Although dogs should technically be on a leash, I've come across plenty of well-behaved dogs roaming around off-leash. AH-WOOO, hear my howls though – there are security guards on-site who could ticket violations. I like to lead my humans on scenic routes, passing through a gorgeous neighborhood (well, I wouldn't expect anything less from Beverly Hills) and incredible panoramic views.
*This park is closer to the Valley so don't confuse it with another Coldwater Canyon Park in Beverly Hills (1100 N Beverly Drive), which doesn't offer scenic views but is just as dog-friendly.
10 BEST Dog-Friendly Day Trips from LA
#7 Shop (or window shop) on Rodeo Drive
WOOF, one cannot visit Beverly Hills for the first time without going on the world-famous Rodeo Drive. This 2-mile-long glitzy street with European-style buildings filled with fashionable, high-end shops of luxurious brands can clear out your life savings and max your credit card in a split second. OR if you're not into material goods like my humans, Rodeo Drive will, at the very least, drop your jaws down into a big open-mouth smiley face or tilt your head in amusement for a minute or two.
From Christian Dior to Prada to Gucci, Rodeo Drive is a magnet for Hollywood celebrities, newly rich Chinese billionaires, and exotic Italian cars that cost more than most houses in America, and of course, the curious young tourists wanting a glimpse of the LA glamor. And, ARF course, those fashionable LA dogs chillin' in Louis Vuitton carriers. Most shops on Rodeo Drive, regardless of how high end, welcome dogs inside as long as they're well-behaved. That's right – I don't need to hide inside a carrier to shop alongside my humans. I can march right in with an upright tail to sniff out the latest Versace arrivals – if I want. 
Don't forget to get your phone ready for pictures on Two Rodeo Drive, the dazzling heart of Rodeo Drive. ARF, the elegant European-inspired buildings and cobblestoned walkway remind me of my wet nose escapades abroad!
Is Redondo Beach Dog-Friendly? Find out HERE!
#8 Hike Franklin Canyon
2600 Franklin Canyon Drive, Beverly Hills
Wanna get more dirt on those furry paws? Hit up Franklin Canyon! Nestled between the San Fernando Valley and Beverly Hills, Franklin Canyon Park spans whoppin' 605 acres with over 5 miles of picturesque hiking trails, all of which are dog-friendly. From Franklin Canyon Site Trail to Hastain Trail to Franklin Canyon Discovery Trail, the trails here range from easy to moderate levels.
Since they're all roughly half a mile to a little over 2 miles, they're just pawfect for small senior dogs like me. This frequented nature area in Beverly Hills boasts sweeping urban and ocean views, a 3-acre lake, a heartwarming duck pond, lots of shade, and ample picnic tables. Heck, if I don't want to feel like walking, I can just relax here to take in the serenity (or better yet, take my time to sniff out the doggie guestbook). 
#9 Go on mansion hunting
WOOF, no need to keep those barks low! With countless A-Lister residents, it's no secret that Beverly Hills is home to some of the world's priciest and most exclusive real estate. Even though the city's most luxurious mansions are usually gated off, you can still take a quick sniff outside of some of the relatively "lower end," more accessible homes in famous 90210 and other zip codes in Beverly Hills (90035, 90211 90209, 90212, and 90213).
Contrary to pawpular belief, a good chunk of Beverly Hills is flat, which makes for easy walking. I love picking a random neighborhood to explore and sniff out some multi-million dollar houses. ARF course, please be respectful by keeping those barks low, cleaning up after your dog, and not disturbing the residents or their properties. 
Dog-Friendly Accommodations in Beverly Hills
ARF, wanna spend a night in this star-studded city? Be ready to cough out some $$$!
The Beverly Hills Hotel – Legendary 5-star hotel (9641 Sunset Blvd)
SIXTY Beverly Hills – 4-star hotel (9360 Wilshire Blvd)
Maison 140 Beverly Hills – 3-star hotel (140 S Lasky Dr)
6 Tips on Finding and Saving Money on Dog-Friendly Accommodations
WOOF, hope you enjoy doing these 9 dog-friendly activities in Beverly Hills! Got another fun dog-friendly activity or spot to share? BARK AT ME! Sharing is caring. 🙂
Be sure to subscribe to my YouTube Channel: Wet Nose Escapades by Roger Wellington for fun dog travel videos!
Markin' it up,
Roger Wellington a.k.a. The Doob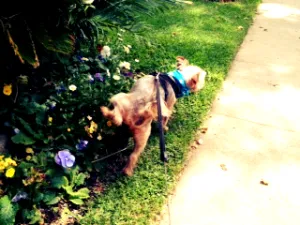 —
Like my post on "9 Dog-Friendly Activities in Beverly Hills, CA"? PIN IT!