WOOF, I may be the world traveling Yorkie but I still haven't left my mark in Alabama – well, at least not yet. GRR, I don't know why my humans haven't taken me there – I mean, haven't they been charmed by Reese Witherspoon in Sweet Home Alabama? ARF, I know I have – I sure want myself a sweet furry Southern girl! Luckily, my Yorkie buddy George Washington & his lovely human Beth are giving us a taste of a dog's life in dog-friendly Birmingham, Alabama. Keep on sniffing!
Tell us a little bit about George W.! (e.g. background, personality, whatever you'd like to share)
In 2013, George found his forever home after having had two previous owners. He was two-years-old. He would try to woo my two red miniature Dachshunds, Bella and Coco, from across the fence. He would escape all the time to come over to visit. We would find him by the backdoor, wanting to come in to visit.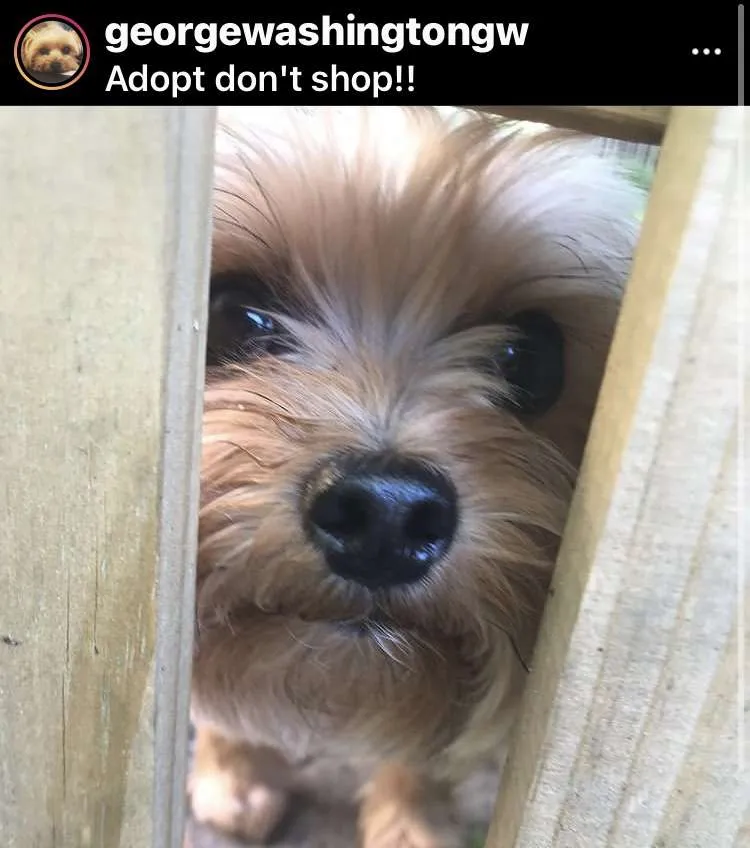 With his first family, George was mostly crated while they were gone all day or left outside. We would come get him especially if it was raining or if we heard him barking, then text the neighbors that we had him. George loved that we rescued him time and time again.
Eventually, my neighbors called to see if we would like George Washington permanently. They were a young family and adopted George prematurely. It was just too much for them. Of course, the answer was YES! George Washington and I found each other unexpectedly at a time when we both needed each other the most. I had just recently lost my mother to cancer and was numb. George came at the perfect time. I have always said that George is a kiss from God.
Shortly after adopting George, he continued his Houdini shenanigans. He would run out the front door, slip out the back door, or somehow wiggle his way under the fence. A complete nightmare! Everyone in the neighborhood knows GW, and they would graciously keep him until we showed up!
Once he somehow managed to scurry over two streets from the house. Argh!! While I was frantically looking for him and combing the streets, I noticed that there was a police car in a driveway. There were people surrounding it and I just knew George was somehow involved. I was right! He was picked up by the po-po and was thrown in the back seat! It was a relief to have found him safe; however, it was hysterical to see him in the back of a police car! His nametag had fallen off his collar while traipsing through the woods. Imagine that! Hence purchasing a monogrammed dog collar with his name and my number on it. Believe me, that was the best purchase ever.
What do you love most about George W.?
His tenacity for adventure, for food, for hunting, for belly rubs, and for his forever home. I just love his personality.
What is his favorite thing to do in the world?
George loves to go on adventurous walks, take care rides, and take many naps. His favorite thing is to go wherever I go. Whenever George sees someone is at the door or passes someone on a walk, he ALWAYS greets him or her with enthusiasm. He also greets with one of his toys or a leaf – whatever he can find. He always comes bearing gifts!
What does he hate the most?
He suffers from separation anxiety due to his previous circumstances. He HATES it when he is left behind, although he adjusted quite well. We have earned his trust and provided him with a safe and loving home. Surprisingly, he does not mind baths, being groomed, or going to the vet.
What are his favorite foods? Least favorite?
George likes just about anything – lettuce, carrots, and apples are his favorites. He will try a blueberry, but it's not his favorite.
What is the most expensive item you've purchased for him?
Annual vet visits or any vet visit, for that matter! HA! Most expensive item? Hmmm…the monogrammed dog collar? A dog bed? A thousand toys?
What are some of your favorite dog-friendly parks in Birmingham & proximity?
George enjoys hanging out in his backyard chasing squirrels, digging for moles, and soaking up some sun rays. He enjoys taking walks in the surrounding neighborhoods, not parks per se. We often visit local areas that have walking paths where dogs are welcome on a leash.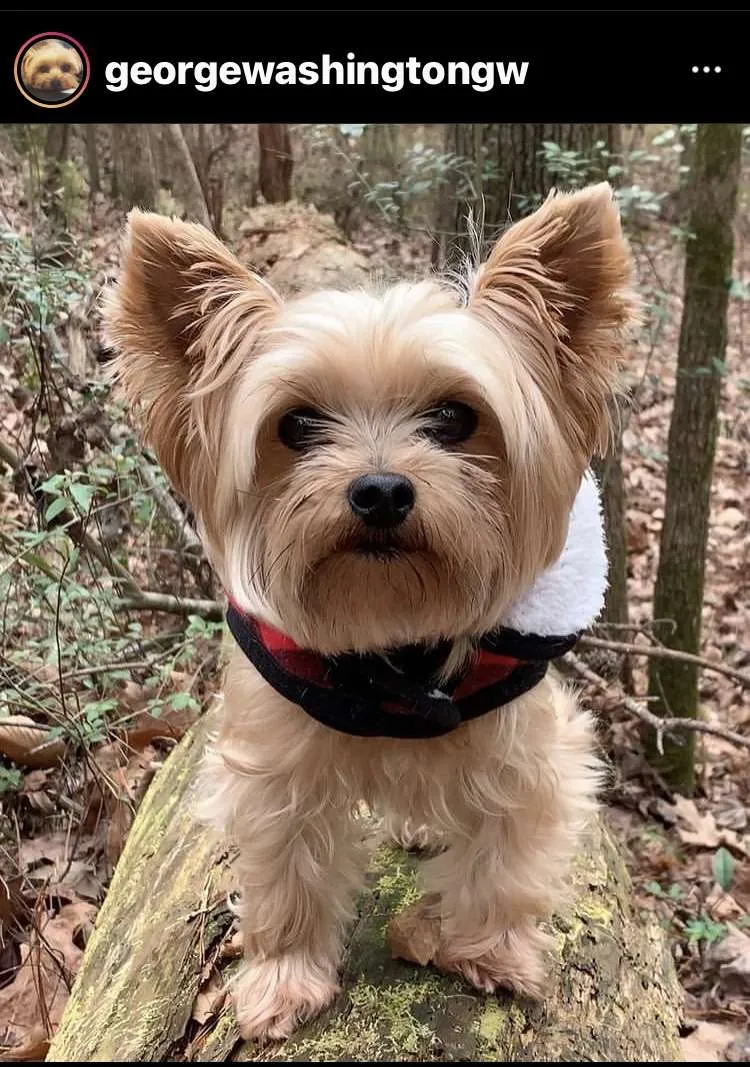 Below is a list of some that we've visited or are planning to visit soon:
Moss Rock Preserve, 617 Preserve Way, Hoover
Oak Mountain State Park, 200 Terrace Drive, Pelham
Railroad Park, 1700 1st Avenue South, Birmingham
Rhodes Park, 2801 Highland Court, Birmingham
Ruffner Mountain Nature Center, 1214 81st Street South, Birmingham
Jemison Park Nature Trail, 2615 Mountain Brook Parkway, Mountain Brook
What are some of your favorite dog-friendly restaurants in Birmingham?
There are plenty around town. I hate to admit it, but I do not take George to restaurants. Now that a new "dining with dogs" law has passed, I think I will be more open to taking him with me.
Below are some restaurants and breweries we can visit:
The Filling Station – Pizza & Pasta (5524 Crestwood Blvd, Birmingham)
Rojo – Latin & American Food (2921 Highland Ave S, Birmingham)
Black Market Bar – Bar & Grill (1035 20th St S, Birmingham)
Good People Brewing Company – Microbrewery (14 14th St S, Birmingham)
Are dogs only allowed to dine outside?
New Alabama law allows restaurants with outdoor dining to permit dogs. Alabama Gov. Kay Ivey signed HB235 into law, the so-called "dining with dogs" legislation, that gives restaurants the option to establish a patio area for diners who like to bring their dogs along while eating out.
Overall, how would you describe the local people's attitudes towards dogs?
People love animals, especially dogs. It's been fun to see our canines take front and center in our lives!
What are some of your favorite road trip destinations with George W.?
George has traveled to Louisiana on several occasions to visit family and friends. He has also traveled to North Alabama for a long weekend getaway! Initially, George wasn't the best traveler. He was a nervous nelly, but over time he's gotten better. He is safely secured in his dog seat and enjoys watching what's going on around him as we travel down the road. He loves to go on car rides now.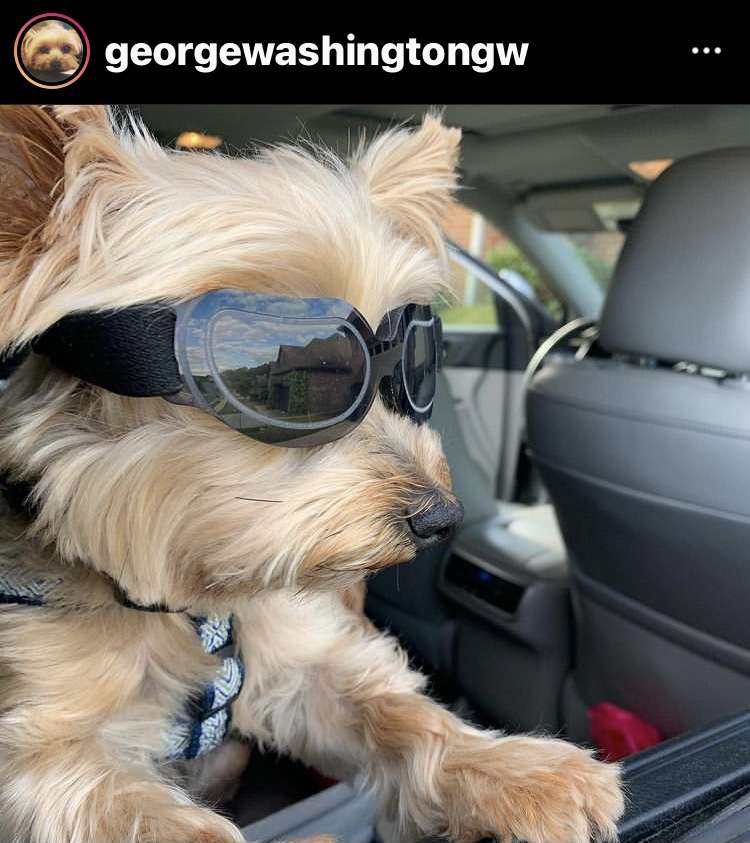 What city/town would you say is the most dog-friendly in Alabama? And, why?
I would venture out to say Birmingham and the surrounding cities are the most dog-friendly in the state of Alabama. Dogs are definitely more accepted in public more so than ever…they are popular pets!
Based on your personal knowledge, would you say that people tend to buy or adopt/rescue dogs in Alabama?
I know some individuals tend to buy a specific breed of dog, but I know many people who adopt/rescue their animals.
How close is the nearest veterinarian from your house? (e.g. in miles and driving time)
Our vet is less than 4 miles from home, and it takes less than 10 minutes to get there.
Approximately how much is a standard examination/office visit at the local veterinarian?
It is around $50-$60. I probably spend anywhere between $200-$400 annually on George.
How would you rate/describe the quality of veterinary care in Birmingham?
Top-notch. We have access to so many veterinarians who specialize in certain areas. I had a Dachshund who had some health issues; we were able to see a very knowledgeable veterinarian from Auburn University who would come to Birmingham once or twice a month for consultation. I was most impressed with that experience. Bella lived another 3-4 years after being treated by him.
What is one thing you'd like to share with us about a dog's life in Alabama?
A dog's life in Alabama is probably like any other dog's life around the world! However, in Alabama, we have four seasons. Our winters are cold, but not frigid. We occasionally get snow every once in a blue moon. But when we do, it is very exciting. We shut the entire city down! We don't know how to function in the snow! LOL! Our summers are HAWT! We have to make sure our dogs are hydrated and stay cool. They cannot stay outside for too long in 90-100 degrees temperatures. We also have to be cautious about not burning their paws when going on walks. Our fall and spring seasons are lovely.
I'll also add that the school district I work in north of Birmingham has implemented a service dog in both the middle and high schools. It's through a local program that trains the dogs. They started in May, and it has been well-received. They will start with the students in the new school year. Lots of positive benefits with having dogs in the school setting for social and emotional needs.
What's the best part about living in Birmingham?
It's a beautiful city. We are in the foothills of Appalachian Mountains so there are lots of opportunities to hike. We have beautiful four seasons to enjoy. We have wonderful restaurants – it's definitely a foodie town. There are lots of opportunities to attend sport events (Birmingham Barons). It's a great central location. We are approximately three hours from the mountains and five hours from the beach. To me, it's great that we are approximately three hours to Atlanta and three hours to Nashville!
Thank you to George W. & Beth for this pawsome interview. I can't wait to go to Birmingham to sniff it out for myself! WOOF, want more of George Washington? Be sure to follow his fabulous Yorkie life in Alabama on Instagram!
-Restaurants must have a separate outdoor entrance where the dog can enter without going through the indoor dining area. Dining inside a restaurant with a dog is still prohibited. 🙁
-Restaurants must display a "prominent sign" to notify the public that it has a designated dining area for patrons with dogs.
-Dogs are not allowed on chairs, benches, seats, and other fixtures in the outdoor area.
-Dogs must be at least 12 feet from any bar or area where beverages are prepared in the outdoor dining area.
-Dogs must be kept on a leash, or in a carrier. They must also be kept under control.
-Restaurant employees are prohibited from having "direct contact" with dogs.
And, don't forget to subscribe to my YouTube Channel: Wet Nose Escapades by Roger Wellington for fun dog travel videos!
Markin' it up,
Roger Wellington a.k.a. The Doob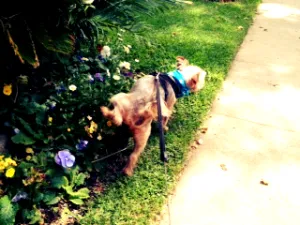 —
Like my post on "Dog-Friendly Birmingham: An interview with George W. the Alabamian Yorkie"? CLICK TO PIN!