ARRRRFFF, is Bratislava, Slovakia dog-friendly? Keep on sniffing!
After marking it up in Vienna, Austria for one month, I hopped on a quick hour-long train eastward to Slovakia's largest city and exuberant capital of Bratislava. My stylish rat tail wagged to sniff that Bratislava is, indeed, one dog-friendly place (although I would bark that it is not as dog-friendly as neighboring Vienna)! Nevertheless, it did not take many sniffs for me to decide for my humans to extend our stay to nearly a month.
Situated on the border of both Austria and Hungary, Bratislava is not just another castle-town in Europe. With its delightful location along the Danube River, this often-overlooked Central European destination is as tranquil as it is vivacious, making it one must-visit city in the world of international dog travel. So how did I, the world traveling Yorkie, take on dog-friendly Bratislava? WOOF, feel free to sniff my buttocks to find out exactly where I marked up there (alternatively, you can simply read my post below if you're not much of a butt sniffer)
A Yorkie's Guide to Dog-Friendly Bratislava:
My little wet nose led me all over Old Town.
Throughout my entire escapade in dog-friendly Bratislava, I stayed in their famous historical Old Town (Stare Mesto). Dating back to 907 AD, Old Town is the city's medieval center with stone-paved roads, the iconic Bratislava Castle, bustling public squares, and notably historic cathedrals. Who doesn't like to play fairy tale town?
Per my robust wet nose, this is where all the action is! Despite its liveliness, Old Town is never too packed. Even with its tourist-centrism, this area still retains a bit of a local feel. Hip bars, people-watching cafes, international and traditional restaurants, and specialty shops keep this pedestrian-friendly area fun yet safe for dogs and their humans. Dog water bowls are frequently outside of most storefronts, which means I can hydrate almost whenever I want during a walk.
I filled up my little tummy at Street Food Park every Saturday.
WOOF, Bratislava is so cool. When I bark cool, I mean like me – it's top dog, alpha dog status cool. Located on the square in front of the restored Old Market Hall (5, Námestie SNP 484, 811 01 Staré Mesto), Street Food Park happened every Saturday from 9 am to 3 pm during my stay. A super lively food truck festival with gourmet food vendors, Street Food Park operates on a "zero waste" concept. That means EVERYTHING goes to recycling with no use of plastic materials.
As a furry California native, I drop an open-mouth smiley face to applaud their Eco-friendly progressiveness. And yes, no need to wonder – this street food market is dog-friendly. From healthy veggie wraps to paw-licking fried gyozas, I like spending my afternoons here sniffing out all their goodies. Depending on where my wet nose takes me, I'll set my furry paws in line from truck to truck (or helping vacuum the ground). After filling up my little tummy, I'd chill and rest my paws before finding some cute Slovak doggies to chase.
*During the winter, Street Food Park moves inside the Old Market Hall. Since my departure from Bratislava, it looks like this bark-worthy fun event is now only held once a month. 
My paws stumbled upon a cool lighting show at the Main Square.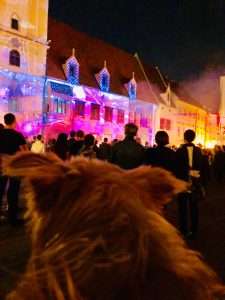 Within a few days in Bratislava, I quickly sniffed out that this dynamic city is in love with bringing people together! Besides food and drink festivals, this city celebrates its rich heritage and culture through community events. Note that these aren't fabulous events aren't low-budgeted with sucky turnouts. During my routine walks, I stumbled upon spectacular, often unique public events at various squares. And the best part is that they're FREE! ARF, I'll turn my nose up at cover charges any day.
One evening in the Main Square (Hlavné námestie, 811 01 Staré Mesto), I accidentally perked up my ears and widened my eyes to some glamorous "lighting show." Despite what my night vision will tell you, this intriguing gathering of the lovely Slovak people was sparked by the anniversary celebration of the Bratislava City Museum (located nearby on Radničná 577, 811 01 ). Nonetheless, the flawless ensemble of colorful light animation, live music, screenings on the enchanting facade of centuries-old buildings, and human dance performances made Christmas arrive early in April!
*Although I discovered these cool events in Bratislava purely by accident, you can sniff out the city's event calendar before or upon your arrival.
I licked my chops to goulash.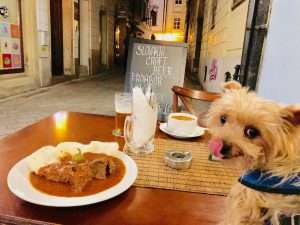 The best part about traveling to Bratislava with a dog is that most restaurants ARE dog-friendly and will gladly accept your dog inside. If not, then don't fret – plenty of restaurants have outdoor patio seating. After exploring Bratislava for a month, not once had I been denied entry or given nasty looks inside a restaurant – whether fancy or casual. However, I've heard from other dog travelers who reported that they weren't so lucky. Who knows? I can only bark from my own experience.
YUM, I am IN LOVE with goulash! A very homey meal, goulash is a stew or soup with beef chunks and veggies cooked paprika and other spices. Gosh, every bite is so juicy, tasty, and savory with the most tender beef that even a spoiled dog will nod in approval. Mmmm, having left the country now, I can still taste such lusciousness in my little mouth and reminisce its irresistible, straight-out-of-the-pot smell. The Hungarians may have the original claim to goulash, but the Slovaks followed suit by making it a popular staple food.
I couldn't decide what to eat first!
Both of these two Slovak dishes smelled so darn good that I had to set my greasy paws on the table for a closer look. I didn't visit during the holidays, but the homemade cabbage soup called kapustnica sure made me feel like I'm home again. Typically served during Christmas, this paw-lickin' sausage-sauerkraut soup dish is also called the Slovak Sauerkraut Christmas Soup. On the other side, the soft pierogi or bryndzové pirohy are soft potato dumplings filled with Slovak sheep cheese, which is the same cheese used to make the traditional Slovak dish bryndzové halušky (also a must-try!).
My wet nose couldn't decide on which one to try first! ARRF, if only I had a long gigantic tongue so I can do an anaconda slurp all at once…
I couldn't believe they have avocado toast here!
Bark no further – I wagged my tail to sniff out avocado toasts at hipster cafes in Bratislava. OK, I knew this city is hip, but dog – I had no idea that it's that hip. As an international foodie, I'll get my paws on this hearty vegan snack that originated in California any day. In my hometown San Francisco, people have been eating avocado toast at least since 1885! 
In the last few years, this healthy treat is taking hipster cafes by storm in major metropolitan areas. The creamy avocado spread over a crunchy toast is topped with sliced cherry tomatoes, baby sprouts, diced cilantro, dill sprinkles, olive oil, and some lime juice. The freshness of all ingredients is KEY. Mmm mmm, the crunchiness and creaminess offset each other for a perfect balance that melts in your mouth.
*Don't worry, I know to skip the toxic avocado from my diet (or at least my humans do). BUT I'm only willing to forfeit this juicy toast for a tasty doggie treat – pay up, humans!
I worked out my muscles at the gym.
Oops, I meant I worked out my leg muscles. Yep, that's right – I sniffed out, marked up, raked my feet, and then marked it up some more at Bratislava's many dog-friendly parks and green spaces. At the beautiful Baroque classic city park Sad Janka Král'a (851 01 Petržalka), my humans love working out at the outdoor gym while I rake my feet and work out MY leg muscles nearby. Humans, if you are looking for a free, fun, and easy way to stay healthy in Bratislava, this public exercise facility is IT!
Even though this city doesn't have an operating underground transportation system, everything is pretty much within walking distance. Hence, it's effortless to get moving no matter where you are. However, if you have some euros to spare and prefer an indoor facility, paws down I recommend FIT UP, a regional chain in the Czech Republic and Slovakia. My humans have personally tried it with several month-long memberships over the years. I've set my paws on several locations and sniffed them out myself; I'm happy to report that the facilities are consistently clean and and well-maintained.
Sniff out other dog-friendly parks and areas in Bratislava:
Železná Studnička (Cesta mládeže, 831 01 Nové Mesto) – The city's forest park is dog-friendly! Get a sniff of urban natural beauty by exploring this pawsome place with your dog. This park boasts abundant hiking/walking trails, peaceful lakes, relaxing cafes, sports facilities, and unpolluted fresh air. From wild boars to fallow deer, plenty of wildlife species call this urban oasis home. Therefore, you must keep your dog on a leash for the safety of everyone, per the park's rules.
Horský Park (811 04 Old Town) – Dating back to the 1800s, this hillside park right smack in the middle of Old Town is popular with the local dogs just as much as with traveling dogs like myself. With enchanting forest walkways, outdoor gallery, and a small cafe, the park has an untainted environment going back to over 150 years. Although I'm not sure what the official rules are, I see lots of well-behaved dogs run free.
Psi Park (Old Town) – off-leash dog park in Old Town
Psí park Poľná (Poľná, 811 08) – off-leash dog park in Poľná
I roamed the hoods and showed MINI ME my back kick.
GRR, I found my MINI SLOVAK ME! We got along just fine, but I made sure I left my alpha mark for him to sniff out (gotta show who's BOSS). Bratislava may not be as dog-friendly as cities and towns in Italy (where I went shopping for fresh pasta in a dog-designated cart), but it is certainly on my list of favorite places visited. After all, this city is known for their quality of life and safe living environment – without the high price tag. With a population of only 450,000 human residents, Bratislava falls no short of spoiled dogs like me. As Slovaks are friendly people (especially those with dogs; it's harder to trust humans who don't like dogs, don't you think?), making friends is easy wherever I set my paws. Be sure to explore one or two of these dynamic neighborhoods with your dog:
Palisady – Tucked behind the the Bratislava Castle, this neighborhood is mostly inhabited by locals. Due to its proximity to Old Town and scenic views from Palisady Hill, this neighborhood is one of the best places to live, attracting many city elites over the years.
Nové Mesto – With Old Town comes "New Town"! And, that is exactly what Nové Mesto means in Slovak. Near the Little Carpathians mountain range, this neighborhood is famous for the Bratislava Forest Park and the 643 ft Kamzík TV Tower that overlooks the city.
Petržalka – On the right bank of the Danube, you can sniff out some intriguing Communist-style architecture! I can only bark that it's quite an experience to see these apartment block-style housing or "panelak." Today, the Slovaks still live in these Communist-era buildings. 
Devín – Although small by population, this neighborhood is home to the archaeological site of Devín Castle, built in the 9th to 15th centuries. Geographically, it lies on the Slovakia and Austria border but the Slovak side.
Ružinov – Even if you're not heading to the Milan Rastislav Štefánik International Airport (Bratislava airport), this neighborhood is still worth a quick sniff or two. I love their Miletičova Open-air Market, which is the largest market showcasing local vendors. It's also dog-friendly. 🙂 Don't forget to check out the largest shopping mall in the country, Avion Shopping Park.
I investigated Cumil.
Created by artist Viktor Hulik, this "Man at Work" bronze statue of a sewer worker is a symbol of Old Town. Resting his arms out of the manhole, this worker Cumil scared me, at least at first glance (I mean, sniff). I growled at him. GRRRR. I did NOT trust him. BUT, upon a closer sniff and thorough investigation, I found him to be completely harmless and quite intriguing. My robust Sherlock wet nose reported back that many dogs claimed Cumil over the years. To be clear, it was NOT ME as my humans stopped me before I had an opportunity to do so. Arrggh!
I fell in love with the Danube River.
It's Europe's second-largest river, flowing through a whopping TEN countries! That's a lot of countries and a very long river if you ask me. Despite being an athletic dog, I was not keen on walking the entire river, which is the most prominent river in Central Europe. However, I loved walking next to this beauty, where I met other dogs and took my time to sniff out and mark up the tranquil trail on the Petržalka side. I also pawtied it up with dogs on the waterfront lawn behind Eurovea (shopping mall-residential complex on Pribinova 8, 811 09 ).
WOOOOF, dog-friendly Bratislava rocks! Thinking of traveling with your dog in Europe? Put your paw HERE for more info. Don't forget to subscribe to my YouTube Channel: Wet Nose Escapades by Roger Wellington for fun dog travel videos!
Markin' it up,
Roger Wellington a.k.a. The Doob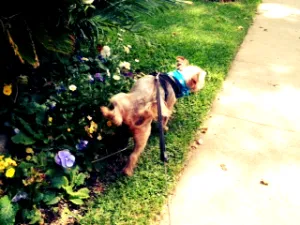 —
Like my post on "Dog-Friendly Bratislava, Slovakia: A Yorkie's Guide to Dog Travel in Bratislava"? CLICK TO PIN!