WOOF, let's bark dog-friendly Brisbane! The capital and most populous city of Queensland, Brisbane is one TOP DOG Australian city. This ARF-so-charming city boasts nearly year-round sunshine, blissful beaches, ear-perkin' live music, endless mark-worthy greenery, rich cultural events, "authentic" Australian culture, and an unbeatable central location (close to the Great Barrier Reef, the Daintree Rainforest, etc.). One of the oldest cities in Australia, Brisbane used to hail as the fabulous "Queen City." ARF, now is Brisbane dog-friendly? You betcha! In Brisbane, you'll find plenty of pampered dogs with their pawrents exploring a hiking trail, relaxing on a beach, or simply walking along the mesmerizing waterfront. Due to Australia's strict requirements for dog import, Brisbane has been "paws off" on my bucket list. However, my tail is wagging to introduce my furry Aussie pal Baxter and his wonderful human mum Kirstyn who will share some barks about life in dog-friendly Brisbane!
Tell us a little bit about Baxter! (e.g. background, personality, who does he live with, etc. – whatever you'd like to share)
Baxter is a stumpy-tailed cattle dog (who has a tail). He is almost 7-years-old and lives with me (Kirstyn). He is super energetic and cheeky, but incredibly loyal. He is the best friend you could ask!
What do you love most about him? What are his favorite things to do in the world?
His favourite thing in the world to do is play fetch! We must play fetch first thing every morning. He also loves going on hikes, doing weekly scent games training, and walking with his doggy friends who he met while training with Pawsitive Connection.
What does he hate the most?
When his human sleeps in and delays playing fetch!
What are his favorite foods? Least favorite?
He eats a raw diet. He especially loves kangaroos. A special treat for him is duck necks and sardines. His least favourite food is lamb – he communicates this to me by peeing on it.
What is the most expensive item you've purchased for him?
His heated bed for those cold winter mornings!
What's the best part about having a dog in Brisbane?
There are so many parks to visit and outdoor activities that you can do with your dog! We have amazing weather, which means we get to do outdoor activities for most of the year.
Also, so many people in Brisbane have dogs so it's great to go out and about to make new friends.
What are some of your favorite dog-friendly parks in Brisbane? (please provide specific parks)
There are so many! We have a mission to visit them all! But we love going to Robelle Domain Springfield, Rocks Riverside Park Jindalee, Oxley Creek Common, and Newfarm Park – just to name a few! We also love Colleges Crossing, which is about 45 mins west of Brisbane. You can swim in the river and enjoy seeing all of the birds and wildlife!
What are some of your favorite dog-friendly restaurants in Brisbane (please provide specific restaurants)? Are dogs only allowed to dine outside? Or do some places make an exception for indoor dining? If so, where?
We love to go to Baaia at Sandgate (it's near one of my favourite dog off-leash areas) and Remy's at Paddington. Goodness Gracious in Graceville is one of our favourite places for breakfast. Also, the Eat Street Northshore Market is where you have more food choices than you could ever dream of! Most cafes will allow dogs outside.
What are some dog-friendly tourist attractions in Brisbane (if any)? Any other local dog-friendly places that you'd like to share (e.g. beaches, trails, resorts, etc.)?
Mount Coot-tha is our favourite place! It's just 15 mins from the Brisbane CBD and has waterfalls and so many trails to hike with an amazing lookout with a view of Brisbane. It's wonderful to be able to be so close to nature yet so close to the city.
Southbank in Brisbane itself is a great place to walk around with restaurants, cafes, and parklands. It is a great place to spend the day!
Sandgate Waterfront is also one of our favourites. When the tide is out, it becomes an off-leash dog park – it is so much fun to run around in the water.
Going to the markets on the weekend is a must! There are many dog-friendly markets, but our favourites are the Davies Park Markets at the West End and the Redcliffe Markets. There are also frequent markets held for dogs, such as Paws at the Park.
If a visitor were to ask you for your TOP 5 things to do with a dog in Brisbane, what would you say?
#1 Hike Mount Coot-tha
#2 Spend a morning at the many dog-friendly markets (e.g. Davies Park Markets, Redcliffe Markets)
#3 Explore Southbank Parklands
#4 Visit the dog-friendly beaches that are nearby. We are lucky to be close to both Sunshine Coast and Gold Coast. If you don't want to go that far you can spend the day at Sandgate or Nudgee.
#5 Spend an afternoon at a local pub or bar. They often hold events like Barks and Brews, where dogs are welcome to join you for an afternoon of drinks. Some great options are All Inn Brewing Co. in Banyo and The Brightside in Fortitude Valley.
Overall, how would you describe the local people's attitudes towards dogs?
Brisbane is so dog-friendly! You see dogs everywhere you go, and we are finding that more and more businesses are becoming dog-friendly.
What are some of your favorite trips you've had with Baxter (e.g. road trips, air travel – if any)? How well does he travel?
Baxter is a good traveller (except for trying to chew through his seatbelt when he is bored.
) We haven't done many trips lately due to Covid, but are looking forward to travelling far again soon!
Are dogs allowed on buses, subways, rideshares, taxis, ferries, etc.? If you have any memorable experience regarding taking Baxter onboard, please feel free to share!
Dogs are generally not allowed on public transport. They are allowed on CityCat (ferries) but just need to wear a muzzle.
What is the biggest challenge of having a dog in Brisbane?
Not being able to get on public transport. It can also get very hot and humid so you need to be mindful of when you take your dog out and about in summer.
Based on your personal knowledge, would you say that people tend to buy or adopt/rescue dogs in Brisbane? Do pet stores exist (where dogs and cats are sold)?
There are not many pet stores at all (I have only seen one in the last 10 years). Most people will adopt or buy from a breeder (and all breeders in Queensland must be registered).
How close is the nearest veterinarian from your house? (e.g. in miles and driving time)
The closest vet is 10 mins away. We are also lucky to have a 24 hours/7 days a week animal emergency hospital only 20 mins away.
Approximately how much is a standard examination/office visit at the local veterinarian?
A standard examination would be anywhere from 80-150 AUD.
How would you rate/describe the quality of veterinary care in your area?
The vets are amazing! We go to Ripley Vet Hospital, which practices a fear-free approach. This means that our vet visits are positive even if Baxter is feeling a bit sick!
What is one thing you'd like to share with us about a dog's life in Brisbane?
All of the amazing outdoor activities we get to do together! We have so much fun getting out and about together!
Why is Brisbane worth a visit? 🙂
It's a great city with beautiful weather! There are so many things to do from restaurants to hiking and beaches nearby so it really caters to everyone.
Thank you to Baxter & Kirstyn for this interview and sharing their pawsome dog-friendly Brisbane life with us! Can't get enough of Baxter? Sniff out & follow his Queensland escapades on Instagram!
Are you interested in taking your dog to Australia? Sniff out the ARF-so-long, roughly 20-step import process coming from the U.S., which includes permits, vaccinations, parasite treatments, blood tests, and mandatory 10-day quarantine. WOOF, just a bark that I wouldn't recommend traveling to Australia with your dog unless it's for a permanent or long-term move.
Want more Aussie doggie interviews? Don't forget to sniff out my fantastic interview with Willow Daisy, the Beagle from Mackay, Queensland!
Markin' it up,
Roger Wellington a.k.a. The Doob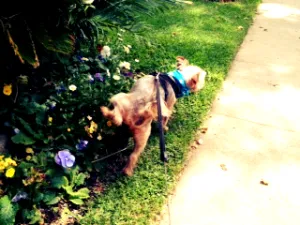 —
Like my post on "Dog-Friendly Brisbane, Queensland with Baxter the Aussie Cattle Dog"? CLICK TO PIN!