WOOF, is Buenos Aires dog-friendly? Si? No?
First posted 12/27/21, Last Updated 7/30/23
The buoyant capital city and largest city of Argentina, Buenos Aires rests on the beautiful southeastern coast of South America. As one of the best places for high quality of life on the entire continent, the pawpular destination of Buenos Aires attracts visitors with its well-preserved colonial European architecture, coastal scenery, TOP DOG international cuisine, vibrant nightlife, and ARF course, its diverse, multicultural pawpulation.
ARF-ter all, it's known as the Paris of South America! Now, what's in it for dogs in Buenos Aires? What's it like having a dog in Buenos Aires? My little Yorkie jaw has dropped down into an open-mouth smiley face and my stylish undocked tail is waggin' to introduce my fabulous Argentinian pals, Coco the Toy Poodle and his mommy Cecilia who will share some loud barks about a dog's life in Buenos Aires. Keep on sniffing!
Tell us a little bit about Coco! (e.g. background, age, weight, personality, who does he live with, etc. – whatever you'd like to share)
Coco is a small apricot-colored poodle, weighing only 2 kilos. He was born on July 21st so he is now 7-years-old. He has the most sociable personality. He lives in Buenos Aires, Argentina where he is very spoiled by his two human moms.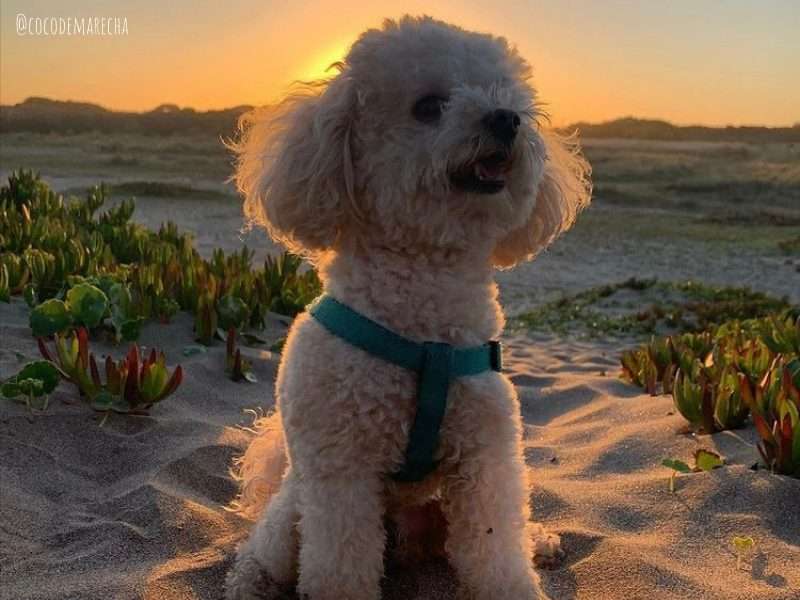 What do you love most about him? What are his favorite things to do in the world?
Coco is very small and affectionate. He has a special look. Walking is what he loves to do the most in the world.
What does he hate the most?
He hates having his hair brushed! It bothers him the most.
What are his favorite foods? Least favorite?
Chicken is his favorite food and croquettes would be his least favorite.
Complete this sentence:
"Coco is so spoiled that he always wants to be in every event."
What's the best part about having a dog? Biggest challenge?
The best part is the great company and happiness that dogs transmit to you. It's the love that the dog gives you. The dog is a member of your family wherever you live, wherever you go. The challenge is to take the best care of them. 
Did you grow up with dogs? If not, how or when did you become a dog lover?
I had dogs in my childhood. Coco appeared in my adult life, and I fell in love with him. He stole my heart. He is very special.
What are some of your favorite dog-friendly parks in Buenos Aires?
Coco's favorite parks are Parque Centenario and Lagos de Palermo.
What are some of your favorite dog-friendly restaurants in Buenos Aires?
Dogs are allowed to dine outdoors. There are very beautiful places like the Patio de los Lecheros, which is a place with many options to eat as well as space for the dogs. Also, the Museo Evita Restaurante and Muu Lechería.
Other dog-friendly restaurants that we recommend (IG handles):
@santalcafe (belgrano) @padrecoffeeroasters @ladov.bsas @philo.cafe @chefleon.resto @angeladelicoffee @fauna.cafeyflora @bioma.cafe @merope.ba @alexcoffeeroasters @cigalocafe @bigrabbitcoffee @surryhillscoffee @cafecolegiales @iakarta cafe @palermorooftop @_hacienda
What are some dog-friendly tourist attractions in Buenos Aires (if any)? Any other local dog-friendly places that you'd like to share (e.g. beaches, trails, resorts, etc.)?
Most outdoor venues, parks, squares, and beaches allow dogs.
If a visitor were to ask you for your TOP 5 things to do with a dog in Buenos Aires, what would you say?
Walk around in beautiful parks
Walk along the waterfront
Eat out at a dog-friendly restaurant
Attend a doggie meet-up
Enjoy an outdoor outing
Overall, how would you describe the local people's attitudes towards dogs?
Most people have respect for dogs.
How would you describe the overall stray situation in where you live (e.g. is it a problem or is it nonexistent)? Has Coco ever come across stray dogs? If so, what was the interaction like?
Stray dogs are rare in the city. Lost dogs are immediately alerted on social networks. There is always someone who's supportive and a lover of dogs.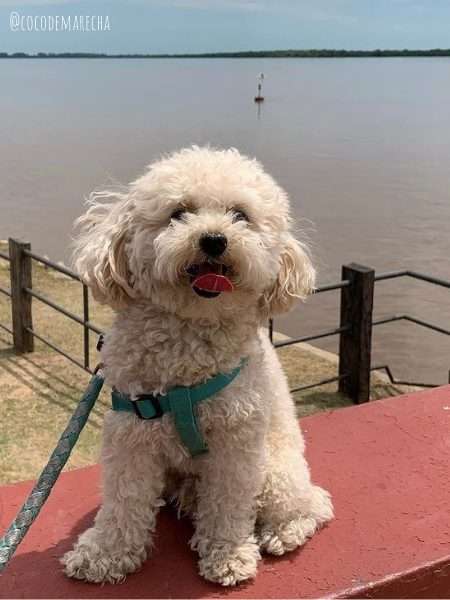 What are some of your favorite trips you've had with Coco (e.g. road trips, air travel – if any)? How well does he travel?
Coco's favorite place is the beach – Camet Norte. We always travel by car, and he loves looking out at the scenery. He does not sleep during the trip. He has not yet traveled by plane. But one thing is for sure, he likes traveling as a family.
Are dogs allowed on buses, subways, rideshares, taxis, etc.? If you have any memorable experience regarding taking Coco onboard, please feel free to share!
On occasion, Coco has traveled by taxi. Previously, we would ask the driver if he would allow it. On weekends, you can travel by subway with your dog.
Based on your personal knowledge, would you say that people tend to buy or adopt/rescue dogs in Argentina?
Without a doubt, adoption/rescue is the most common.
How close is the nearest veterinarian from your house? (e.g. in miles/km and driving time)
It is 200 meters. We are within walking distance.
Approximately how much is a standard examination/office visit at the local veterinarian?
The vet visit costs 700 BRL.
How would you rate/describe the quality of veterinary care in your area?
Excellent!
How difficult is it to find dog-friendly housing in your area? Do you have to pay extra money?
Whether the building allows or prohibits animals, the rental price remains the same.
What is one thing you'd like to share with us about a dog's life in Buenos Aires?
The life of a dog in Buenos Aires is the life of a big city. Each outing at the park is an enjoyment to the fullest. It is very important to keep dogs on a leash to keep them safe. It is beautiful to have a dog in your life – your heart widens!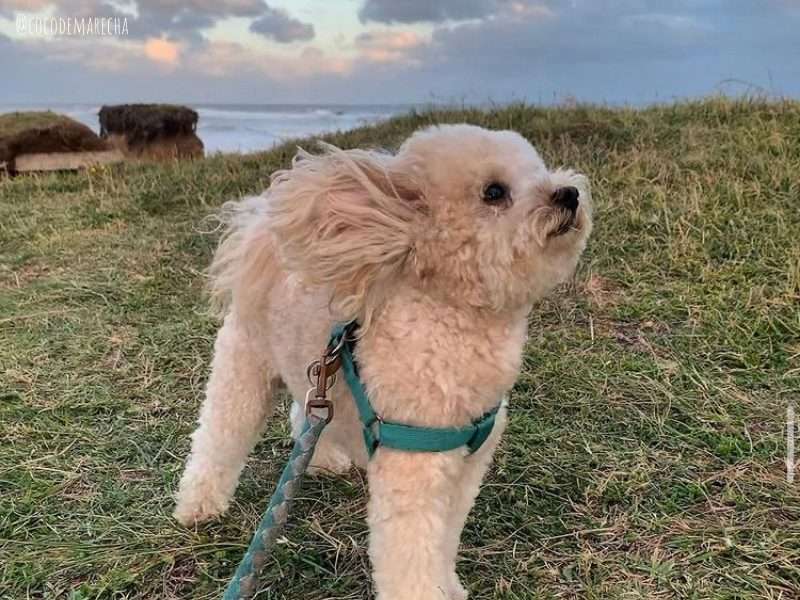 Are there any changes you'd like to see in the way people treat dogs in Buenos Aires or Argentina?
I think it would be important for everyone to respect dogs because they are living beings and members of the family.
Why is Buenos Aires worth a visit? 🙂
It is a city with many attractions to enjoy.
Would you recommend that dog parents visit Argentina with their dogs?
Yes, they are always welcome.
Thank you to Cecilia & Coco for this wonderful interview and sharing their dog-friendly Buenos Aires life with us! Can't get enough of Coco? Sniff out & follow his Argentinian escapades on Instagram!
How to travel to Argentina from the U.S. & Canada with a DOG
ARF, ready to take your dog to Buenos Aires? Keep on sniffing!
STEP 1: Get your dog microchipped – Although a microchip is technically NOT required by Argentina, the standard 15-digit ISO microchip is always recommended for international dog travel. Not to bark, it's the best way to reunite a lost dog with his or her family.
STEP 2: Rabies vaccination & certificate – Your dog must be at least 3 months old and vaccinated against rabies at least 30 days before entry.
STEP 3: Veterinary Certificate for Argentina – The veterinary health certificate must be completed by an accredited veterinarian within 10 days of departure. The vet must examine your dog to ensure that he or she is free of clinical signs for diseases. The certificate must be written in or translated into Spanish.
STEP 4: USDA Endorsement – For U.S. travelers: the paperwork should be endorsed by your local APHIS Veterinary Services Office for 38 USD. For Canadian travelers: the paperwork should be endorsed by the Canadian Food Inspection Agency for 20 CAD.
*Your dog must enter Argentina via Ministro Pistarini International Airport in Buenos Aires
*No quarantine is necessary if all above requirements are met – WOOF-HOO!
*No rabies titer required
*No import permit required
*No banned breeds for entry
That's all I got, escapaders! Hope you enjoy sniffing out dog-friendly Buenos Aires, Argentina! Don't forget to subscribe to my YouTube Channel: Wet Nose Escapades by Roger Wellington for fun dog travel videos!
Markin' it up,
Roger Wellington a.k.a. The Doob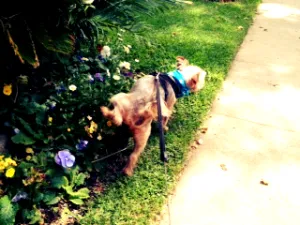 —
Like my post on "Dog-Friendly Buenos Aires, Argentina with Coco the Toy Poodle"? CLICK TO PIN!