WOOF, wanna sniff out the most ARF-mazing dog-friendly California vacations? This furry California native has marked up and down the sunshine state and is ready to bark out his list of TOP 10 dog-friendly escapades!
Last Updated 3/28/23
#1 Half Moon Bay
Just 30 miles south of my hometown San Francisco lies the ARF-so-dreamy and always overcast Half Moon Bay. Let me just bark that it's quite the doggie PAWTY here! Besides roaming around Downtown Half Moon Bay in sniff of communal bowls and dog-friendly patio seating (ARRFFF, Cantina – 356 Main St.), my favorite thing to do is to hit the ground running on four paws along the Coastal Trail.
This dog-friendly trail boasts 11 miles of head-tiltin' coastline running a little south of the famed Ritz Carlton on the south to Pillar Point Harbor on the north. Dogs are also allowed on many beaches, from Poplar to Surfers Beach (sniff out my list of HMB dog-friendly beaches HERE). The Half Moon Bay Dog Park is also one happenin' spot supported entirely by private donations and volunteers. If your dog doesn't mind getting his paws wet like my little BIG Weimaraner cousin Sonny, be sure to take him kayaking!
Get your furry paws on my comprehensive guide on visiting Half Moon Bay with your DOG. 
The Ritz Carlton
1 Miramontes Point Road, Half Moon Bay
5-star Hotel
*Two dogs allowed at a maximum weight of 40 pounds
$150 non-refundable dog cleaning fee per stay
$20 nightly dog boarding fee
A portion of the fees is donated to the Peninsula Humane Society and SPCA – WOOFHOOOOO!
Half Moon Bay Inn
401 Main Street, Half Moon Bay
3-star Hotel
*$50 per dog per stay
Quality Inn
2930 Cabrillo Hwy N, Half Moon Bay
2-star Hotel
*$45 per night for a maximum of 2 dogs per room
#2 Santa Barbara (plus Solvang)
ARRRFFF, just over 2 hours away from Los Angeles (well, no traffic), the glitzy small college town of Santa Barbara is a prime escapade for dogs – well, for those classy canines whose humans can afford this Pacific coast vacation spot. With its year-round Mediterranean-style weather, dog-friendly boutiques and art galleries, and pawbulous off-leash beaches (my preferred one is Hendry's Beach), Santa Barbara is an ARF-solute seaside haven for dogs.
While my humans are amused by the gorgeous Santa Ynez mountains backdrop and the enchanting white stucco architecture from Spanish colonialism, I'd rather walk my tiny alpha paws into cute boutiques and art galleries around Downtown (where communal dog bowls and free treats are almost always detected by my robust wet nose). Besides sniffing out their dog-friendly Downtown, I gotta make sure I mark up the scenic walkway E. Cabrillo Boulevard, which runs parallel to the Pacific Coast and boasts grassy areas that are pawfect for some hindleg kicking. 
While you're in the area, don't forget to drive 30-something miles up CA-154 to experience the cute, well-preserved Danish town Solvang where you and your dog can grab authentic Danish pastries. From dog-friendly wine tasting rooms to superb restaurants with dog-welcoming patios, Solvang is a MUST-SNIFF whenever I hit up Santa Barbara.
Hyatt Place Santa Barbara
4111 State St. Santa Barbara
3-star hotel
*$75 fee per stay up to six nights. $150 fee per stay up to seven nights or more. One dog must weigh 50 lbs or under and two dogs must have the combined weight of 75 lbs.
Wine Valley Inn & Cottages
1564 Copenhagen Dr. Solvang
3-star hotel
*$25 per dog, per night. No weight restrictions. Treats are available at the front desk. 🙂
#3 South Lake Tahoe
WOOF, South Lake Tahoe is one of my go-to dog-friendly vacation spots! As a NorCal furry native, I've been to "Tahoe" more times than I can count with my claws. From digging for gold at Kiva Beach to running loose at Bijou community park to going on the scenic Cascade Falls hike, I love what South Lake Tahoe has in store for furry visitors, especially over the summer and Fall.
However, what gets my tail wagging the most is Base Camp Pizza where I can perk up my ears to local bands while filling up my little Yorkie tummy with freshly baked veggie and meat pizzas. For tasty craft beers, I'll quench my Yorkie thirst at the few dog-friendly breweries out here, where furry companions are welcome on their outside patios (be sure to leave a mark at my all-time fave – The Brewery at Lake Tahoe). For dogs who are up for some water adventures, be sure to hop onto a dog-friendly kayak (Tahoe Sports Tahoe Keys Boat Rental or Day Go Adventures).
Beach Retreat & Lodge at Tahoe
3411 Lake Tahoe Blvd. South Lake Tahoe
3-star hotel
*$50 per day per dog in the room. Maximum two dogs.
Hard Rock Hotel & Casino Lake Tahoe
50 US-50 Stateline, NV
3-star hotel
*$65 fee per dog/per night – registered guests must have a credit card on file. Dogs only. Dogs must be under 60 lbs
Harveys Lake Tahoe
18 US-50
Stateline, NV 89449
4-star hotel
*$75 per dog per night, 2 dogs up to 50 lbs
#4 Yosemite
Is Yosemite dog-friendly? ARF-ter all, this national park in Central California is supaw famous for its giant, ancient sequoia trees, ARF-mazing waterfalls, and granite cliffs. I'm barking a whoppin' 95% of Yosemite National Park has been designated wilderness. ARF course, you ought to be careful when visiting this majestic place with your dog (well, not just for your dog's safety, but also for ecosystem and wildlife safety), but don't lower that tail of yours because Yosemite is VERY dog-friendly. For instance, there is ample dog-friendly lodging, from hotels to bed and breakfasts to cabins to campgrounds. In addition, leashed dogs (6 ft leash max) are allowed on most fully paved roads, sidewalks, and developed areas unless otherwise indicated.
Even though dogs aren't allowed on most unpaved trails, I can still sniff out Yosemite's greatest highlights from dog-friendly paved paths, like Half Dome, Yosemite Falls, and Bridalveil Fall. Leashed dogs are also allowed on the paved trails leading to Glacier Point and Mirror Lake/Mirror Meadow below Half Dome. If your dog is bigger and more athletic like my little Weimaraner cousin Sonny, you can take on longer dog-friendly hikes like the Tuolumne Grove of Giant Sequoias and Wawona Meadow Loop.
#5 San Diego (& Coronado)
WOOF HOOOO, I love marking up America's finest city a.k.a. San Diego. Near the Mexican border in Southern California, San Diego is, PAWS DOWN, one of the most dog-friendly cities in the Golden State (or heck, maybe even in the country). With many dog-welcoming restaurants, bars, beaches, and hotels along with ubiquitous free poop bag stations throughout the city, San Diego (or simply SD) never gets old for furry travelers.
From sitting my furry butt on that giant red chair in Little Italy to digging my tiny paws into the fine white sand at the Dog Beach (San Diego River Floodway) to melting my little Yorkie heart in front of Hotel Del Coronado, I can only bark that this city is one of my many homes away from home (even though technically I never lived here). Not to bark, there are dog parks galore here! What I wag my stylish rat tail to the most is their year-round comfy, mild weather which is a nice break from the typical overcast San Francisco weather.
Sniff out 10 BEST things to do in San Diego with your dog!
Hilton San Diego Bayfront
1 Park Boulevard San Diego
4-star hotel
*$50 fee for a dog of 75 lbs or less
Urban Boutique Hotel
1654 Columbia St. San Diego
3-star hotel
*$20 per dog plus tax. One dog would cost $22.14
Heritage Inn San Diego
3333 Channel Way
2-star hotel
*$25 per dog per day with 2 dogs maximum per room
#6 Southern Orange County
ARRRRFFF, southern Orange County or "OC" is arf-solutely pawtastic! I'm not trying to hate on northern OC like Anaheim, Fullerton, Garden Grove, and Santa Ana, BUT the exclusive beach communities in southern OC like Laguna Beach, Costa Mesa, and Irvine are on a different level of sophistication. Think $$$, pooches with serious treat boxes and fancy haircuts! Besides multi-million dollar beach homes, Southern OC boasts head-tiltin' coastlines and supaw posh, upscale restaurants with dog-friendly patios.
The truth about Southern OC is that ALL of it is pawsome. So, I'm not barking about a specific city but the southern part of the county resting along the ARF-so-beautiful Pacific Coast Highway. From dog-friendly fancy boutiques all over the county to the pawpular outdoor mall Irvine Spectrum Center (which welcomes well-behaved dogs on a leash), shopping with your dog is never boring in Southern OC (even window shopping). Dog boutiques and grooming stations are also everywhere.
I wag my tail uncontrollably to the plethora of dog parks (like Central Bark Dog Park in Irvine, Laguna Beach Dog Park, and Costa Mesa Bark Park), dog-friendly beaches (gotta get my paws sandy at the Dog Beach at Huntington Beach and Corona Del Mar State Beach), and scenic dog-friendly hiking trails (like Aliso Summit 29292 Ridgeview Dr, Laguna Niguel, San Clemente Pedestrian Beach Trail, and Oso Creek Trail 24932 Veterans Way).
The Inn at Laguna Beach
211 N Pacific Coast Hwy Laguna Beach
3-star hotel
*$100 fee per stay for a maximum of dogs weighing 40 lbs or under
Renaissance Newport Beach Hotel
4500 MacArthur Blvd. Newport Beach
4-star hotel
*$150 plus tax fee per stay for a maximum of 1 dog weighing 50 lbs or under
#7 Monterey (plus Carmel & Big Sur)
Two hours south of my hometown San Francisco lies Monterey, the ultra-romantic Central coastal city of John Steinbeck fame. Resting on the rugged California coast, this historical city has a high walk score, mild weather year-round, and ARF-so-refreshing air from the Pacific Ocean. ARF, Monterey is my kind of city – it offers a myriad of dog-friendly activities, dog water fountains at parks, dog bowls, and treats outside of restaurants and shops in Downtown. But the dog-friendly Central coast doesn't stop there! The upscale community of Carmel, a 10-minute drive from Monterey, has long been rated as the #1 dog-friendly town in America with Ocean Avenue boasting pawtastic dog-friendly boutiques, restaurants, and art galleries.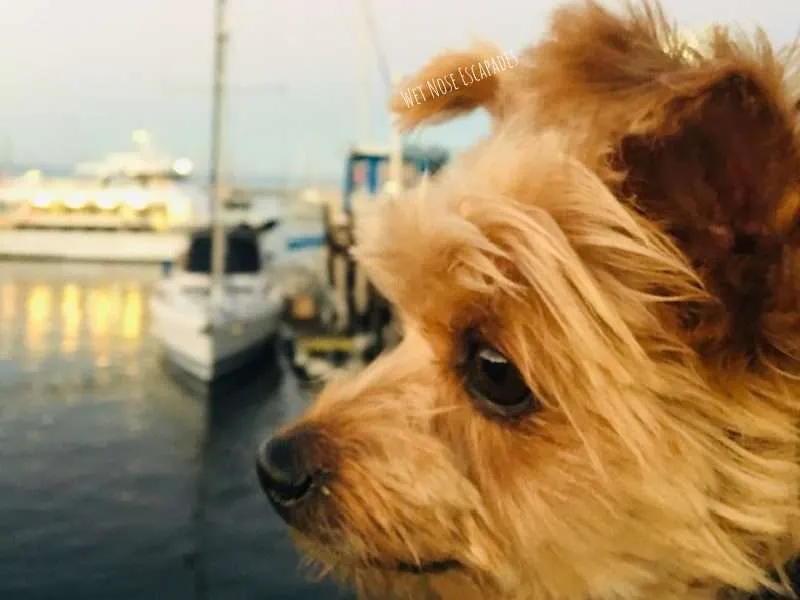 If you keep those paws on the gas for another 30 miles on CA-1, you will eventually hit Big Sur, the rugged stretch of jaw-droppin', seaside cliffs coastline between Carmel and San Simeon. Besides hopping those furry paws out of the car for some postcard, IG-worthy shots, you and your dog can enjoy their numerous wilderness dog-friendly activities, from hiking (Pfeiffer Big Sur State Park, Andrew Molera State Park) to camping to diggin' for gold on the beaches (Big Sur Beach, Pfeiffer Beach, Garrapata Beach).
Get your paws on my guide to dog-friendly activities in Monterey!
InterContinental the Clement Monterey, an IHG Hotel
750 Cannery Row Monterey
4-star hotel
*$150 dog fee per night, maximum two dogs. There is also a $150 cleaning fee per stay for up to two dogs. Dogs are only allowed in their Patio Room types, either with one king bed or two double beds.
Casa Munras Garden Hotel & Spa
700 Munras Ave Monterey
3-star hotel
*$50 cleaning fee per stay up to two dogs per room
#8 Mendocino
Although Mendocino is not nearly as pawpular as other coastal destinations on the California coast, it is still worthy of some wet nose sniffing and alpha markings. Known for cliffside trails and captivating beaches, Mendocino rests beautifully on the coast of Northern California (and by "northern," I really bark northern – well above San Francisco and all of the North Bay). Often overlooked by visitors (and sometimes even Californians themselves), Mendocino is one supaw dog-friendly vacation spot filled with plenty of dog-friendly accommodations, dog-welcoming restaurants (grub at Patterson's Pub and Trillium Cafe), and dog-friendly trails (like Mendocino Headlands State Park and Point Mendocino Trail).
For a canine beach bum who enjoys getting his furry paws sandy (but not wet, GRRR), Mendocino is the pawfect place with both on-leash and off-leash dog-friendly beaches. Such beaches include Big River Beach, Caspar Beach, Irish Beach, Mackerricher State Park Fort Bragg, Noyo Beach Fort Bragg, and Van Damme State Park.
Mendocino Hotel & Garden Suites
45080 Main St., Mendocino
3-star hotel
*Dogs are welcome in the Garden Suites lower floor rooms for an extra fee of USD $25 for the first night and $15 additional nights.
Hill House Inn
10701 Palette Dr., Mendocino, CA 95460
3-star hotel
*Dogs are welcome with management approval beforehand. A pet fee of USD $25 for the first night and $15 for each additional night per stay is required. 2 dogs maximum.
Heritage House Resort & Spa
5200 CA-1 Little River, CA 95456
4-star hotel
*A one-time $75 per dog pet fee is due at the time of check-in, 2 dogs maximum.
#9 Wine Country
Napa Valley and its surrounding area may be internationally known for gorgeous vineyards and luxurious resorts, but NorCal dog pawrents also know how dog-friendly the region is. Approximately an hour north of San Francisco and west of Sacramento, Napa and Sonoma Valleys offer numerous dog-friendly wineries with dog-friendly tasting rooms, not to bark dog-friendly vineyard hikes and hotel packages. Yet, that's on top of frequently thrown dog-friendly events. In many wineries, your furry friend will be greeted by the resident dog a.k.a. the furry winery boss! WOOF, in my barks, the TOP DOG. My favorite is Hall Wines (401 St. Helena Hwy. South) in St. Helena where dogs are welcome in a plethora of places, from The Great Lawn to Ocean View Terrace.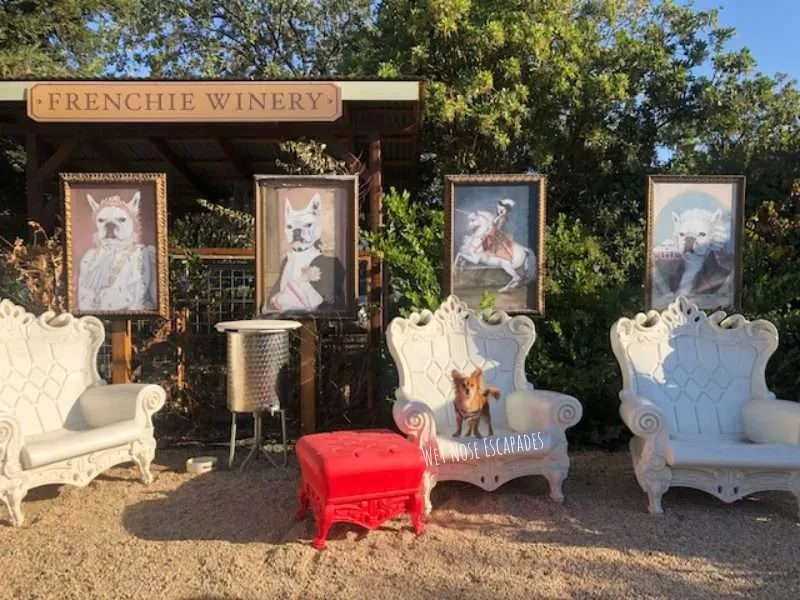 Also in St. Helena in Napa Valley, an aristocratic Napoleon-like Frenchie even launched his own wine empire; at Frenchie Winery in Raymond Vineyards (849 Zinfandel Lane St. Helena, CA 94574), dogs are provided comfy wine barrel dog beds and monitored through a doggie cam while their humans enjoy a wine tasting or two. At Bartholomew Estate Vineyards in Sonoma (1000 Vineyard Lane Sonoma, CA 95476), dogs are also welcome onsite and on a 3-mile trail within Bartholomew Park (as long as they remain on a leash at all times).
Get your furry paws on my sidekick Penny Gurl's guide to visiting Wine Country with a DOG.
Meritage Resort and Spa
875 Bordeaux Way Napa
4-star hotel
*$50 cleaning fee per dog per stay. Weight limit of 80 lbs. A plush dog bed, dog bowl (to take home), and a pet amenity bag with treats and poop bags are provided.
Cambria Hotel Napa Valley
320 Soscol Ave. Napa
3-star hotel
*$50 per dog per stay, maximum 2 dogs per room
#10 San Luis Obispo
Another ARF-so-marvelous city resting on the prestigious California Central Coast, San Luis Obispo sits roughly halfway between the Bay Area and the Greater LA area. Known for its historic Spanish Colonial Revival architecture, wineries, craft beer tasting rooms, organic eateries, and a bustling downtown, San Luis Obispo (or SLO for short) attracts both human and furry visitors from near and far. With an abundance of open green spaces, dog parks (e.g. Cambria Dog Park, Nipomo Dog Park), dog-friendly mountain hikes (like San Simeon Point Trail), and restaurants and wineries with dog-friendly patios in the area, the ultra-calm SLO can make a fun, relaxing weekend getaway or even a weeklong escapade with your dog.
Unlike famous beaches in California like Malibu, SLO county beaches are quainter and less touristy, which means a more relaxing outing for your dog. On the North Coast, furry beach bums can get their paws sandy and wet at the on-leash Cayucos State Beach or leash-optional North Point Beach in Morro Bay. On the South Coast, I enjoy being able to freely chase butts on Avila Beach, Olde Port Beach, and Fisherman's Beach (both of which are on Avila Beach Drive). My go-to daytime spots for some Sherlock investigation are the Pismo Beach Pier and Pismo State Beach while making the pawfect bonfire at night. 
San Luis Creek Lodge
1941 Monterey St. San Luis Obispo
3-star hotel
*$100 per stay, per dog (max 2 dog) under 40 lbs
Hotel San Luis Obispo
877 Palm St. San Luis Obispo
4-star hotel
*$90 per dog for the duration of stay, 3 dogs maximum per room
AWOOOO, hope your dog enjoys these 10 ARF-mazing dog-friendly California vacations! Feel free to share your experience with me. BARK AT ME!
Markin' it up,
Roger Wellington a.k.a. The Doob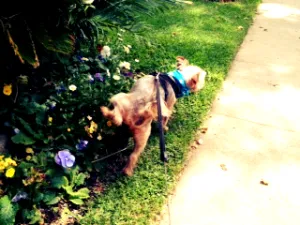 —
Like my post on "10 AMAZING Dog-Friendly California Vacations"? CLICK TO PIN!