WOOF, South Africa is one dreamy country filled with ARF-mazing coastlines, spectacular mountains, mesmerizing waterfalls, and sniff-worthy forests. Due to stricter dog import requirements (keep sniffing below), I have yet to leave my alpha mark in this dynamic country with some head-tiltin', striking scenery. GRR. BUT, lucky for me, I am getting a good sniff of what it's like being a spoiled dog in port city Cape Town, which is South Africa's second-largest city after Johannesburg. Is Cape Town dog-friendly? My ARF-so-sweet sweet Capetonian pals Elmarie (El) & her cutie pie rescue Maltese Bella (one of my crushes :)) are here to bark it all and share their pawsome Cape Town lifestyle with us. Perk up your ears and keep sniffing below!
Tell us a little bit about Bella! (e.g. background, personality, whatever you'd like to share)
I adopted Bella in May 2019 from the Cape of Good Hope SPCA (Society for the Prevention of Cruelty to Animals). At that stage, she was called Twinkles. Her elderly owners surrendered her and her sister because they could no longer take care of them. She was in the kennel for about a month when I met her, and it was love at first sight. She immediately ran over to me and was so happy and loving, despite being surrendered and separated from her sister (who was adopted first). Ever since she came home with me on the 20th of May 2019, we have been inseparable. A fantastic trainer worked with her on obedience training for a few months and then suggested that she gets tested to become a therapy dog, given her sweet disposition. In November 2019, she qualified as a therapy dog through an organization called Pets as Therapy. We started volunteering by visiting an old age home once a week; it has been wonderful seeing how happy she has made the residents – simply by sitting on their laps and listening to their stories. Sadly, various levels of lockdown (we are again in a strict lockdown) meant we haven't been able to visit old age homes as often as we would like.
What do you love the most about Bella?
She wakes up each day with the same happy attitude! She can't wait to go for a walk, sniff the same rubbish bins (as if she has never sniffed them before), and then attack her breakfast with the same enthusiasm (as if it weren't the same meal every day). Although she has several digestive issues and was recently also diagnosed with hip dysplasia, none of that affects her mood. There is a lot to be learned from her when it comes to being grateful and resilient.
What is her favorite thing to do in the world?
Leave the house, whether for a walk or a car ride somewhere. As long as she can be with me, she is happy.
What does she hate the most?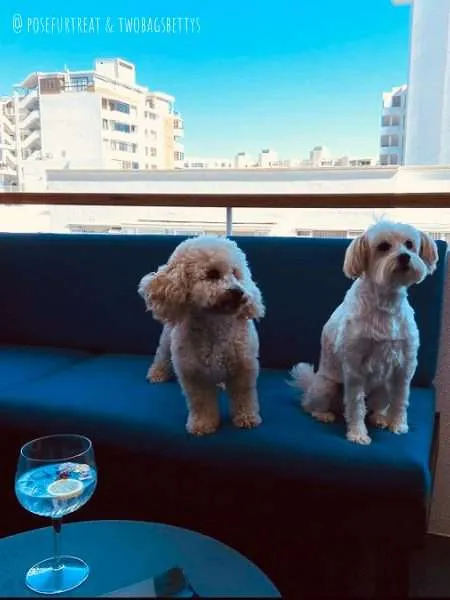 Being left alone as she suffers from separation anxiety. However, it has lessened a great deal through positive reinforcement training. Oh, cats and pigeons as well!
What are her favorite foods? Least favorite?
She loves peanut butter and gets sugar and salt-free version from time to time as a special treat. She is not a fan of strawberries.
What is the most expensive item you've purchased for her?
I've ordered her a Sealy Orthopedic dog bed which will arrive in the next few weeks. I may just want to sleep on it as well as I think the mattress will be of better quality than my own!
What's the best part about having a dog in Cape Town?
The city is very much geared towards living an active and outdoor lifestyle. There are beautiful parks and beaches, not to mention the stunning mountain hikes that are easily accessible. Over the last few years, many businesses are starting to recognize that dogs are becoming a big part of the family and have turned more pet-friendly.
What are some of your favorite dog-friendly parks in Cape Town?
The Green Point Urban Park is a beautiful park to visit and has a separate fenced-off dog park for dogs to enjoy. De Waal Park in Gardens is also a great spot for dogs to get together and catch up on their pee-mail, but it can get very busy. Bella prefers the quieter parks.
What are some of your favorite dog-friendly restaurants in Cape Town? Are dogs only allowed to dine outside? Or do some places make an exception? If so, where?
There are so many! There is a lovely New York-style deli called Kleinsky's (92 Regent Rd, Sea Point) that we frequently visit. Their bagels are delicious, and their puppacinos make Bella very happy. They allow dogs inside their restaurant. Jason Bakery (83 Main Rd, Green Point) is an amazing bakery where dogs are allowed inside. Maria's Greek Café in Gardens (31 Barnet St, Gardens) also allows dogs inside and even serves them lamb bones on the house. Another favourite is Jean Deli at the Klein Roosboom Boutique Winery (Tygerberg Valley Rd, Durbanville), where dogs are served a puppacino in their cup. Given how well-behaved she is, I usually ask if she may sit on a chair and cover the chair with her 'dining blankie'. Otherwise, she sits on the floor.
What are some dog-friendly tourist attractions in Cape Town (if any)? Any other local dog-friendly places that you'd like to share (e.g. beaches, hiking trails?)?
Several wine estates are dog-friendly, which means your fur child can go if you want to do some wine tasting or enjoy a good meal or picnic. Groot Constantia (Groot Constantia Rd, Constantia), the oldest wine estate in South Africa, is very dog-friendly. You can explore the beautiful farm free of charge, as long as you keep your dog on a lead. They have two restaurants that also allow dogs in the outside seating area.
Most beaches allow dogs on leads during specific times, but there are also a few beaches where dogs can run freely off lead. Bella's favourite beach to visit is Sunset Beach, where she loves chasing seagulls and getting her paws wet (when the water isn't too cold). There are also numerous hiking trails to explore – provided your dog has a permit and that, of course, you clean up after them.
Overall, how would you describe the local people's attitudes towards dogs?
Capetonians love dogs! Strolling along the Sea Point Promenade, you will see every conceivable breed of dog (and owner). It is not uncommon for people to stop you because they want to say hello to your dog. And, the wait staff are also becoming more and more comfortable having furry customers to serve at their restaurants.
What are some of your favorite trips you've had with Bella (e.g. road trips, domestic air travel, international, etc. – if any)? How does she handle traveling?
There is only one dog-friendly domestic airline called Lift. Lift recently introduced selected flights where dogs may accompany you in the carrier in-cabin. Previously, dogs were only able to fly in the cargo hold. Sadly, Bella is just a few cm (or inches) too tall to meet their requirements, but I'm hoping they may reconsider the guidelines. It would be lovely to take her on a flight with me – I think she would enjoy it a great deal. She loves road trips and is thankfully very comfortable traveling in the car. We have taken a few breaks together to the West Coast. However, since March 2020, it has not been possible to get away as much as we would like to.
Are dogs allowed on buses, subways, rideshares, taxis, etc.? If you have any specific experience regarding taking Bella onboard, please feel free to share!
Unfortunately, dogs are not allowed on public transport in Cape Town (although we are lobbying our local ward councillor to help us change this). Bella has taken a few Uber trips. I usually first check with the driver if he/she is comfortable having her in the car and keep her on my lap to keep the seats fur-free. By the end of the trip, without fail, the drivers comment they would rather have her as a passenger than some of the human passengers they get.
What is the biggest challenge of having a dog in Cape Town?
Not many workplaces allow dogs to accompany their owners to the office, unless they are a service dog or emotional support dog. Therefore, it can be difficult to leave your dog home alone for long periods, especially if you are a single parent. There are doggy daycare services and dog walkers available but the cost can sometimes be prohibitive. I'm lucky that my company (unofficially) allows her to go into the office with me. She takes her role as company mascot and therapy dog to the staff very seriously.
Based on your personal knowledge, would you say that people tend to buy or adopt/rescue dogs in Cape Town & South Africa? Do pet stores exist (where dogs are being sold)?
There is a definite shift towards 'adopt don't shop,' which is long overdue. There is a wonderful series currently streaming on Netflix called A Dog for Life, which takes place in Cape Town and highlights the wonderful work that many local charities do to raise awareness about owning a rescue dog. Unfortunately, pet stores selling puppies still do exist. Through ongoing education and awareness, I'm confident we will see fewer of these shops remaining.
How close is the nearest veterinarian from your house? (e.g. in miles and driving time)
There is an excellent vet less than 1 mile from my house, about a 5-minute drive. However, I am very loyal to a vet I first came across when I moved back to Cape Town in 2012. Because this vet took amazing care of my previous dog, I wanted him to be Bella's main vet. It is a 20-minute drive, but I'm happy to do it (given the quality of care I know I get from him and his staff).
Approximately how much is a standard examination/office visit at the local veterinarian?
It varies from practice to practice but approximately R400 (about $26 at the current exchange rate).
How would you rate/describe the quality of veterinary care in your area?
Very good, there are incredible specialists throughout Cape Town. Bella has her own team of vets and therapists; from acupuncture to hydrotherapy and physiotherapy, they are all top-notch! They love their jobs and their canine patients. There are also several pet medical aid services, and I can't stress enough how grateful I am that I got Bella her own medical aid. They have been a lifesaver with all the treatments she has to undergo.
What is one thing you'd like to share with us about a dog's life in Cape Town?
I think Cape Town dogs are some of the happiest doggos around. Aside from all the obvious reasons listed above, they can enjoy everything from gourmet meals and treats prepared especially for them to the finest clothing and accessories – all locally produced.
What's the best part about living in Cape Town?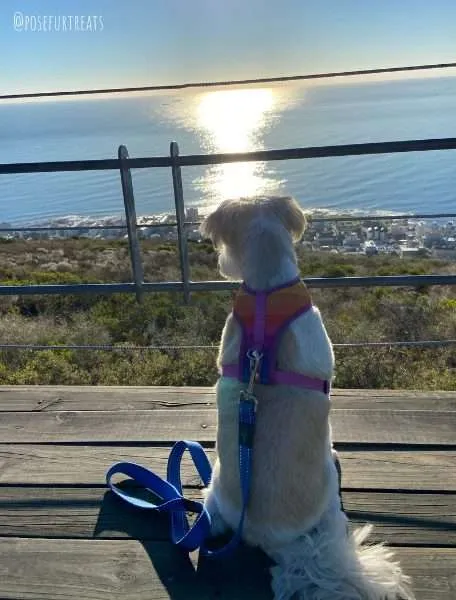 Being able to enjoy the mountain as well as the ocean. You can leave work at 17:00 (if not working from home and not tied to specific working hours) and still go out and enjoy a sundowner somewhere beautiful before you head home. And, your fur child can do so with you.
Thank you to El & Bella for sharing their dog-friendly Cape Town life with us! Want more of these two lovely ladies? Be sure to follow them on Instagram!
How to Travel to South Africa from the U.S. with Your Dog
Thinking of traveling to South Africa with your dog? ARF, not so fast! South Africa has strict requirements, even coming from the U.S. where quarantine is NOT required. Sniff out the dog import requirements to South Africa from the U.S. below:
*ISO-compliant 15-digit Microchip
*Veterinary Health Certificate – After completion by the veterinarian, the health certificate must be endorsed by USDA-APHIS. Both the health certificate issuance and endorsement must occur within 10 days of travel to South Africa.
*Veterinary Import Permit – This mandatory permit expires 6 months from the date of issuance.
*NEGATIVE Test Results – Your dog must test negative for Trypanosoma evansi (surra) on BOTH the CATT and Giemsa blood smear tests, which must occur at one of the two internationally recognized OIE Reference Laboratories for surra testing. All laboratory reports must have your dog's microchip #. Your dog will face deportation if the test results are not acceptable.
*Cargo Shipment – Dogs must enter South Africa via cargo unless they are service dogs.
The minimum 14-day quarantine is NOT required for dogs originating from the U.S., given that all paperwork is in line. Nevertheless, unless this is for a long-term visit or permanent move, I don't suggest that you transport your dog via cargo and have him/her undergo blood work. GRR, I know I hate getting my blood drawn! :/
For more information on traveling to South Africa with a dog, put your furry paw HERE.
Hope you enjoy getting a lick of a dog's life in dog-friendly Cape Town, South Africa!
Markin' it up,
Roger Wellington a.k.a. The Doob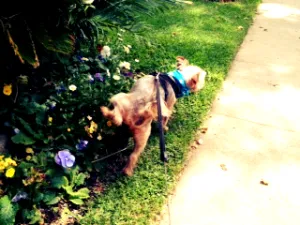 —
Like my post on "Dog-Friendly Cape Town: An Interview with Bella the South African Maltese"? PIN IT!