WOOF, after leaving my alpha marks in NYC and LA, I knew the Windy City is next on my radar – I mean, nose-dar. After all, Chicago or "Second City" is the third-largest city in the U.S. (by pawpulation) with a whole lot of TOP DOG skyscrapers. My human occasionally brags about her past visits to her good friend, an LA-native turned Chicagoan who made her fall in love with paw-lickin' deep-dish pizzas and the ARF-so-vibrant Magnificent Mile. GRRR, while she has promised to fly me to Chi-Town some moons ago, I'm still patiently waiting to sniff out The Loop and mark up Millennium Park. In the meantime, it's a good thing I have my furry Chicagoan pal Sky and her wonderful pawrent Leilani to share a few barks about dog-friendly Chicago! Keep on sniffing!
Tell us a little bit about Sky! (e.g. background, personality, whatever you'd like to share).
Sky's an 8-year-old rescue from Be Fido's Friend, which is a dog rescue in Chicago. I've had her for half her life now. Despite what a doggy DNA test said, I think she is a full Skye Terrier based on appearance and mannerisms. She's the definition of loyalty and follows me around everywhere. Even after four years, she'll sometimes cry if I am gone too long. Besides me, she loves her family very much. She's a very smart dog and knows a ton of tricks, mainly because she's a food-motivated dog! The only types of toys she likes are food/treat dispenser ones and squeaky toys. She goes nuts, actually, with squeaky toys! Car rides are another thing she enjoys, especially when she's cruising around the city with her uncle in his top-down Fiat.
What did her doggy DNA indicate, if you don't mind sharing?
It said she was 50% Pomeranian and the rest were different Terrier breeds. Not a drop of Skye Terrier!
What was Sky's history prior to being rescued by Be Fido's Friend?
Her foster mother said Sky's microchip was traced back to a breeder in TN. I actually searched online to see if there were any Skye Terrier breeders there, but couldn't find anything. Sky was found wandering Chicago towards the end of 2016. Animal Care and Control found her and had her in their facility for 2 weeks. No one claimed her or wanted to adopt her. Her foster mother went to Animal Care and Control to pass out treats and saw Sky.
What do you love most about her?
Hands down – her loyalty! Whenever I'm sick, she'll stay by my side. If l spend a day or two sick in bed, she'll just sleep on the bed with me and only get up if necessary. Her dad recently had COVID-19, which led him to quarantine in the bedroom for over a week. Oftentimes, she went into the room to check on him and laid with him as he slept the days away.
What are her favorite things to do in the world?
Eating, going for long walks with her parents, going to the pet store, and getting in car rides make her happy.
What does she hate the most?
She's not a fan of loud noises. Fourth of July is the worst time of year for her. She's also not a fan of going to the vet.
What are her favorite foods? Least favorite?
90% of the time, Sky will eat whatever you put in front of her. She loves grandma's steamed sweet potatoes, rice (she's half-Asian), hard-boiled eggs, and whatever scraps her uncle gives her. She'll walk away from carrots, lettuce, and foods without any scent.
What is the most expensive item you've purchased for her?
Her dog carrier. It's almost like luggage because it has a board with wheels that attach underneath this big bag. This bag is so big – she can even stand in it!
What are some of your favorite dog-friendly parks in Chicago? (please provide specific parks).
Hamlin Park and Horner Park both have dog parks inside them.
What's the best part about having a dog in Chicago?
There are so many places to go sightseeing together!
What are some of your favorite dog-friendly restaurants in Chicago? Are dogs only allowed to dine outside? Or do some places make an exception for indoor dining? If so, where?
Most places only allow dogs outside on the patio. The only exception for indoor dining is support dogs, and they need to wear some type of identifier. Sky has gone to the original Kuma's Corner before and has proven she's not a patio dog. She got really bored laying on the ground as we ate yummy burgers.
What are some dog-friendly tourist attractions in Chicago (if any)? Any other local dog-friendly places that you'd like to share?
Chicago has dog-friendly beaches, like Montrose Dog Beach. Also, the Lakefront path is a great place to walk your dog. It goes on for miles, the views of downtown and Lake Michigan are great, and you can stop by several beaches along the way. Other dog-friendly tourist attractions include Navy Pier (some boats allow dogs) and breweries.
Overall, how would you describe the local people's attitudes towards dogs?
Many, many people have dogs in Chicago. In general, I think those who aren't fans of dogs just go on about their routine and won't stop to smile or comment. Those who are dog lovers, whether they have a dog or not, make it known if your dog is cute! In the city, though, people don't pick up after their dog versus the suburbs. Oftentimes, you'll see signs in front of homes and buildings reminding owners to do so.
What are some of your favorite trips you've had with Sky (e.g. road trips, domestic air travel, international, etc. – if any)? How well does she travel?
Sky has never flown before, but she has taken train rides to Michigan City, Indiana countless times. Her dad and I were long-distance (he was in Michigan while I was in Chicago) for a few years, so we'd make trips to see him and meet halfway. At first, she wasn't a fan of being in her carrier for 90-minutes but got used to it. She's good on car rides. She gets really excited and looks outside. She loves whenever we go to Michigan to visit her grandparents because it's quieter and greener.
Are dogs allowed on buses, subways, rideshares, taxis, etc.? If you have any memorable experience regarding taking Sky onboard, please feel free to share!
Pets are allowed on Chicago's public transportation, as long as they're in a carrier. I've never taken Sky on Chicago's public transit, but I've taken her on the South Shore train line that goes to Michigan City, IN. Before I get into a taxi or rideshare, I usually ask the driver if it's okay. I've gotten declined by a taxi driver once and have had rideshare drivers who weren't too happy that an animal was in their car.
What is the biggest challenge of having a dog in Chicago?
Probably Chicago's extreme weather. It gets really humid in Chicago during the summer, so our walks are sometimes short. During winter, we have snowstorms, and some people don't shovel their snow. This makes it difficult and tiring when trying to get walks in.
Is she willing to walk in the snow? Or how does she manage to get exercise or potty breaks during the winter?
She's willing to walk in the snow, but she has to be wearing her Pawz dog boots. She hates them, but our walks would be short without them. She'll lift her paws if they get too cold. She loves the snow and likes to munch on it. If we have a snowstorm, I'll take her outside really quickly. There's not much exercise she can do if the weather's bad. If there's a ton of snow on the ground, we'll walk for a few minutes because her short legs can't handle snow hills.
Based on your personal knowledge, would you say that people tend to buy or adopt/rescue dogs in Chicago? Do pet stores exist (where dogs and cats are sold)?
I think it's half and half with adopting and purchasing a dog. Pet stores do exist in Chicago.
How close is the nearest veterinarian from your house? (e.g. in miles and driving time).
The clinic that Sky goes to is a 10-minute walk away. She's gone to another clinic in the past that's about a 10-minute drive. The city has a big handful of vet clinics to choose from.
Approximately how much is a standard examination/office visit at the local veterinarian?
Around $70.
How would you rate/describe the quality of veterinary care in your area?
I think it's great. All the vets that have treated Sky were really great and very patient with her because she gets so anxious and shakes during visits.
What is one thing you'd like to share with us about a dog's life in Chicago?
There's so much for your dog to do and sniff in Chicago! Also, pet stores, big and small, are everywhere!
Why is Chicago worth a visit? 🙂
There are many dogs to adopt/rescue (TONS who need a furever home) and take back home with you and there are many, many places that are dog-friendly and accommodating. In fact, there are even some restaurants that have items on the menu for dogs!
Thank you to Sky and Leilani for this interview and sharing their pawsome dog-friendly Chicago life with us! Can't get enough of Sky? Follow her escapades on Instagram!
Markin' it up,
Roger Wellington a.k.a. The Doob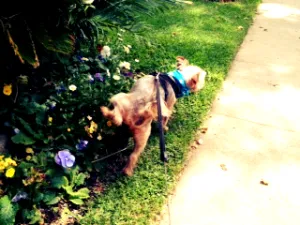 —
Like my post on "Dog-Friendly Chicago: An Interview with Sky, the Chicagoan Terrier"? CLICK TO PIN!