ARF, heading to dog-friendly Coastal Mississippi? Sniff out my Top Dog guide to visiting Biloxi and Gulfport with your dog!
Posted 1/14/22
During my second extended stay in the BIG Easy a.k.a. New Orleans last month, I wanted to make sure I got a deep sniff of Coastal Mississippi. ARF-ter all, a Yorkie can only take so much of the French Quarter debauchery. Even though all the Nawlins locals warned me that I'd be moving away from the ARF-mazing, world-famous NOLA culture and food, my little wet nose was up for a different scent, a change of pace. As I slowly made my way to Sweet Home Alabama from Louisiana, I made two stops along the pawsome Coastal Mississippi. Within an hour of drive time on I-10 east near the Gulf of Mexico (and crossing the Twin Span Bridge), I tilted my head as I passed the "Welcome to Mississippi" sign. WOOF, I officially set my furry paws in a new state!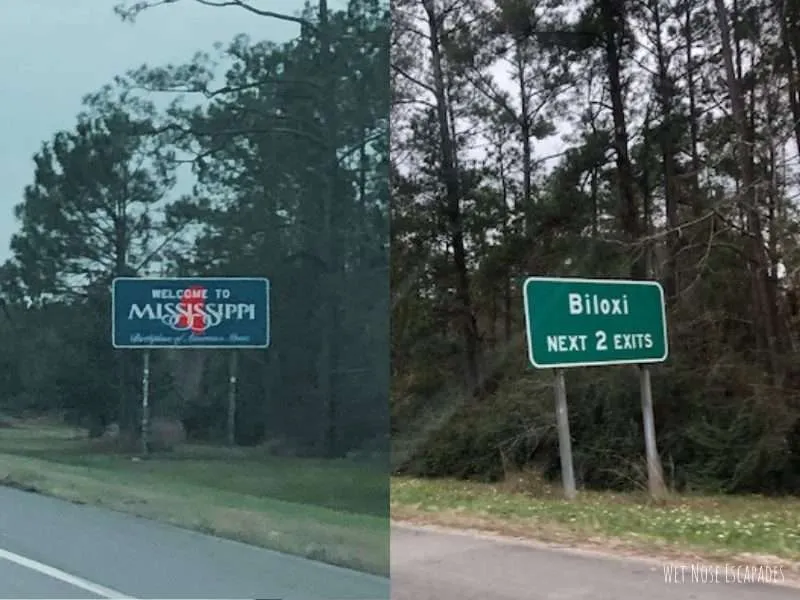 My first stop is Biloxi. Approximately 78 miles from New Orleans (just under an hour and a half drive), Biloxi is an ultra-mini Las Vegas with eight casinos and 24-hour gambling. From the classic film Biloxi Blues to the country song "Biloxi," this small coastal city has surely made a name for itself despite a tiny pawpulation of under 50,000. OK, I'm no gambler (you can't get my furry paws on any dice), but I love markin' up new places – heck, that is the fur-ever traveler in me.
Are the casinos in Biloxi dog-friendly?
Although casinos aren't exactly fun places for dogs, most hotels inside the casinos at Biloxi (meaning 6 out of 8) are dog-friendly, which means your dog traveler can spend the night with you! Here's a RUFF breakdown:
777 Beach Blvd.
Arf, this is where I slept with all four paws up in Biloxi! I just LOVE being welcome with open paws. When I checked in, I sniffed out four dog travelers waiting at the registration line and roaming around the property. We wagged our tails as we exchanged a few barks and sniffs.
Just sniff out Hard Rock's pet-friendly statement on their website:
"As a pet-friendly hotel, Hard Rock Hotel & Casino Biloxi understands your pets aren't just animals; they are members of your family. We have worked hard to ensure that your pets are treated with the same dignity and respect as all our two-legged guests."
ARF-my-DOG! Can someone bark WINNER, WINNER, CHICKEN DINNER?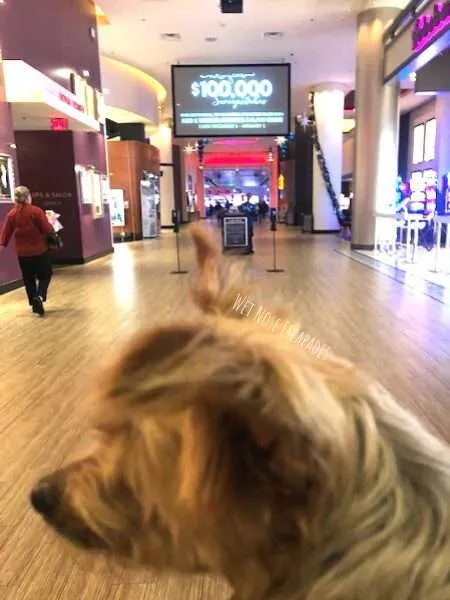 Hard Rock's Dog Policy:
PETS WEIGHING LESS THAN 25 LBS:
-Pets must not be left unattended in the hotel room or suite.
-A non-refundable pet fee of $75 is required for your pet.
PETS WEIGHING 26 – 100 LBS.:
(Maximum of One Large Breed Animal)
-Pets must not be left unattended in the hotel room or suite.
-A non-refundable pet fee of $125 is required for your pet.
Failure to announce your pet during check-in will result in a mandatory $200 deep-cleaning penalty fee. GRR, don't test your luck!
280 Beach Blvd.
-Dogs are the only animals allowed under the PetStay program.
-Dogs staying at any of the participating hotels must weigh 50 pounds or less and be present at the time of check-in.
-Up to 2 dogs per room are allowed.
-Dogs are permitted to walk through designated common areas while on a leash and accompanied by the owner.
-Dog owners must be prepared to accommodate your dogs until your room is ready.
-Dogs must be kennelled or out of the room during housekeeping. (Housekeeping may be scheduled at your convenience, but housekeeping must be allowed to service your guest room at a minimum of every other day.)
875 Beach Blvd.
-Up to 2 dogs are allowed, with a maximum combined weight of less than 100 pounds.
-A second dog fee will be charged at check-in if you bring two dogs.
-A charge of $100 per night, per dog plus tax for rooms, and $150 per night, per dog plus tax for suites will be applied to your account.
-Due to health code regulations, only service dogs are allowed in public areas including, but not limited to: any food and beverage outlets, the Spa, or pool areas, except as passing through. Dogs are permitted in hotel rooms, suites, and the designated outdoor dog park located on the property.
676 Bayview Ave.
-RV Park is dog-friendly with grassy areas. Dogs are welcome as long as they remain on-leash.
Golden Nugget Biloxi
151 Beach Blvd.
-GRRR, this joint is NOT dog-friendly.
850 Bayview Ave.
-Dog-Friendly Rooms are 400 square feet.
-Limit of 2 dogs per room with a max size of 60 pounds.
-Your dog cannot be left unattended in your room or suite at any time unless confined in a kennel or carrier. Animals must be leashed while on property outside of your room. Dogs will be permitted in hotel rooms and designated relief areas. Due to health code guidelines, dogs will not be allowed in public areas including food venues, casino floor, spa, or pool area (with the exception of service animals). Dogs must be housetrained. There will be a $100 non-refundable fee for any unregistered dog discovered in a room in addition to the one-time $75 + tax pet fee.
Dog-Friendly Casinos + Hotels along the Mississippi Gulf Coast:
711 Hollywood Blvd.
Bay St. Louis, MS
-Pets are allowed for an extra charge of USD 50.00 per pet, per stay.
Island View Casino Resort
300 West Beach Blvd.
Gulfport, MS
-Pets are NOT allowed.
9380 Central Ave.
D'Iberville, MS
-Pet-friendly rooms are available upon request (no fee given, contact call for more info).
Silver Slipper Casino and Hotel
5000 South Beach Blvd.
Bay St. Louis, MS
-Pets are NOT allowed.
Are beaches in Coastal Mississippi dog-friendly?
On the Mississippi Gulf Coast, whether or not beaches are dog-friendly ultimately depends on the county. Dogs are prohibited on beaches of Harrison County, with no exceptions (unless you have a legitimate service dog). Unfortunately, Harrison County encompasses the beaches of Biloxi, Gulfport, Pass Christian, and Long Beach. Hence, this means that Biloxi and Gulfport beaches are paws-off for dogs. GRRR.
BUT, don't lower that furry tail of yours now. AWOOOO, the good news is that there are a few dog-friendly beaches in the area! Time to get those furry paws sandy!
For instance, Ocean Springs has two dog-friendly beaches:
Front Beach (located between Ocean Springs Harbor and the Ocean Springs-Biloxi Bridge):
200-298 Front Beach Dr, Ocean Springs
East Beach
Also, in Hancock County (between Bay St. Louis and Waveland along the Gulf Coast), all public beaches are dog-friendly as long as the dogs are on-leash.
Hancock County Beaches
This dog-friendly county of beaches includes Bay St. Louis Beach, Lakeshore Beach, and Waveland Beach. Gotta drop an open-mouth smiley face to that!
And, ARF-course, be sure to pick up after your dog wherever you go. 🙂
Other sniff-worthy dog-friendly activities in Coastal Mississippi
Biloxi Town Green
710 Beach Blvd. Biloxi
ARF, this ultra-cool dog-friendly spot is just right across from Hard Rock! With 2,100 square feet of open space, Biloxi Town Green is a MUST-MARK for all furry visitors. There are cutesy painted tree carvings and a touching Katrina Memorial.
Gulfport Harbor Lights Winter Festival
2269 Jones Park Dr, Gulfport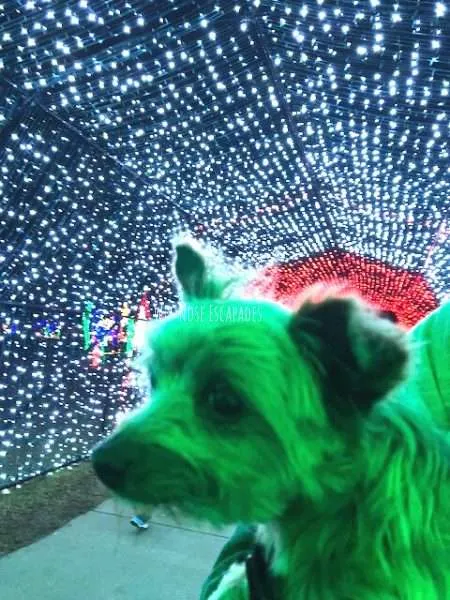 Since I sniffed out Coastal Mississippi during the holidays, I was lucky to leave an alpha mark at the annual Gulfport Harbor Lights Winter Festival a.k.a. "the most magical show in Mississippi." This elaborate production with dancing holiday lights can make Scrooge and Grinch feel the Christmas spirit! While it costs $15 for entry per human, dogs are free to roam around this massive festive park. My only bark of caution is to BE WARY of screaming children on the loose (if you don't already know, children tend to overwhelm me. GRRR, I'm NOT a toy!).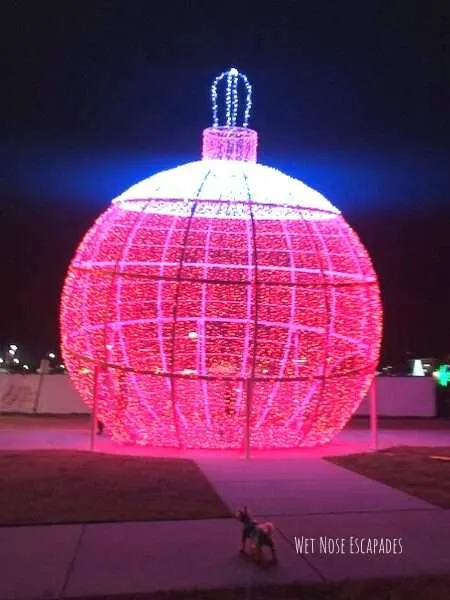 Sniff out more of my visit to Gulfport Harbor Lights Winter Festival HERE!
Boats & Ships on the Harbor
Anywhere along the Gulf Coast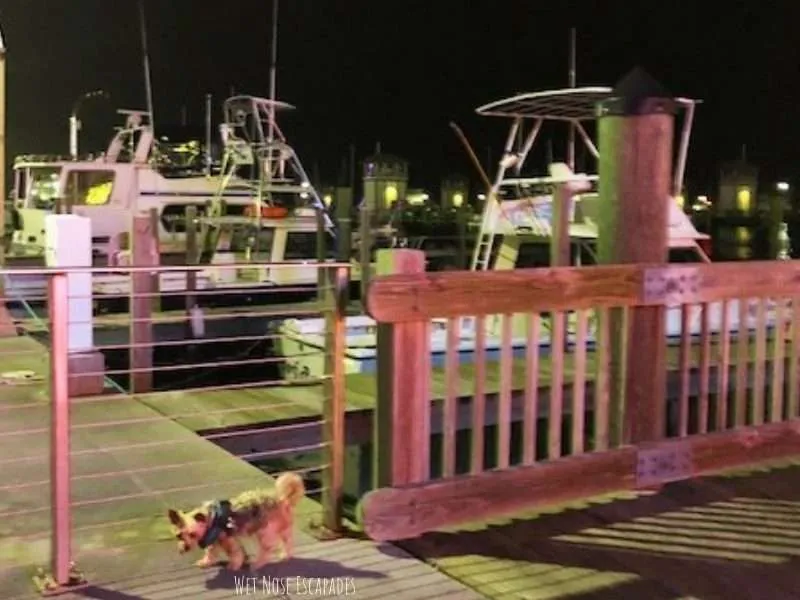 ARF, don't forget to snap a pic or two of your furry traveler with the scenic boats and ships along the coast!
Biloxi Welcome Signs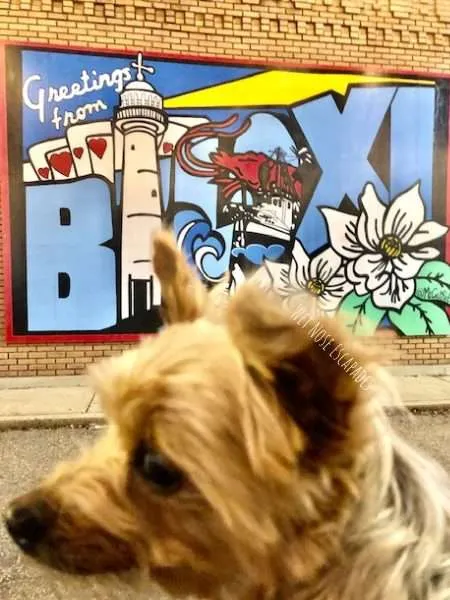 Be on the look-out for fantastic Biloxi welcome signs! From illuminated signs at Town Green and the Harbor to eye-catching artwork in Downtown, these Biloxi welcome signs are pawsomely IG-worthy.
WOOF, that's all I got for now! I hope you enjoy dog-friendly Coastal Mississippi! How was your furry escapade? Feel free to BARK AT ME!
Subscribe to my YouTube Channel: Wet Nose Escapades by Roger Wellington for fun dog travel videos! Don't forget to watch me take over USS Alabama Battleship Memorial Park in Mobile, AL.
Markin' it up,
Roger Wellington a.k.a. The Doob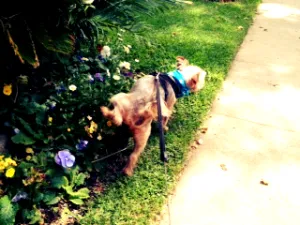 –
Like my post on "Dog-Friendly Coastal Mississippi: A Yorkie visits Biloxi and Gulfport"? CLICK TO PIN!