WOOF, looking for dog-friendly day trips in Northern California? Perk up your ears and sniff my furry buttocks NOW!
First Posted 3/1/21, Last updated 2/12/23
Despite transforming into the world traveling Yorkie in 2016, I haven't forgotten the exquisite scents of my hometown Northern California. With an upright waggin' tail, I'm ecstatic to bark out my favorite dog-friendly day trips in Northern California (a.k.a. NorCal). I also have a real treat for you as my road trip expert Weimaraner cousin Sonny is here to add a mark or two. Together along with my crazy sidekick Penny Gurl, we are three furry NorCal natives ready to take you through 10 of the most pawsome places in OUR territory to visit with your dog. Whether you rest your furry paws in the Bay Area or Sacramento, we've got you covered with the top 10 dog-friendly day trips in Northern California!
*Please note that this post contains
affiliate links
, and at no obligation or additional cost to you, my humans and I earn a small commission if you make a purchase. If you love the work that we do, you can show your support by making a purchase through an affiliate link. Proceeds will go towards
feeding homeless dogs (and cats) along with improving the lives of the neglected and abused
.
Sniff out these 10 dog-friendly day trips in Northern California:
#1 Wine Country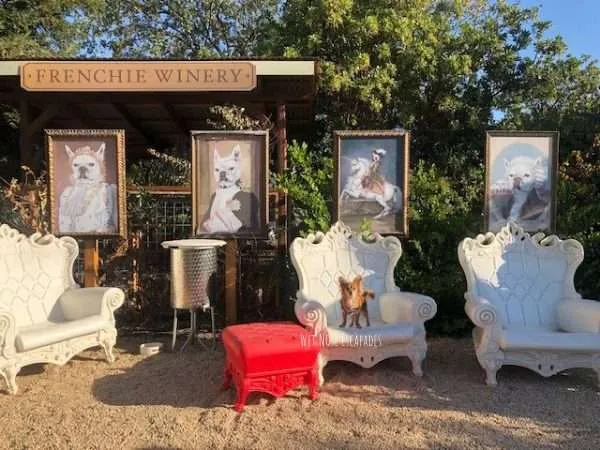 Napa Valley and its surrounding area may be internationally known for gorgeous hillside vineyards, premier wine, and luxurious spa resorts, but NorCal dog pawrents also know how dog-friendly the region is. Although technically part of the San Francisco Bay Area, wine country is often considered to be separate from the Bay Area by many natives and locals (myself included).
Approximately an hour north of San Francisco and west of Sacramento, Napa and Sonoma Valleys offer numerous dog-friendly wineries with dog-friendly tasting rooms (and not to bark, dog-friendly vineyard hikes and hotel packages). Yet, that's on top of frequently thrown dog-friendly events. At many wineries, your furry friend will be greeted by the resident dog a.k.a. the furry winery boss! My favorite dog-friendly winery is Hall Wines (401 St. Helena Hwy. South) in St. Helena where dogs are welcome in a plethora of places, from The Great Lawn to Ocean View Terrace.
Also in St. Helena in Napa Valley, an aristocratic Napoleon-like Frenchie even launched his own wine empire at Frenchie Winery on Raymond Vineyards (849 Zinfandel Lane St. Helena, CA 94574). Unfortunately, dogs are NOT allowed inside the tasting room, but are provided comfy wine barrel dog beds and monitored through a doggie cam while their humans enjoy a wine tasting or two. At Bartholomew Estate Vineyards in Sonoma (1000 Vineyard Lane Sonoma, CA 95476), dogs are also welcome onsite and on a 3-mile trail within Bartholomew Park (as long as they remain on a leash at all times).
For more dog-friendly Napa Valley, get your furry paws on my sidekick Penny Gurl's guide to visiting Wine Country with a DOG. Regardless of where you take your dog in Napa Valley, dogs are almost always allowed to hang out in the outdoor areas even if they're not allowed inside the tasting rooms. This is due to former Governor Jerry Brown's AB 1965, a law that modified California's health code to allow retail food businesses with outdoor seating areas to permit pet dogs in those areas. However, the catch is that it's still up to the winery owner's discretion to allow dogs outside. It is safe to bark though that I've never set my paws into a winery in California that's NOT dog-friendly.
#2 Santa Cruz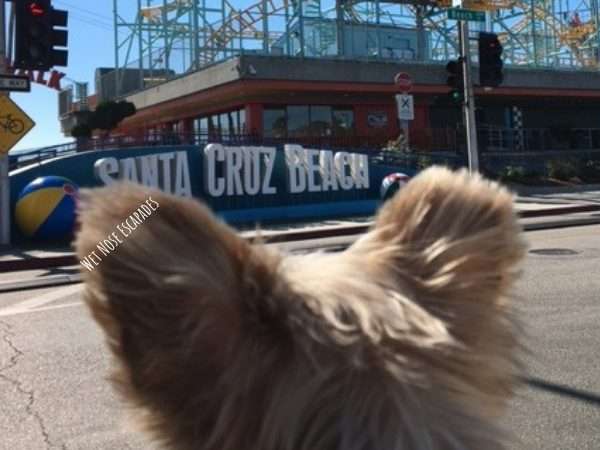 Just under a 90-minute drive from San Francisco, a short 40-minute drive from San Jose, and a 2-hour drive from Sacramento, Santa Cruz is an easily accessible day trip in Northern California. This super laid-back town is known for warm beaches (unlike the ones in SF), head-tiltin' redwood trees, and tie-dye culture. Although dogs aren't allowed on the famed Santa Cruz Boardwalk, finding dog-friendly activities in the area is rarely a pawblem. Dogs may have historically been banned from Downtown Santa Cruz in the past, but now I can dash through Pacific Avenue and leave a few alpha marks with an upright tail. Whether it's brunch or dinner, I can join my humans on dog-friendly restaurant patios whose staff are quick to offer dog bowls.
At the charming Walnut Avenue Cafe (106 Walnut Avenue), I can hang out under their shady red umbrellas while getting a bite of my human's scramble. Santa Cruz is no Napa Valley, but I sure love hitting up their dog-friendly breweries and vineyards like Humble Sea Brewery and Santa Cruz Mountain Vineyard , where it's not uncommon to find dogs inside tasting rooms. With a myriad of dog-friendly state parks, trails, and beaches (Its Beach 701 W Cliff Dr) combined with year-round moderate weather, Santa Cruz is a real pawty for dogs.
And, don't forget that many of the beaches here are also dog-friendly! From Lighthouse Field State Beach (Its beach) to Sunny Cove Beach, dogs are welcome on-leash and welcome anytime.
Sniff out more dog-friendly places in Santa Cruz HERE!
#3 Marin
The short drive north across the Golden Gate Bridge will take you out of the city to Marin County, one of the richest counties not just in the Bay Area but also in the country. WOOF, note to self – don't forget to get groomed before going! Besides multi-million dollar homes and panoramic ocean views, Marin County is known for some of the most ARF-mazing parks and cleanest beaches in California.
As I enter Marin County, I quickly dropped open my little mouth and smiled at the breathtaking views of the Pacific Ocean. Right across the 1.7-mile-long Golden Gate Bridge, Marin Headlands is a 2,100-acre hilly area with IG-worthy shots of the iconic Golden Gate Bridge and San Francisco city skyline. In addition to three dog-friendly trails (Coastal Trail, Loop Trail, and Wolf Ridge Loop), dogs are allowed on Rodeo Beach. Dogs are also allowed in certain areas of the state parks, including developed areas and paved roads of the popular Mt. Tamalpais State Park in Mill Valley.
Part of the Golden Gate National Recreation Area (GGNRA), the national parks in Marin boast bountiful dog-friendly trails, beaches, and open spaces. Even though dogs are prohibited in Muir Woods (for the safety of your precious dog and wildlife) and campgrounds, they are permitted on the nearby Muir Beach in certain areas, such as Beach Area Proper (on-leash or voice control), Kaashi Way & Coastal Trail (on-leash), and Redwood Creek Lagoon & Riparian Area. Sniff out the National Park Service website for all their dog-friendly locations.
If you aren't up for a hike, take your dog on a day trip to my human's favorite city in Marin, Sausalito. A 30-minute ferry ride from San Francisco will take you and your dog to timeless views of the Golden Gate Bridge and a charming waterfront walkway with restaurants and shops. Official ferry rules state that dogs are allowed on the ferry as long as they remain in a handheld kennel or airline-approved carrier.
Sniff out my 7 ARF-mazing things to do with your dog in Sausalito here, including my go-to spawt for dog-friendly dining.
Big dogs can hop onto the Blue & Gold Fleet vessel from Pier 41 in the city as long as they're on a leash. Small dogs can also board as long as they're in an approved carrier. Per their policy, you must be able to control your dog at all times; otherwise, your dog may be subject to removal.
#4 Lake Tahoe
Whether you wanna perk up your ears at the South Shore or rest your paws on the North Shore, Lake Tahoe (or Tahoe for short) is a heavenly, glassy blue PAWradise for dogs. If you don't already know, Lake Tahoe is the largest alpine lake in North America, located in the Sierra Nevada Mountains. At the border between California and Nevada, Tahoe is only less than 2 hours away from Sacramento and 3.5 hours from San Francisco. For Peninsula and South Bay folks, Tahoe serves more of a weekend getaway than a day trip to make the drive worthy.
Sniff before you go – 8 things to do with your dog in South Lake Tahoe.
While both North and South Shores have bragging rights to beautiful ski resorts and beaches, the South Shore (South Lake Tahoe) is our TOP DOG pick for a more lively and upbeat time. Arf-ter all, South Lake Tahoe is buzzin' with outdoor live music, bars, and lounges. Although casinos are not dog-friendly (except for service dogs. GRR, it's too smokey anyway), my cousin Sonny and I love getting our grub on at their spectacular dog-friendly restaurants at Heavenly Village (WOOF, Base Camp Pizza is the BEST!).
Besides dog-friendly eateries and breweries, you'll come across pawsome dog-friendly scenic hikes (Lake of the Sky Trail, Mt. Tallac, Tahoe Rim Trail) and dog-friendly beaches (Lakeside Beach, Kiva Beach, North Zephyr Cove Beach). Be sure to lick your chops to some of my go-to restaurants in South Lake Tahoe and sniff out how I pawtied at my Auntie's gorgeous lakeside wedding:
If you and your furry traveler are thinking of driving 30-60 minutes (depending on which part of Tahoe you're in) to Reno, Nevada, THINK AGAIN. About 22 miles from Tahoe, Reno is coined the "The Biggest Little City in the World." BUT since Penny Gurl's last visit, we have removed Reno from our list of dog-friendly destinations. Sniff out WHY you should NOT take your dog to Reno.
#5 Sly Park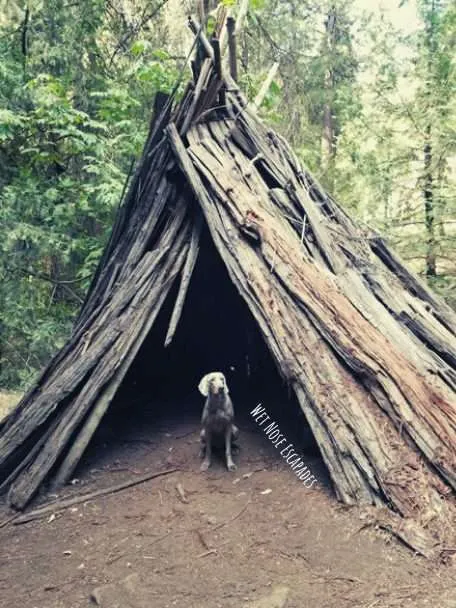 Off of Hwy 50 towards Lake Tahoe in El Dorado County, Sly Park is an arf-mazing day trip for dogs who love outdoor adventure. It's approximately an hour east of Sacramento, 2.5 hours from San Francisco, and just under 3 hours from San Jose, making it a pawfect little day trip to change up the scenery. Dogs are allowed in the Sly Park Recreation Area as long as they're on a 10-foot max leash and under control at all times (and, arf course, don't forget to clean up after your dog). The heart of Sly Park lies the beloved Jenkinson Lake. At 3500 ft elevation, Jenkinson Lake is where my little BIG cousin Sonny loves frolicking outdoors all day, from paddleboarding to kayaking to hiking.
With 9 miles of dog-friendly trails surrounding the lake, Sonny loves a good hike on Miwok Trail or Jenkinson Lake Loop Trail (not to bark, sniff out those waterfalls). Be sure to pack bottled water, water bowls, food, and treats so you and your dog can picnic by the lake after a nice long hike. If you opt to stay overnight for some weekend fun, your dog can also join you on their campgrounds, which are dog-friendly.
#6
Davis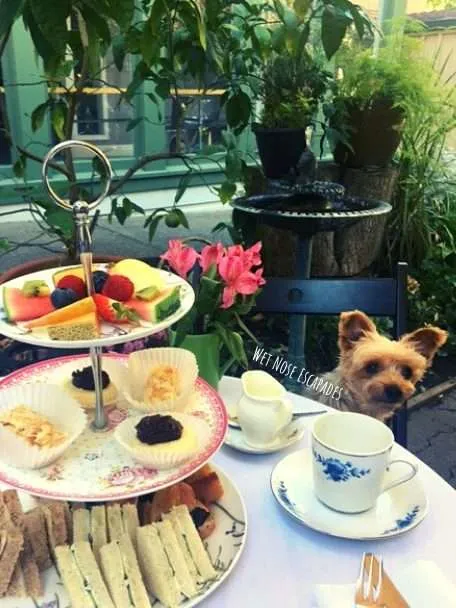 A cute college town about 14 miles west of Downtown Sacramento, Davis is a wonderful destination to explore with your dog. Despite its proximity to the Bay Area (just a little over an hour drive northeast from San Francisco and less than 2 hours from San Jose), Davis is almost entirely overlooked by visitors (unless you're a UCD student or have ties to its internationally renowned UC Davis campus). Sure, it's no Sausalito or Half Moon Bay, but it still sets off a sweet small town charm with its pawpulation of 67K. And, arf course, Davis is home to a myriad of dog-friendly activities.
Just a BARK OF CAUTION: Don't take your dog here over the summer when temperatures can often rise up to triple digits.
A side BARK: UC Davis School of Veterinary Medicine is not only the largest veterinary school in the country but also the BEST in the world, which means your furry traveler should be in good hands in an unlikely event of an emergency.
Those lettered and numbered streets of Downtown Davis may not be crazy bustling (just like in any small town), but they boast abundant dog-friendly eateries ranging from pizzerias to burger joints to cafes. As a nomadic dog who has gallivanted throughout Europe for over five years, I was immediately drawn to the cutesy Tea List (222 D St. Ste 3) for afternoon high tea with Sonny. Chilling on their decent sized wooden dog-friendly patio (free from cars and bikes), I can devour scones and tea sandwiches in peace.
In addition to dog-friendly trails nearby (like Sonny's favorite, Putah Creek), the UC Davis Arboretum and Public Garden makes for a calming yet interesting saunter with your dog. If you wanna grab a beer or two, take your dog to legendary Davis establishment Sudwerk Brewery (2001 2nd St) where you'll surely find some dogs running around the joint. 🙂
#7 Bodega Bay
Situated on the Pacific Coast (Hwy 1) in Sonoma County, the whale-watching small town of Bodega Bay is under a 90-minute drive north of San Francisco and a 2-hour drive from both San Jose and Sacramento. Rose to fame as the setting of Alfred Hitchcock's legendary film The Birds, Bodega Bay is a marvelous dog-friendly day trip packed with outdoor activities, seaside eateries, and boutique shops. In addition to dining out with your dog over coastal views, other dog-friendly activities at this beautiful fishing port include hiking, kayaking, paddle boarding, camping, and bummin' it out on the beaches.
YEP, as you would imagine, dogs are allowed on most trails and beaches at Bodega Bay as long as they're leashed. For instance, at Sonoma Coast State Park, dogs are allowed on the following beaches: Campbell Cove, Marshall Gulch, Carmet Beach, Schoolhouse Beach, Portuguese Beach, Duncan's Cover, Wright's Beach, Furlong Gulch, Shell Beach, Blind Beach, and Russian Gulch. Doran Regional Park also boasts a 2-mile stretch of beach that's pawfect for picnicking with your dog after a nice sandy walk. I especially love the Bird Walk Coastal Access Trail, which is an easy 1.19-mile trail (which is pawsome for a small athletic dog like me) near Doran Regional Park that's a MUST for some fun bird watching.
The town of Bodega is also sniff-worthy with its fair share of dog-friendly eateries like supaw cute The Birds Cafe with outdoor picnic tables (fish tacos, anyone?) and the arf-so-pawpular The Tides Wharf & Restaurant, a casual restaurant overlooking Bodega Bay that's famous for seafood dishes and fish market.
#8 Folsom Lake
Nestled in the foothills of Sierra Nevada, the 9-mile long Folsom Lake is another outdoor hot spawt for furry travelers. Folsom Lake is a beautiful reservoir situated on the American River 30 minutes from Sacramento, 2 hours from San Francisco, and 2.5 hours from San Jose. Not only are dogs allowed on ALL trails, but also IN the water (well, excluding swim areas at Negro Bar, Granite Bay, Beals Point, and Nimbus Flat)! A real athlete, my cousin Sonny has over 50 miles of trails to mark up (ARF, should he wish), plus fun water excursions (kayaking, anyone?).
My furry cousin's go-to trails are the Johnny Cash Trail and Folsom Lake Granite Bay Trail. Despite a low level of water in recent years due to severe drought in California, Folsom Lake remains a pawpular place for swimming. All in all, Folsom Lake is an ultra-chill yet solid recreational area for humans to appreciate nature with their dogs. As the summers and winters may have extreme temperatures, we recommend visiting Folsom Lake with your dog in the Spring and Fall.
Just a BARK of Caution: Don't stay out too late as there have been coyote sightings!
#9 Half Moon Bay
Resting between the Pacific Coast and Santa Cruz Mountains in San Mateo County, the gorgeous Half Moon Bay is only a 35-minute drive south of San Francisco, under an hour's drive from San Jose, and 2.5 hours from Sacramento. It is one of my go-to sanctuaries whenever I need a quick change of scenery from city life (but don't want to steer away too far).
As the oldest city in San Mateo County, this seaside resort town got its mesmerizing name from its crescent-shaped harbor. Half Moon Bay is a bark-worthy, frequently visited dog-friendly Northern California day trip destination flooded with boutiques and cozy rustic inns and bed and breakfasts. With dog-friendly beaches, coastal hiking trails, restaurants, cafes, and hotels, this small upscale coastal city makes a sweet getaway with your dog.
From the scenic, touristy Sam's Chowder House (4210 CA-1) to the local favorite San Benito House (356 Main St.), dog-friendly dining options are more than plentiful in HMB. Although I love roaming around off-leash at Miramar Beach (Medio Ave and Mirada Rd), there are also on-leash dog-friendly beaches such as Surfers Beach (near Sam's Chowder House), Half Moon Bay State Beach, and Poplar Beach. And, WOOF – dogs are also allowed at the oceanfront 5-star Ritz Carlton Resort!
Just a BARK of Caution: It's almost always foggy and overcast here so dress your dog accordingly!
Sniff out my list of the BEST dog-friendly things to do in Half Moon Bay.
#10 Monterey + Carmel
Technically in Central California, Monterey is PAWS DOWN one of the best dog-friendly day trips in Northern California, especially from San Francisco. One of the oldest cities in California, this John Steinback-famous coastal city is an easy 2-hour drive from San Francisco (down Hwy 101), a little over an hour drive from San Jose, and a 3-hour drive from Sacramento. From dog-friendly kayaks in Monterey Bay to dog-friendly scenic Pacific Coast hikes like Eolian Dunes Preserve and Jacks Peak Park, Monterey is one of the most splendid picturesque areas in California to visit with your dog. Downtown Monterey boasts dog-friendly eateries, boutiques, and shops – my tail always wags when I'm sniffing and markin' up Alvarado street.
The nearby wealthy town of Carmel, where Clint Eastwood was once mayor, is also rated the #1 dog-friendly town in America! ARF-my-DOG! Dogs can get their paws sandy at the very dog-friendly Carmel Beach, order off doggie menus at fancy restaurants, and stop for water and treat breaks at one of the many upscale shops off of Ocean. Sniff out more fun dog-friendly activities in Monterey here.
WOOF, I hope you and your dog enjoy these 10 dog-friendly day trips in Northern California from me with a few barks from my cousin Sonny + sidekick Penny! Be sure to share your day trip in NorCal with me – BARK AT ME!
Markin' it up,
Roger Wellington a.k.a. The Doob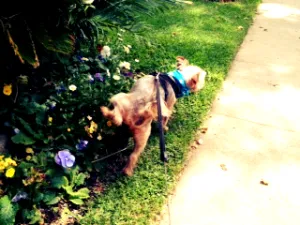 —
Like my post on "10 Dog-Friendly Day Trips in Northern California"? CLICK TO PIN!