Ciao tutti! Even though I am a very recent four-legged transplant in dog-friendly Florence, I've already sniffed out quite a few things about this iconic Renaissance capital of Tuscany. After chasing down the belle ragazze on Ponte Vecchio, chomping up some world-famous schiacciata, and marking up the charming Via della Vigna Nuova to Andrea Bocelli street music, I'm now barking out my experience (so far) as an American dog living in Florence, Italy!
Subscribe to my YouTube Channel: Wet Nose Escapades by Roger Wellington for more fun dog travel videos!
#1 Human locals like to call me "piccolo" or "piccolino."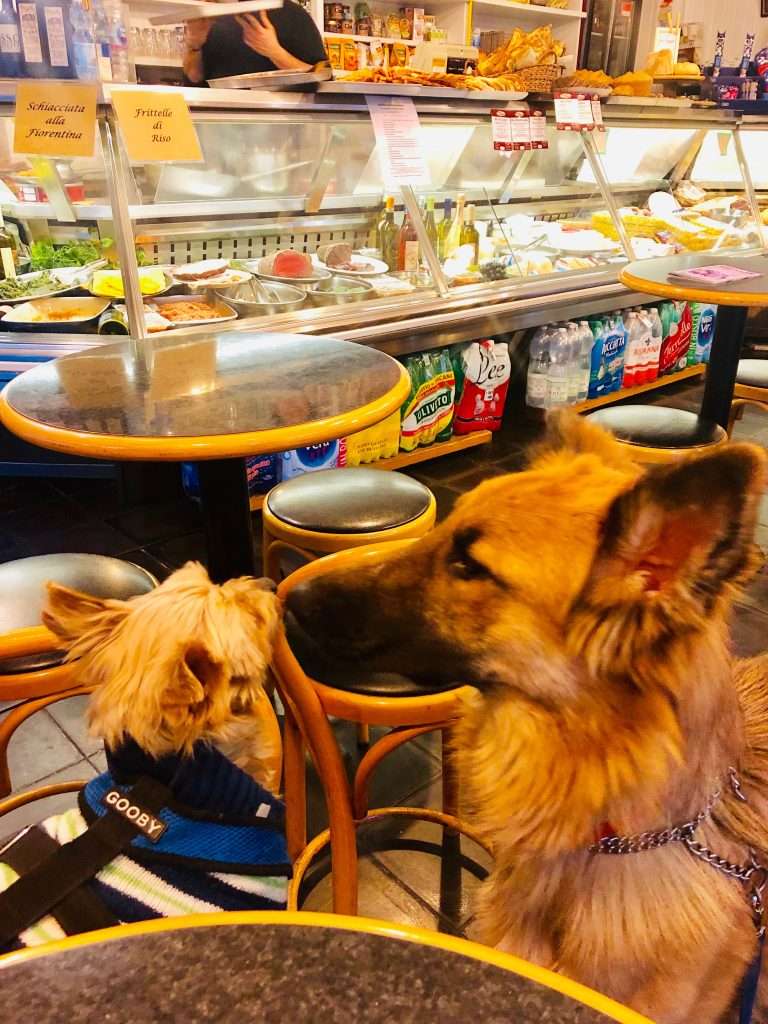 In Italian, "piccolo" means "small" and "piccolino" means "little one." I hear these two words all the time as smiling human locals pet my silky head.  And, yes – I am a "small" cane (dog) although I am A LOT bigger in my own mind. However, just to be clear, small dogs are certainly NOT uncommon here. Florentines (and Italians, in general) are superb dog lovers so I get smothered with love (or stopped just to say Ciao!) quite often.
*Want my choke-free harness? 
10 Dog Travel Essentials: What to pack for your dog (Part I)
#2 Most male dogs here are ALPHA.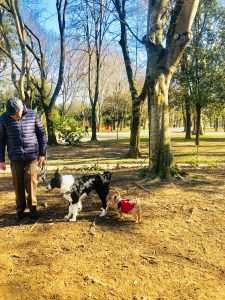 It's common for a male dog parent to ask other dog parents if their dog is "mascu" (male) before allowing their dogs to mingle. The reason is that most male dogs in Italy (and parts of Europe) are not neutered (likewise, females are typically not spayed). Hence, it creates an alpha dog world where growling, barking, and back-leg kicking seem to be the norm. Every morning, small business owners even have to wash off male markings from the walls outside their shops (before the markings start building up again). ARRRFFF, it IS a constant battle for power here!
Stay Healthy and Protect Yourself from Coronavirus (COVID-19) While Traveling
#3 Yorkies do NOT rule Florence.
Ouch, the truth hurts. But I'm a real man so GRRR, I can handle the truth. Florentines may own a variety of breeds (including some rescue mutts – YAY for rescues! As a rescue, I'm an avid supporter of the ADOPT, DON'T SHOP movement), BUT the overwhelming presence (or shall I say, scent) of Jack Russell terriers and dachshunds is undeniable here. My furry paws even came across several dachshund-themed real estate offices! The human locals seem to be more infatuated by them than any other breeds. Trust me, I know because I compete with them for a daily takeover of the town! I may be a new dog on the block, but that trash can is MINE!!!!
#4 I can walk my paws into MOST places.
ARF, Florence is super dog-friendly! Although I'm not allowed INSIDE stellar museums (including the famous open-air one at Piazza della Signoria), places of worship, palaces, and other tourist sights, I am welcome to walk my four tiny paws outside the stunning grounds. I can generally bless every other establishment with my furry presence – high-end retail shops, gelaterias, ristorantes, osterias, trattorias, pizzerias, Mercato Centrale, and even grocery stores! I love shopping for fresh tagliatelle and ravioli at the local markets. And, aperitivo time? WOOOF, I'll beat you to the buffet line.
Dog Friendly Activities in Vienna: An American dog travels to Austria
#5 I like to avoid the weekend crowd.
Tourists from all over the world flock to the picturesque Florence, even during non-peak months. The weekends can get CRAZY as domestic travelers swoop in as well. Ponte Vecchio, The Uffizi, and The Duomo can quickly become a congested, packed snail trail on Saturdays and Sundays (remember to watch out for your belongings). To avoid the chaos and the risk of getting stepped on, I like to avoid the peak hours during the day (the pedestrian traffic dissipate by the evening) along with the main touristy areas that attract the big weekend crowd.
#6 Piazza Santo Spirito is THE SPOT for dogs.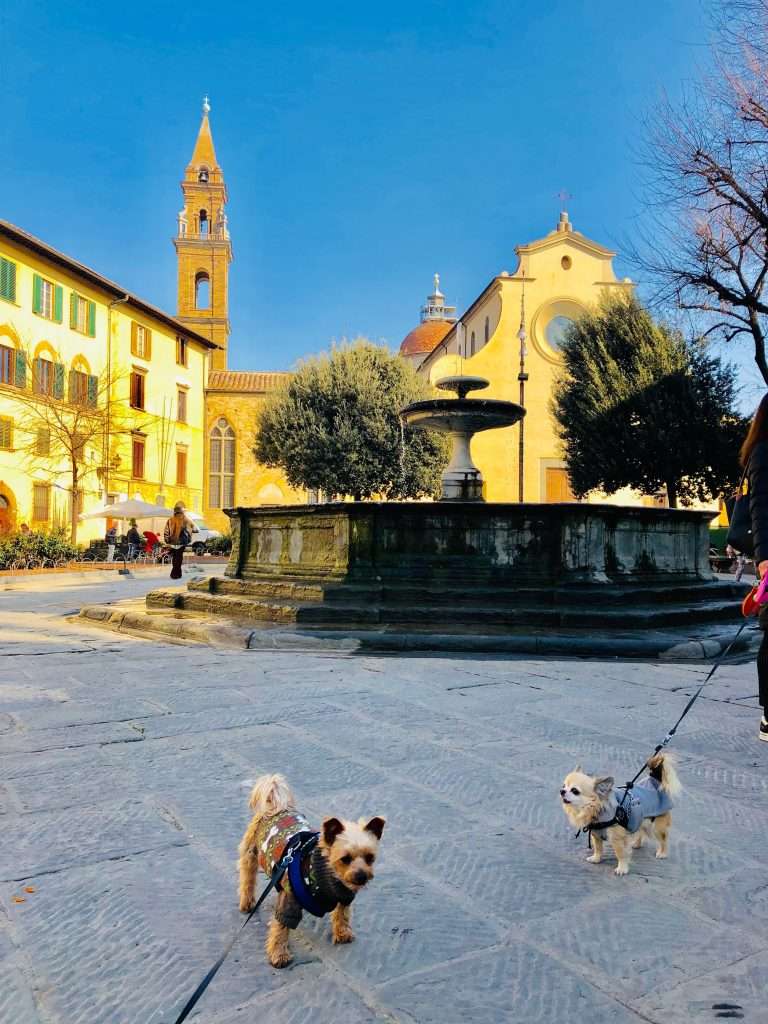 Sure, there is a myriad of places for dogs to roam around and mingle in dog-friendly Florence, BUT I love Piazza Santo Spirito. It's THE SPOT. The square can get lively over the weekends or during special events but is pretty laid-back during the workweek. Here, dogs often go off-leash (after the initial sniff) even though the area isn't enclosed like an actual dog park. Vehicles are usually not allowed at the square (unless authorized) so it makes for a relatively safe place for dogs to roam around. Humans can grab fresh produce from the open-air market or devour focaccia while their dogs sniff each other out or mark up every single tree.
*Want my long retractable leash and choke-free harness?
 #7 Day trips are easy peasy.
As a small dog, I get to travel for FREE on trains throughout Italy. As long as I stay inside a carrier that is not larger than 25.5x12x15.5 in., I'm free to hop from train to train with my human travelers. Heck, I even get to go on first class! This makes nearby cities and attractions super accessible. I've left my paw prints and marks all over the enchanting Tuscany region (and the outskirts), from the monumental iL Campo in Siena to the intriguing Torre de Pisa.
#8 Americans here REALLY miss their dogs.
Americans are ubiquitous in this town, from study abroad college students to the Rick Steves-like travelers. And, they sure miss their dogs back home. Just like the Florentines who gently pet my head and call me "piccolo," Americans here stop to tell me how much they miss their dogs. Some even get emotional when they say hi or take a picture of me; I don't blame them because leaving your best friend behind is tough. They love petting me as the mere touch reminds them of their furry pal back home.
Dog Travel in Athens, Greece: A Yorkie Travels to the Ancient City
That's it, escapaders! My powerful wet nose will bark out more findings as I continue to mark up dog-friendly Florence. I am loving my experience as an American dog living in Florence, the splendid city known for being dog-friendly probably as much as the "cradle" of Renaissance!
Ciao!
Are you ready to book your trip to dreamy Italia? Put your right paw HERE to begin your majestic journey. I can show you how to travel with your precious pooch today!
Markin' it up,
Roger Wellington a.k.a. The Doob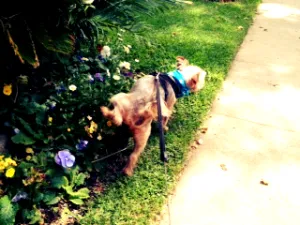 **Please note that this post contains affiliate links, and at no obligation or additional cost to you, I earn a small commission if you make a purchase. It helps me maintain the costs of running this site. If you love the work that I do, you can show your support by making a purchase through an affiliate link. 🙂
—
Like my post on "An American dog in Italy"? PIN IT!