Taking your dog to Greenwich, Connecticut from NYC? Get your paws on my guide to dog-friendly Greenwich NOW!
Approximately 36 miles northeast of New York City, Greenwich is the largest town on the Gold Coast (Lower Fairfield County) in Western Connecticut. Despite being a city boy, I was quite intrigued by this small wealthy town founded in the 1600s. With a population of 62K, this small town is where many Wall Street hedge fund managers call home. Cha-ching! With millionaires and billionaires flocking to this town, Greenwich boasts beautiful colonial-era country mansions with a median list price of $2.2 million (January 2021). ARF-my-god! After transforming into a fast-walking, fast-sniffing furry New Yorker, I wagged my tail to hop onto Metro-North for a quick train ride to see the riches of Connecticut.
Sniff out everything you need to know about taking your dog to Greenwich, Connecticut from NYC: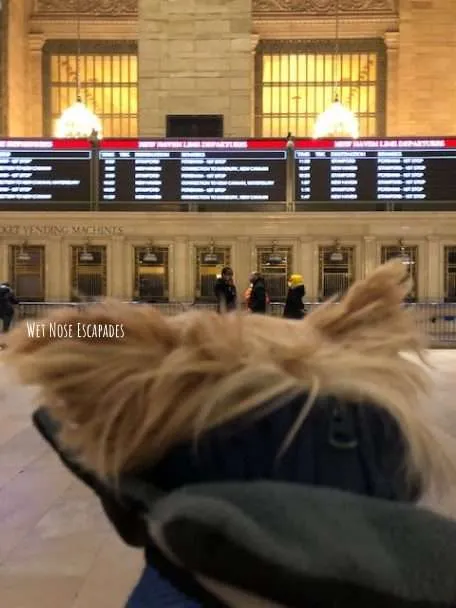 By Train: The best way to get to Greenwich from NYC is by train which takes a little under an hour. Starting at the Grand Central Station in Midtown Manhattan, my humans and I took the Metro-North/New Haven Railroad (RED) for 11 stops until we reached the first stop in Connecticut – Greenwich station. There are four Greenwich stops: Greenwich, Cos Cob, Riverside, and Old Greenwich. Known for a flexible dog policy, Metro-North welcomes dogs on the trains FOR FREE as long as they're kept inside a kennel or carrier OR on a leash throughout the trip.
The official website also states that dogs should not occupy seats or bother other customers, but no one made a fuss over a fluffy Goldendoodle nearby who occupied an entire seat during the ride. 🙂 Although my human brought along my carrier, it wasn't needed! After gazing out the window a few times (trying to figure out where the heck we were going), I snoozed on her lap throughout the hour-long journey.
*Don't forget to always keep an eye out for symptoms of motion sickness in your dog.
Since we went over the weekend (which is considered off-peak hours), we saved a few bucks each way and paid $10.25 for a one-way, off-peak ticket. WOOF-HOO!
Peak vs. Off-Peak hours: Per the MTA website, "Peak Fares are charged during business rush hours, on any weekday train scheduled to arrive in NYC terminals between 6 and 10 AM or depart NYC terminals between 4 and 8 PM. Off-Peak Fares are charged all other times on weekdays, all day on Saturdays, Sundays, and holidays." 
A one-way peak ticket purchased at the station or through the MTA app costs $13.75. Alternatively, you can also purchase tickets onboard for an increased price of $20.00 during peak hours and $16.00 during off-peak hours.
By Car: Depending on traffic and departure point, it'll take about an hour one-way without traffic to drive to Greenwich from the city. Unless you have a private car, I do not recommend going to Connecticut by car. Due to increased tariffs, ridesharing in NYC is not as affordable as it used to be. GRR. Based on my quick estimates, a one-way ride on Uber/Lyft can be a whoppin' $80-100 for the cheapest option. Remember to contact your driver ahead of time to make sure he or she is okay with your furry passenger. Alternatively, you can keep your dog (if small enough like me) inside a carrier to avoid potential issues.
Learn the best ways to take your dog to Hoboken, NJ from NYC!
Dog-Friendly Things to do with Your Dog in Greenwich:
Now that you and your dog have arrived in Greenwich, it's time to mark it up! Whether you're planning for a day trip or weekend getaway, sniff out my favorite things to do here!
Eat and shop on Greenwich Avenue
Since the beginning of its history, downtown's Greenwich Avenue or "The Ave" has been the heart and soul of the town. Starting from Bruce Park Ave, my robust little wet nose thoroughly sniffed out the mile-long thoroughfare, where my paws adamantly stopped at Putnam Ave. Filled with designer shops selling $1,000+ handbags and trendy eateries charging over $15 for a bowl of organic greens, "The Ave" is the place to sniff and get sniffed in Greenwich.
From Hermès to Tiffany & Co., this street is a luxurious shopper's paradise or perhaps a window shopper's trap. As a California boy, I found "The Ave" to be a dynamic mix between the glitzy Rodeo Drive in Beverly Hills and the charming Larchmont Village in Los Angeles. As I marched along this historical street with a stylish upright tail, I sniffed out ubiquitous poodle-hybrid puppies (who have also flooded the streets of NYC thanks to the pandemic) and glossy Teslas.
How to keep your dog safe during the winter on the East Coast
Admire the historical architecture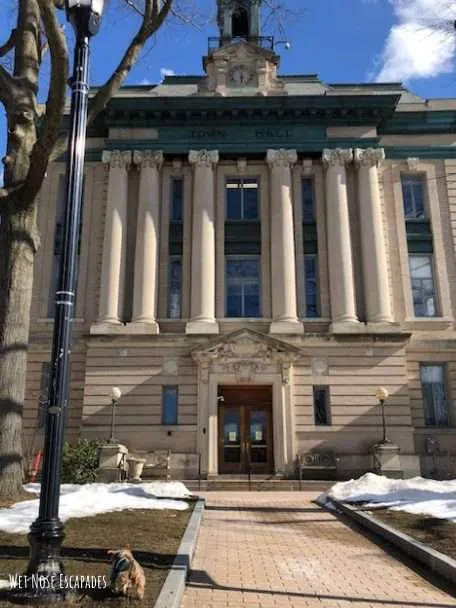 ARF, I may not be back in Spain, but Greenwich sure has some head-tiltin', sniff-worthy architecture (despite not internationally acclaimed). Downtown has bragging rights to some rich architecture, including Italianate, Georgian Revival, and Commercial style ranging from the 19th century to post-World War I.
From the Beaux-Art Old Town Hall (now the Greenwich Senior Center) to Richardson Romanesque Havemeyer Building to the 1900 stone St. Mary's Church to war memorials, the architecture on Greenwich Avenue is uber unique because the historical buildings have been so well-preserved. As I explored the quiet residential neighborhoods, my soft puppy eyes widened to the extravagant facades of Greenwich's finest country homes and manors, from the American Tudor to Classic Colonial styles.
Mingle with the furry Connecticuters
WOOF, they may be wealthy but not snobby! Connecticuters are friendly folks. 🙂 Take a sniff at some of these dog-friendly areas and parks in Greenwich: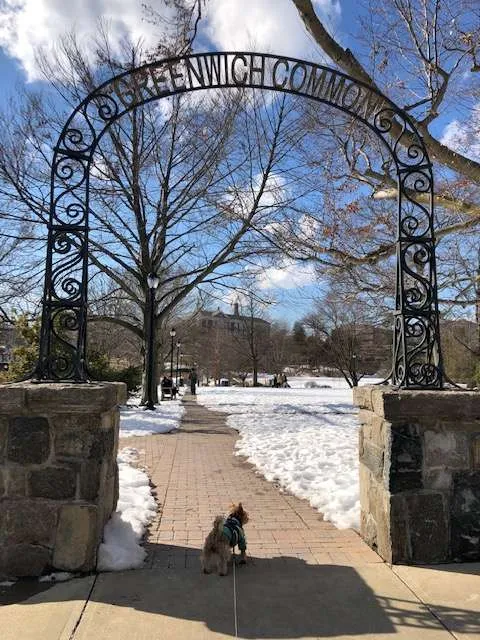 Greenwich Common (1 Sound View Ct) – Located on Greenwich Avenue in downtown, this green space (when not snowing :/) is a peaceful spot to walk around with your dog. You'll also find many benches and picnic tables for a quick treat and water break. 
Babcock Preserve (North Street – North of Parkway) – This preserve is an impressive 300-acre park with 7 miles of clearly marked and well-maintained trails, in which many are suitable for dogs of all sizes.
Bruce Park (32 Bruce Park Dr) – With abundant ponds and trails, this gorgeous park is pawfect for jogging, walking, or running with your dog. Don't forget to check out their separate dog park!
Binney Park (Arch St & Wesskum Beach Rd) – ARF, I love the ducks and pond here! In Old Greenwich, Binney Park is a wonderful place to meander around the pond, footbridges, and gazebos. Oh yea, be sure to not let your dog (or kids) disturb or chase the ducks. 🙂 
Roger Sherman Baldwin Park (100 Arch St) – This scenic park overlooks Greenwich Harbor with a clean and well-maintained lawn that hosts numerous community events.
Pomerance Park (101 Orchard St) – Pomerance is a local favorite! I can sniff why – it's ARF-so-fantastic! Despite the rules, you'll find that many dogs go off-leash on the trails here (not to mention a dip in the lake :)).
Just a note: Don't go to Grass Island Dog Park – it's next to a sewage plant! 🙁  Yuck!
Get 6 Tips on Finding and Saving Money on Dog-Friendly Accommodations
Walk around the harbor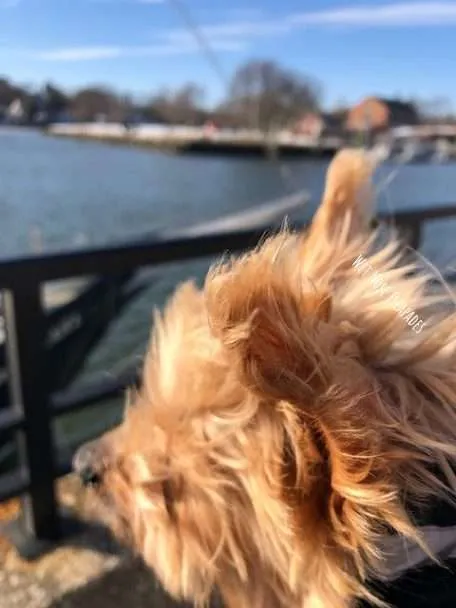 Just a short walk south of Greenwich Avenue lies Greenwich Harbor, where I rested my furry paws to the stale-warm air with views of expensive white yachts and the facade of the luxurious 4-star Delamar Hotel. After a short nap under the warm Greenwich sun, I hopped back on four paws and trotted along the harbor. With a protective fence around the water, this serene area makes a pawfectly safe walk with your dog. And, the peace here is unreal as I only came across two humans during a Saturday afternoon walk. After spending the last few months in the Big City, I felt like this quiet stroll was ARF-xactly what I needed!  
Explore Old Greenwich 
Resting in the southeastern tip, Old Greenwich is a beach neighborhood in Greenwich with an even smaller town feel. WOOF, think population 6,100! It is, indeed, Greenwich's oldest neighborhood, which is still very capable of stealing the hearts of big city boys like myself. With panoramic views of Long Island Sound and the Manhattan skyline, Old Greenwich features its own bustling downtown and a dog-friendly beach on a spacious 147-acre park.
At Greenwich Point Park (7 Tods Driftway), leashed dogs are welcome on the beach and the rest of the park grounds. The leash must be less than 10 feet long and you must clean up after your dog. However, dogs are generally only allowed on beaches during the winter time, from December 1st to the end of March. Nevertheless, you'll find many furry beach-goers chasing sandy butts off-leash during this time!
WOOF, hope you enjoy visiting dog-friendly Greenwich, Connecticut! Subscribe to my YouTube Channel: Wet Nose Escapades by Roger Wellington for fun dog travel videos.
Markin' it up,
Roger Wellington a.k.a. The Doob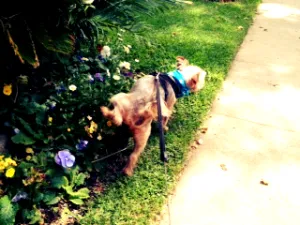 —
Like my post on "Dog-Friendly Greenwich, Connecticut: Taking Your Dog to Greenwich from NYC"? CLICK TO PIN!