NAY HOH, let's bark Hong Kong! With over 7.5 million people squeezed into 426 square miles, Hong Kong is one of the most densely populated (not to bark, expensive) cities in the world. A former British colony, Hong Kong is the pawfect blend of East meets West. It's one of China's two Special Administrative Regions (SAR), where citizens are technically governed by Western-type legal and economic principles separate from the Mainland until 2047. Home to numerous billionaires, iconic skyscrapers (even more than NYC), Cantopop, TVB drama, bustling night markets, and mouthwatering snacks (stinky tofu, anyone?), Hong Kong is one spectacular, ARF-mazing place to visit (it's also one of my human's favorite and most frequented cities :)).
WOOF, is Hong Kong dog-friendly? Can you take your dog to Hong Kong? Thanks to an ultra-lengthy dog import process (including cargo transport – keep on sniffing below), I still have yet to set my tiny furry paws in this cosmopolitan, world-class city. GRRR. Fortunately, I have my rescue Hongkonger Yorkie pals Sunday & CC and their wonderful pawrents Maggie & Frank to share some barks about the dog-friendly culture in Hong Kong. 
Tell us a little bit about Sunday & CC! (e.g. background, personality, whatever you'd like to share)
Sunday is a toothless 13-year-old boy. He used to be a stray dog, but we adopted him from an animal shelter when he was 6. Since we are always away from home for work, we decided to adopt another smaller breed to play with Sunday. It just happened we spotted another abandoned Yorkie from the same animal shelter! CC is an energetic 9-year-old girl whom we picked up when she was 3.
What do you love most about them?
Sunday is so cute! There are heaps of funny things about him. Since his arrival, he has brought us laughter and happiness. He can suddenly roll on the street when we are walking. Most of the time, he wants to lead and make us follow his footpath instead of our planned routes. He would easily sell himself to someone he likes or someone with food. On the other hand, CC is extremely loyal. Her big eyes tell you that she is brave, courageous, and always tries to protect you from threats. But yes, she can also be bribed by food.
What are their favorite things to do in the world?
Eating, sleeping, and cuddling! CC loves our socks. She helps us take off our socks and hides them. I hurt my ankle recently, and she tried to take off the bandages as she thought it was a funny sock.
What do they hate the most?
Thunderstorms, and all kinds of disturbing sounds. I recall that Sunday jumped into the toilet bowl desperately without our presence. He tried to get out but then injured his back. Since then, we would return home ASAP when we are aware of a thunderstorm alert to ensure our bathroom door is closed.
What are their favorite foods? Least favorite?
ANY meat!! They also like pumpkin, potato, sweet potato, bread, and all non-toxic fruit.
What is the most expensive item you've purchased for them?
A Mazda3! We believe a car enables us to travel with our fluffy kids afar anytime. Private cars are not essential for living in Hong Kong's urban area because public transport is accessible and cheap. However, pets are usually not allowed to board public transportation, and some cab drivers may refuse to take animals.
Besides the car, supplements are the next most expensive item we have been spending on them. Sunday has eyes, heart, and joint issues. We spent about USD150 per quarter on these meds.
What's the best part about having a dog in Hong Kong?
We get to meet other dog parents, expanding our social circle with people who share the same interest.
Which part of Hong Kong do you guys live in?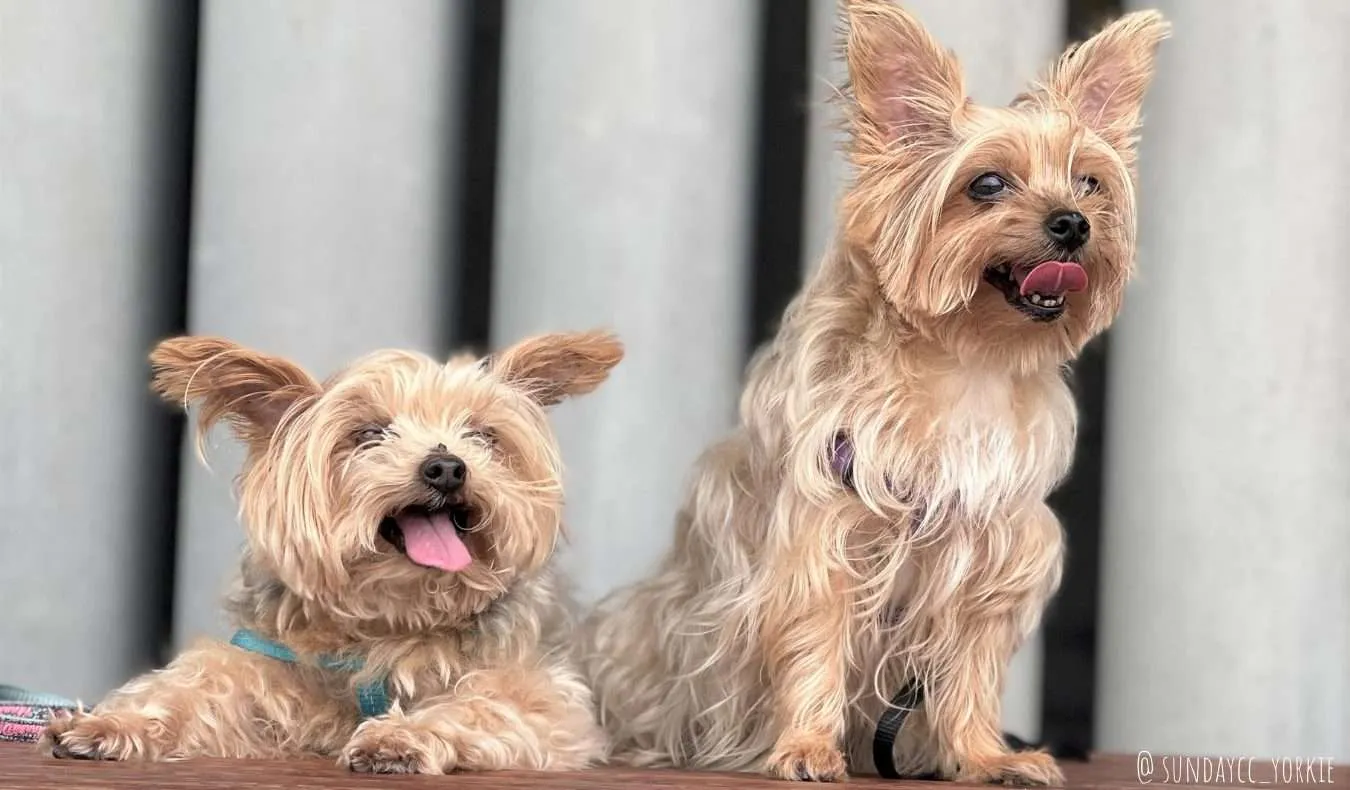 We live in the Kowloon area, a popular residential district with numerous newly built apartments. Malls and public recreational facilities, including dog-friendly parks, are built to cope with the rising pet-owner population. From our home, we can reach the CBD area (Central Business District) and major shopping outlets in less than 30 mins by MTR (a major underground railway). On weekends, we'd drive to a rural area with Sunday and CC for natural parks and promenades, where we've even taken ferry and boat trips for an outer island adventure!
What are some of your favorite dog-friendly parks in Hong Kong? (please provide specific parks)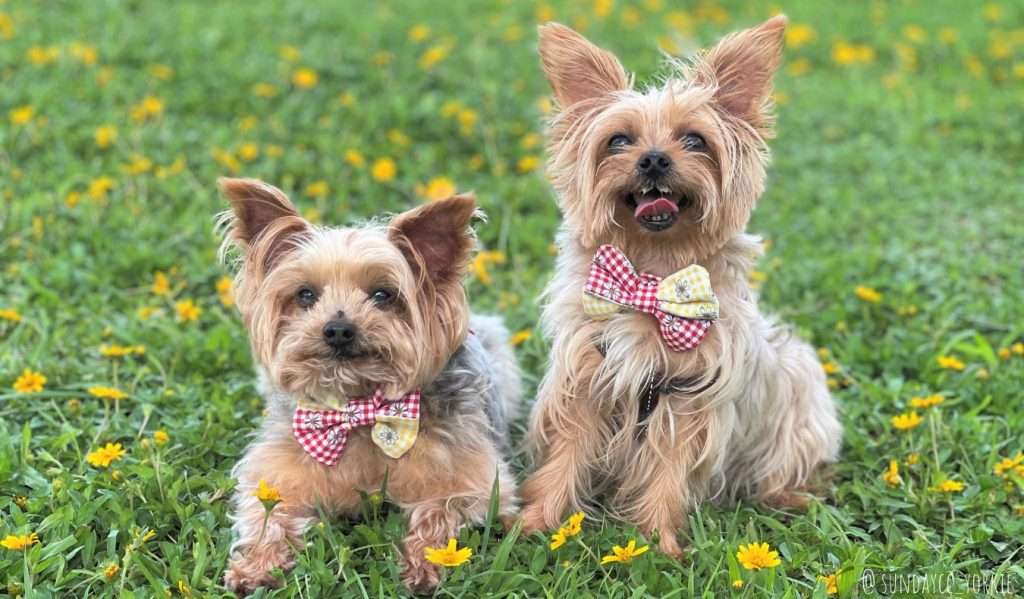 There are many dog-friendly parks in Hong Kong. We love to go to Penfold Park (local people call it the doggie Disneyland). This park covers more than 20 acres and is the only park where we would unleash them to run freely and make new friends on their own. Another park we love to go to is in the Western Kowloon Cultural District, where there's a newer park right in the middle of the busiest commercial center in the Kowloon area.
What are some of your favorite dog-friendly restaurants in Hong Kong? Are dogs only allowed to dine outside? Or do some places make an exception for indoor dining? If so, where?
Dogs are welcome in some places, but most of them require the dog parents to dine in the outdoor area of the restaurants. There are some dog-friendly restaurants inside shopping malls like Elements, D2 Place, The Mills since some new shopping arcades target young consumers.
Moreover, Sai Kung has some dog-friendly restaurants, such as Little Cove Espresso. In Sai Ying Pun, Flying Pig Bistro is also dog-friendly, along with Chinese seafood restaurants that provide outdoor seating. Some restaurants even offer a pet-friendly menu, such as Buzz Grill Bar & Café in Tai Po.
What are some dog-friendly tourist attractions in Hong Kong (if any)? Any other local dog-friendly places that you'd like to share?
In the morning, we love to visit The Peak, where they have world-class views from the lookouts and we can enjoy having breakfast after a brisk walk. Besides that, Western Kowloon Cultural District, Sai Kung, Cyberport, Discovery Bay, SOHO are quite popular among the dog parent community. Note that most shopping destinations and sightseeing spots do not welcome dogs.
Overall, how would you describe the local people's attitudes towards dogs?
Local people are getting more comfortable with dogs nowadays, but there are still chances that we may run into people who dislike dogs (which may be followed by disputes). Overall, Hong Kong has been improving its animal welfare and becoming more dog-friendly.
What are some of your favorite trips you've had with Sunday & CC (e.g. road trips, domestic air travel, international, etc. – if any)? Have you taken them to the Mainland?
We went to Lamma Island last year. It is not easy to get a daily driving permit since its driveways are only open to local residents. Lamma Island is an ideal area to visit if you like nature. Some dog parents would travel with their dogs to Japan and Europe on a chartered jet, which usually cost about USD15,000 to USD30,000 for a round trip ticket depending on the destination.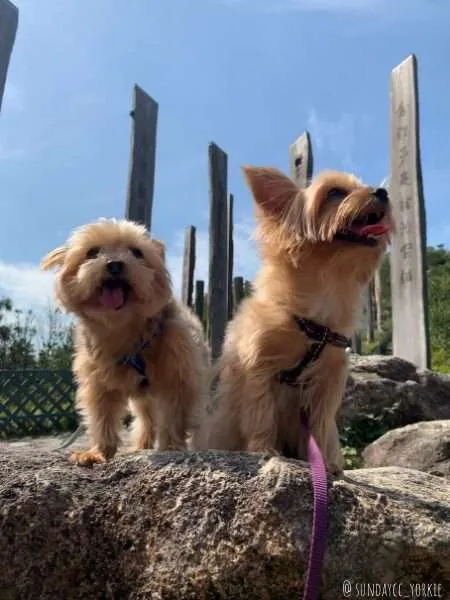 We have not taken them to Mainland China or any other countries. Since Japan is very popular, we hope to take Sunday and CC to Japan someday – fingers-crossed!
Are dogs allowed on buses, subways, rideshares, taxis, etc.? If you have any specific experience regarding taking Sunday & CC onboard, please feel free to share!
Dogs are not allowed on public transport such as buses and subways (except for guide dogs). Some public ferries allow dogs. Taxis and hailing service carriers also welcome dogs for additional charges.
What is the biggest challenge of having a dog in Hong Kong?
Hong Kong is very populous so we have to live in small apartments very close to one another. Even if your residential area is pet-friendly, you need good neighbors to ensure a harmonized relationship. Fortunately, our neighbors do not complain about Sunday and CC, but taking elevators with dogs is challenging – especially for large breeds because you never know who will enter the elevators. Some aggressive neighbors may bump into you from different floors. Besides that, Hong Kong's summer is very hot and humid; and yet large and/or long-hair breed dogs require a lot of grooming and outdoor activities. Ensuring that both the dog and dog parent fit comfortably into Hong Kong's smaller homes is the ultimate challenge. Think twice before getting a dog!
Based on your personal knowledge, would you say that people tend to buy or adopt/rescue dogs in Hong Kong? Do pet stores exist (where dogs and cats are sold)?
Hong Kong people are more willing to adopt dogs from dog shelters nowadays. The Mongrel is a local mixed breed that's very popular among dog rescues. On the other hand, most pure breeds are acquired through pet shops in Hong Kong. Unlicensed dog breeders are quite common.
How close is the nearest veterinarian from your house? (e.g. in miles and driving time)
Less than 10 minutes of driving time – 1.4 KM.
Approximately how much is a standard examination/office visit at the local veterinarian?
Depending on the medicine, it is around USD50 to USD100 per visit – definitely way costlier than a clinic visit for humans.
How would you rate/describe the quality of veterinary care in your area?
The quality is good, and there are many vets in our area. Some provide Chinese herbal medicine and acupuncture services as well.
What is one thing you'd like to share with us about a dog's life in Hong Kong?
Hong Kong is small; urban areas do not offer many choices for dog parents to go with their dogs, but a large variety of dog foods are available in Hong Kong (i.e. fresh dog foods, desserts such as ice-cream, cakes, mooncakes, cookies, and dog treats from all around the world).
Why is Hong Kong worth a visit? 🙂
Shopping and dining.
However, we do not recommend traveling with dogs in Hong Kong. The popular things to do in Hong Kong are not pet-friendly, such as Big Buddha, Star Ferry, Theme Parks, Museum and Temples, etc. Also, public transport, accommodations, and restaurants are major concerns.
Thank you to Sunday, CC, Maggie & Frank for this interview and for sharing their pawsome Hongkonger life with us! Can't get enough of Sunday & CC? Be sure to follow their escapades on Instagram!
As Sunday & CC barked out, it's NOT a good idea to travel to Hong Kong with your dog. 🙁 However, if you're still interested in taking your dog with you (or for a permanent move), I've got you covered below. AH-WOOOO, just a howl that the process is super lengthy!
Ultimately, the import procedure depends on where you and your dog are originating. Hong Kong has different application procedures based on three separate country categories: Group I (rabies-free countries/places including Japan, U.K., Australia, Hawaii, etc.), Group II (the continental USA, most of Europe, Taiwan, etc.), and Group III (all countries/places not included in the previous two groups). Get your paws on the full list and breakdown HERE.
For Group I, visit HERE for the application procedure.
For Group II, visit HERE for the application procedure.
For Group III, visit HERE for the application procedure. *QUARANTINE REQUIRED
From the continental U.S.:
The cost for a single animal is HK$432 (each additional animal is HK$102). Processing takes at least 3 working days. Once issued, the permit is valid for 6 months. Do NOT arrange your dog's travel plans until a permit is issued.
Dogs and cats without proper documentation may be required to undergo quarantine for a minimum of 4 months. ARF-NOOOOO!
Apply by mail or in-person:
Permit & Certification Section (Counter No. 10), Import & Export Division, 5th Floor,
Agriculture, Fisheries and Conservation Department, Cheung Sha Wan Government Offices, 303 Cheung Sha Wan Road, Kowloon, Hong Kong
Office hours:
Monday to Friday: 8:30 a.m. – 12:30 noon, 1:30 p.m. – 5:15 p.m. (Closed on Saturday, Sunday, and Public Holidays.)
#2 Microchip your dog
The 15-digit ISO complaint is generally the widely accepted standard for international dog travel.
#3 Get required vaccinations for your dog
The following vaccinations must be done no less than 30 days and not more than 1 year before arriving in Hong Kong:
Rabies Vaccination
Canine Distemper
Infectious Canine Hepatitis
Canine Parvovirus
#4 Complete Animal Health Certificate and Residence Certificate
The Animal Health Certificate must be issued not more than 14 days before arrival to Hong Kong. Copies of both certificates must be submitted to the Agriculture, Fisheries & Conservation Department.
#5 Notify Duty Officer of the Import & Export section (at least 24 hours before the anticipated time of arrival)
#6 Arrange for air travel for your dog
From the U.S., your dog can only enter Hong Kong by air via cargo. The only exception is for Service Dogs accredited by Assistance Dogs International, Assistance Dogs Europe, or International Guide Dog Federation.
#7 Prepare Airline Certificate (Captain's Affidavit)
#8 Collect your dog at Hong Kong International Airport
Get more info on how to travel to Hong Kong with your dog HERE.
BANNED DOG BREEDS:
Sadly, Hong Kong prohibits the following breeds: Pit Bull Terrier/American Staffordshire Terrier, the Japanese Tosa, the Dogo Argentino, and the Fila Braziliero (along with any dog of their crossbreeds).
*GRRR, having grown up with the sweetest Pit Bull, I have to bark that it's NEVER the dog. There's no such thing as an "aggressive breed," but really, it's the human who has trained the dog to be aggressive. 🙁
WOOF, hope you enjoy learning about dog-friendly Hong Kong! Have you been to Hong Kong with your dog? Be sure to share your experience with me. BARK AT ME.
Markin' it up,
Roger Wellington a.k.a. The Doob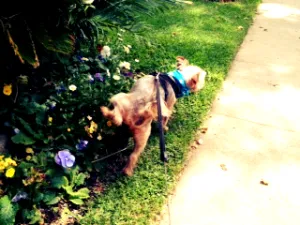 —
Like my post on "Dog-Friendly Hong Kong: An Interview with Sunday & CC the Hongkonger Yorkies"? CLICK TO PIN!