WOOF, wanna sniff out the best dog-friendly Lodi wineries? Let me "paw" it over to my crab-legged sidekick Penny Rose a.k.a. Penny Gurl! Before joining me on some global wet nose escapades, Penny Gurl stayed behind with family in NorCal for a few months, road tripped up and down the state, and flew on "practice" domestic flights. During this time, she also set her prissy Boss Lady paws on some amazing dog-friendly wineries in Lodi. She's been begging me for more sPAWtlight, so here she goes! She's wagging her tail to bark out her favorite wineries in Lodi to visit with a dog. Keep on sniffing below!
Markin' it up,
Roger Wellington a.k.a. The Doob
*Please note that this post contains affiliate links, and at no obligation or additional cost to you, my humans and I earn a small commission if you make a purchase. If you love the work that we do, you can show your support by making a purchase through an affiliate link. Proceeds will go towards feeding homeless dogs (and cats) along with improving the lives of the neglected and abused.
Posted 4/27/23
ARF, ARF! It's me, Penny Rose a.k.a. Penny Gurl. As an abandoned stray dog from San Francisco turned sophisticated furry world traveler, I'm dropping my jaws open and showing a few crooked teeth just to show you how happy I am to bark about dog-friendly wineries in Lodi. My skinny hind legs are jumpy and tapping away, so let's get this wine PAWTY started!
About Lodi
First bark first, Lodi is a small Central Valley city with a pawpulation of 62K just 85 miles east of the City by the Bay and 35 miles south of the state Capital. While Lodi has not garnered the same level of fame and prestige as nearby Napa, its vineyards have continuously produced some of the best wines in the state. As a matter of bark, Lodi has been producing wine since the mid-1860s with 4th and 5th-generation winemakers in the area (just like Napa Valley).
Thanks to the ideal climate and topography, Lodi has become the largest grape-growing region in the state. It is home to 110,000 acres of wine grapes, which widened my pretty soft brown eyes. Home to 40% of the state's Zinfandel, this understated town is also known as the Zinfandel capital of the world. The wine industry is also handing out awards left and right to Lodi wineries like never before. You heard my Papshund Boss Lady barks right! The best part about going wine tasting in Lodi is, PAWS DOWN, affordability. Because you're NOT in Napa Valley, you can expect your dollar to stretch here for wine just as good. The ambiance? Woof, you're just about to find out.
#1 Dog-Friendly Lodi Stop: Viaggio Estate & Winery
The first stop for some dog-friendly tasting in Lodi is Viaggio Estate & Winery. This massive dreamy estate boasts an enchanting Tuscan theme (which the traveling Yorkie Boss Roger W. approves as a former furry Florentine). "Viaggio" means "Journey" in Italian, and their gated archway is inscribed, "Where Your Journey to Forever Begins." Winemaker Larry Lawrence and his microbiologist wife Teri have been running this quintessential property sitting on the old Taddei Walnut Farm in Acampo since 2012. You'll see Teri on the poster boards sprinkled throughout the property to promote special events.
A pawfect venue for weddings, Viaggio has bragging rights to a head-tiltin backdrop with walnut trees and the Mokelumne River in addition to its lush Italian-inspired grounds. Needless to bark, Viaggio creates a mesmerizing ambiance that makes you feel like you're in Italy when, in fact, you're really in…Lodi. So, Napa – take that!
My tail is wagging uncontrollably as I bark that I was able to roam around the property with the humans without any PAWblems. Dogs are allowed inside their bustling tasting room along with their immaculate exterior grounds, including the dog-friendly outdoor seating where I enjoyed some live music with my human and Auntie over veggie pizza and wine. Extra points – the musician was very dog-lovin' as well, spoiling me with lots of pets and head scratches during his breaks. As a formerly abused dog, I'm definitely not a fan of strangers (especially obnoxious children) who get near me unless they know how to be gentle, which he did. He also gave me a shoutout on stage and dedicated a song to my Auntie, which was the first dance song at her wedding.
Despite rich grounds, Viaggio's ambiance is very casual and far from pretentious. After all, you're in Lodi. Although you could dress up, there's really no need because no one will look at you funny if you stroll in with jeans and sneakers. Like most dogs (unlike the humans), I look great naked so I was pleased not to have to put on an annoying doggy dress (like the one I reluctantly put on for my human's wedding).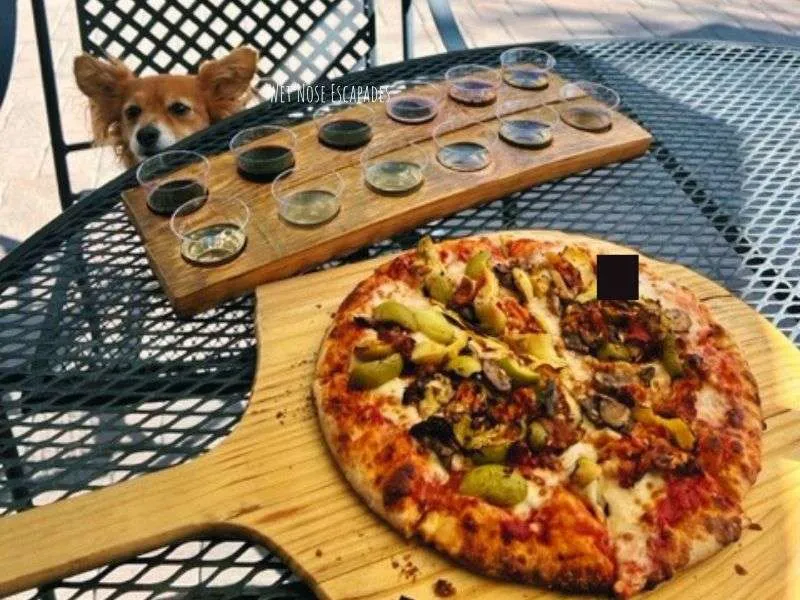 Any-HOWL, you can order food at the counter and get it delivered to your table based on your order number. Just a quick sniff of the price – six wine flights for $12 or $11 by the glass, a complete STEAL compared to Napa Valley!
At nearly every angle, I wagged my tail as I sniffed out IG-worthy shots, like this wooden chair with this MAINSTREET sign, an iconic British telephone booth, and a red vintage truck with wine barrels.
Even though a doggie bowl was never offered to me, I didn't hold it against them since they don't offer wait service. Plus, my human always brings to-go water bowls and dog-safe food for me on every outing – she likes to make sure my bowls are clean (and free of other dogs' germs) anyway. My early Saturday afternoon went by quickly here, and I can't wait to return to this lovely dog-friendly Lodi winery.
A pretty side BARK: *As dogs are pack animals who'd LOVE to experience meals with you, don't forget to pack a bag of treats, dog-safe food, water, and to-go bowls for your dog! Don't make your dog feel left out.
Where to stop your paws:
100 E. Taddei Road
Acampo, CA 95220
When to get a lick:
Sat-Thurs: 11 am-5 pm
Fri: 11 am-8:30 pm
*Be sure to keep your dog on a leash
#2 Dog-Friendly Lodi Stop: Michael David Winery
Next stop is Michael David Winery, who has been representing Lodi's up & coming wine industry since 1984. With over 150 years in family farming, Philips brothers Michael and David are 5th generation grape growers with deep roots in Lodi's soil going back to the 1860s. Upon first sniff at their website, I got the feeling that they welcome dogs with open paws (as derived from a picture of daughter and 6th generation winemaker Melissa Philips-Stroud with her beloved doggie).
At Michael David, dogs are welcome to join their humans on their lovely outdoor patio or second tasting room (open Friday to Sunday). I love sniffing and strolling along their delightful garden, which surrounds a serene lake with a humble fountain. With dog-friendly outdoor tables equipped with umbrellas, I wagged my puffy Papshund tail to stay cool in the shade. Although dogs are technically not allowed in the main tasting room due to a restaurant in the building, don't be surprised to sniff out a few furry patrons like this fella here.
Besides the taste, the best part about their award-winning wines is that their labels are unconventional. That's right – unconventional. WOOF, they're uniquely designed with whimsical and eccentric elements! Take their bestseller Freakshow – their provocative label is suPAW enticing. They've even developed one that glows in the dark. Plus, they have 6th Sense, Inkblot, Misfits & Mavens – just to bark a pawful of bottles meticulously designed to be ARF-so-bold, provocative, head-tiltin', and downright cooler than cool. I wished Roger W. were here to sniff all this – he'd wag his upright tail and howl like a wolf!
*My cousin Sonny trying to get a sip of the Freakshow!
Michael David is proud to say they have "something for everyone." And yet, Lodi proves that you don't need to pay big bucks for good wine – although some bottles surpass $55, you can expect to pay anywhere from $18-40 for a decent bottle of Michael David wine. Their most famous wine, Freakshow 2020 Cabernet Sauvignon, is currently priced at TWENTY bucks a bottle. Again, a total steal compared to Napa Valley!
A pretty side BARK: *As dogs are pack animals who'd LOVE to experience meals with you, don't forget to pack a bag of treats, dog-safe food, water, and to-go bowls for your dog! Don't make your dog feel left out.
Where to stop your paws:
Michael David Winery at Phillips Farms
4580 CA-12
Lodi, CA 95242
When to get a lick:
Mon-Sun: 8 am-5 pm
*Be sure to keep your dog on a leash
#3 Dog-Friendly Lodi Stop: Harney Lane Winery
The last stop on my Lodi winery day trip is Harney Lane, another family-run winery going back five generations deep with the Mettlers. The late George Mettler's great-grandfather purchased the Harney Lane property in 1900, and the legacy continues. Sustainably farming on a whoppin' 120 acres of their vineyards, they are proud to be Certified Green under the Lodi Rules sustainable viticulture program. In addition to dedicating themselves to handcrafting high-quality, small-lot wines, they also produce vegan-friendly wines. Just utterly awesome (I mean, PAWsome) and the perfect (I mean, PAWfect) place to spend the rest of my Saturday afternoon!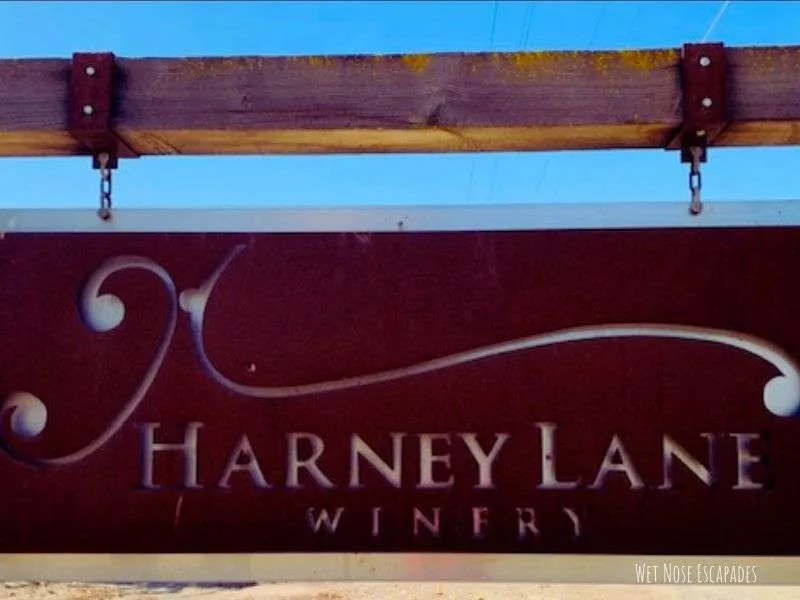 Their tranquil property, which is called the Home Ranch, welcomes dogs on leash with open paws. Dogs can walk their paws in the tasting room and wine with their humans on the rustic outdoor patio, just right next to the tasting room. Since Lodi can get pretty hot, I love having the option to go inside the building – shall I wish. There's also a massive fire pit with wine barrel chairs, which makes for a pawfect setting with your dog on chilly days. I love sniffing and investigating their gorgeous dog-friendly grounds, which houses a stunning garden, beautiful trees, winding pathways, and ample shade. Plus, I've sniffed out that the staff is very dog-lovin' (with smiles only when they saw me). Gotta wag my tail to that!
My human appreciates getting the $20 tasting fee waived with a bottle purchase. They even allow patrons to bring outside food (we did NOT attempt, but maybe for next time). From Zinfandels to Chardonnays, their wine options are vast and quite affordable, ranging from $26 to right under $50. Unfortunately, there wasn't any live music when I visited, but I'm looking forward to moving my crab legs and shaking my skinny buttocks on my next visit!
A pretty side BARK: *As dogs are pack animals who'd LOVE to experience meals with you, don't forget to pack a bag of treats, dog-safe food, water, and to-go bowls for your dog! Don't make your dog feel left out.
Where to stop your paws:
9010 E Harney Ln
Lodi, CA 95240
When to get a lick:
Mon-Sun 11 am-5pm
*Be sure to keep your dog on a leash
WOOF, hope you enjoy my picks to have the PAWFECT winery day trip in Lodi with your dog! Let me know how your visit went – BARK AT ME!
Rollin' it out,
Penny Rose a.k.a. Penny Gurl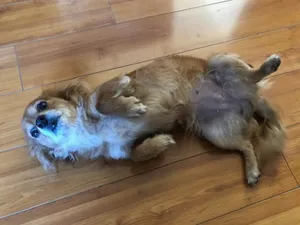 –
Like my post on "Dog-Friendly Lodi: Winery Day Trip with Your Dog (by Penny the Papshund)"? CLICK TO PIN!