Posted 1/16/21
Sniffing for the best dog-friendly activities in Lower Manhattan? Perk up your ears now!
Also called Downtown Manhattan or Downtown NYC, Lower Manhattan is considered the birthplace of New York with the Dutch settlement dating back to the 1600s. Defined as the southern tip of Manhattan Island, this historical neighborhood is bordered by 14th Street on the north, the Hudson River on the west, and the East River on the east, and New York Harbor on the south. Home to the Financial District (FiDi), 9/11 Memorial & Museum, and sky scrappin' multi-million dollar condos (not to mention endless, ongoing construction), Lower Manhattan is a heavily visited neighborhood flooded with fast-talking hedge fund managers, head-tiltin' tourists, Halal food trucks, and most importantly, spoiled city dogs. Although you'll find plenty of buzz during the weekdays, this area is relatively quiet over the weekends. After marking it up in this dynamic neighborhood for several months before moving to the Upper East Side, I'm ready to bark out my list of 10 BEST Dog-Friendly Activities in Lower Manhattan:
#1 Watch the sunset with Lady Liberty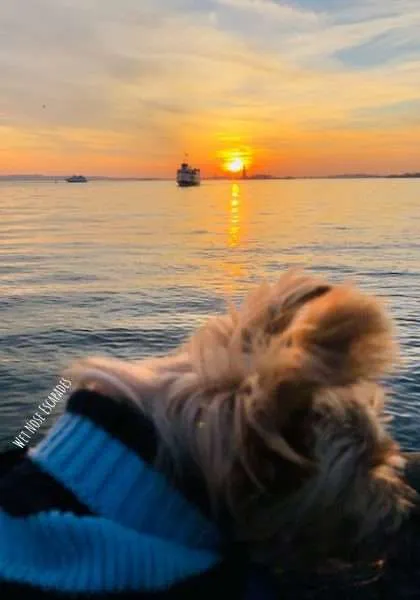 WOOF, can you really go to NYC without taking a sniff at the Statue of Liberty? To get a glimpse of the neoclassical sculpture Lady Liberty in Lower Manhattan, I marched my alpha furry paws down to the Statue of Liberty View Point. Nestled in Battery Park City, the Statue of Liberty View Point is a must-sniff scenic spot overlooking the Hudson River on the southwest side. It's such a peaceful area for dogs to take a walk, chomp on treats, and of course, watch the sunset while gazing out at the American symbol of freedom alongside their humans. The Statue of Liberty View Point is my go-to spot to watch the copper turned blue-green Lady Liberty stand out against the brilliantly red and orange-yellow sun during sunset time. Besides spying on those NYC ferries as they cruise by the famous statue, I like investigating the colossal bronze Eagle statue and the World War II Memorial. 
#2
Show off your stance to the Charging Bull of Wall Street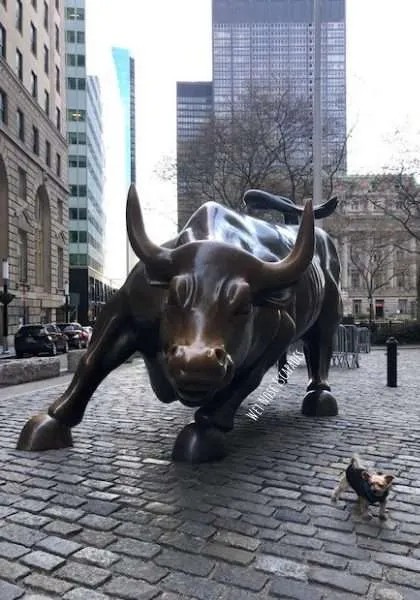 ARF, it's time to rake my feet and show off the alpha dog in me! Located on Broadway by Bowling Green (the city's oldest public park), the Charging Bull is a bronze, bigger than life sculpture standing at 11 ft tall and 16 ft long. The depiction of a fierce bull symbolizes the wealth and power of Wall Street. As a fearless Yorkie pack leader, I sure stepped up my game by showing off my ferocious stance on all four paws next to the iconic Charging Bull. Be sure to sniff out the nearby 228 and counting-year-old New York Stock Exchange and the female-empowering, 4 ft tall Fearless Girl statue across from it. I love roaming the area and taking a sniff at the Wall Street Christmas Tree during the holidays. 
25 Tips on How to Fly with Your Senior Dog!
#3 Take selfies at 1 World Trade Center
Top dogs tend to go to TOP PLACES. Constructed after the 9/11 attacks that destroyed the Twin Towers, 1 World Trade Center a.k.a. The Freedom Tower is currently the TALLEST building in the States and the 6th tallest building worldwide. Reaching a total height of 1,776 feet with its spire, this glitzy, jaw-droppin' 94-floor skyscraper (with the top floor numbered 104) took eight years to build, from 2006 to 2014. While dogs are not allowed inside the 3-level observatory (floors 100-102), you can still take selfies with your dog in front; due to its crazy height, you can even take pictures of the building from a long distance. Remember to tilt your phone upward to capture the entire building! 
#4 Enjoy Brooklyn Bridge views at Pier 16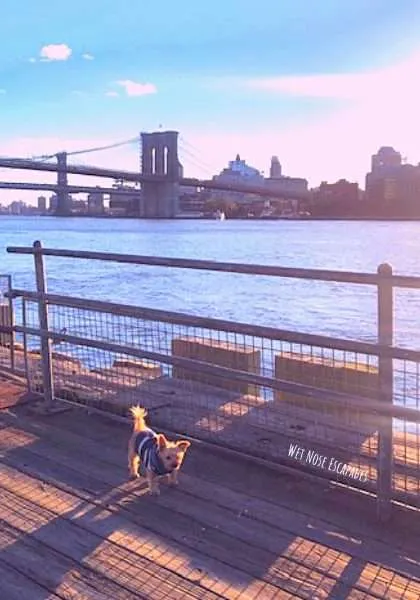 After being charmed by the old-world South Seaport District, a quiet historical cobblestone waterfront hub, my little wet nose led me to Pier 16 for incredible IG-worthy views of the old suspension Brooklyn Bridge. Notwithstanding the official rules, Pier 16 is a popular area for local dogs to roam around off-leash in the mornings. In addition to Pier 16, you'll also get great views from the nearby Pier 17 and Pier 11. If you set your paws southwest along the East River, you'll come across the South Street Seaport Dog Park, an enclosed concrete dog run where dogs chase butts off-leash. 
OK, barking of the Brooklyn Bridge, I know you may want to walk on the bridge with your dog, in which I've done so myself. Paws down, it's the tourist thing to do (unless you're going to Brooklyn for something). HOWEVER, due to pedestrian traffic and loud traffic noise, I don't necessarily recommend it – well, unless you can do so during off-hours (say early in the morning or later in the evening after traffic has died down significantly). Even without oncoming pedestrians and bicyclists, the traffic sounds below the bridge can be very overwhelming for your dog. 
Find out what essentials to pack for your dog!
#5 Brunch in SoHo
One of the poshest, most bark-worthy neighborhoods in the city (not just in Lower Manhattan), SoHo, "South of Houston Street," is home to art galleries, upscale boutiques, and trendy restaurants. This elegant top dog neighborhood, once with a ruff past, is now highly sought after and ARF-so sniff-worthy. Weekend mornings in SoHo are always a buzzy scene as New Yorkers and tourists alike talk each other's ears off and people or Goldendoodle-watch over bottomless mimosas, mushroom scrambles, and greasy home fries. Dogs may not be allowed inside restaurants, but you certainly won't have a problem finding a lively brunch spot with a dog-friendly outdoor terrace or seating (well, with weather permitting). 
Get my 8 tips on how to dine with your dog!
#6 Hop on a ferry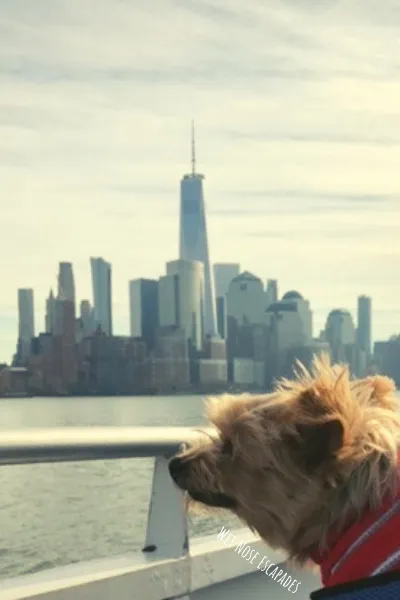 Whether you wanna hop on a quick 10-minute ferry ride to neighboring New Jersey or cruise around the Statue of Liberty on the free Staten Island ferry, your dog CAN accompany you. Riding the ferry is one of the most exciting, memorable dog-friendly activities in Lower Manhattan. Per the official NYC Ferry website, "Dogs, with the exception of trained service animals as defined by the Americans with Disabilities Act, are not permitted on NYC Ferry vessels unless they are in a pet carrier and/or muzzled." Hence, technically you need to muzzle or transport your dog in a carrier and you're all set! BUT from what I've sniffed out so far, that rule is not always enforced, especially during non-peak hours.
Here are the ferry terminals in Lower Manhattan:
East River Ferry (FDR Dr, New York, NY 10005)
Battery Maritime Building Slip 5 (10 South St, New York, NY 10005)
Whitehall Terminal (4 Whitehall St, New York, NY 10004) – to hop on the ferry to Staten Island
Brookfield Place/Battery City Park (Vesey St, New York, NY 10281)
#7
Socialize with the furry New Yorkers at City Hall Park
This is the neighborhood park that I marked up every single day during my Lower Manhattan residency. Surrounded by New York City Hall and other government buildings, City Hall Park is quite a hotspot to socialize with furry New Yorkers. Sure, it's neither big nor fancy, but that's what I love about it – it's a humbling public dog-friendly park with a few benches, an enchanting bronze fountain, and a life-size statue of the founder of New York Tribune Horace Greeley (with his mask on during the pandemic). Although there isn't a dog park there, you'll find plenty of pandemic poodle-hybrid puppies strolling through and plenty of lawn areas to rake my feet (gotta practice my back kicks)!
#8 Stroll along the Hudson River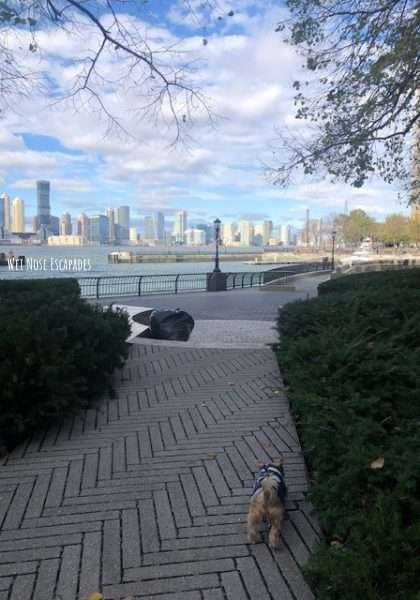 Running 4-miles long on the west side, the 315-mile Hudson River separates New York from New Jersey, flowing from north to south. With an open-mouth smiley face, I love marking it up along the river as my humans take in beautiful views of Jersey City. The Hudson River Park boasts 550 acres between Battery Park City and West 59th Street on the west side, connecting numerous neighborhoods in Lower Manhattan and Midtown. Did I bark that it's also the largest park in the city after Central Park? With a wide, clean pedestrian path and a top dog run as named (or barked) by New York Magazine, Hudson River Park is THE SPOT to spend the leisure morning or afternoon with your dog who will have a plethora of sophisticated NYC doggies to chase.
Grab my exclusive guide on how to travel with your dog!
#9 Feel the real New York vibe in West Village
As a true nomadic dog, I like to go off the beaten path more than I like to play tourist. Part of the well-known Greenwich Village, West Village is a calmer, more quiet corner on the westside (hence the name) with boutiques, art galleries, piano bars, hipster cafes, and historical landmarks. With roots dating back to the Dutch, West Village is a lesser-known-to-tourists neighborhood with classic brownstone townhouses that you see in the NY movies. Due to its quaintness and small community feel, this local "village" makes a sweet daytime exploration with your dog. As I encountered a myriad of nicely groomed dogs with designer clothes and the young moms with double strollers, I can't help but feel a more "real" New York vibe. 
#10 Shop til you drop at Brookfield Place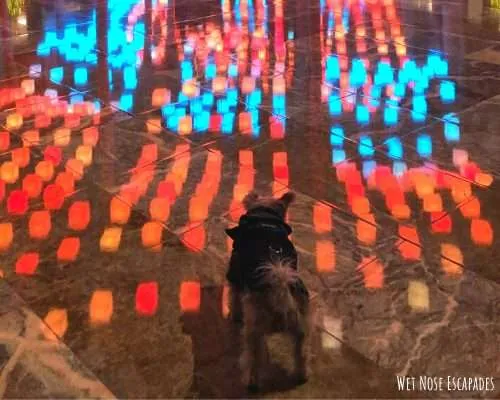 Also known as the World Financial Center, Brookfield Place boasts a 2-story shopping mall in Battery Park City with over 60 stores in addition to corporate offices. As far as I know, dogs are generally allowed inside the shopping/dining/event center albeit not technically at the upstairs food court (along with any indoor places selling food). Although my human carried me most of the time, I've been able to walk around inside without any issues. I may have found mostly small dogs inside carriers here, but I also sniff out a good-sized Husky who was just chillin' next to his human. A local told me that Brookfield Place has even hosted dog-friendly events in the past. During the holidays, Brookfield Place becomes ultra festive with their indoor Luminaries light show, outdoor skating rink, and golden lit-up trees. If you're not much of a shopper or somehow get ousted by the security guard, you and your dog can still explore the dog-friendly scenic walkway along the Hudson River and Jersey City skyline. If you keep walking those paws just a tad bit north, you'll hit Rockefeller Park and all its intriguing life-size bronze sculptures. 
Hope you like all my dog-friendly activities in Lower Manhattan! What's your favorite dog-friendly activity in Lower Manhattan? BARK AT ME!
Watch my 9/11 Tribute:
Subscribe to my YouTube Channel: Wet Nose Escapades by Roger Wellington for fun dog travel videos!
Markin' it up,
Roger Wellington a.k.a. The Doob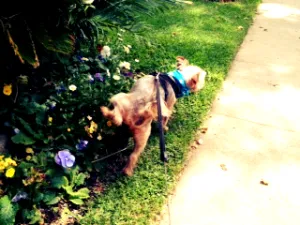 —
Like my post on "10 BEST Dog-Friendly Activities in Lower Manhattan, NYC"? CLICK TO PIN!