Is Lyon, France dog-friendly? Sniff out a Yorkie's Guide to visiting Lyon with a dog!
Posted 2/24/22
*Please note that this post contains affiliate links, and at no obligation or additional cost to you, my humans and I earn a small commission if you make a purchase. If you love the work that we do, you can show your support by making a purchase through an affiliate link. Proceeds will go towards feeding homeless dogs (and cats) along with improving the lives of the neglected and abused.
AWOOOO, calling all furry travelers headed to France! Sure, Lyon is not Paris, but it sure has a lot to offer. Just under 2 hours on the train from the City of Lights a.k.a. Paris, Lyon is a must-mark, must-sniff destination! Although super underrated and overlooked as an international destination, Lyon is the third-largest city in the country. Resting on the Rhône and Saône rivers, Lyon is the dynamic capital of the country's Auvergne-Rhône-Alpes region. Boasting over 2,000 years of history and architecture dating back to Roman times, Lyon prides itself as the enchanting capital city in France's Auvergne-Rhône-Alpes region.
Not to bark, its secret passageways (traboules) in Old City (Vieux Lyon) are beyond intriguing. Heck, it's even home to several UNESCO World Heritage Sites. BUT the biggest draw of Lyon is really their paw-lickin', chops-lickin', get-in-my-tummy foodies! WOOF, hear my barks – tourists come to Paris thinking that they've come to one of the culinary capitals of the world, but the truth is that the gastronomical capital of France is, PAWS DOWN, Lyon. With the city producing some of the world's greatest chefs, you and your dog should never leave hungry! Keep on sniffing to see what's in store for furry travelers in dog-friendly Lyon!
A Yorkie's Guide to Visiting Lyon with Your Dog:
Even though I'm a furry nomad, I'm happy to bark that Paris has long been one of my many homes away from home – a place where I stayed extensively enough to make it my home base. ARF-ter chasing all the chiennes from Le Marais to Montparnasse and markin' up the Louvre like IT'S MINE, I decided that it was time to take a break from being a Parisian dog. It's time to slow it down just a tad bit. Off to Lyon, my furry paws go!
Taking Your Dog From Paris to Lyon
Most international visitors will start in Paris before hopping on a train to Lyon, which is again a little under two hours. As you would guess, France is a dog-friendly country with dog-friendly public transportation, which means your dog can easily hop on a train with you. With the exception of the not-so-dog-friendly Eurostar, all trains in France welcome dogs onboard, including France's national railway SNCF (Société Nationale des Chemins de fer Français). Two dogs are allowed per passenger. However, technically you do need to pay for your dog's fare, depending on his weight. The only exception is assistance dogs, as defined by the E.U. For small dogs like me weighing less than 6 kg and can travel in a bag or basket no larger than 45X30X25 cm, the fare is only 7.50 € (as of February 2022). For dogs weighing more than 6 kg, they must be muzzled and have a ticket priced at 50% of the full 2nd class fare, calculated using the standard rate per kilometer.
For more information on taking your dog on the train from Paris to Lyon, put a furry paw HERE.
For a dog who's accustomed to 10+ hour flights, a 2-hour train ride is a total breeze. A couple of back-kicks, some snoring with my paws up in the air, and WOOF, I'm there!
Visit Lyon's Dog-Friendly Attractions
First stop – the Basilica of Notre Dame de Fourvière! You can't miss this iconic, massive place of worship since you can view it from almost anywhere in Lyon. Built on top of the Fourvière Hill on an old Roman site, this 19th-century basilica is dedicated to the Virgin Mary. Due to its building's appearance resembling the body of an elephant and the four towers like the legs, the Basilica of Notre Dame de Fourvière is often called the "upside-down elephant" by locals. At 86 meters long and 35 meters wide, this basilica is monumental, to bark the least. ARF-my-DOG!
Although dogs are not allowed inside places of worship, they are welcome to take pictures right outside the gate and sniff out the grounds.
The next stop is the Ancient Theatre of Fourvière (Theatres Romains de Fourvière), just a short walk from the basilica. ARF, built under the great mind of Augustus in 15 BC, this theater could seat up to around 10,000 people during its heyday.
This impressive UNESCO World Heritage site is, PAWS DOWN, a MUST-SNIFF dog-friendly spot (my humans are suckers for Roman ruins). It's also FREE to enter for you and your dog to enjoy. If you prefer not to walk uphill, you can always take the tram (with a purchased ticket).
Another must-visit attraction with your dog here is the Lyon Cathedral! I prefer this cathedral to the basilica because there's more space to explore and sniff in front, relatively barking. Plus, I can't get enough of Gothic architecture.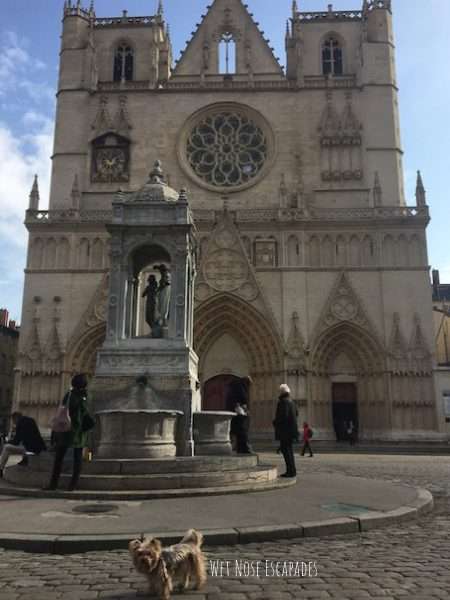 Completed in 1480 (after almost 300 years of construction), this spectacular cathedral is dedicated to Saint John the Baptist and is the seat of the Archbishop of Lyon. Like the Basilica of Notre Dame de Fourvière, Lyon Cathedral participates in the annual Festival of Lights in December, when the facades of each major building put on a pawsome light show to celebrate the holidays.
The most ARF-mazing dog-friendly place that I've sniffed out here is Place Bellecour, the massive square in the city center. Dog, this square is HUMONGOUS! ARF-my-DOG! Spanning a whoppin' 15 acres at 312 m by 200 m, it is the third-largest square in France (just behindPlace de la Concorde in Paris). It's the largest pedestrian square and one of the largest open squares in all of Europe.
So, let's just bark that this square is one TOP DOG square, a must-sniff with your dog. Besides the Equestrian statue of Louis XIV, my favorite part of the square is the Ferris wheel. ARF, I'm not sure if you can take your dog on board, but I wouldn't recommend it due to the height, which can be scary for your dog. Regardless, you can tilt your head to it from afar and snap a few pictures of your pooch posing in front.
Mingle with the Furry Lyonnaises at Dog-Friendly Parks:
Parc des Hautefeuilles – the 8-hectare park with a special dog area. It's within walking distance to a larger dog-friendly park Parc de la Chapelle.
Parc de la Tête d'Or – the ginormous 19th century 117-hectares park with two separate dog runs, statues, fountains, and a lake along with a botanic and rose garden.
Parc de Gerland – the well-maintained, riverside 18-hectare park where on-leash dogs are welcome.
Dine with Your DOG & Eat like a Real Lyonnaise
A visit to Lyon is not complete without devouring a chops-lickin' meal or two (or three). As barked earlier, this city is the gastronomical capital of France and has produced some of the world's TOP CHEFS, which can only mean that the food can't get any better. From traditional Lyonnaise cuisine to international food, Lyon has it all! The good news is that you CAN bring your dog inside a bouchon or restaurant, regardless of how fancy, to wine and take with you. I've sat my furry butt on countless human chairs in Lyon and throughout the country. Heck, I've even learned to take my time and enjoy my meal like a real French resident!
*As dogs are pack animals who'd LOVE to experience meals with you, don't forget to pack a bag of treats, dog-safe food, bottled water, and to-go bowls for your dog! Don't make your dog feel left out.
Now, what's a traditional Lyonnaise meal?
In Lyon, a meal consists of an appetizer, main dish, side dish, and dessert!
Appetizers include chicken liver salad, tripe soup, poached calf's head, Lyonnaise salad (with bacon strips and a poached egg), French cheese puffs, and sausage – among many other hearty appetizers or "entrees," as they call it here.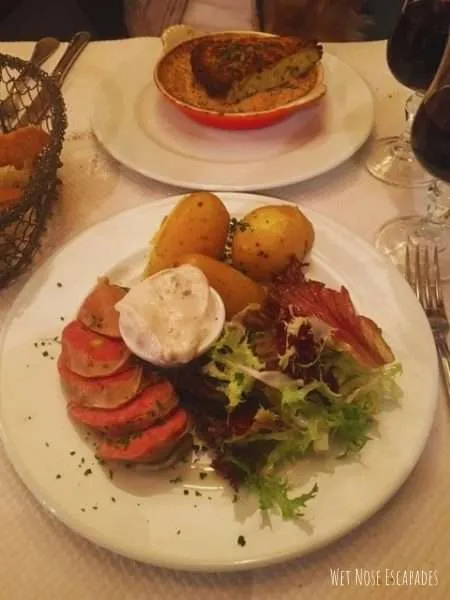 Main dishes include ground fish dumplings, pot roast, rooster in wine sauce, poached eggs in wine sauce, and breaded tripe.
Side dishes include gratin potatoes, potatoes with butter, crayfish tails, leeks, ham, and Lyonnaise sauce (white wine, vinegar, and onions) with meat.
Desserts include beignets, caramelized apples, pralines, lemon pies, and Matefaim Lyonnais (a big French crepe with an apple).
A typical Lyonnaise meal consists of sausage, pork, beef tail, beef muzzle, tripe, veal's foot, head, and tongue – more meat than a hungry wolf can ever dream of. My wolf instincts force me to CHOMP AWAY, leave NO SCRAPS, and LICK EVERYTHING OFF THE PLATE; however, as chops-lickin' as Lyonnaise food sounds, it can be extremely hearty: meaty and fatty. If you're up for a potentially bloated-tummy evening, go for it. ARF-ter all, when in Rome…
BUT if you don't eat much meat like my humans, don't fret because Lyon has plenty of international restaurants, from Vietnamese to Japanese to Middle Eastern. You can always grab a tasty macaron afterward for dessert, which you can go no wrong in France!
Wander the Secret Passageways with Your Dog
After filling my little BIG Yorkie tummy, I wagged my tail to burn some calories and exercise my leg muscles in Old City (Vieux Lyon), where I wandered through the mysterious traboules, Lyon's historical hidden passageways. Traboule means "to pass through" in Latin, and they were the city's secret network with secret passageways in buildings, courtyards, and staircases. Throughout history, these narrow hidden shortcuts were used by residents who had to get to the river quickly, silk workers who carried heavy loads, and craftworkers who transported clothes and merchandise. There are as many as 400 traboules in the city, but only over 40 are open to the public.
Chill at a Dog-Friendly Cafe, Pub, or Bar
And, like restaurants, dogs are also welcome at cafes, pubs, and bars – indoor or outdoor. Although dogs are allowed inside the cafes, it's best to human-and-dog-watch outdoors. Like other French people, Lyonnaises love hanging out at an outdoor cafe for hours on end, just relaxing and enjoying life. The best part is that you'll never feel rushed to leave like in the States. ARF yeah, be sure to take your dog to The Smoking Dog, which is a fun dog-friendly pub in Old Lyon.
Walk Your Dog along the Riverfront
In addition to hanging out at a cafe, a very Lyonnaise thing you can do with your dog is to simply cross a few bridges, sit by the breathtaking riverfront, and take in some relaxing views. Since the city is situated between two beautiful rivers, it's certainly not difficult to sniff out pawfect settings for calming afternoon walks. It's time to MARK IT UP!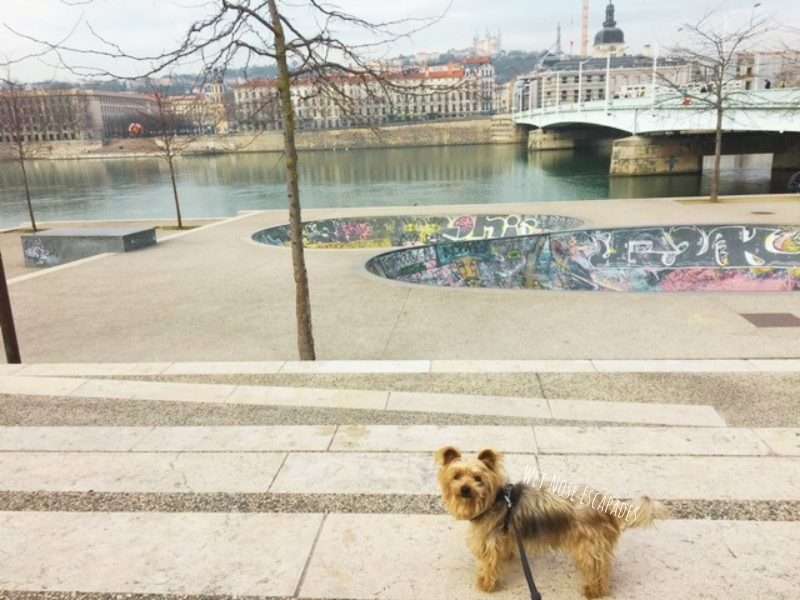 WOOF, hope you have a blast visiting dog-friendly Lyon! What I love about Lyon the most is that it is a city with a small-town vibe! Unlike Paris, it's much slower but still has so much energy and attractions, especially if you're a history buff or foodie.
Subscribe to my YouTube Channel: Wet Nose Escapades by Roger Wellington for fun dog videos!
Markin' it up,
Roger Wellington a.k.a. The Doob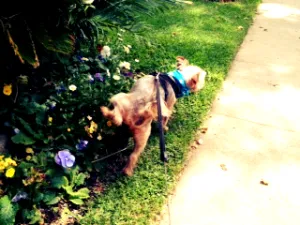 —
Like my post on "Dog-Friendly Lyon, France: What You MUST do with Your Dog in Lyon"? CLICK TO PIN!