WOOF, let's bark doggies in Australia! GRRR, unfortunately, whenever I think of dogs in Australia, I think of Johnny Depp's two jet-setting Angeleno Yorkies who arrived in Queensland on a fancy private jet. Although Depp is a Hollywood A-lister, skipping Australia's lengthy animal import process (and breaking mandatory quarantine) is a big NO-NO for any traveler, even the rich and famous. As a result, the Australian government threatened to euthanize the Pistol and Boo unless they returned to California immediately. ARF-my-DOG! OK, that's enough bark – so what if Australia has one of the strictest dog import requirements in the world? That doesn't mean that this country falls short of pawsome dog-friendly activities and places (not to bark, dog lovers). I may be a world-traveling dog, but the Land Down Under will long remain on my bucket list – after all, quarantine does NOT sound fun. Luckily, I have my cutesy Beagle crush Willow Daisy and her lovin' pawrents Claire and Alister share some barks about an Aussie dog's life. So, let's venture out to dog-friendly Mackay – a small yet dynamic city with ARF-mazing natural beauty on the Queensland Coast, resting on the east side of the country. ARF, let's GOOOOO!
Tell us a little bit about Willow Daisy! (e.g. background, personality, whatever you'd like to share)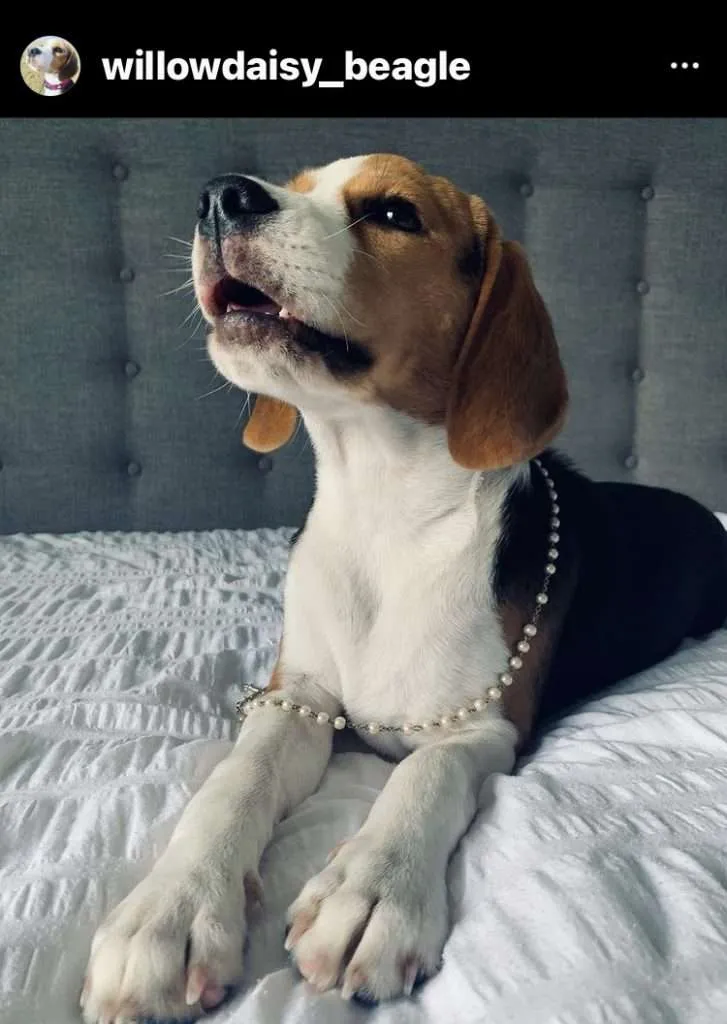 Willow Daisy came from a gorgeous litter of about eight puppies born in Mackay on 18/09/2020. Willow is from one purebred beagle father and a beagle mother. She has come through her puppy stage to become a beautiful, cuddly, cheeky beagle.
What do you love most about her?
Although it might sound strange, I must admit that my favourite thing about Willow is her smell. She still has a puppy smell on her head. When we are having a cuddle, I love to feel her super soft, oversized ears and the smell of her head.
What are her favorite things to do in the world?
Willow's favourite thing is to be outdoors around her family. We spend some weekends relaxing in the garden planting, weeding, or just cleaning up. We fill up the baby pool with a bit of water for Willow to splash in and out. She explores whatever we are doing and brings over a ball or rope to throw. Willow loves to soak in the warm winter sun and get a belly rub.
What does she hate the most?
Willow hates it when someone tries to take her bone.
What are her favorite foods? Least favorite?
Willow's favourite food is Greek yoghurt and cheese. But they make her farts really smelly and don't get these treats very often. She also loves tuna, chicken necks, sweet potato, and snow peas, and of course, a juicy bone. Her least liked foods are processed red meat or the typical canned dog food.
What is the most expensive item you've purchased for her?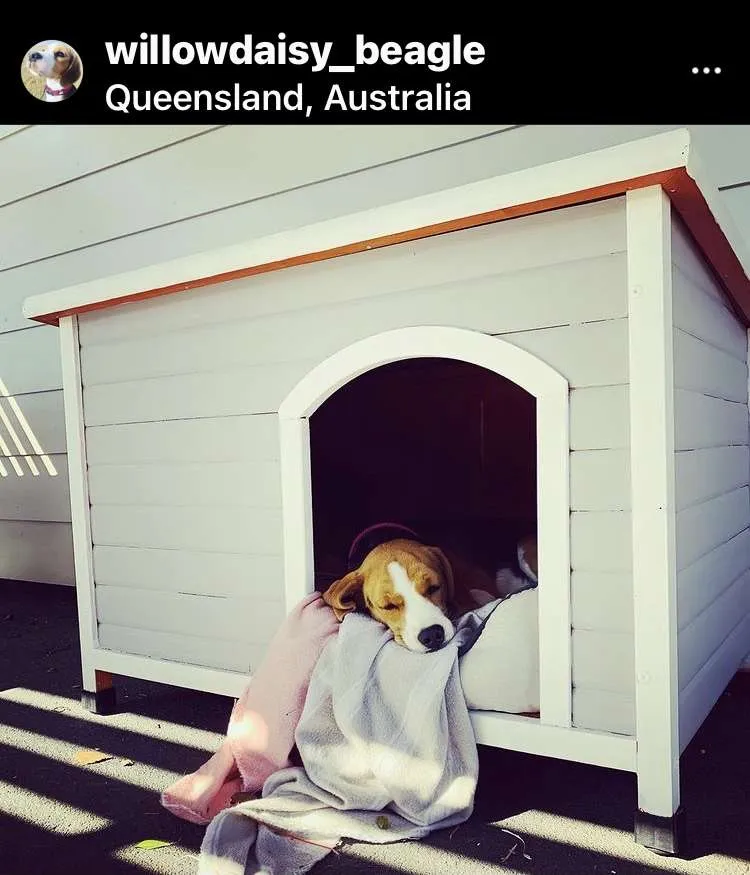 Willow is a very lucky pooch! She wears the most beautiful collars, leads, harnesses, and bandannas from Snuggle Dogz, an Australian-based company, in which she is also the brand ambassador. But the most expensive thing we have brought her was her dog house; a cute wooden castle for our little princess.
What's the best part about having a dog in Mackay?
Mackay is such a great location to have a dog! The weather is glorious in the winter and sunny days with blue skies and tropical temperatures. Perfect for long walks through the rainforest or a run along the beach. Summer, between December and February, is our rainy period. However, the rain only lasts a week at a time, then the sun is out again, and the pups love to go for a play in the local freshwater creek or ocean. We have to be mindful of the Box Jellyfish' though – google it!). Mackay has such diverse landscapes, from the beautiful shady dog parks to walking trails and many sandy beaches. Unlike big cities, everything is all very close together as well.
What are some of your favorite dog-friendly parks in Mackay? (please provide specific parks)
There are three fenced dog parks in Mackay: Camilleri Street dog park, Gooseponds dog park, and Queens Park. We spend most of our time at the Gooseponds since it's closer to home. It has a beautiful path winding around the picturesque Pond filled with wildlife. The dog park itself has a dog obstacle course and large shady trees with a couple of sheltered picnic tables and other park benches. Queens Park dog park is just gorgeous as well. The dog park is surrounded by beautifully manicured gardens, which are great for kids and picnics. There is a separate big and small fenced dog park with big shady trees and sheltered benches and tables.
What are some of your favorite dog-friendly restaurants in Mackay? Are dogs only allowed to dine outside? Or do some places make an exception for indoor dining? If so, where?
There are no dog-friendly restaurants in Mackay that will let you take your pup buddy inside (except for seeing-eye dogs, disability or emotional support). However, most cafes and restaurants are happy for you to have your four-legged friend outside with you while you eat. And, really why wouldn't you want to sit outside anyway? The weather is perfect for it! We love to take Willow out and about. Our favourite alfresco cafes include The Grazing Goat, The Coffee Club, 9th Lane Grind, Woodmans Axe. But our absolute favourite is the Beachfront Bar and Restaurant (by the beach) at Bucasia. It's so pretty and tropical. Most cafes don't mind you having your puppy outside by your table as long as they are not annoying others.
Is it safe to assume that most beaches are dog-friendly? What are your go-to beaches with Willow Daisy?
All beaches are dog-friendly in our region as long as the dog is on the lead and not harassing other beachgoers. However, there are a couple of beaches that are off-leash and give the chance for your pup to really run. A portion of Bucasia beach is off-leash, as well as a portion of Northern Far Beach. Our favourite beaches are Harbour Beach, North Wall Beach, and Lamberts Beach. There are just so many close by (within 5- 20 km). So lucky!
What are some dog-friendly tourist attractions in Mackay or Queensland (if any)? Any other local dog-friendly places that you'd like to share?
A beautiful dog-friendly place we visited with Willow was The Old Station Teahouse, which is located about 45 km north of Mackay. It's got a spacious tropical garden area and manicured lawn. The owners are very enthusiastic dog lovers and cater to your pup with puppy-chinos.
Overall, how would you describe the local people's attitudes towards dogs?
There are a number of off-lead, escapees who can be intimidating to passersby in the Mackay region. This gives dogs in the area a bad name. People in our region purchase and use dogs for all sorts of reasons, wild pig hunting, security, or just a family pet.
What are some of your favorite trips you've had with Willow Daisy (e.g. road trips, domestic air travel, international, etc. – if any)? How well does she travel?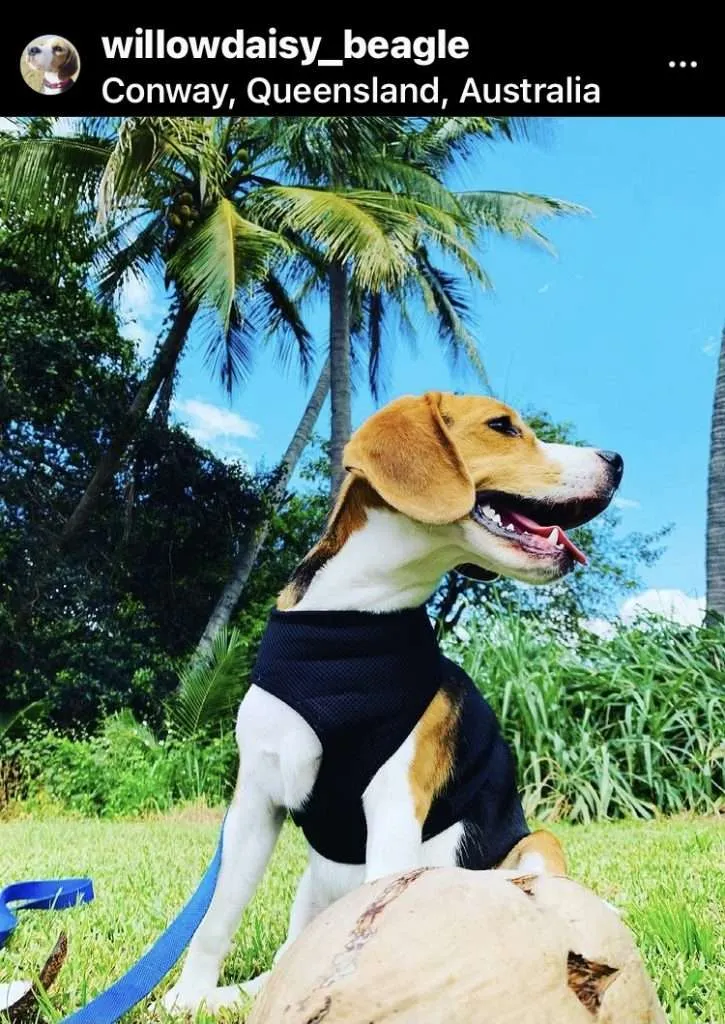 There are quite a few caravan parks/campgrounds in our local area which are dog-friendly. We recently stayed at a gorgeous location about 2 hours drive north of Mackay, Conway Beach Tourist Park, where we could bring Willow and she could come and sleep inside our Fisherman's Shack. As long as your pup isn't a bother to others in the area, you are able to take them to most Caravan Parks and Campgrounds. Due to the glorious weather and proximity to both the beach and rainforest, this is a very popular dog-friendly activity in our area.
Are dogs allowed on buses, subways, rideshares, taxis, etc.? If you have any specific experience regarding taking Willow Daisy onboard, please feel free to share!
We have not taken Willow on public transport before. The Mackay region is not known for a large public transport system as most places are easily accessible, and close to drive, and more often than not, there is one car per adult. Also, riding bikes and walking are encouraged in the area. However, it's not unusual to see support dogs on public transport in the larger cities in Queensland.
What is the biggest challenge of having a dog in Queensland?
I can't really think of a big challenge in having a dog in Queensland. So maybe the hardest thing is the cost $$. We just brought the next three monthly doses of intestinal worm and tick & flea tablets for Willow for $85. We also have to pay to register and microchip our dogs, which can all add up if you're not prepared.
Based on your personal knowledge, would you say that people tend to buy or adopt/rescue dogs in Queensland? Do pet stores exist (where dogs and cats are sold)?
As far as I understand, in Mackay, people are all for adopting animals from the shelter. It was the first place we visited when we decided to get a puppy. Mackay is a very generous town and if you are not able to adopt a pet from the shelter, it's easy to donate money, food or other pet products for the animals kept there. The RSPCA (Royal Society for the Prevention of Cruelty to Animals) and MARS (Mackay Animal Rescue Society) do an amazing job re-homing dogs and cats.
The sale of animals in pet shops is still legal in Queensland. However, the state has implemented a Breeder ID system. Since May 2017 so anyone who advertises a puppy for sale must display their 'Breeder ID number' including all online ads.
How close is the nearest veterinarian from your house? (e.g. in miles and driving time)
We are so lucky in Mackay since there are a few veterinarians close by where we live and more than a dozen in the area. The closest to our house would only be about 3-5 km away!
Approximately how much is a standard examination/office visit at the local veterinarian? You might pay around $50-$100 for a vet consolation in Mackay, however, we usually have to get worming tablets or such regular standard medication, which can push the vet bill over $100.
How would you rate/describe the quality of veterinary care in your area?
The quality of care at any of the vets in Mackay is fantastic. The veterinarians are caring animal lovers who have your furry friend as their top priority. Our experiences have only been positive.
What is one thing you'd like to share with us about a dog's life in Mackay?
Willow is a real outside adventurer full of confidence who loves getting out into our beautiful natural environment.
Why is Mackay/Queensland worth a visit? 🙂
With a population of around 118,000 (and growing), Mackay is a gorgeous town on the central Queensland Coast. We are so lucky to live here, especially at the moment (touch wood) with no Covid-19 cases and a minimal lockdown mid-last year. Mackay is a great place to visit as it's so close to The Great Barrier Reef, Rainforest's World Class sandy Beaches, and more palm trees and seafood than you can imagine.
Thank you to Willow, Claire, & Alister for this interview and sharing their pawsome dog-friendly Australian life with us! Can't get enough of Willow? Sniff out follow her Queensland escapades on Instagram!
Interested in taking your dog to Australia? Sniff out the ARF-so-long, roughly 20-step import process coming from the U.S., which includes permits, vaccinations, parasite treatments, blood tests, and mandatory 10-day quarantine.
Markin' it up,
Roger Wellington a.k.a. The Doob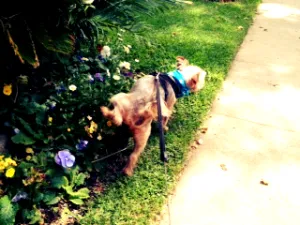 —
Like my post on "Dog-Friendly Mackay: An Interview with Willow Daisy, the Beagle from Queensland, Australia"? CLICK TO PIN!