ARF, I may have been a furry Catalan for a year, but I've sniffed the ins and outs of Madrid. The capital and most populous city in Spain, Madrid is a slightly cheaper destination than my home base Barcelona with just as much allure (or even more, as some may bark). This landlocked city is flooded with pawty-until dusk nightlife, 100 Montaditos, hipster cafes, head-tiltin' architecture, famous art museums, and rowdy tapas bars galore – just without all the tourists and beaches that you may find in Barcelona. Is Madrid dog-friendly? Sí, you betcha! Nonetheless, due to its landlocked geography, Madrid's winters and summers can be extreme; hence, it's best to visit during the Fall and Spring with your dog when the temperatures are more comfortable. Now, sniff out my favorite dog-friendly things to do in Madrid, Spain:
*Please note that this post contains
affiliate links
, and at no obligation or additional cost to you, my humans and I earn a small commission if you make a purchase. If you love the work that we do, you can show your support by making a purchase through an affiliate link. Proceeds will go towards
feeding homeless dogs (and cats) along with improving the lives of the neglected and abused
.
Explore Embajadores 
AH-HOOO, my home away from home Embajadores is so flippin' hip that even a top dog like me is impressed. Located in the Centro district, Embajadores is not only the oldest neighborhood in Madrid but also the most diverse! With a history ruffin' back to the Muslim takeover, it's home to the triangular, florist-dominated public square Plaza de Tirso de Molina, the popular Rastro open-air flea market, and several local food markets like Antón Martin and San Fernando. Only in Embajadores, I can hop my furry paws from hipster cafes to local festivals after delighting my little Yorkie stomach to some paw-lickin' African and Indian food. This is an ARF-mazing neighborhood to discover with your dog traveler.
Find out what essentials to pack for your dog!
GRR, this park is MINE! While Madrid doesn't fail to deliver paw-fectly landscaped city parks, El Retiro a.k.a. Park of "Pleasant Retreat" is paws-down my favorite. One of the biggest parks in the city, El Retiro is near the neoclassical granite limestone gate Puerta de Alcalá and boasts a rich royal history with 350 acres of sniff-able fun. Although dogs should technically be on leash during peak hours (10 am – 8 pm), I sniffed out plenty of off-leash, well-behaved dogs throughout this marvelous public park. Just envision old city gates, monuments upon monuments, fountains, trees, gardens, lakes, cafes, and galleries! Besides being a beautiful place to walk your dog, El Retiro has a separate dog park with agility courses and dog water fountains.
Other sniff-worthy parks:
Juan Carlos I Park (Glorieta de Don Juan de Borbon y battemberg s/n, 28042) – Named after King Juan Carlos, this 400-acre dog-friendly park is famous for its numerous statues, enchanting gardens, sports fields, and music festivals. 
Dehesa de la Villa (Carr. de la Dehesa de la Villa) – Situated in the northwest of the city, this dog-friendly forest-like park is known for a variety of trees (cedar, pine, ash, elm, etc.), bird species, and scenic city views. It's also a fantastic place to watch the sunset with your dog. 
Madrid Río (Paseo de la Ermita del Santo) – Running along Manzanares River, this gorgeous linear park features aesthetically pleasing green spaces for dogs to roam around. Your dog will also find bridges, cafes, and statues. It also connects you to Casa de Campo Park and Manzanares Linear Park. 
Casa de Campo Park (Ctra. Zarzón) – With a whoppin' 4,257 acres, this is the largest public park in the city, lying just west of the Royal Palace. Formerly a royal hunting ground (btw, please don't hunt – hunting is cruel), this gigantic 16th-century dog-friendly park turned into a public park in 1931. It's an intriguing place to sniff out where you can find remnants from the Spanish Civil War. 
*Remember to pack poop bags for easy clean up!
Tapas Bar-HOP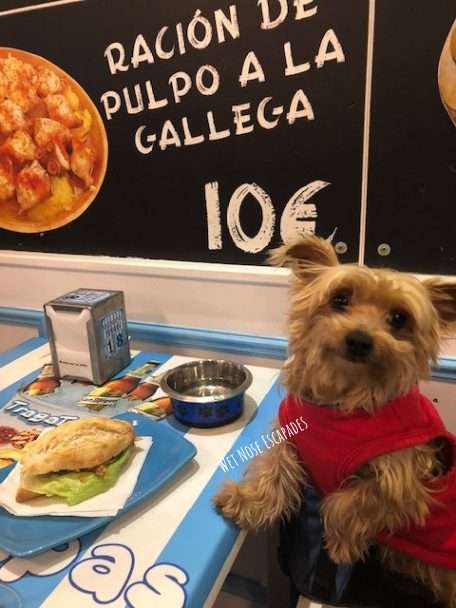 WOOF, it's all about tapas in Spain! Let me just bark that the Spaniards (from the young twenty-something to 60+-year-old retirees) know how to paw-ty. Tapas bars are super ingrained into the Spanish culture; they are not only places to chomp patatas bravas and bocadillos and sip on sangria but are also prime spots to socialize. Lucky for furry diners, many tapas bars are dog-friendly – either with outdoor seating or indoor acceptance. Even though you'll surely come across some "NO PERRO" (no dog) signs that bar dogs from indoor dining, you'll also see dog-welcoming or Sr. Perro stickers on the doors. If you don't see any indication, don't be afraid to try – many places will allow your dog to dine indoors to get your business. Regardless of indoor or outdoor dining, you shouldn't have trouble finding tapas bars to go with your dog. Ranging from mom and pop to high-end, tapa bars of different types are found in Madrid. And, don't eat or drink too much in one sitting as it's customary to "hop" around from bar to bar. Sniff out my list of 10 best tapas. 
*Don't forget to pack a bag of treats, dog-safe food, bottled water, and to-go bowls for your dog!
You can get tapas anywhere in Madrid, but you must sniff out the neighborhood of Cortes. Also located in the Centro District, Cortes (or Huertas) is known for its tapas bar scene and centuries-old cobbled streets.
Get my 8 tips on how to dine with your dog!
People and Dog-Watch at
Plaza Mayor 
This is the MAIN square in the city! With a long history tracing back to the 15th century, Plaza Mayor was historically the center of the city. Designed by Juan de Herrera under King Philip II, Plaza Mayor spreads 423 ft x 308 ft with 237 balconies, ten entrances, and nine gates. WOAH! As this iconic, head-tiltin' public square attracts millions from around the world, it sure kept my nose sniffing and working hard! Despite the tourists flocking to the square and surrounding restaurants and shops, hanging out at Plaza Mayor is a dog-friendly experience not to pass up. Paws down, it's a prime location for people and dog-watching. As my humans and I delight ourselves in the square's majestic atmosphere, I like to lick a bit of cheese and will my eyes at those furry Spaniards from a distance. 
Other nearby squares to sniff out: Puerto del Sol and Santo Domingo
Roam around Barrio de La Latina
La Latina is an ARF-so-exuberant, multicultural, and eclectic neighborhood that my ears kept perking up in fascination. From colorful graffiti art to the lively Plaza de la Cebada (Barley Square) to the endless trendy cafes and tapas bars, this historical Islamic neighborhood in the Centro district is a sniff-worthy area to visit with your dog. Dogs may not be allowed inside their 2-story fresh food and produce marketplace Mercado de la Cebada, but I still love roaming around the open space right outside. If you're adamant about going inside, you can put your dog in a carrier for a quick walk-thru (given that you have a small dog like me).
6 Tips on Finding and Saving Money on Dog-Friendly Accommodations
Grab churros con chocolate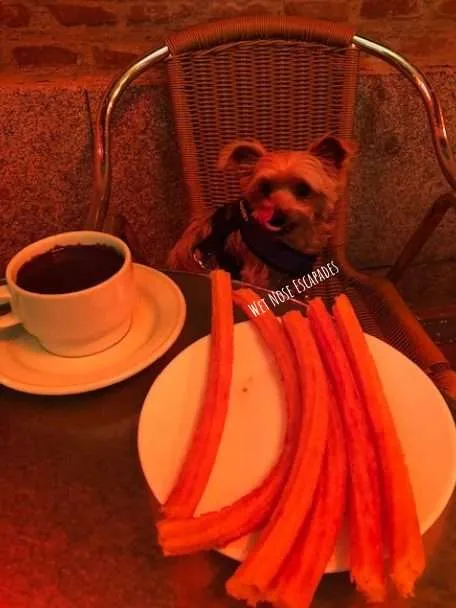 YUM, time for churros! OK – You may not be at a local county fair, but chomping on at least one churro is a MUST in Madrid. These deep-fried rolled doughs are, indeed, a pure indulgence of Spain – well, despite vague origins that could potentially be traced back to Portugal and China. Getting your paws on some greasy churros drizzled in hot chocolate is noticeably more common in Madrid compared to the rest of the country. So get ready to grease up those paws! Crunch up a churro or two with warm luscious chocolate melting in your mouth. Despite being overhyped, Chocolatería San Ginés has been one happenin' churrería for over 100 years. WOOF, that is a loooong time, even in dog years! Since my humans and I found abundant outdoor seating, I didn't attempt to walk my paws inside (so I can't bark whether or not they're dog-friendly indoors). Regardless, delighting your tummy with a bit of heavenly Spanish sweets is a fun dog-friendly activity in Madrid. Again, just remember to pack some dog-safe goodies and treats for your dog to enjoy as well. 🙂 
Get stunned by the architecture on
Gran V
í
a
No matter where I've set my furry paws in Spain, I've widened my soft brown eyes to marvel at their impressive architecture. After all, Spanish architecture is famous around the world! With Moorish influence enhancing Gothic, Renaissance, and Baroque styles, Spanish architecture is utterly grand and distinct. Although this whole city can be barked as one masterpiece, I like to set my furry paws on Gran Vía for a sniff of some alpha dog architecture. Constructed in 1924, this .8 mile thoroughfare features some of Spain's most stunning 20th-century revival architecture, including Moorish Revival (Neo-Mudéjar) and Art Deco styles. It starts from Calle de Alcalá on the east and runs to Plaza de España on the west. 
Watch me survive the first 5 days of lockdown in Spain
Take pictures outside of the
Royal Palace
As the official residence of the royal family and location for state ceremonies, the Royal Palace of Madrid is over the top, BIG DOG massive with 3,418 rooms over a total of 1,450,000 square feet. No joke – there's even a display of armor for dogs here. WOOF, if I were the royal dog, it may take me years to mark up every single room! Even though dogs aren't allowed inside this grand palace, you can still take your dog to take photos with the lavish grounds and 18th-century Baroque-Classical facades – just right in front of those colossal gates! 
After snapping a few selfies at the palace, I led my human pack around the corner to Sabatini Gardens, which are technically part of the Royal Palace. Opened to the public in 1978, these royal symmetrical geometric neoclassicist gardens are decorated with a large rectangular pool, marble statues, graceful fountains, and shady trees. Offering some pawsome views of the palace, these captivating gardens make a peaceful setting for a water or treat break. 🙂
Grab my guide on Dog-Friendly Spain
Grab empanadas on the go
ARF, it's time for some empanadas! "Take Away" empanada shops are virtually everywhere in the city. I just love to get my furry paws on a few toasty empanadas and then head to a nearby square or park to enjoy. As you may already know, empanadas can be traced back to Spain despite their huge popularity in South America. Although variants of empanadas exist around the world, these savory half-circled, stuffed pie-like pastries are a MUST-TRY in Madrid. These toasty heavenly goodies are traditionally stuffed with succulent meat fillings, but vegetarian (e.g. four cheese) and vegan (e.g. spinach and mushroom) options are becoming increasingly available along with Asian-themed fillings (e.g. Thai, Japanese). 
*Don't forget to pack a bag of treats, dog-safe food, bottled water, and to-go bowls for your dog!
Other Info:
Dog-Friendly Transportation in Madrid
Taking public transportation with your dog around the city? I've got you covered!
Public buses will allow small dogs onboard as long as they are kept inside a carrier and do not pose any danger or disturbance. 
On local trains (Cercanías), small dogs must travel inside a carrier while bigger dogs must wear a muzzle and be on a leash no longer than 1.5 meters (although this may or may not be enforced). One dog per passenger.
As for the metro, dogs are permitted onboard at any time except during rush hours, which are 7:30-9:30 am, 2-4 pm, and 6-8 pm. However, in July and August along with weekends and public holidays, dogs can travel at any time. They must also be on a leash no longer than 50 cm. Please note that you will have to travel in the last carriage of each train (although this may or may not be enforced). 
Uber/Taxi can be a hit or miss as they ultimately depend on the driver. Always ask beforehand OR keep your dog inside a carrier to avoid issues (if you have a small dog like me).
Put your furry paw here for more information on Madrid's dog-friendly public transportation.
Find the best soft carrier for your dog HERE.
SKIP THE BULLFIGHTS
And, please do me a BIG favor and SKIP bullfights. Bullfighting is NOT a sport. It's NEVER a fair fight. As bulls are not violent or aggressive by nature, they are disturbingly drugged, beaten, starved, isolated, and tormented long before the fight begins. The bull always ends up suffering from a slow, agonizing death by the cowardly matador. Horses used in bullfights are also victims. Please do not support such a disgusting practice of animal cruelty.  Sniff out 7 ways to to help animals while traveling
Hope you enjoy these fun dog-friendly things to do in Madrid, Spain! Feel free to share your dog-friendly Madrid experience with me. BARK AT ME! Get my exclusive guide on how to travel with your dog.
Subscribe to my YouTube Channel: Wet Nose Escapades by Roger Wellington for fun dog travel videos!
Markin' it up,
Roger Wellington a.k.a. The Doob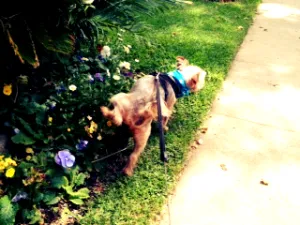 —
Like my post on "10 Dog-Friendly Things to Do in Madrid, Spain"? CLICK TO PIN!